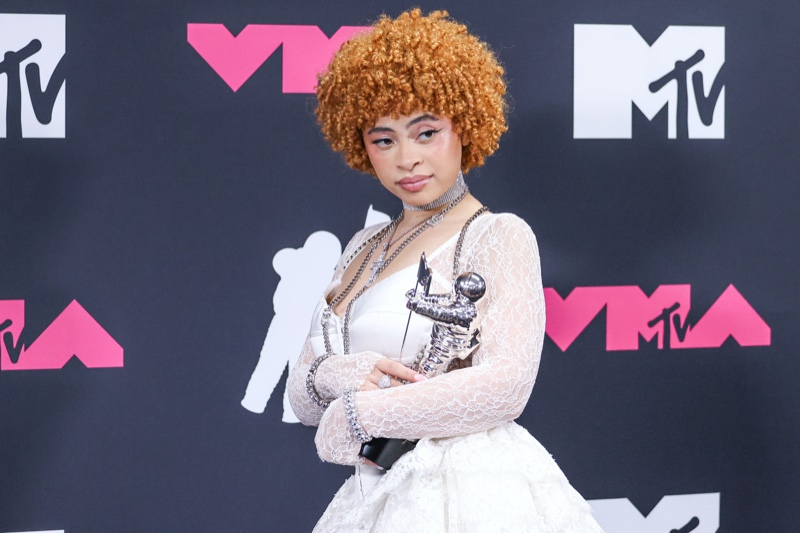 Not many can steal the spotlight the way Ice Spice has. Thanks to Ice Spice's hair and chart-topping hits like "In Ha Mood" and "Princess Diana," this sensational American rapper has left a mark on the 2023 music scene. With campaigns for brands like Marc Jacobs and Dunkin Donuts, her influence is only growing.
Her standout hair transformations, particularly from her signature red curls to sleek straight locks, have also become a major talking point.
What is Ice Spice's Real Hair Color?
Ice Spice naturally has dark brown hair despite being known as a redhead. Her curls are all real, according to a TikTok post published in February 2023 featuring the rapper.
In regards to people speculating that she is wearing a wig, Ice Spice shared on social media, "A lot of people think my hair is naturally straight and that I wear like a curly wig or something […but] my hair's always been curly since I was born."
The New York rapper has a 3b/3c curl pattern with springy and well-defined spirals.
Ice Spice's Hair Moments
Straight side-Part at the Met Gala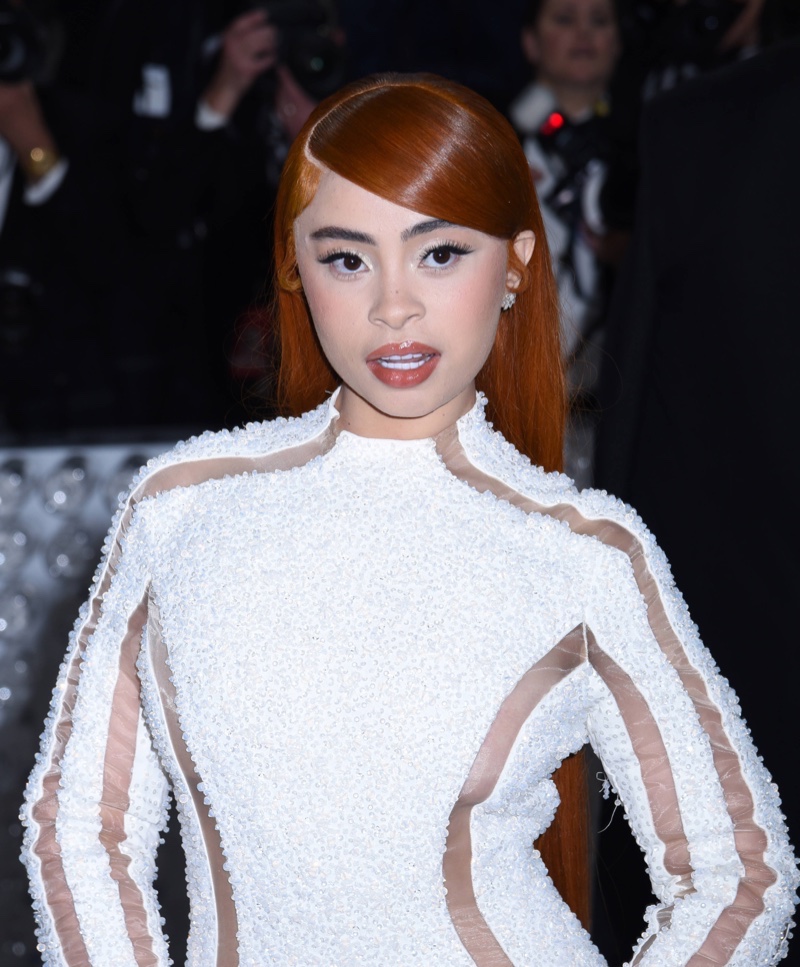 Ice Spice certainly knows how to command a red carpet, and the 2023 Met Gala was no exception. The rapper stepped out in a look that was nothing short of stunning—a dark orange auburn hue replacing her usual fiery locks.
The straight hair was neatly styled with a sweeping side part that effortlessly caught the limelight, signaling yet another bold chapter in Ice Spice's hair chronicles.
This transformation was a fashion spectacle. She paired her dramatic tresses with a show-stopping white Balmain gown, achieving a classy and contemporary look with daring sheer panels.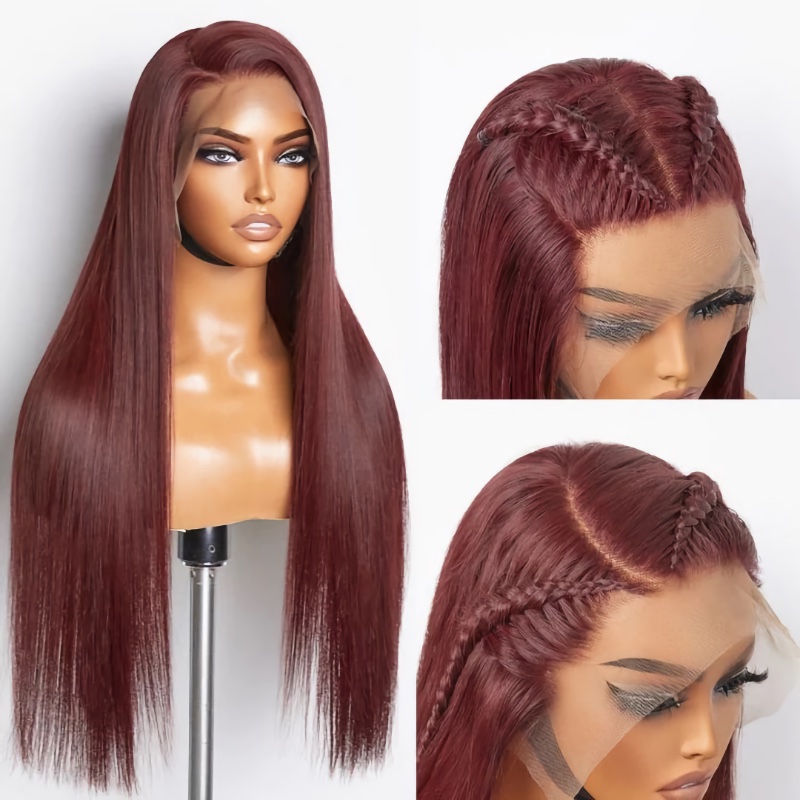 Get the look: Looking for something similar? Channel red carpet glamour by opting for a straight, lace-front wig in red from LuvMe or other retailers. Secure it well and create a sweeping side part. Add a lightweight hair serum for sleekness, and finish with strong-hold hairspray to maintain the dramatic part.
Signature Curly Hair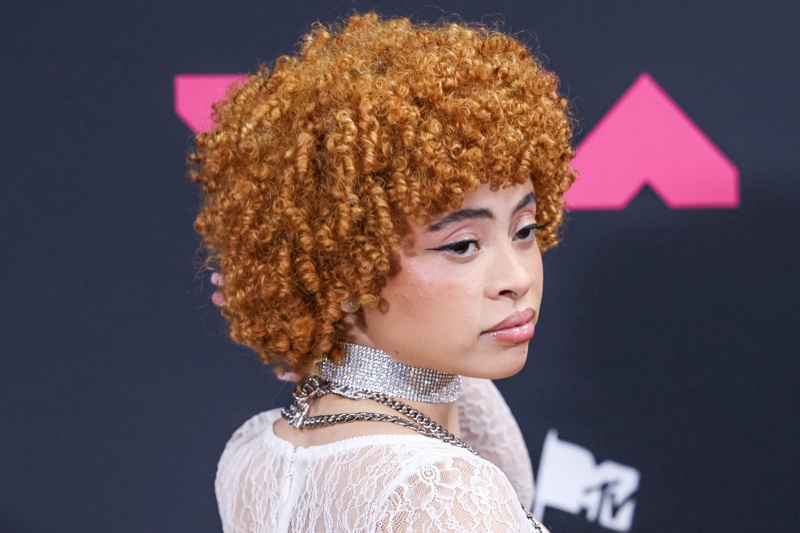 But while her straight hair turned heads, it's her natural curly hair that truly defines Ice Spice. Her look at the 2023 MTV Video Music Awards had her wearing a white dress that channeled 80s Madonna.
This signature look, vibrant and vivacious, encapsulates the rapper's fiery spirit and audacious style. It's a testament to her embracing her true self and encourages fans worldwide to do the same.
Waist Length & Orange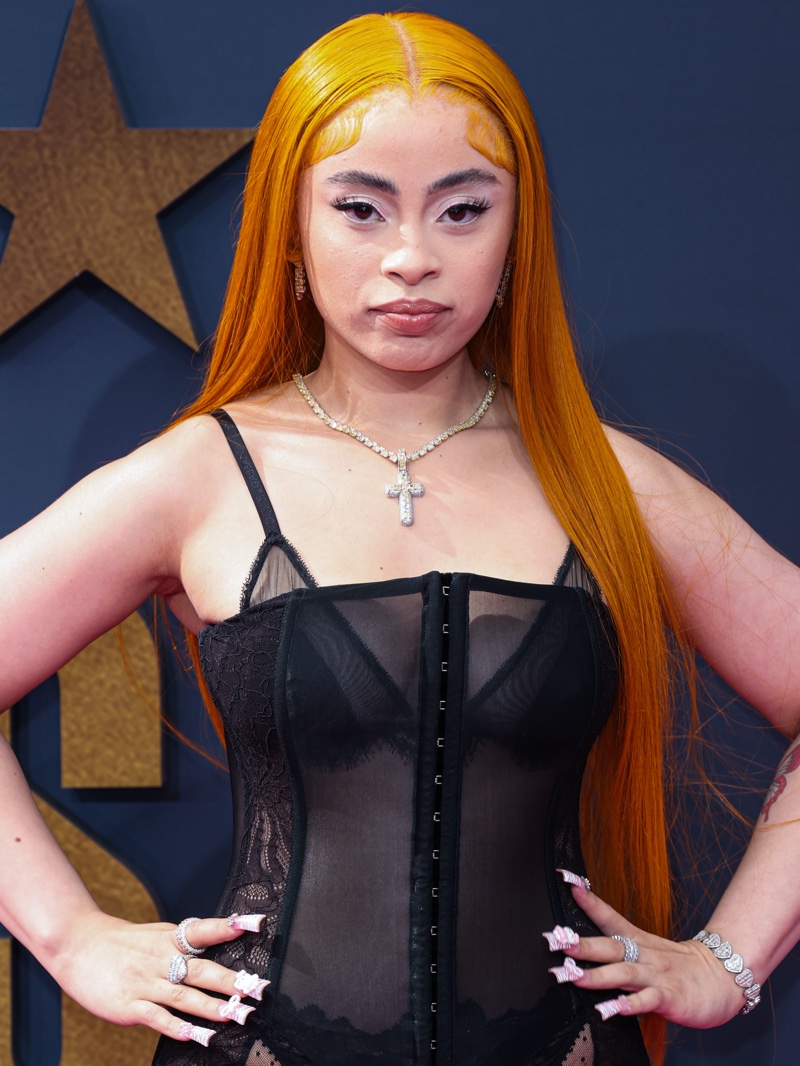 The 2023 BET Awards were a spectacle in many ways, not least of which was Ice Spice's dramatic hair makeover. Ditching her curly red hair color, the rapper graced the red carpet with a straight, waist-length wig gleaming in a vibrant orange shade.
The buss-down tresses, curated by hairstylist Kadijah Blade, perfectly complemented her bold all-black fashion ensemble with a touch of lingerie-inspired flair. To get Ice Spice's look, Kadijah utilized the Dyson Airstrait tool, ensuring precision and finesse with every strand.
The outcome? A look that had fans and fashionistas alike raving. The beauty also wore a straight-haired look at the 2023 Met Gala in an orange shade.
Pink & Flipped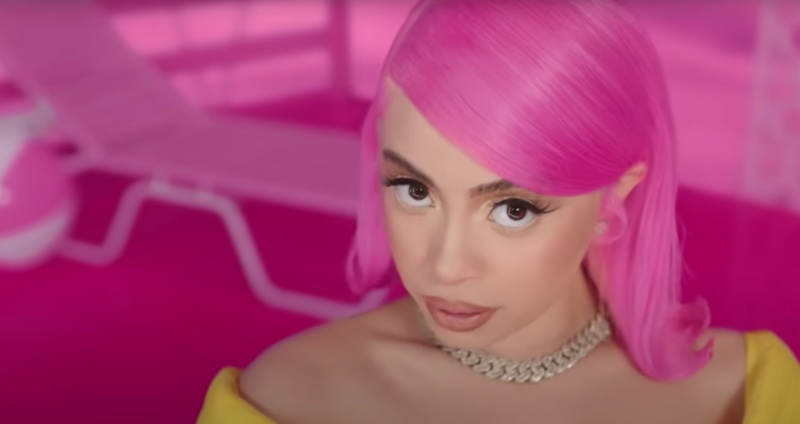 For the Barbie movie, Ice Spice collaborated with Nicki Minaj for the Barbie World song. The Bronx rapper channeled the iconic character with a flipped pink hairstyle, channeling retro vibes. She also rocked a diamond necklace to complete the vibrant look.
In Ha Mood Bangs
The star also rocked a straight and long wig with bangs for the music video "In Ha Mood". Lightened bangs brought an element of surprise to the ginger hairdo. Filmed in the Bronx, Ice Spice stayed true to her roots for the shoot.
Styling Tip: Style your bangs using a round brush and a blow dryer with a nozzle. This will give you more control and help them lay the way you want.
Ice Spice's Colorful Tresses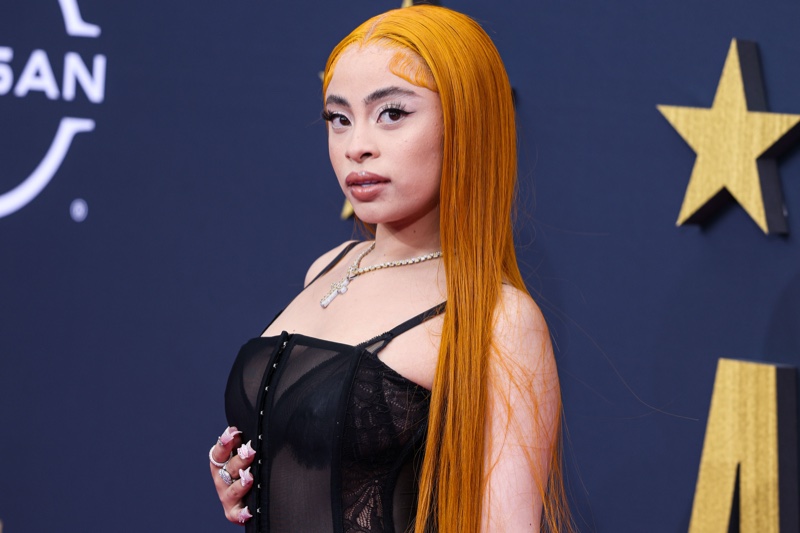 Never failing to impress, Ice Spice's hair is one thing that contributed to her meteoric rise in the music industry. The famous rapper stands out from the crowd, whether rocking pink tresses, ginger-hued locks, auburn, or her natural curls.