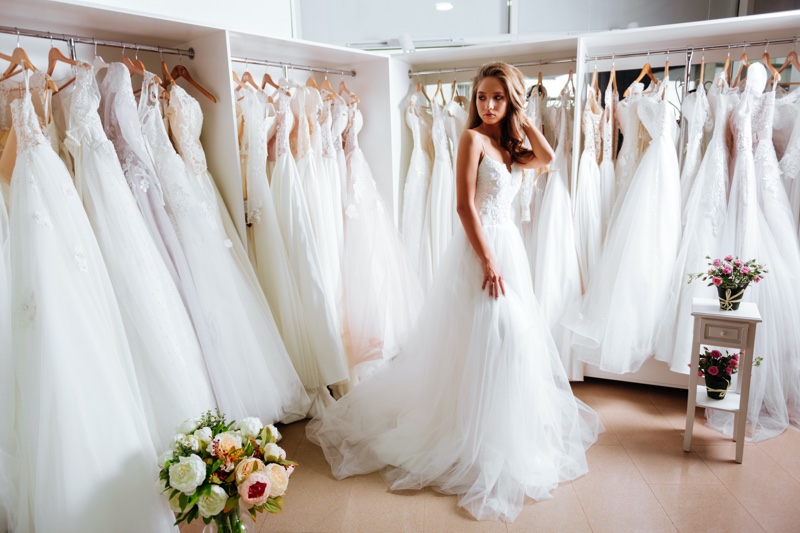 Despite what you see on wedding TV shows, you may not immediately gravitate toward a dress you believe is 'the one.' It can sometimes take hours of browsing to narrow down your options, and there can be some uncertainty surrounding which dress grabs your attention the most.
However, this isn't to suggest that you can't identify your dream dress with confidence. Sometimes, you know you've found the perfect wedding gown when any of the following things occur.

You've Found a Designer You Love
It's not always an individual dress that captures your attention but rather a collection from a specific designer. For example, there's something beautifully unique about Jovani wedding dresses, and some people may gravitate toward a particular Jovani collection rather than an individual gown in a store.
If you've found a designer you love, then focus on the dresses within their collection. You're bound to find a combination of features you adore, allowing you to find that dream dress before long.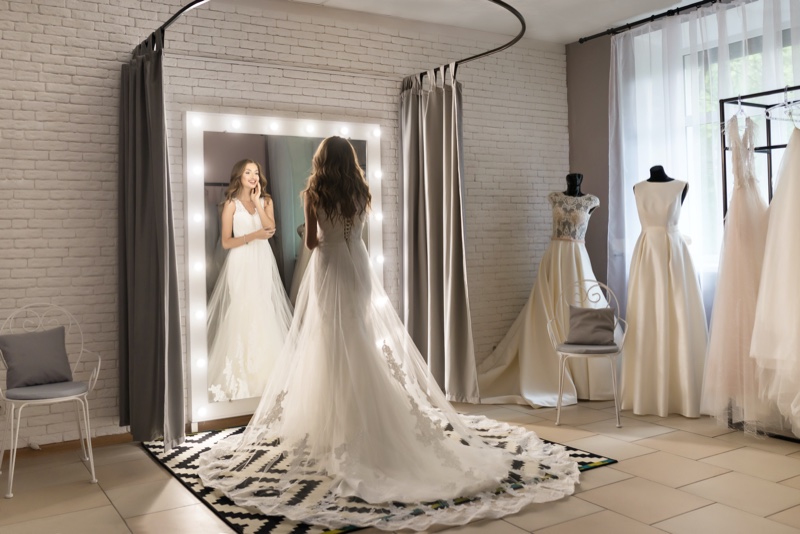 It Stands Out to You
When you walk through a bridal store, you're met with row upon row of gorgeous wedding dresses from some of the best and most well-known designers. All the dresses might be stunning, but there might be one your eyes linger on a little longer than the others.
Sometimes, this can indicate that the dress is meant for you. It might be the right color, shape, and size and might even have all the right features like lace, ribbon, crystals, and embroidery. Take this as a sign that you should at least try the dress on. It might be everything you're looking for and more.
You Can't Identify Any Flaws
Any time you've tried on a wedding dress or even a piece of clothing in a retail store, you've likely paid close attention to how it looks on your body. You might not be happy with the waistline, how it sits on your legs, or even how it enhances or detracts from a specific body part.
It's only natural to look for flaws so that you can be completely confident in what you wear, but you may know you've found the perfect dress when you can't find any.
You might love how it sits, how it enhances and flatters your best features, and how it fits perfectly on your body. Sometimes, you can even look past a dress not fitting perfectly, knowing that you can have it altered to suit your body shape.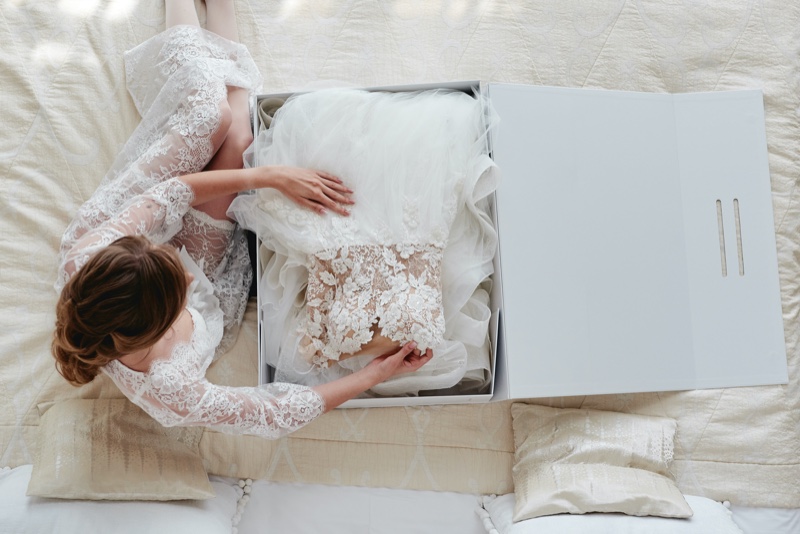 You Can See Yourself Walking Down the Aisle In It
Many people imagine what their wedding day will look like, even as children. Once that day draws ever nearer, you may start to imagine the finer details, like a dress you'll wear and even the wedding day theme.
If you've tried on a dress and you start imagining how beautiful you'll look walking down the aisle in it, this may be an excellent sign that you've found 'the one.' It's at this point that you may like to practice walking around the bridal store in it for an even more authentic image.
You Can't Get It Out of Your Head
Even when you're in love with a particular dress, you may still try on many others to see if you can find one better than it. After all, purchasing a wedding dress you love can be a process of elimination.
However, sometimes, a dress may stand out to you more than others when it's all you're thinking about as you try on more. You might be comparing its features to the other dresses or even not being satisfied with other dresses due to their inferiority compared to it. You may decide to take this as a sign that it's time to stop looking and try on your possible dream dress again.
You Don't Want to Try On Other Dresses
Many brides-to-be make a day out of dress shopping with their bridal party or family. You might have planned to browse the internet and visit physical stores for several hours.
However, you may not be interested in shopping anymore upon finding a gorgeous dress that appears flattering on you, and you're entirely in love with. If the dress seems perfect to you, there simply may be no way to top perfection.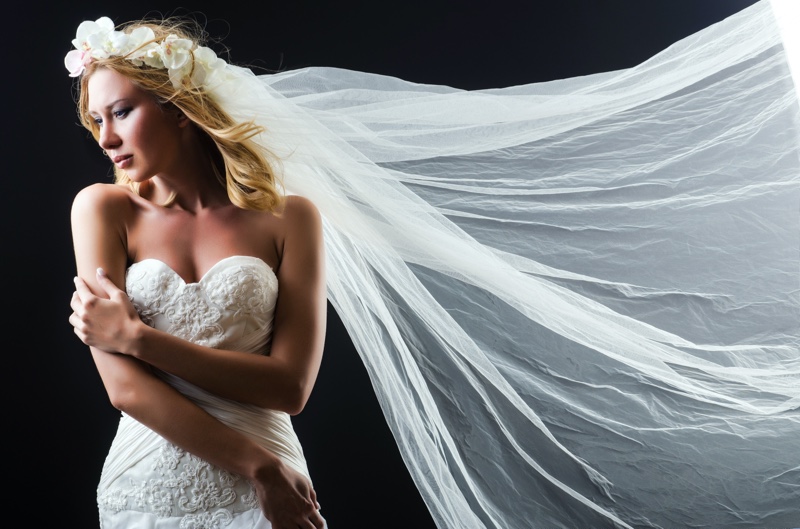 You Start Looking At Accessories With It
Once you've purchased a wedding dress, you generally start looking at accessories you can pair with it, such as shoes, a veil, and jewelry. However, when you find a beautiful dress, you might start thinking about the best accessories and footwear to go with it long before you've even purchased it.
While there's no harm in doing this to make sure you can tie a look together, it may be something you are more likely to do when you have complete confidence in a dress being perfect for your special day.
Your Family and Friends Love It
Everyone has their own tastes, and what you love to wear every day and for special events may not be what your friends and family love to wear. However, if you find a dress and everyone agrees that it's absolutely stunning, you may be on to a winner.
Often, you can know for sure by your loved ones' reactions when they see you try it on. They may feel shivers up their spines or may even get emotional. These can be excellent signs that you all feel the same way about it.
It Will Look Stunning in Your Wedding Photographs
Your perfect wedding dress is something you will remember forever – and it will be documented in your wedding photographs for you and your family to enjoy for years to come. According to established wedding photographer Moritz Schmittat, the choice of dress cannot be overrated.
He says, "Once a bride has found the right dress for her, she will not only look stunning, but she will move naturally, pose confidently and dance comfortably." He goes on to say, "From what brides tell me, sometimes it's not the obvious first choice of dress that works best – sometimes the perfect wedding dress wants to be found and discovered. It's a fun process that brides should fully enjoy."
All Signs Point to Yes
If you believe that all the stars have to align for a dress to be perfect for you, then having all signs pointing to yes may be what allows you to make up your mind about which wedding gown you purchase. It might be available now, or it could be on sale to save you money. It might also require minimal or no alterations.
When you can enjoy the most convenient shopping experience while ending up with a dress you love, you possibly couldn't expect a better experience.
Finding the perfect wedding dress doesn't always happen immediately, and it may take you several hours, days, or weeks. However, if you have any of these experiences above, you may have found a dress that's as close to perfect as they can get.