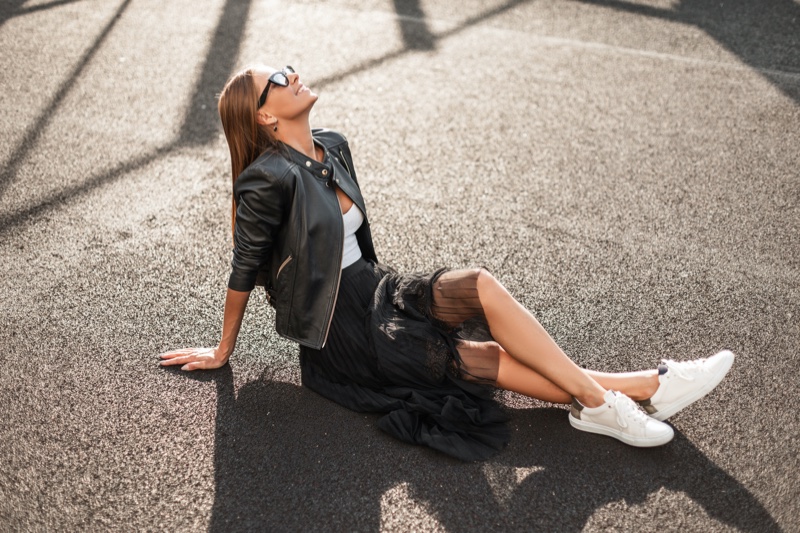 There's no denying it: Sneakers have become staple fashion pieces in everyone's wardrobes. Our list of must-have footwear here at Fashion Gone Rogue highlighted iconic, minimalist white trainers as versatile pieces that can be worn in any season –– but these days, they'd only make for the start of a sneaker collection. Sportier pairs are great for more casual looks, and there are all kinds of classic and stylish special editions that true sneaker lovers seek out to complement their best looks.
Indeed, it's clear that sneakers have become must-haves for anyone concerned with style. And yet, the sneaker industry still seems to be a boys' club. Avid sneakerhead Rachel Lowery explains that women's sneakers have limited size runs and quantities, making it difficult even for their target market to access the shoes. She emphasized the need for inclusive releases, sizing, and designs in women's sneakers at the same quantity and quality as general releases if the industry is to bridge its gender gap.
Recognizing the importance of equality in the sneaker industry, however, some sneaker brands have stepped up to the plate to make sure that their shoes fit women. Here are four that have caught our eye.
AVRE

Credit: @avrelife
AVRE was able to hit two birds with one stone by creating sneakers that are good for both women and the environment. The brand by Julie and Connie Kuo follows its founders' sustainable ethos by using recycled materials in its sneakers and their packaging. Additionally, AVRE aims to empower girls by creating exclusive women's sneakers and donating portions of the proceeds to charities for females.
The best part is that AVRE accomplishes all of the above without compromising quality. To empower modern women, their sneakers provide both comfort and style to customers.
Lilith NYC

Credit: @lilith.nyc
Founder Sarah Sukumaran is no stranger to the sneaker industry, given that she was previously the Director of Product for Nike. But upon noticing that footwear silhouettes from most athletic brands catered only to men, she decided to establish the women-owned sneaker brand Lilith NYC. As a sneakerhead herself, she wanted to make shoes more inclusive by designing shapes and silhouettes that are built for women.
Sukumaran's experience and passion shine through in that her designs are based on the preferred colorways and common sizes of female sneakerheads. Lilith NYC's recent collection exemplifies this approach, featuring striking burnt-orange and blue-green colorways as an homage to Queens.
Rykä

Credit: @ryka
Rykä aims to promote equality by creating powerful athletic shoes for women. The founder, Sheri Poe, is breaking down barriers in the sneaker and sports industries by crafting shoes that are based on women's foot shapes, muscle movements, and builds. By creating better-fitting silhouettes, the brand can help women become stronger athletes.
As an example, Rykä's award-winning Devotion XT Training Shoe has a RE-ZORB drop-in and external pod network to provide extra cushioning for women on the go. It is also designed with an interior direct-attach support system to assist lateral movement.
Saysh
https://www.instagram.com/p/CW6Fuf_vzN_
Credit: @bysaysh
Olympic track-and-field athlete Allyson Felix is well aware that good shoes can get you places. Knowing that women's shoes are typically sized-down and recolored men's sneaker styles, she decided to break the norm by creating her brand Saysh. Felix's athletic background has certainly helped because she states that each sneaker model is designed based on the true proportions and needs of a woman's foot.
True enough, the Saysh One sneaker provides comfort thanks to its special design. The sneaker also features a sleek, low-top silhouette and flattering curved lines, adding a feminine touch to footwear.
This is only the beginning of a new age in women's sneakers. As girls start to acknowledge their importance in the sneaker industry, more brands will be encouraged to craft designs that are made specifically for faster, stronger and more confident women.