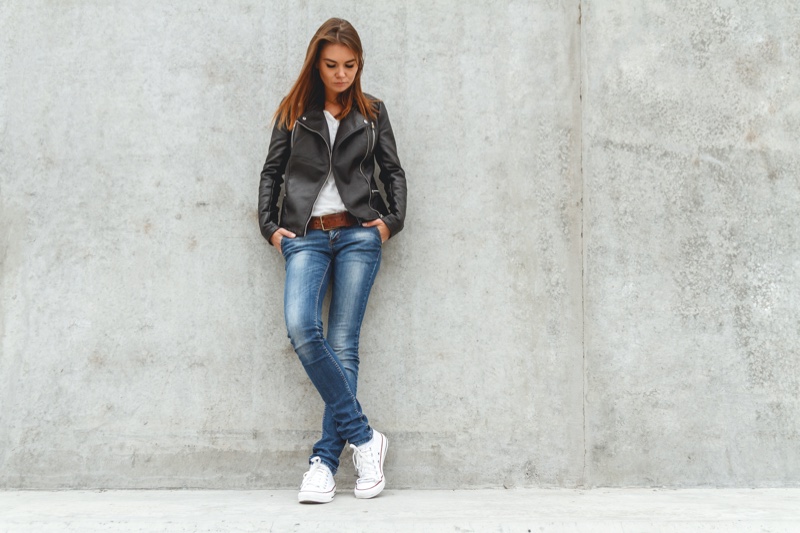 From year to year, jeans remain a must-have item in any women's wardrobe, and only trends change. Perhaps no other clothing can boast of such versatility. This is the item in one's wardrobe that can be worn in almost any situation: whether it's work, a walk around the city, or a party.
The main trend that has been popular for several past seasons is a loose fit. Fashionistas today wear loose styles like RM Williams jeans that allow them to feel at ease and at the same time look stylish and modern. Relaxation is a trend that has deeply established itself on the catwalks and in everyday life.
Minimalism and unusual cuts — this is the slogan of modern models. This season, designers surprise us with a combination of several shades of denim in one product and an incredible variety of prints and patterns, but basic silhouettes are still in style. So, straight models remain the classics of the category. This is an excellent option for those who do not like to experiment but want to keep up with modern times.
Now, let's move on to the actual styles of this season, which the world of fashion offers with unique touches.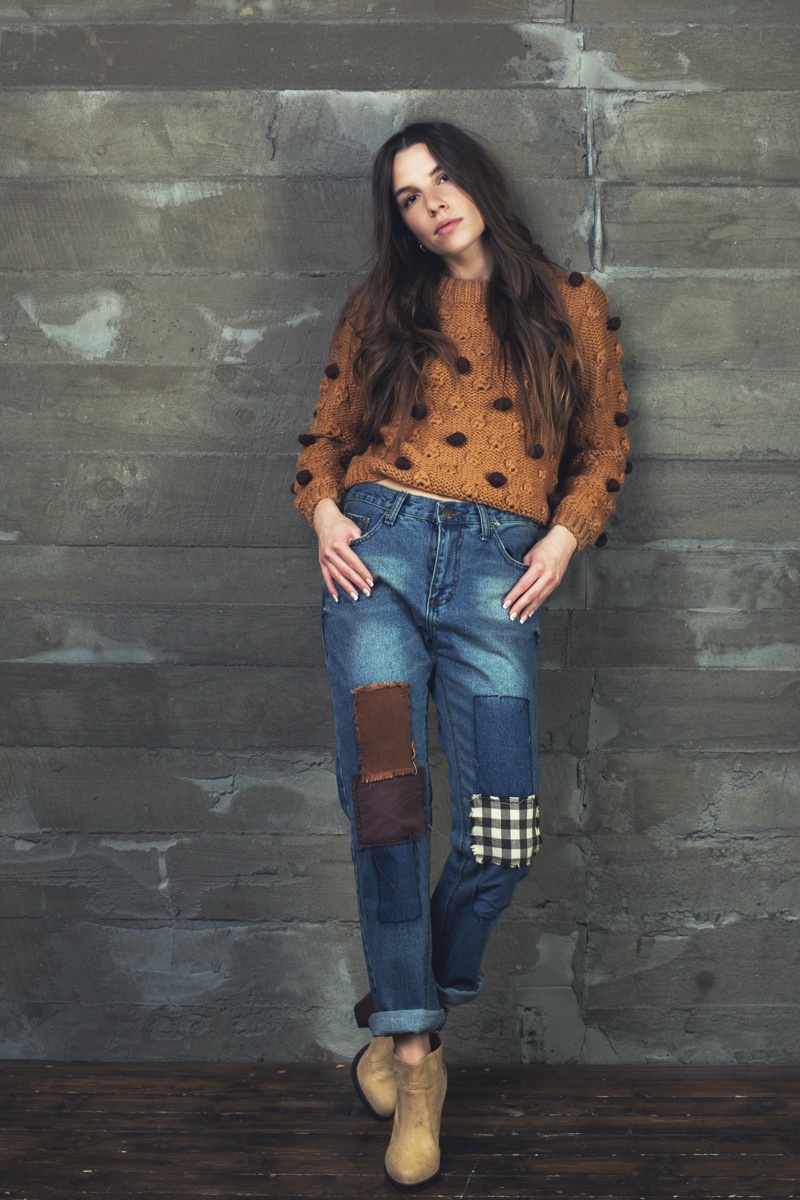 Shades of denim
One of the top trends is patchwork and everything related to it. Such a style makes a statement on its own and does not require additions. Moreover, it is an ideal option for those who find it difficult to choose a jean shade. Wide jeans with raw edges will look very stylish while staying true to boho style. Complement them with a shirt with ruffles and embroidery, a fringe bag, and a wide-brim hat, and you will look amazing. To create an elegant look, a pair of jeans with bold stripes at the side on a straight or slightly flared cut is suitable. A jacket and a shirt in a men's inspired cut will perfectly emphasize the sleekness of the outfit.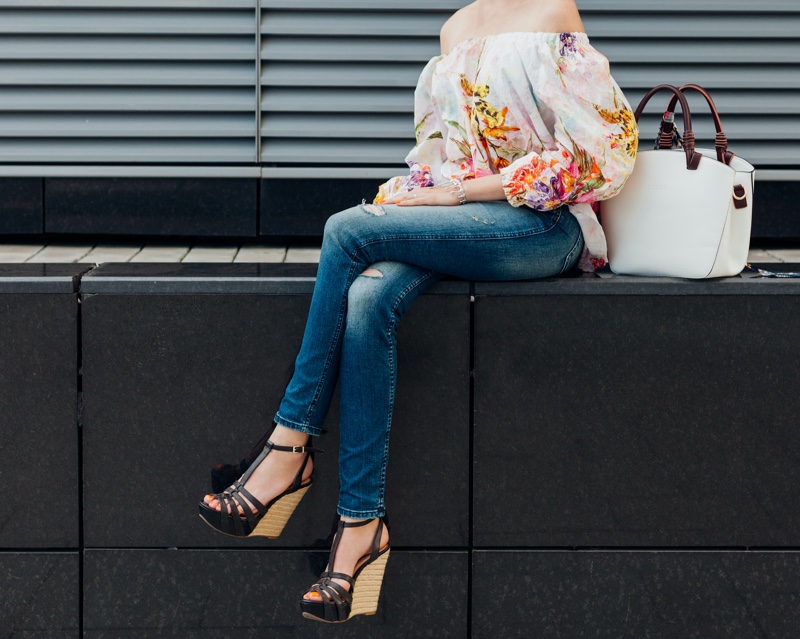 Styles of jeans
Straight jeans
This model is simply irreplaceable. We adored it in the 90s, 00s, and it continues to be worn today. We are almost sure that it will never go out of fashion. The straight cut is perfect for any look, and it perfectly harmonizes with the others things in your wardrobe. This season, continuing to tuck straight jeans into wide boots will also be a good look. In order to add fresh notes to your outfit, choose models of black or grey colors – they are incredibly on-trend now. These jeans are suitable for creating a minimalistic look or will be good for a Gothic mood. A Victorian-style blouse with a bow and dramatic puff sleeves will help with the latter. Besides, the addition of lace will really take this look to the next level.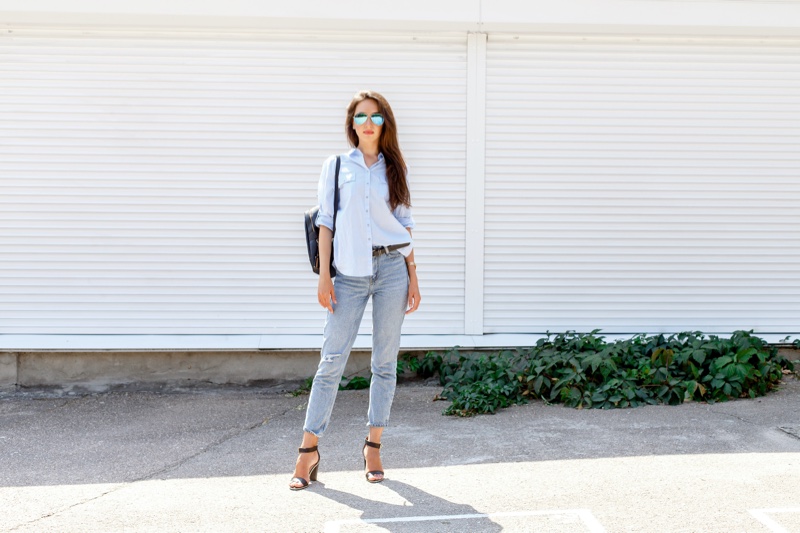 Cropped Jeans
This element came and went in the 80s, 90s, and 10s, and today it is again at the peak of popularity. However, it has not been so severe yet – designers offer cropped jeans with wide leather or contrasting details. No doubt – bold fashionistas will like this trend, especially if they enhance the impression with the help of cool boots, oversized sweaters, and a jacket with broad shoulders. By the way, classic cropped jeans are also relevant. Complement this model with ankle boots with a chic cape, a loose-fitting jacket, and a little bag – the casual look is done. For lovers of more accessories, choose a colorful hat and a trendy necklace that will add originality to the style.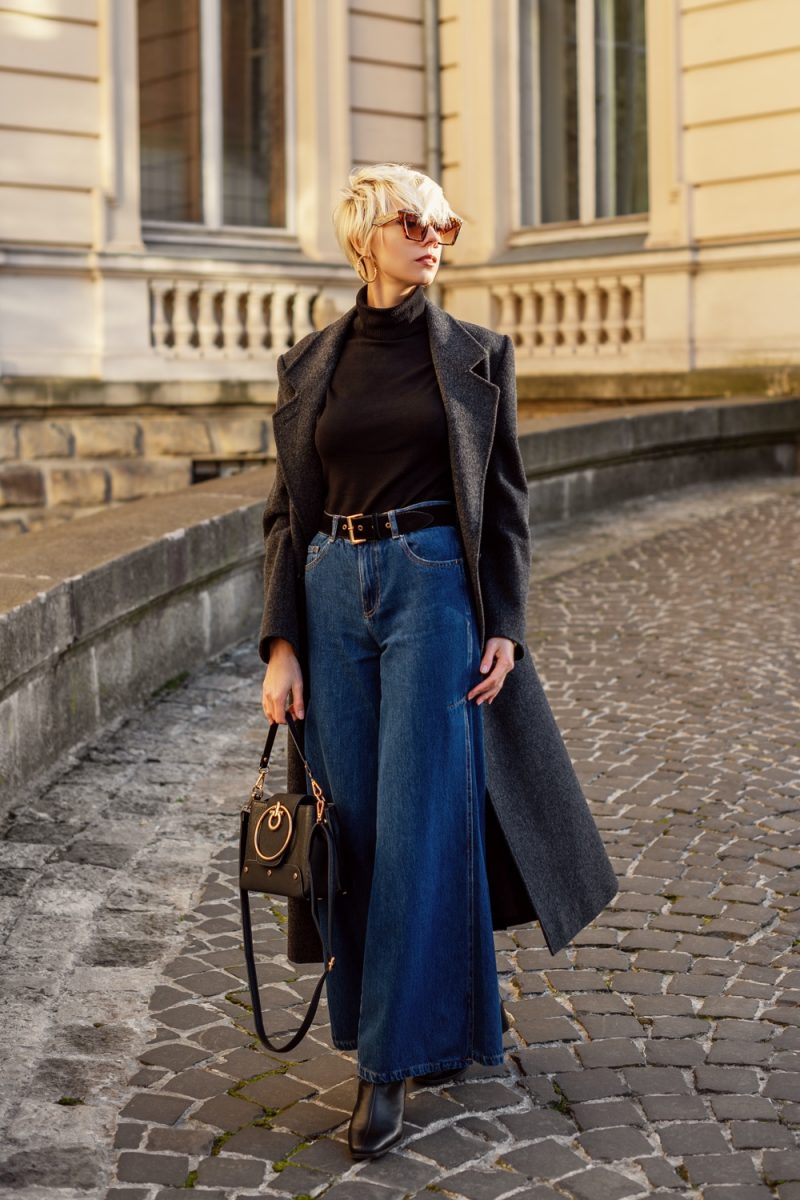 Wide jeans
It looks like this trend will stay with us for a long time – fashionistas have really loved it over the last few seasons, as wide jeans embody freedom, comfort, and originality. Their loose cut allows one to feel free and absolutely does not constrain movement, which is very important in our quick rhythm of life. You can combine this model with loose sweaters, shirts, and hoodies for the most relaxing looks. By the way, you can even wear this with sneakers for a completely casual outfit. A total denim outfit is also relevant – put on a vest over a shirt in the same shade as jeans. Of course, don't forget about accessories – it's much more fun with them.
Skinny
Fashionable women's skinny jeans have not lost their popularity even though the style has waned in recent years. This elegant model fits the wearer's silhouette, emphasizing the beauty and elegance of the legs.
It is clear that it can be worn with anything, because skinny jeans look spectacular, both with baggy things in an oversize style and a delicate blouse or a classic shirt.
One can complement this fashionable model with a knit sweater, cardigan, raincoat, and more. You will get an exquisite and stylish look by pairing it with high-heeled shoes. Simple pumps and sandals will also be an excellent addition to skinny jeans.
Prints and embroidery
You definitely won't be bored this season, as the designers do their best with fancy prints, logos, and embroideries that will not leave anyone indifferent. Such jeans can become both an accent in the look and an addition to the other statement-making pieces.
So, do not take fashion seriously; play with it – make a whimsical and colorful look. Just make sure that it is all your own, and most of all–comfortable.