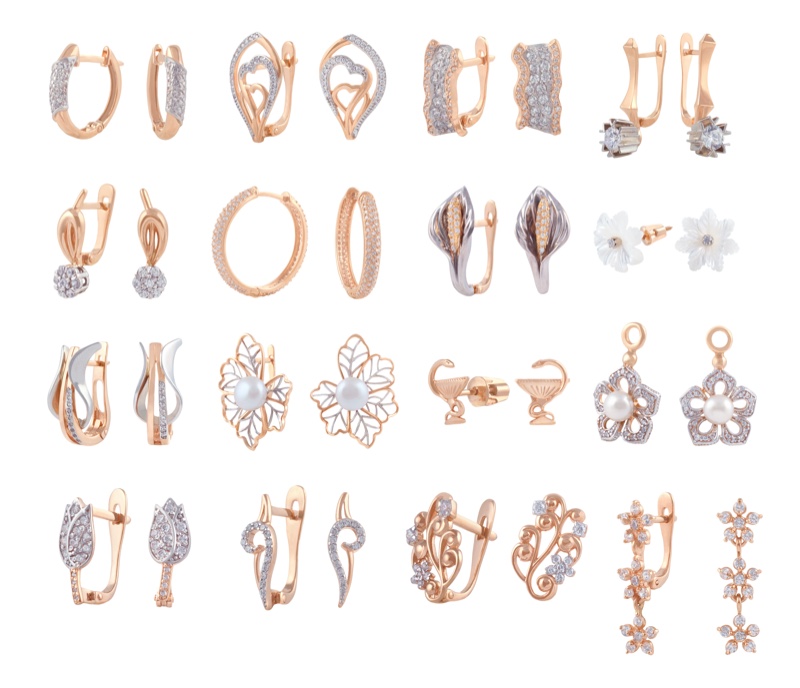 Earrings have been an integral part of human culture for thousands of years. There are many earring types, and the earliest evidence of earrings dates back to ancient Persia, where men and women adorned their ears with gold and precious stones.
Over time, earrings became a symbol of status, wealth, and fashion in various cultures around the world. Even today, earrings continue to be a popular accessory in modern times.
From simple studs to extravagant chandeliers, there are earring types for every taste and occasion. Earrings offer an opportunity to express individuality, elevate a look or outfit, and even serve as heirlooms passed down from generation. Read on to find out about all the different earring types.
Earring Types
Stud Earrings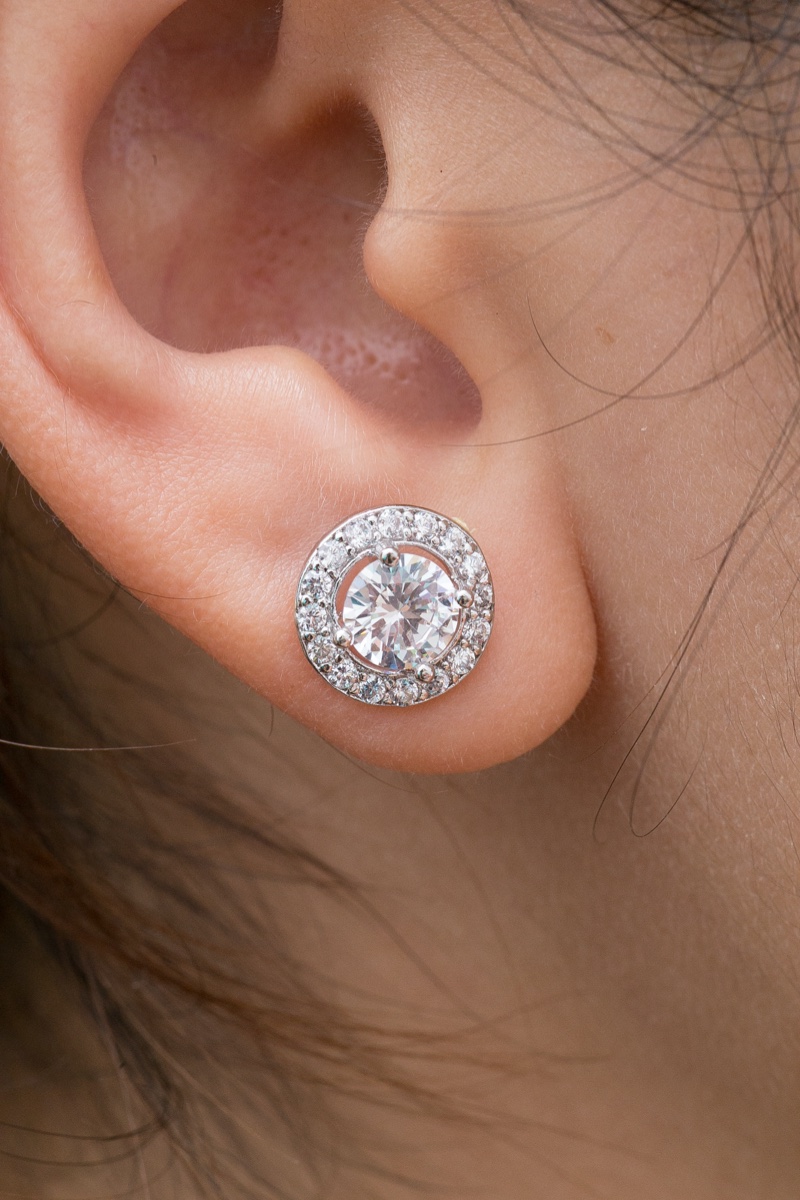 Stud earrings are the most basic and classic earring style. They have a simple design featuring a single gemstone or metal ball that sits directly on the earlobe.
Studs are versatile and perfect for everyday wear or adding a touch of elegance to any outfit, even when paired with necklaces or bracelets. One of the defining characteristics that makes stud earrings so popular is their simplicity.
Studs come in many styles, from diamond earrings to pearl studs to simple gold or silver ball studs. A pair of diamond studs are perhaps the most popular choice, especially for a special occasion such as a wedding or formal dinner.
On the other hand, Pearl studs offer a more classic and elegant look that can be paired with anything from casual jeans and a t-shirt to an evening gown. When it comes to pairing studs with outfits, there are a few things to keep in mind.
Cluster Earrings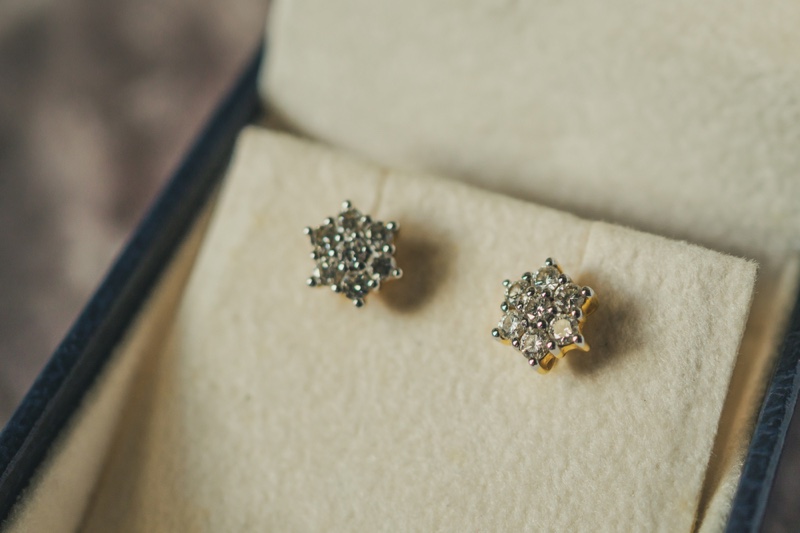 Cluster earrings are a type of jewelry characterized by a design that features a group or cluster of gemstones, diamonds, or other decorative elements arranged closely together. These earrings create a visually striking effect by combining multiple smaller stones or elements to form a larger focal point.
The stones are typically set in a metal base or framework for secure placement. Cluster earrings come in various shapes, sizes, and designs, and they can include symmetrical or asymmetrical arrangements.
Common gemstones used in cluster earrings include diamonds, sapphires, rubies, emeralds, and colored gemstones. They are appreciated for their ability to add elegance and charm to any occasion through the skillful combination of smaller stones.
Hoop Earrings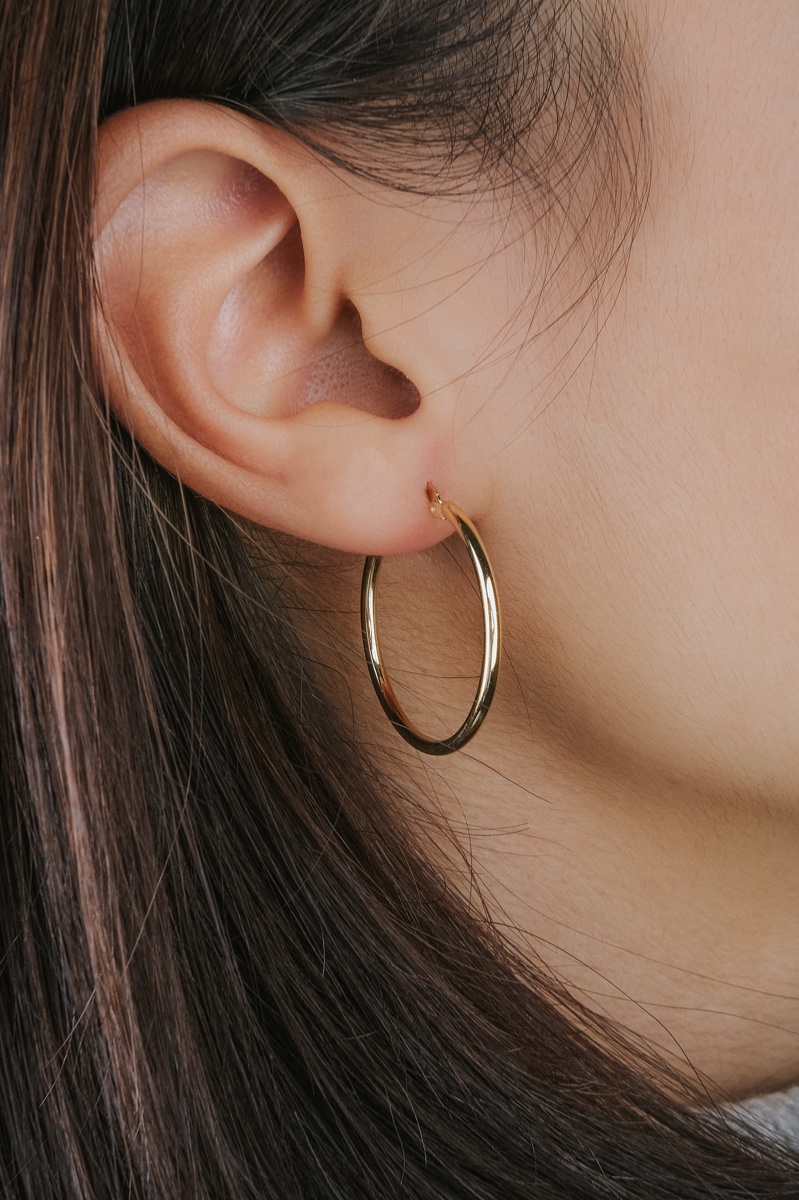 The quintessential accessory for any fashionista, hoop earrings have been a staple in the jewelry industry for centuries. Defined by their circular shape, hoop earrings come in a variety of styles and sizes. With so many options available, it can be not easy to decide what type of hoop earring works best with your style.
Luckily, we've got you covered. Hoop earrings are characterized by their circular shape, which comes in various sizes, from small to large hoops that go all the way around the ear lobe. They can also come in different thicknesses ranging from thin hoops to thick ones, which add more edge to the look.
Hoop earrings can be made out of almost any metal and material, such as yellow gold, white gold, silver, stainless steel, or plastic. Thin hoops are perfect for achieving an elegant look, while thick hoops add more attitude and personality to your outfit.
Dangle Earrings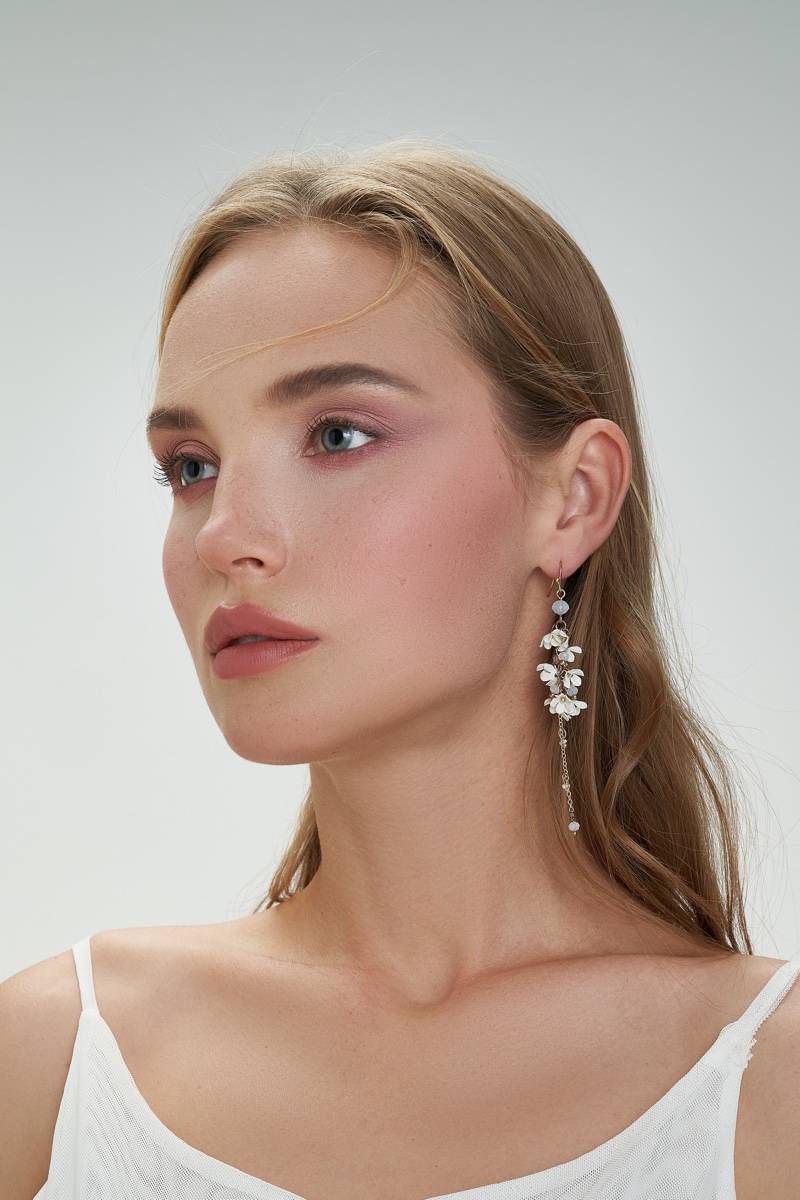 Dangle earrings are a type of earring that hangs below the earlobe. They typically have some decorative element that dangles freely, which is where they get their name. Dangle earrings can vary in length from just a few millimeters to several inches long.
They can be made from a variety of materials, including metals, gemstones, beads, and more. One defining characteristic of dangle earrings is that they move as you do.
This makes them perfect for adding some sparkle and movement to your outfit. They can also be incredibly versatile, as there are so many different styles available that there is sure to be one for any occasion.
Chandelier Earrings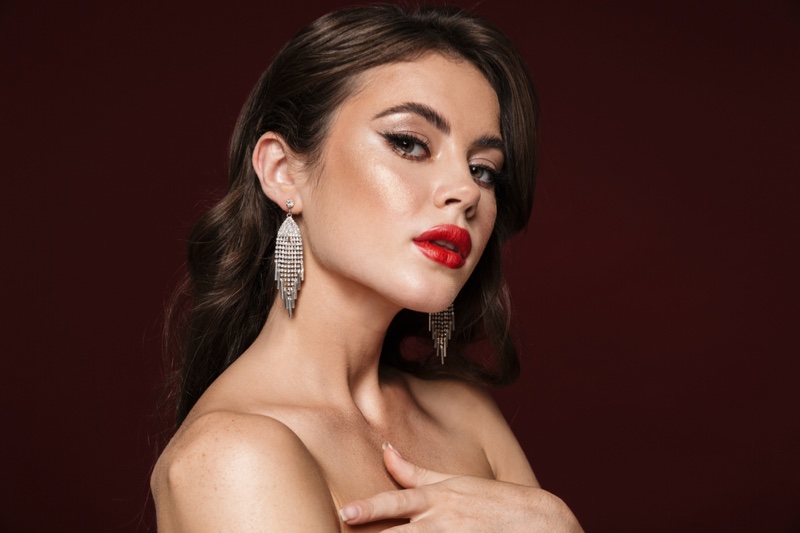 Chandelier earrings are one popular type of dangle earring. These typically have multiple tiers or levels of dangling elements, creating a cascading effect when worn. Chandelier earrings can be pretty dramatic and statement-making, so they are perfect for special occasions or nights out.
Drop Earrings
Drop earrings are another common type of dangle earring. These typically consist of a single decorative element hanging from the earlobe.
Drop styles come in all shapes and sizes and can range from simple and understated to bold and eye-catching.
Threader Earrings
Threader earrings are a more modern style for dangle earrings and come with popular styles like teardrop earrings.
These feature a thin chain or thread that passes through the piercing hole and hangs down on either side of the earlobe. Threader earrings can be delicate or edgy depending on the style, making them perfect for everyday wear.
Jacket Earrings
Jacket earrings, also known as ear jackets or earring jackets, are a stylish and versatile accessory that adds flair to any outfit. These earrings consist of two main components: a decorative front piece that sits on the earlobe and a separate back piece that attaches behind the earlobe, creating a layered effect.
The front piece usually features a prominent gemstone or design, while the back portion may be a simple stud or another complementary element. Jacket earrings offer the flexibility to mix and match different front and back pieces, allowing for various style combinations.
They provide a contemporary twist to traditional earring designs and are favored for their ability to create unique and customizable looks.
Clip-On Earrings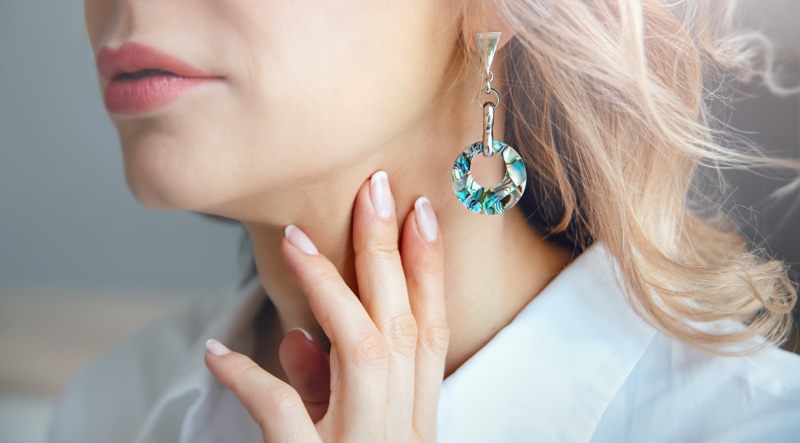 Clip-on earrings are a type of earring that, as the name suggests, clip onto the ear rather than being inserted through a piercing. The earrings have a hinge or spring mechanism that allows them to be attached to the earlobe or another part of the ear.
Clip-on earrings can come in various sizes, shapes, and materials, just like traditional pierced earrings. They are typically designed with comfort in mind and include cushioned pads to prevent discomfort or pain during extended wear.
Huggie Earrings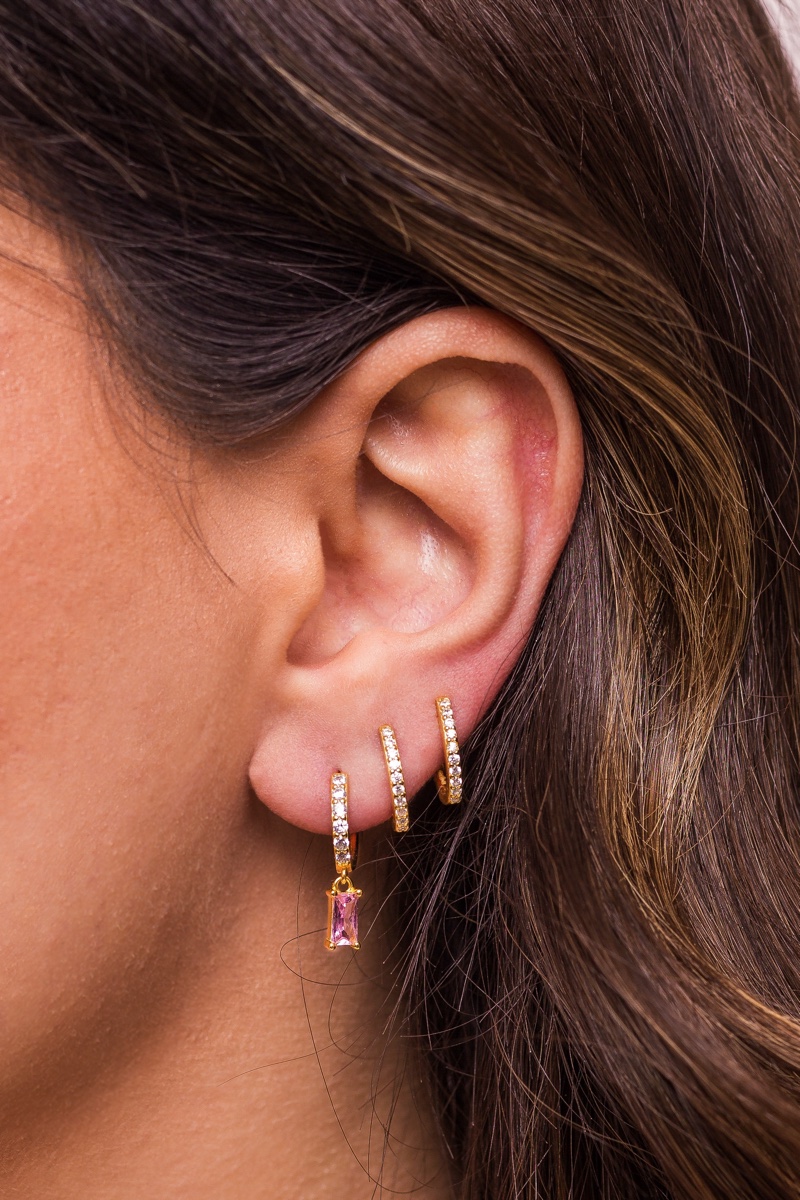 Looking for a style of earring that is comfortable to wear yet still stylish? Look no further than huggie earrings. These earrings are named after their hugging or embracing design that sits close to the earlobe.
Huggie earrings are a great alternative to larger hoop earrings as they provide a similar style without the added weight and potential discomfort. Huggie earrings come in various sizes, from miniature hoops that cover only the earlobe to larger designs that go all the way around the ear.
Most huggie earrings feature a snapping mechanism or hinge closure so they can be easily put on and taken off, making them perfect for everyday wear or those who frequently change their accessories. The classic design of huggie earrings makes them versatile enough to pair with any outfit, from casual wear to formal attire.
Ear Cuffs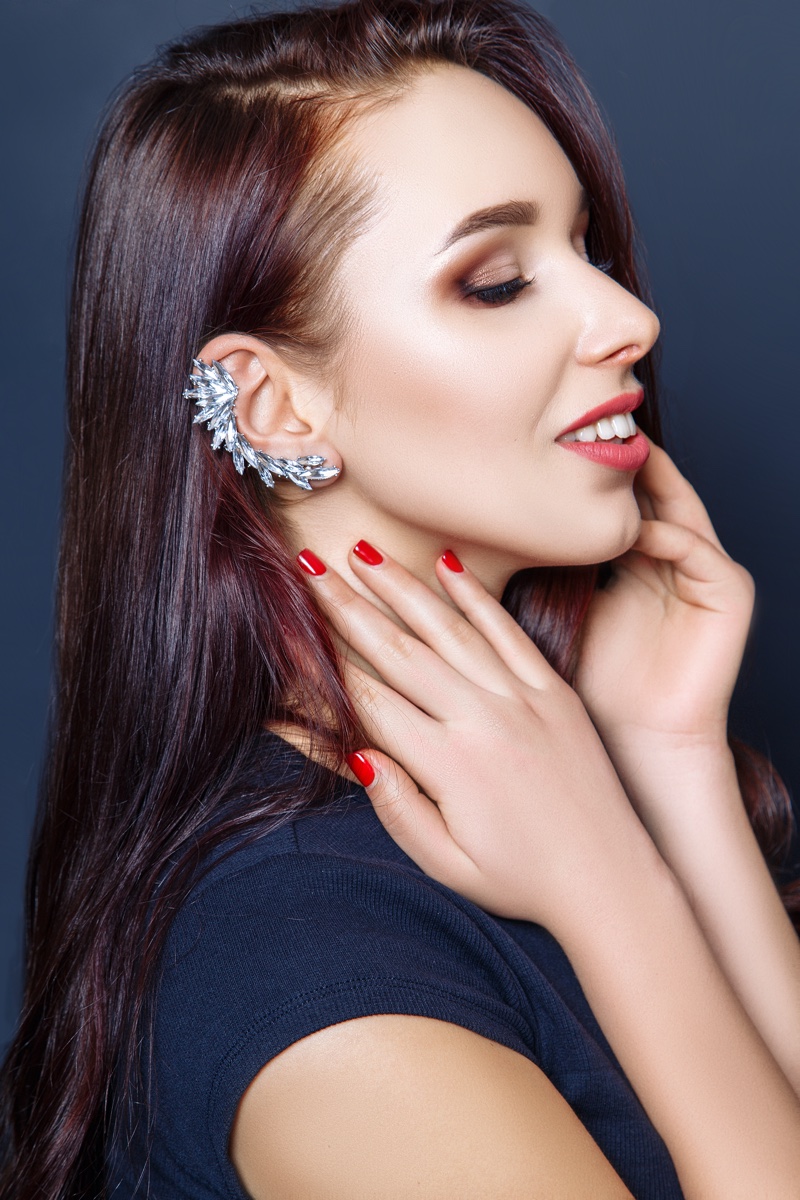 If you're looking for a bold, statement-making earring type that doesn't require ear piercings, look no further than the ear cuff. This unique earring style wraps around the outer ear and is secured in place by squeezing it gently. Ear cuffs come in a wide range of styles, from delicate and understated to chunky and eye-catching. It's a great way to stand out.
Ear cuffs consist of a curved or straight metal band that wraps around the outside of the ear. They can be worn on either ear or both ears at once for an edgy, asymmetrical look.
Some ear cuffs feature intricate designs such as spirals or feathers, while others are simple and minimalist. Unlike traditional earrings that require a piercing, ear cuffs simply squeeze onto the cartilage of the ear for a comfortable yet secure fit.
Earring Backs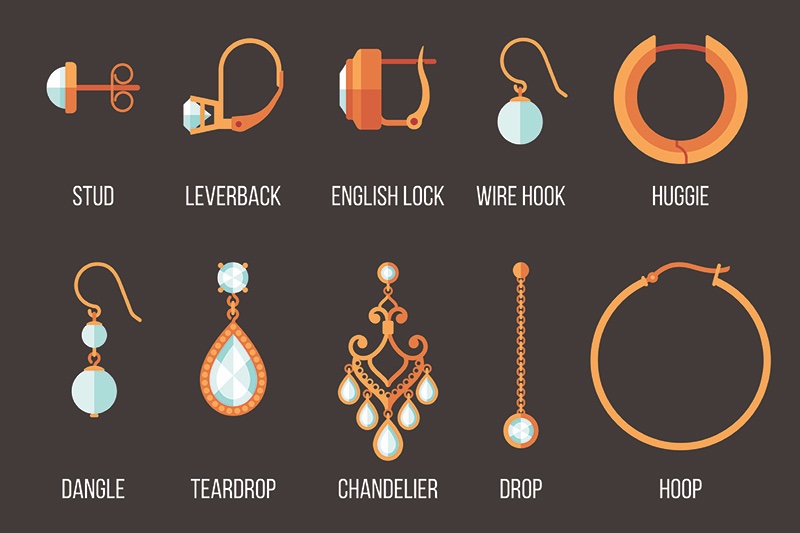 Earring backs play a crucial role in earrings' comfort, security, and style. From classic options like push backs and screw backs to innovative designs like latch backs and lever backs, each type offers a unique mechanism for holding earrings in place. Discover the diverse world of earring backs and find the perfect fit for your earrings.
Push Backs: Simple and easy to use, these backs consist of a metal earring post and a small clutch to hold the earring in place.
Screw Backs: These backs feature a threaded post that screws into a matching earring back, providing a secure fit.
Latch Backs: Also known as hinged hoops, these backs have a small hinge mechanism that allows them to open and close easily.
Lever Backs: Featuring a curved wire and a lever for secure closure, lever backs offer a comfortable and reliable fit.
Butterfly Backs: The most common earring backs have two folding loops that secure the earring in place.
Fishhook Ear Wires: These backs have a hook-like design that goes through the earlobe, commonly used in dangle earrings.
Clip-Ons: Ideal for non-pierced ears, clip-ons use a hinged or screw mechanism to attach to the earlobe.
Safety Backs: Providing extra security, safety backs feature a secondary metal piece to prevent earrings from getting lost.
Final Words on Earring Types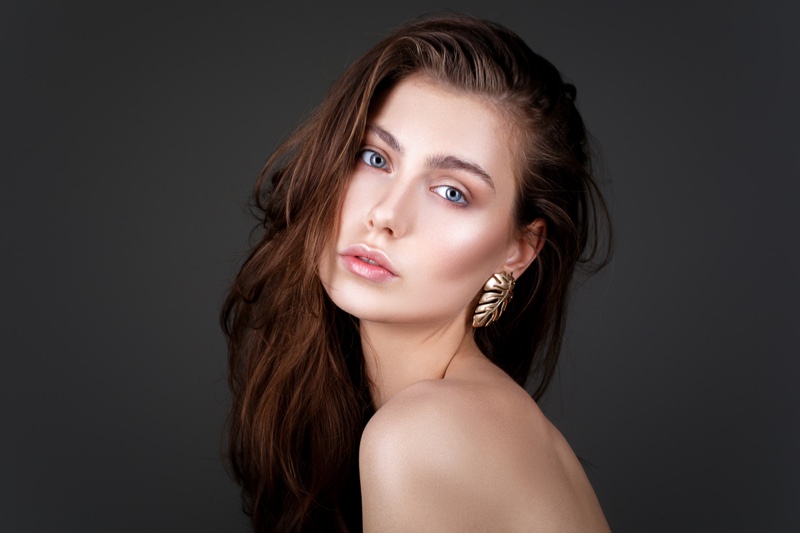 Earrings have a rich history and continue to be a popular accessory in modern fashion. With a myriad of earring types available, there is something for every taste, occasion, and personal style.
The options are vast, from classic diamond stud earrings to eye-catching cluster earrings, gold hoop earrings that never go out of style, and dangle earrings that add movement and sparkle.
Additionally, the choice of earring backs is equally important, with push backs, screw backs, latch backs, and lever backs ensuring a comfortable and secure fit. Whether you prefer pierced or non-pierced options, you can find the perfect pair of earrings after viewing our guide.
Frequently Asked Questions
How do I choose the right earring type for my face shape?
Different earring types can flatter different face shapes. Here are some general guidelines:
Round Face: Angular and elongated earrings like dangles, drops, or long and narrow designs can help create the illusion of length and balance out a round face shape.
Oval Face: Oval faces are versatile and can pull off various earring styles. Studs, hoops, and teardrop-shaped earrings can complement an oval face shape nicely.
Square Face: Soften the angles of a square face shape with earrings that have rounded or curving designs, such as hoop earrings, circular studs, or earrings with flowing lines.
Heart-Shaped Face: Earrings that are wider at the bottom and narrower at the top can complement a heart-shaped face. Try teardrop earrings, chandelier earrings, or earrings with gentle curves.
What materials are commonly used in earring designs?
Earrings can be made from various materials, each with a unique style and characteristics. Common materials used in earring designs include:
Gold: Gold earrings are a popular choice, known for their durability, elegance, and timeless appeal. They are available in different gold purity levels, such as 14k, 18k, and 24k.
Silver: Silver earrings are versatile and often more affordable than gold. They can have a sleek and modern look or be intricately designed with gemstones and engravings.
Platinum: Platinum earrings are known for their durability and lustrous appearance. They are hypoallergenic and offer a luxurious and sophisticated aesthetic.
Gemstones: Earrings can feature a variety of gemstones, such as diamonds, sapphires, rubies, emeralds, and more. These add color, sparkle, and a touch of luxury to the earring design.
Pearls: Pearl earrings are elegant and timeless. They can be worn for casual and formal events and are available in various sizes and colors.