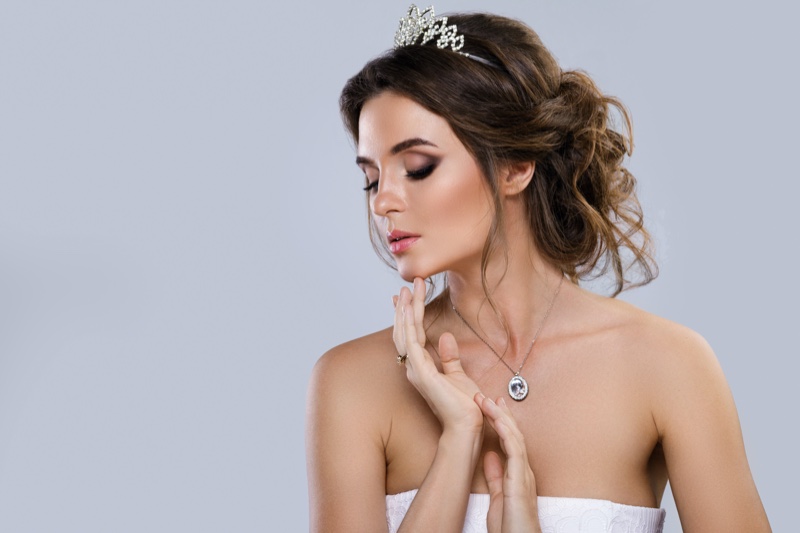 The choice of your bridal hair accessory is as important as your choice of dress. In fact, a carefully selected hair accessory will complement your entire wedding day look. Even then, choosing the most suitable one can be overwhelming, especially when you have so many glamorous options at your disposal.
If you have yet to choose your hair accessories, you're likely wondering which one will be the best for you. In this article, we will help you navigate past this dilemma so that you narrow down your options so that you only choose impeccable hair pieces that will help you pull off that perfect wedding day look.
Here are some tips to help you achieve a perfect hairstyle for your wedding:
Consider the weather
This is important if you're having a reception or ceremony outdoors. Depending on the time of the year and the specific area, the weather has various disadvantages and advantages. For instance, during summer, you get to enjoy some incredibly clear views, but the humidity is not something you can ignore.
If you're expecting some rain, heat, wind, snow, or even humidity, go for a style that can withstand such elements. Generally, an updo is a safe option when you expect problematic weather. Wearing your hair half up or down could make room for your style to become frizzy or fall flat after some time. This isn't what you want for your big day!
Take your hair type into account
Whether it's the hairstyle or accessories, it's important to keep in mind that each person's hair type is unique. Know about the texture, length, or length. All of these count when it comes to choosing a style for your big day. In terms of length, short hair will usually be above the shoulder while medium length falls a little past the shoulder.
Anything that goes beyond the shoulder blades is long. Depending on the style you choose for your hair, you can accessorize with a tiara, wedding flower hair clips, or flower crowns. But it's not only about length, but the hair texture too can be a puzzle. Density matters as well.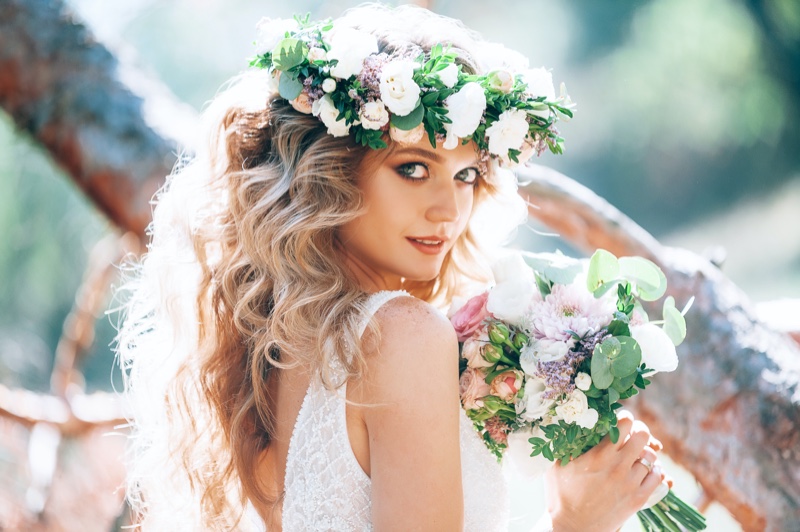 Wedding theme
Your wedding theme goes a long way in determining your hairstyle. The description you use for your wedding day should match that of your personal style. For instance, if you're opting for a bohemian and effortless theme, it would be unrealistic to have a vintage pin-up hairstyle. Instead, you'll want to rock a large braid or undone style complete with vintage accessories or floral crowns to make a statement.
If you're envisioning a glamorous wedding, then you'll be better off wearing a voluminous curled hairstyle with an accessory featuring embellishments or sparkles like wedding flower hair clips. For the classic look, it's all about the finishing and details.
The style of your dress and neckline
No doubt, the choice of your wedding dress is the most important part of your big day. But not only that, your dress determines your type of hairstyle. Simply put, the hairstyle you settle on should flatter and make the dress stand out. This means you must pay attention to the details of your garment, from the neckline to embellishments, if any.
If your neckline and back are both lower, you can emphasize it or leave your hair down to cover. You'll agree that a strapless dress offers room for versatility in the hairstyles you can rock, including half down, updo, braided, down, or to the side. All of these would be flattering!
For a higher neckline or longer sleeves, it's better to wear your hair up.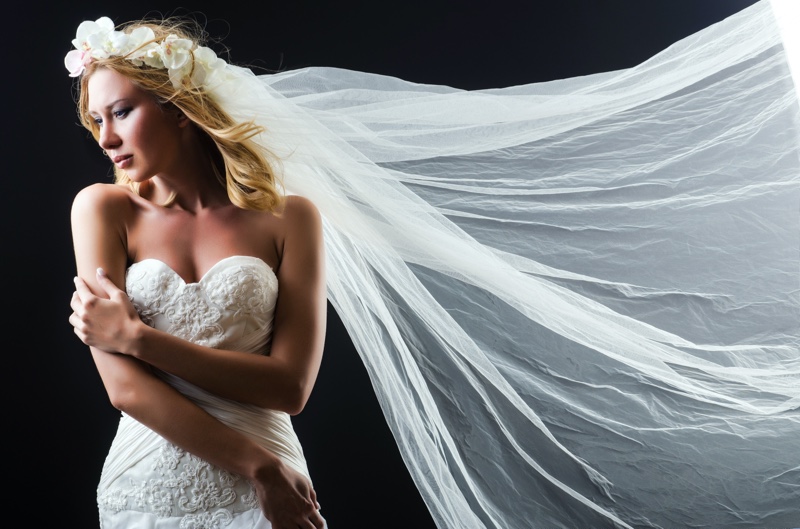 Will you wear a veil?
Just as you'd need a perfect topper for your wedding cake, you may need a veil to complete your look. A veil can be a timeless and gorgeous statement. They come in varying lengths. Depending on the type of veil you choose, you'll need a more secure style.
If you'll wear a veil, first decide where you'll position it on your head. You should also choose the part of the style that will be visible. For a heavy veil, place it in such a way that it'll not ruin the finished hairstyle.
Ultimately, you need to stay up to date with the current trends, know the best accessories and possibly work with a seasoned bridal hairstylist. If you don't know where to find accessories, Les Couronnes De Victoire is a good place to begin your search as they have a wide collection of wedding accessories. You can also look for inspiration from different sites, including Instagram and Pinterest!