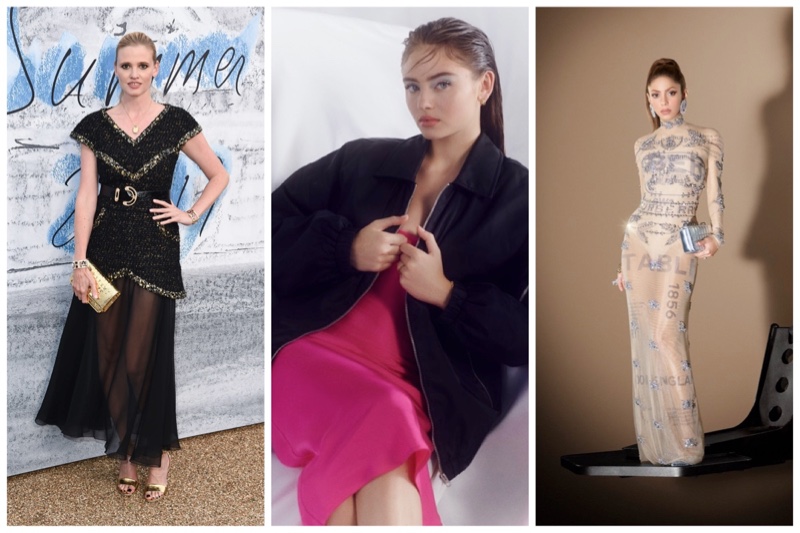 Shakira is the face of Burberry's Holiday 2022 campaign, which has her modeling a beautiful coat and dress decorated with sparkling crystals. Lara Stone is featured in the Holiday 2022 ad for CUUP, showcasing various festive lingerie styles.
ABOUT YOU and model Leni Klum have teamed together once more to create a chic range of designs for the fall-winter 2022 season. Karmen Pedaru is featured on the cover of ELLE Spain's November 2022 issue. Rafa Gallar was the photographer for the cover shoot.
Dove Cameron and Olivia Cooke pose in the holiday 2022 advertisements for Savage X Fenty, which includes lingerie and loungewear. A range of sweaters and fashionable jeans designed by supermodel Claudia Schiffer has been made in collaboration with FRAME.
With its Holiday 2022 campaign, Louis Vuitton gets into the mood for the festive season filled with snow and chic presents. As part of the debut of Versace's holiday ads, models such as Lily McMenamy, Sora Choi, and Mila van Eeten are shown donning designs that the opera inspired.
Jennifer Connelly, who David Sims photographed for the campaign, is featured as the face of Louis Vuitton's cruise 2023 line. The advertising for Coach's Holiday 2022 campaign is unveiled using the slogan "Feel the Wonder" to bring back fond memories from one's youth. The images star Jennifer Lopez and Zoey Deutch.