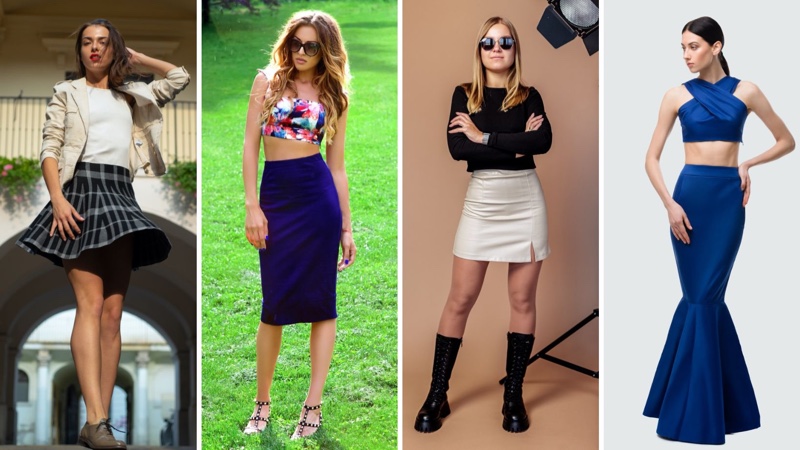 Essential to the fashion scene, different types of skirts offer countless options for events and style choices. The possibilities for creating unique looks are nearly endless. From the office to a cocktail event to a casual outing, there is no shortage of variations.
Types of Skirts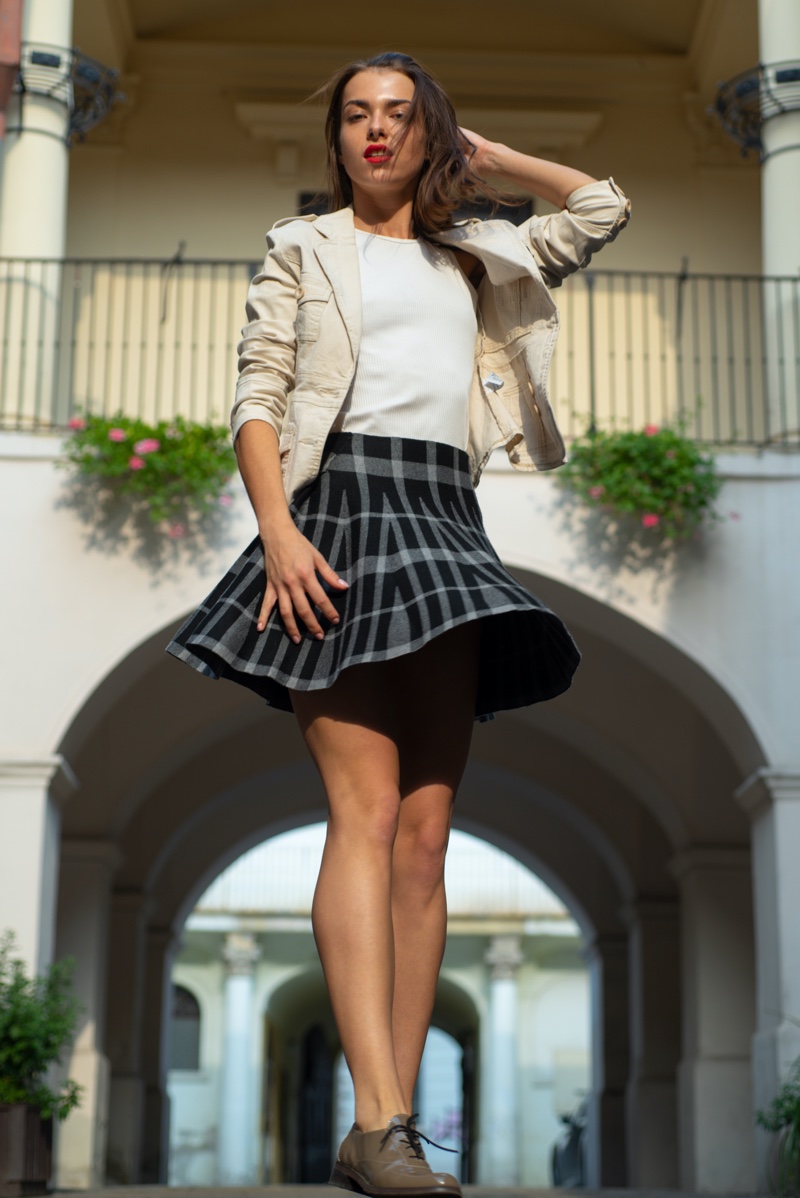 Skirts have been a cornerstone of fashion for centuries, developing with time to incorporate changes in length, fullness, and design. The beauty of skirts lies in their adaptability – they can accentuate waistlines, alter hemlines, and range from body-hugging to voluminous, catering to various body types and style preferences.
Skirts also hold a unique place in the annals of cultural history, having been worn by both men and women, from the Scottish kilt to the Polynesian sarong.
This guide will explore 25 different types of skirts, exploring their unique characteristics and offering styling tips. However, remember that the length of these skirts can range from micro-mini to full, offering even more variety and adaptability.
A-Line Skirt: Classic Style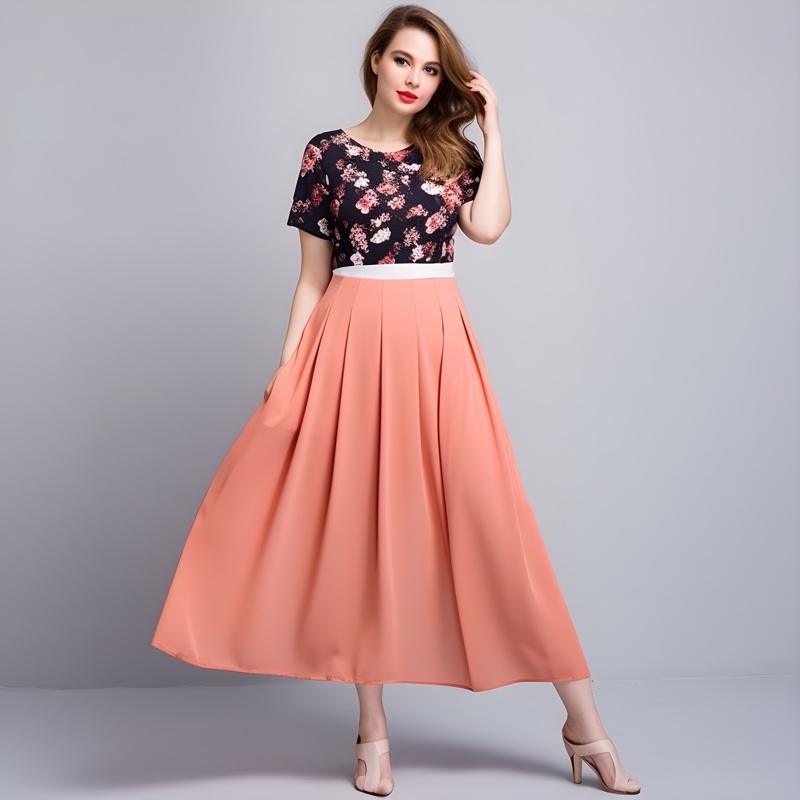 An A-line skirt is designed to mimic the letter 'A,' fitted at the waist and flaring out towards the hem. This versatile style suits various body types and can be worn at different lengths for many occasions. It pairs well with numerous tops, from fitted blouses to oversized sweaters. This simple yet elegant design makes the A-line skirt a timeless wardrobe staple.
Asymmetrical Skirt: A Play on Lines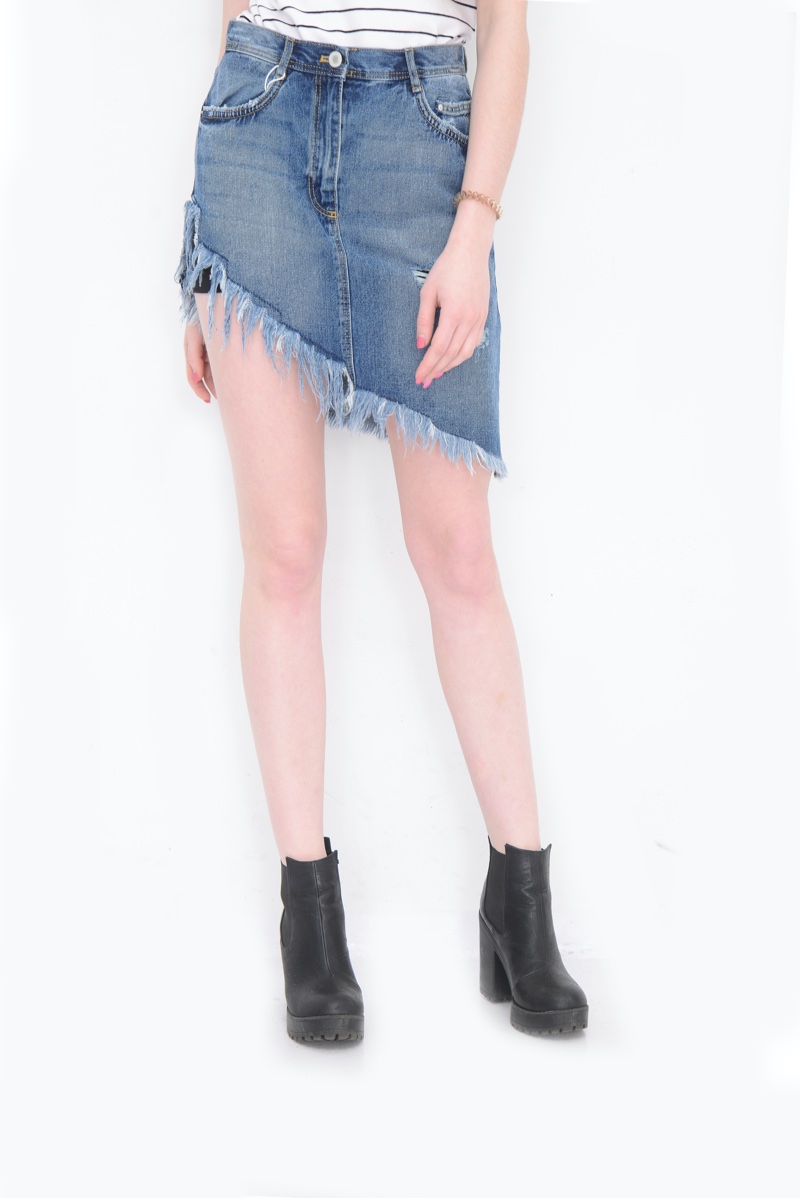 Known for its distinct hemline, the asymmetrical skirt doesn't maintain a uniform length. Its design brings a fresh, modern flair to any ensemble. The hemline could dramatically slant diagonally or subtly vary in front and back.
This unexpected twist in design adds visual interest and movement to the skirt's overall shape. The style, available in multiple lengths and fits, introduces a dynamic element into the fashion mix. With its transformative shape, the asymmetrical skirt offers a standout silhouette in any wardrobe.
Box Pleat Skirt: Precise & Elegant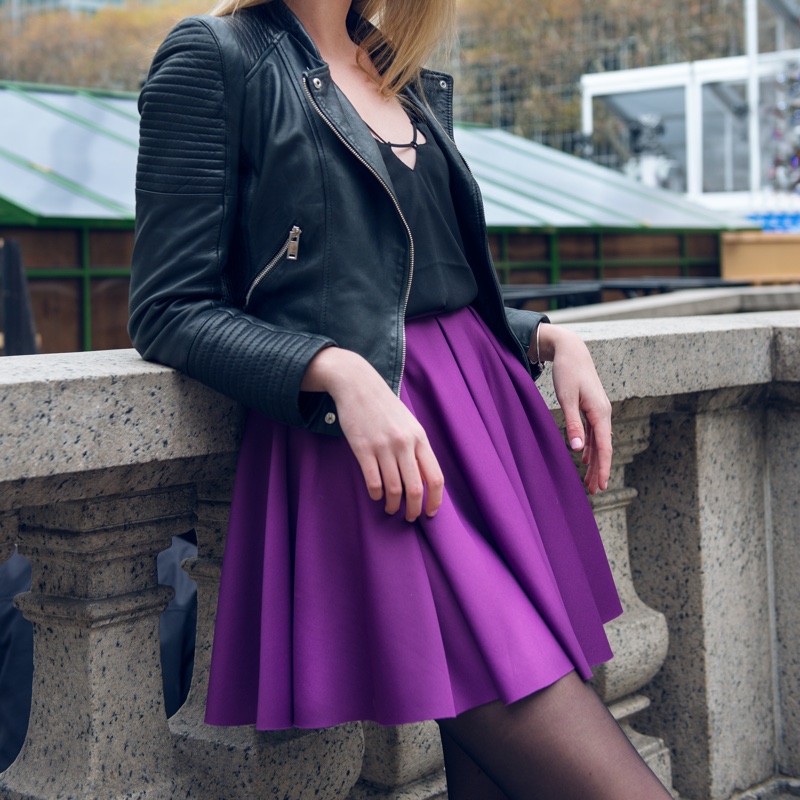 Meet the box pleat skirt, an enchanting blend of sophistication and style. Renowned for its precise folds and structured form, it features 'box pleats' – folds of fabric that face away from each other, creating a clean, rectangular appearance.
This design adds texture and visual intrigue, effortlessly elevating any ensemble. The skirt cinches at the waist, flares out thanks to the pleats, and maintains a neat and orderly silhouette.
Bubble Skirt: A Statement Piece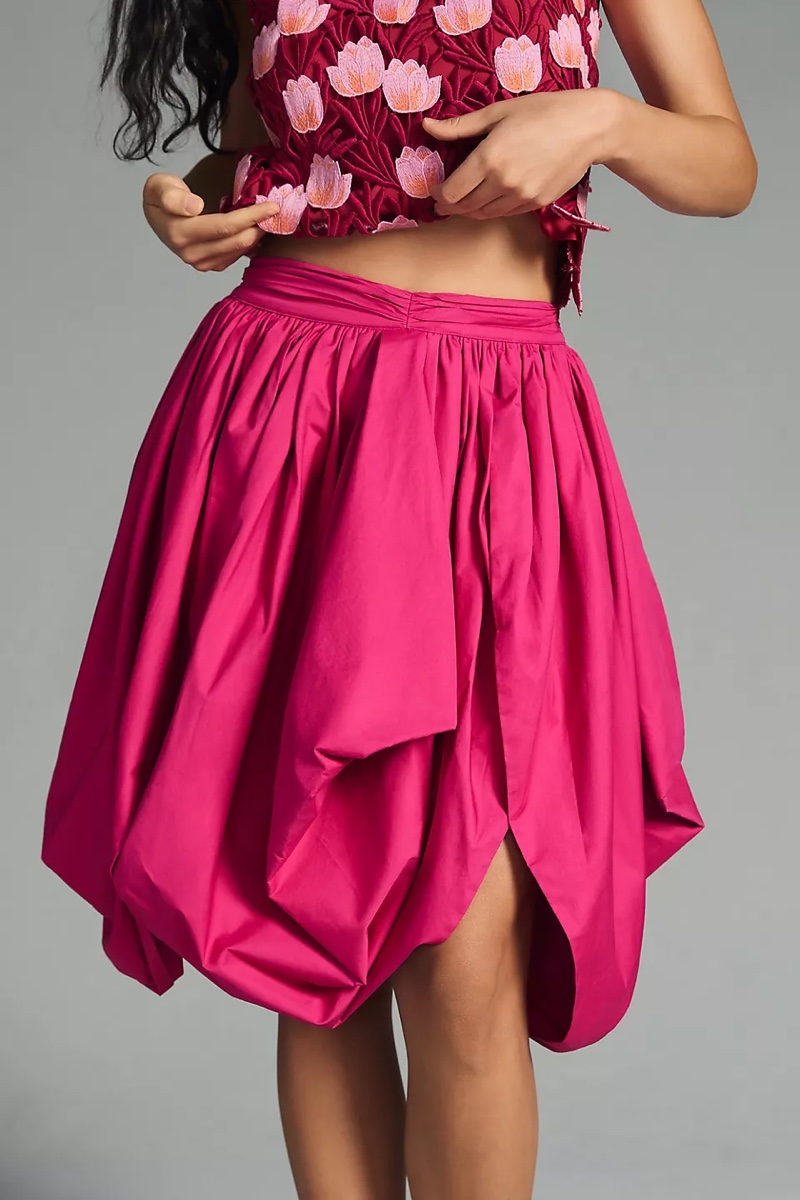 Imagine a skirt that brings drama and whimsy to any outfit – that's the bubble skirt for you! Known for its distinct voluminous silhouette, this fashion-forward piece creates a delightful visual effect with its fabric gathered at the hem, resembling a 'balloon' or 'bubble.'
From a fitted waist, it flares to an unexpected roundness and then tucks back in, creating a bold balance between form and fabric. A statement-maker, the balloon skirt doesn't just grace your wardrobe; it enlivens it, bursting with playful character and a daring spirit.
Circle Skirt: The Flirty Classic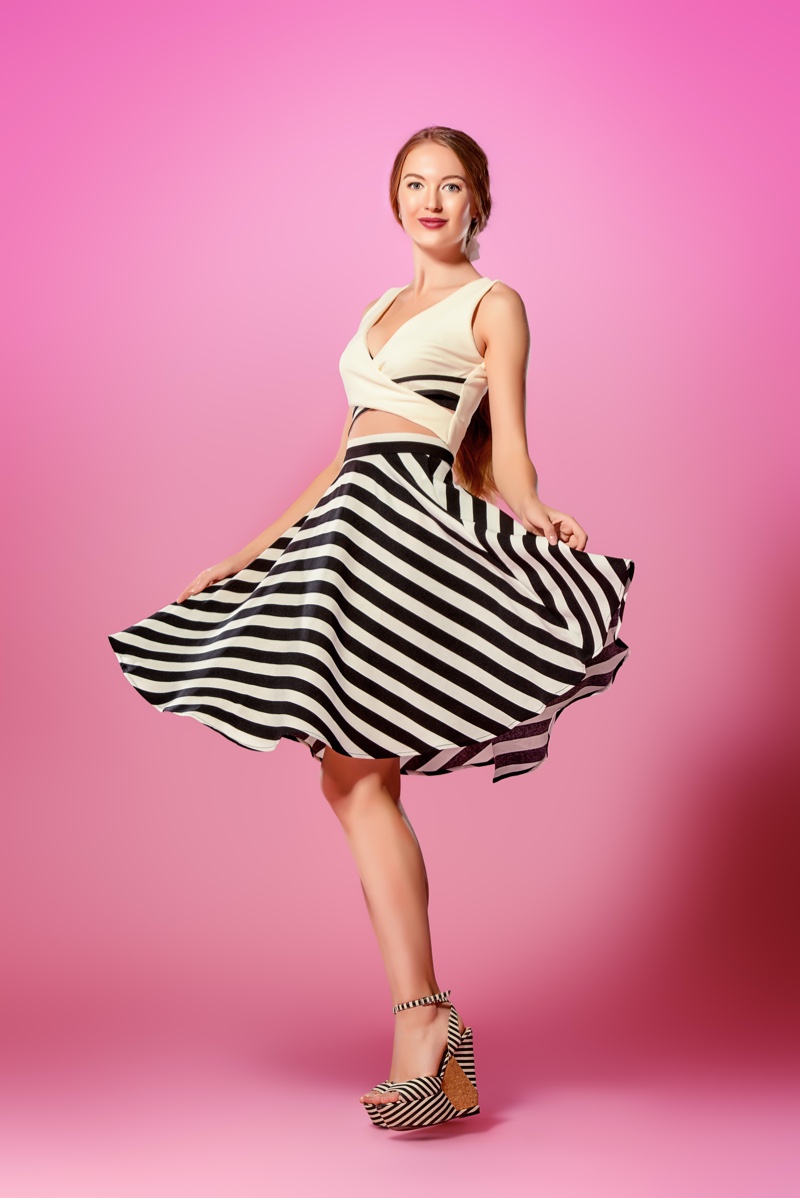 The circle skirt, also known as the skater skirt, is a twirl-worthy wonder that adds fun to any outfit. This skirt gets its name from its circular cut that forms a wide, flowing hemline, creating a flirty, flared silhouette.
The magic starts at the fitted waist, expanding into a full circle that dances with each step, promising a delightful twirl every time. Versatile, comfortable, and with a lively spirit, the circle skirt can be worn with tennis outfits or preppy looks.
Cowl Skirt: The Draped Beauty
Our following style is the cowl skirt, a design known for its unique draping technique. This style showcases excess fabric at the waist or hip area, creating a 'cowl' or draped effect. This soft, flowing detail adds a touch of grace and sophistication to the overall look.
The beauty of the cowl skirt lies in its artistic construction, which adds dimension and movement, gently swaying with each stride. This style of skirt is a testament to fashion as an art form, skillfully merging structure and fluidity.
Gathered Skirt: Embracing Chicness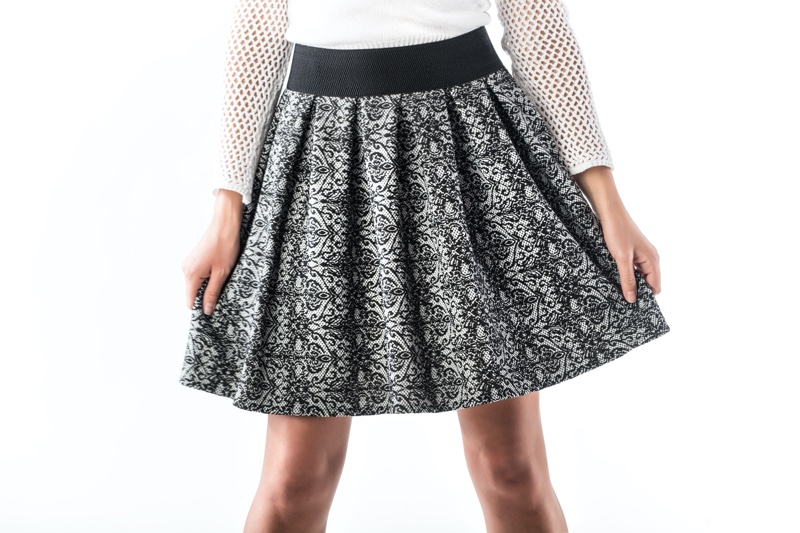 A gathered skirt is a delightful addition to any wardrobe known for pulling fabric at the waistband. It creates a pleasingly full and billowing effect.
The gathered design introduces playful movement, swishing with each step you take. Versatile and adaptable, you can wear a gathered skirt at various lengths, and it fits different occasions, from casual to dressy.
Godet Skirt: A Dance of Movement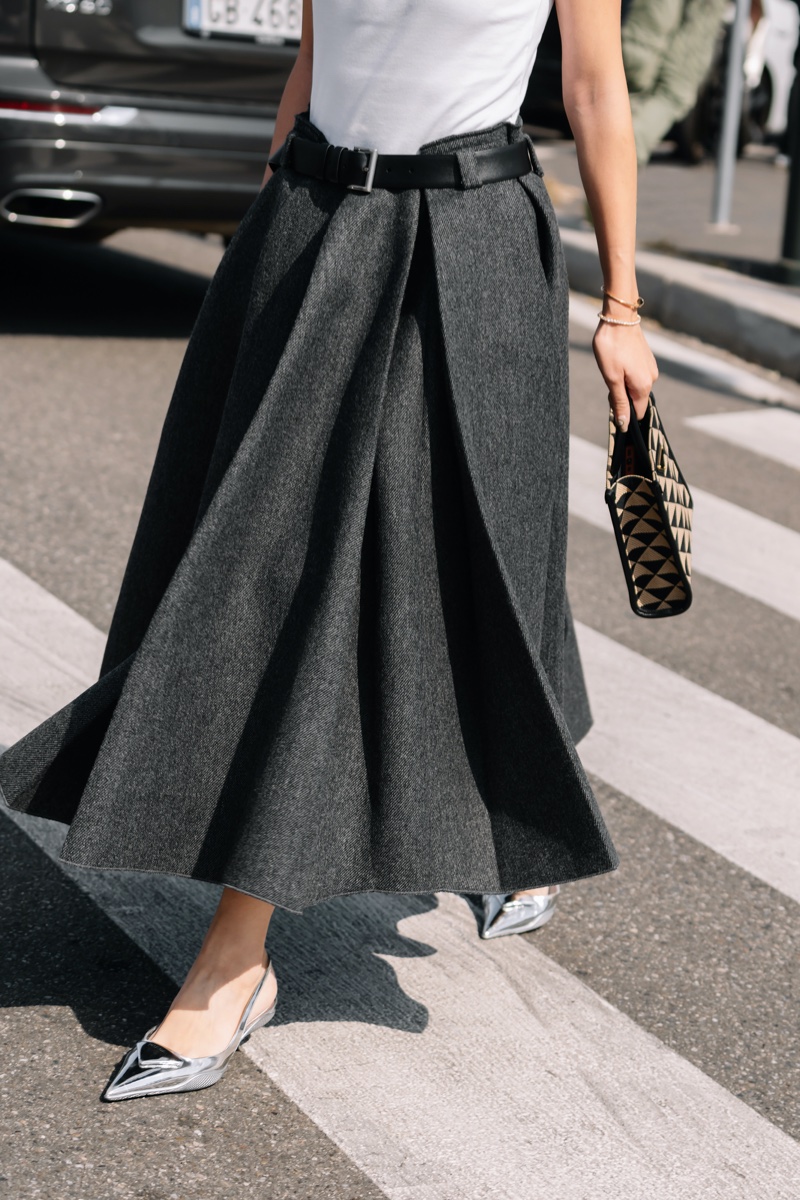 A godet skirt uses a unique design technique to add flair and movement. It's crafted with triangular fabric inserts known as 'godets' sewn into the skirt's body. Starting narrow at the top, these godets widen towards the hem, introducing a swishy, flared effect.
This results in a playful and dynamic silhouette, ideal for occasions where you'd like to add a bit of danceable charm to your outfit.
Handkerchief Skirt: The Bohemian Charm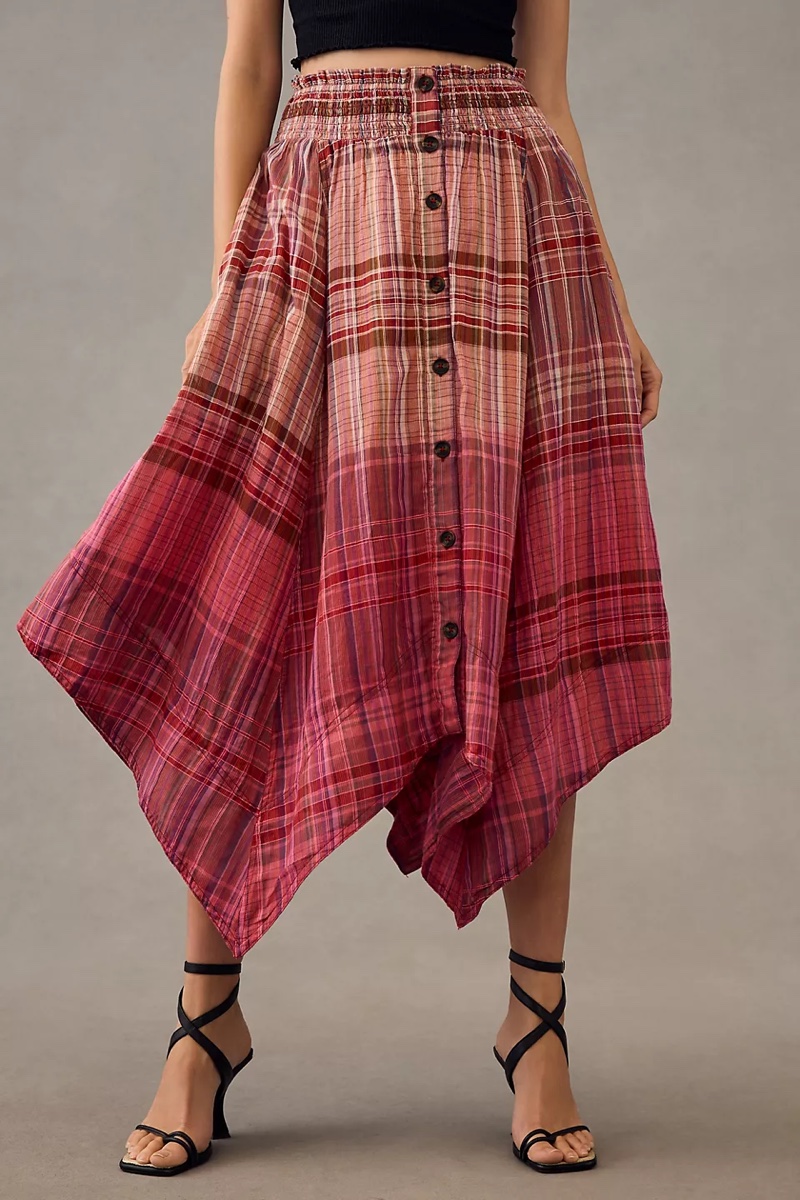 A handkerchief skirt is a unique style that stands out for its uneven hemline. The design is crafted so the hem's corners hang down like a handkerchief's points. This creates an interesting visual effect, with the points of the skirt moving and swaying as you walk.
The handkerchief skirt brings a distinct flair to any outfit, offering a silhouette that blends traditional and modern elements. With its dynamic design, this style turns every stride into a noteworthy fashion statement.
High-Low Skirt: A Play on Lengths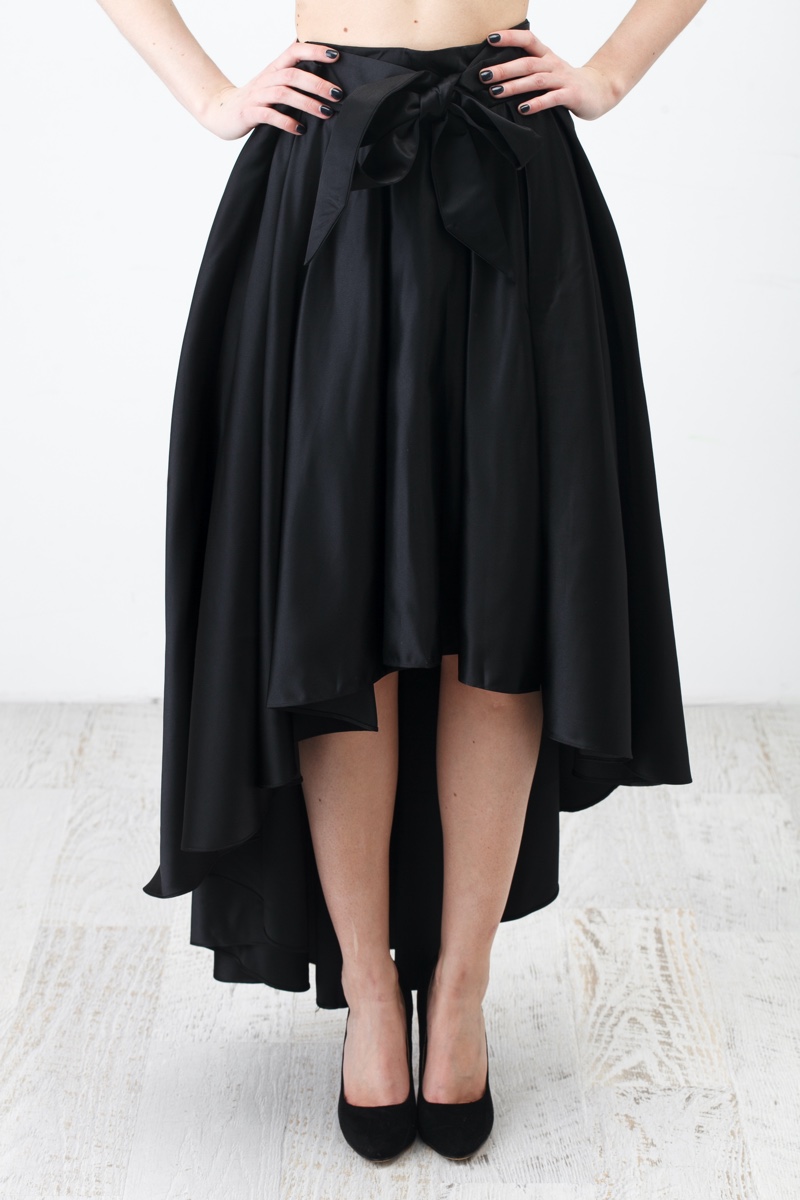 A high-low skirt, also known as a mullet skirt, is a distinctive style known for its asymmetrical hemline. The design features a shorter front hem and a lower back hem, providing an interesting layered effect.
This offers a blend of modesty, with its longer back and boldness and shorter front. The dramatic length variation introduces a modern touch to the classic skirt silhouette. Wearing a high-low skirt means embracing a versatile style that balances different lengths beautifully.
High-Waisted Skirt: Accentuating the Waist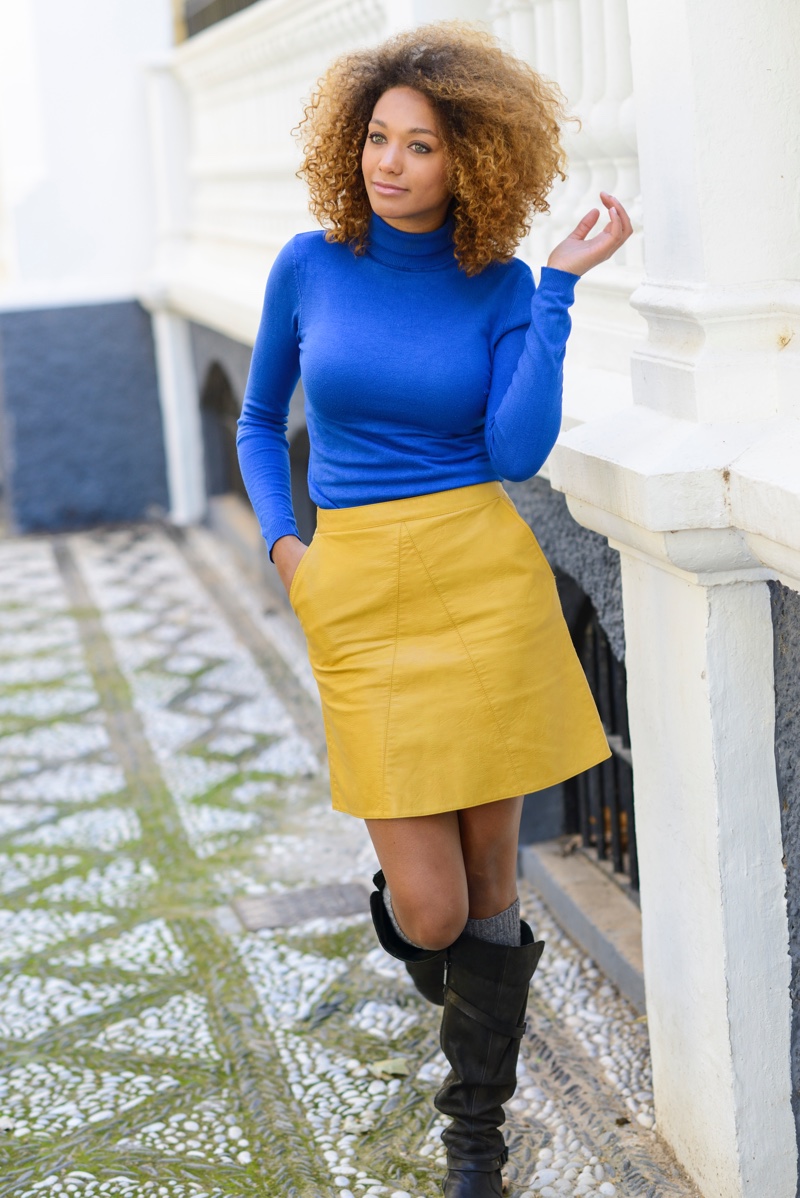 The high-waisted skirt is another iconic fashion piece. This skirt rises above the natural waistline, often hugging the slimmest part of your torso. It does more than highlight your waist—it can magically lengthen your figure, lending an impression of towering grace.
Versatility is its second name: it teams up brilliantly with anything from stylish crop tops to classy tucked-in blouses. With an array of styles from pencil to maxi, the high-waisted skirt brings timeless allure and a flattering fit to every wardrobe.
Maxi Skirt: Beauty in Length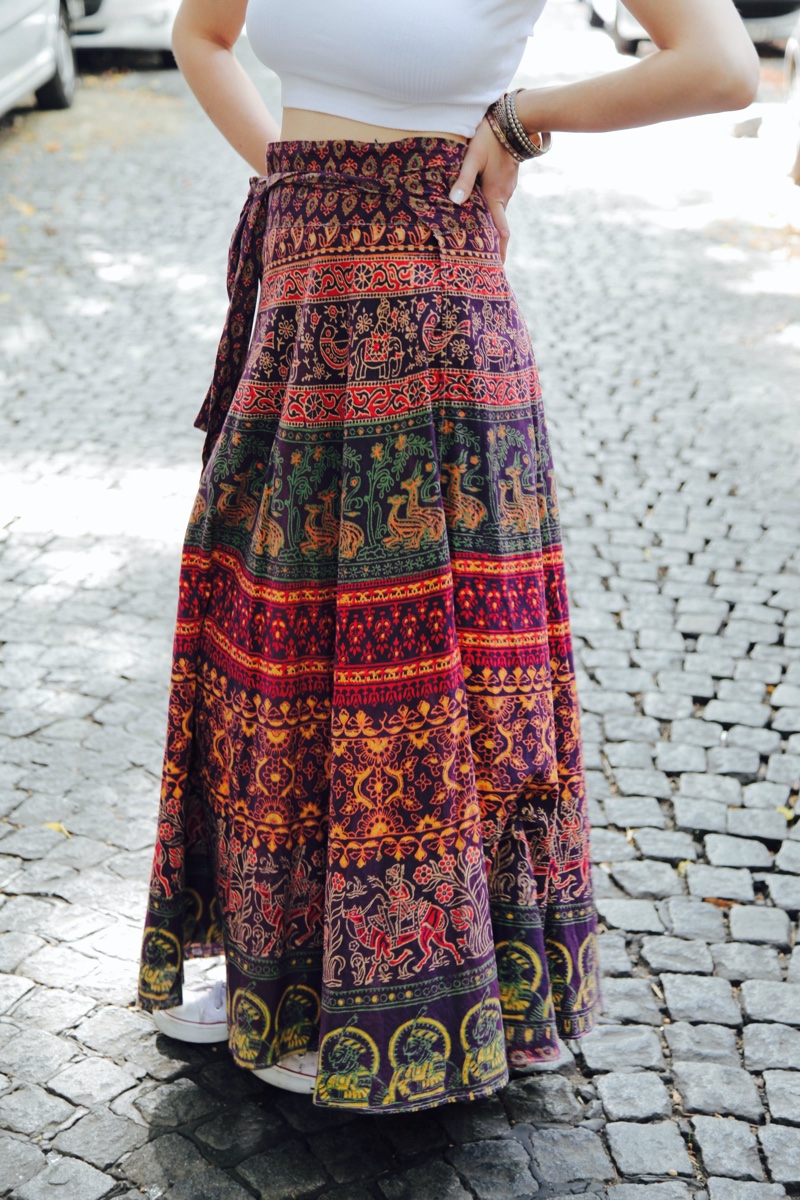 The floor-length maxi skirt is a style that sweeps the floor with its full-length design. This skirt offers a flowy, relaxed, comfortable, and chic silhouette. The maxi skirt is your go-to for a boho-chic vibe, often associated with laid-back elegance and effortless style.
Whether you're heading to the beach or on a casual evening outing, the maxi skirt promises a look that's both stylish and easy to wear.
Mermaid Skirt: The Hourglass Maker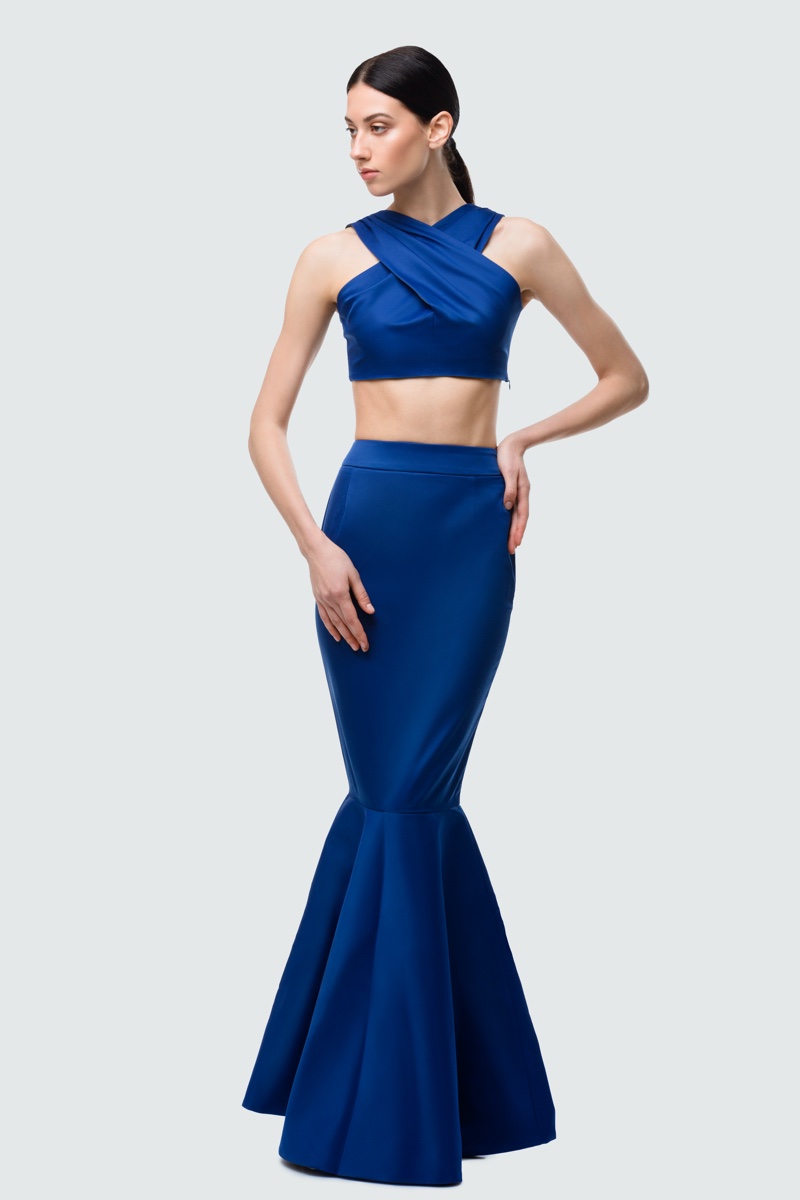 Now, we move on to the mermaid skirt, which exudes drama and sophistication. This style is characterized by its tight fit around the waist and hips, flaring out around the knees or calves, mimicking the shape of a mermaid's tail.
The flare adds a sense of movement and flamboyance, making it perfect for those moments when you want to make a grand entrance and channel mermaidcore easily. This look celebrates curves and bold silhouettes, making any outfit feel like a moment on a runway.
Midi Skirt: In the Middle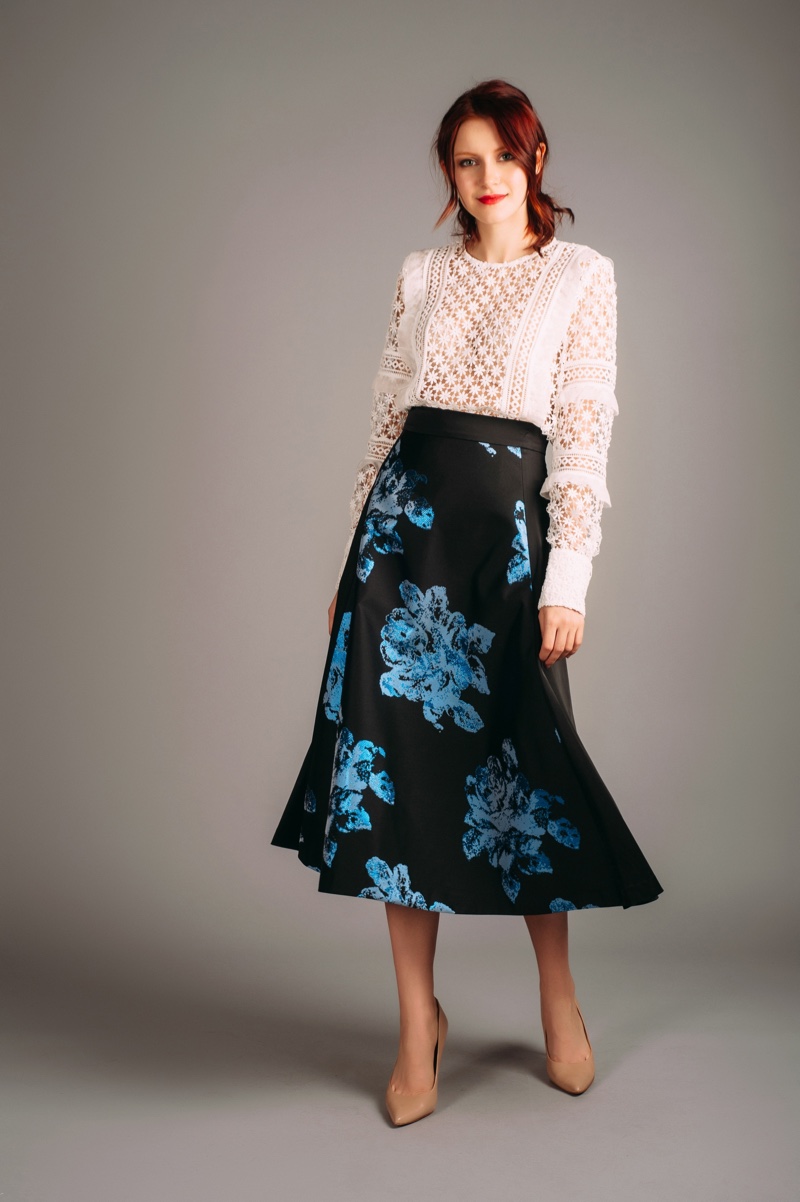 Say hello to the midi skirt, which falls anywhere from just below the knee to mid-calf. It offers a refined silhouette that's both modern and timeless. The midi skirt brings a touch of sophistication to any outfit, transitioning seamlessly from day to night, office to outing.
Its length provides an attractive balance that lets you flaunt your footwear while understating things.
Mini Skirt: The Iconic Classic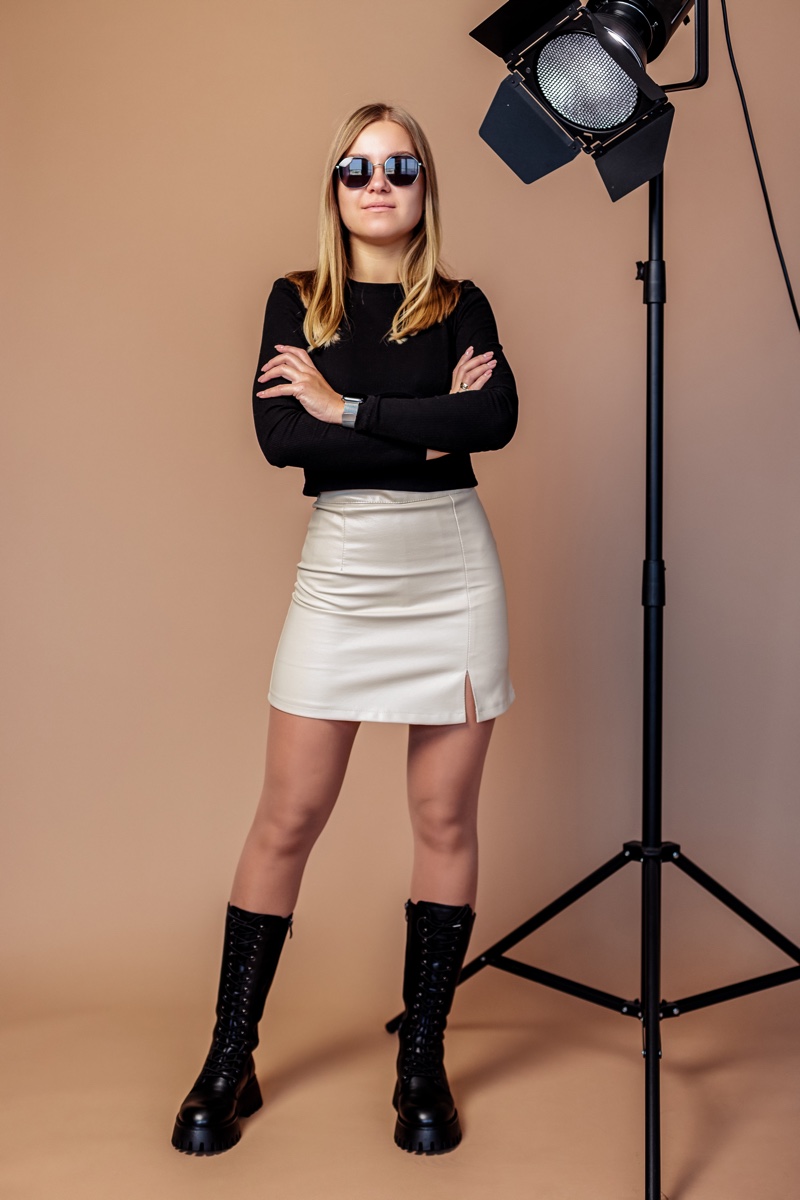 First gaining popularity in the 1960s, the miniskirt is known for being ultra-short. This style, characterized by its short length that sits well above the knee, is all about showcasing your legs. The mini skirt exudes a youthful, playful vibe, perfect for those hot summer days or nights out. It's a bold style statement that says you're not afraid to embrace fun and flirtiness in your wardrobe.
Pencil Skirt: The Professional's Choice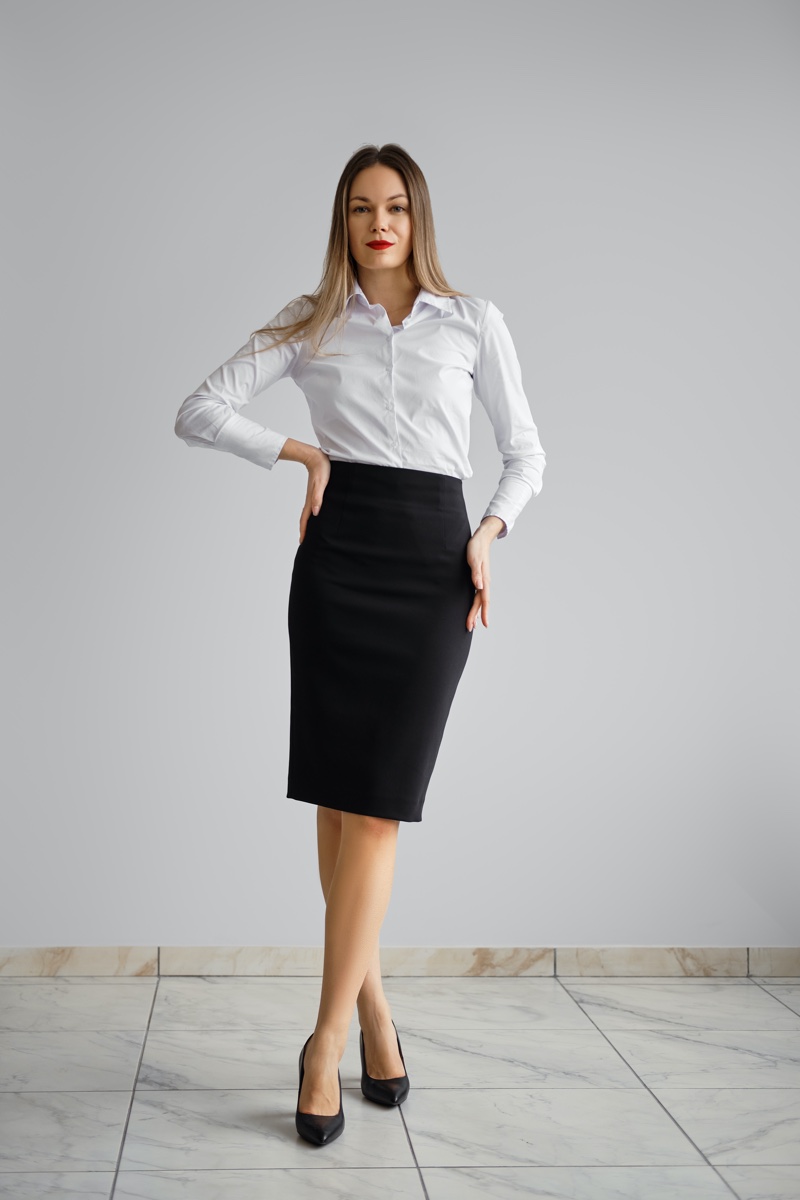 The pencil skirt symbolizes sleek sophistication and is associated with women's work outfits. This style is characterized by its slim, form-fitting silhouette that tapers towards the knees.
The pencil skirt has a way of subtly celebrating the curves, making it a preferred choice for business and formal settings alike. The true charm of this skirt lies in its straightforward design, which merges elegance and allure.
Peplum Skirt: The Decorative Delight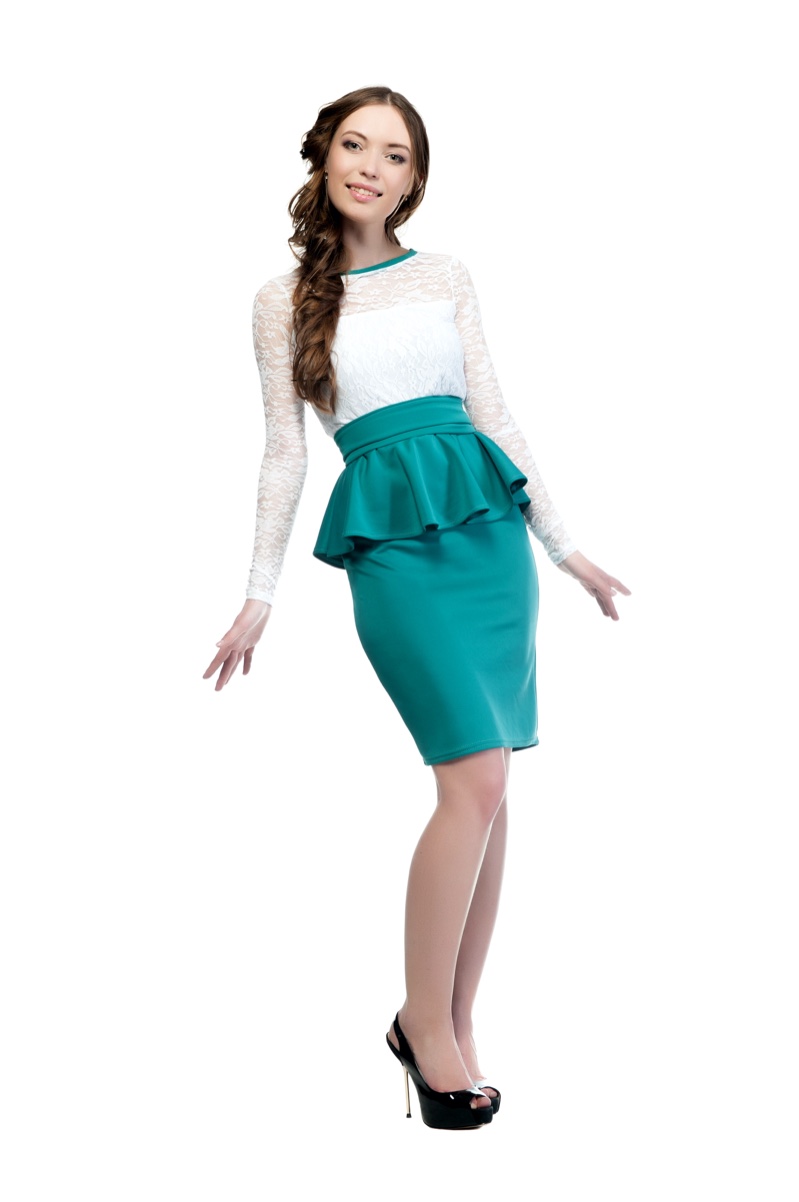 The peplum skirt is famous for its frilled or ruffled hem attached at the waist, known as a peplum. This flared detail adds an interesting texture and volume to the overall look. Popular in the mid-20th century, it's a style that adds detail and femininity. Peplum skirts are great for balancing broader shoulders while subtly flattering the hip area.
Pleated Skirt: A Classic Elegance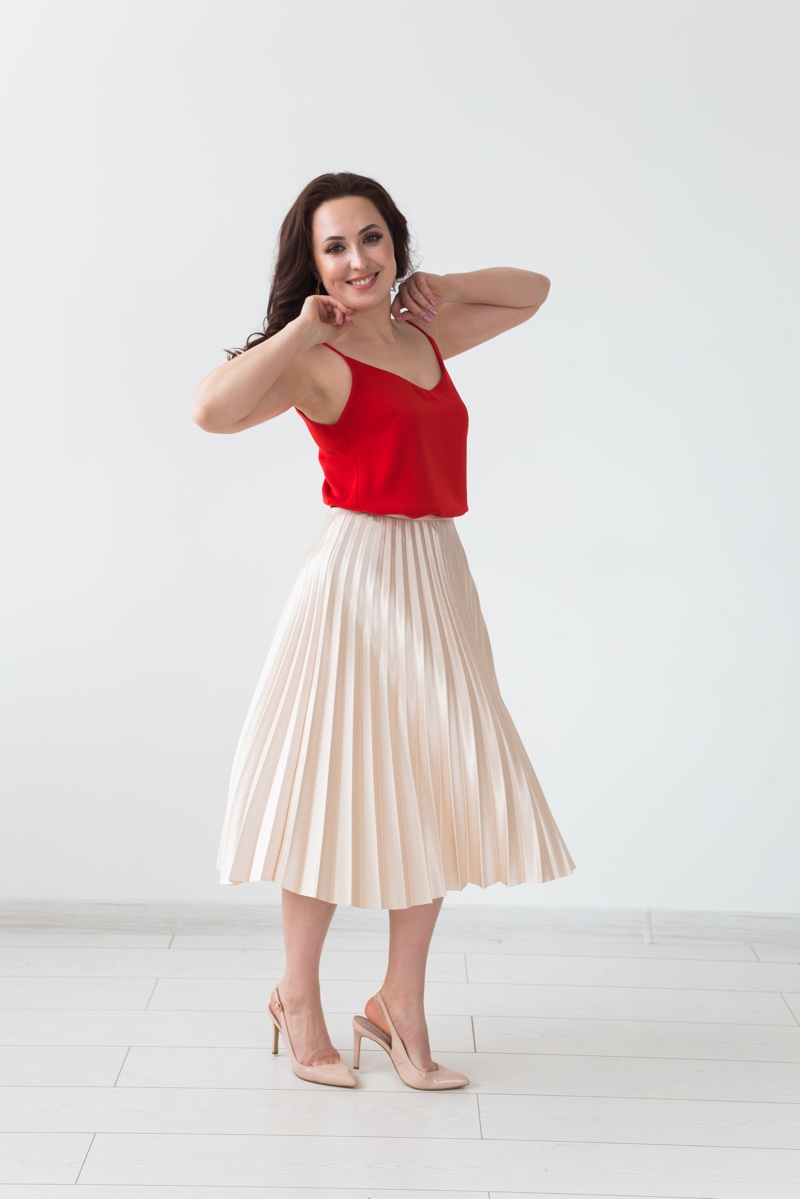 The pleated skirt is a popular clothing design that features a unique series of small, even folds that add volume and create a beautiful, flowing movement when walking. Despite its voluminous appearance, it doesn't make the wearer look larger.
In fact, the folds seem to dance with each step, bringing lively energy to any outfit.
Sarong Skirt: The Beach Essential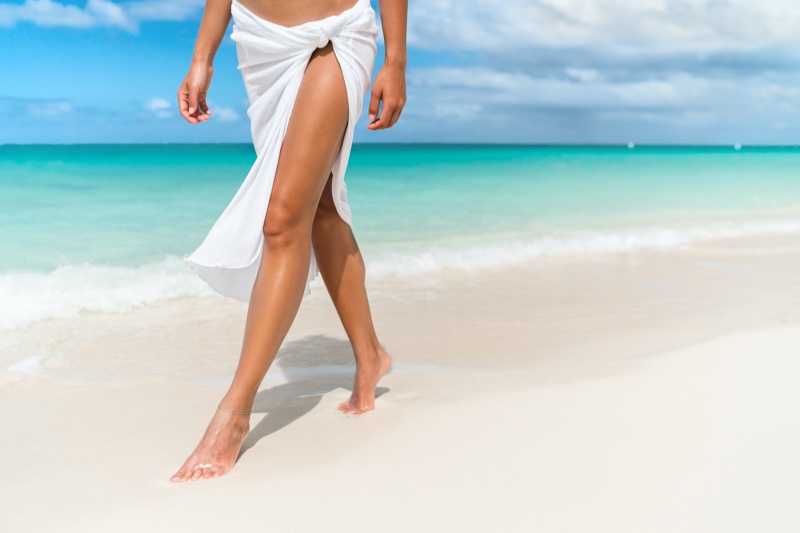 The sarong skirt brings the warmth and relaxation of the tropics to your closet. Resembling the traditional sarong worn in Southeast Asia and the Pacific Islands, this skirt style is typically tied around the waist, offering a relaxed, beachy vibe.
Its charm lies in its versatility and effortless appeal, making it perfect for beach vacations or sunny days in the city.
Straight Skirt: The Simplistic Stunner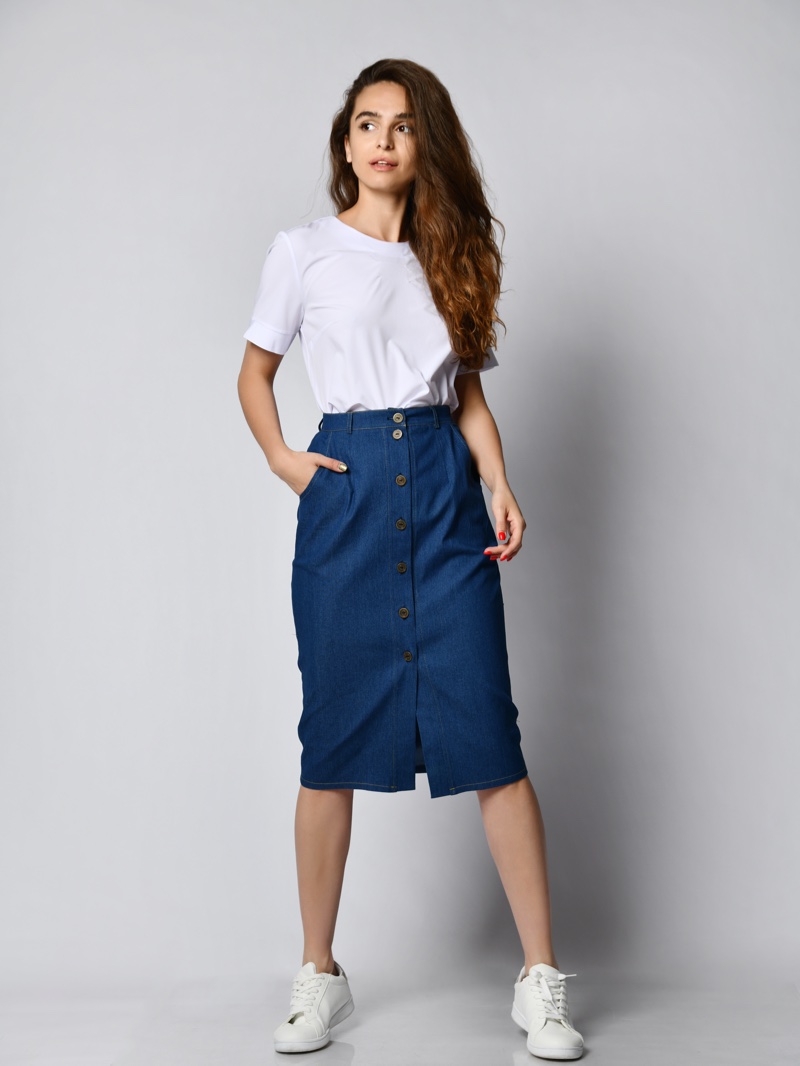 The straight skirt is a perfect example of minimalism at its finest – simple, elegant and uncomplicated. As its name suggests, this style falls straight down from the waist without any additional volume or flare.
The straight skirt is a timeless piece that continues to hold its ground in the fashion industry. Its sleek silhouette is its main attraction, as it complements a wide range of outfits with ease, making it an essential item for any fashion-conscious wardrobe.
Tiered Skirt: The Voluminous Variety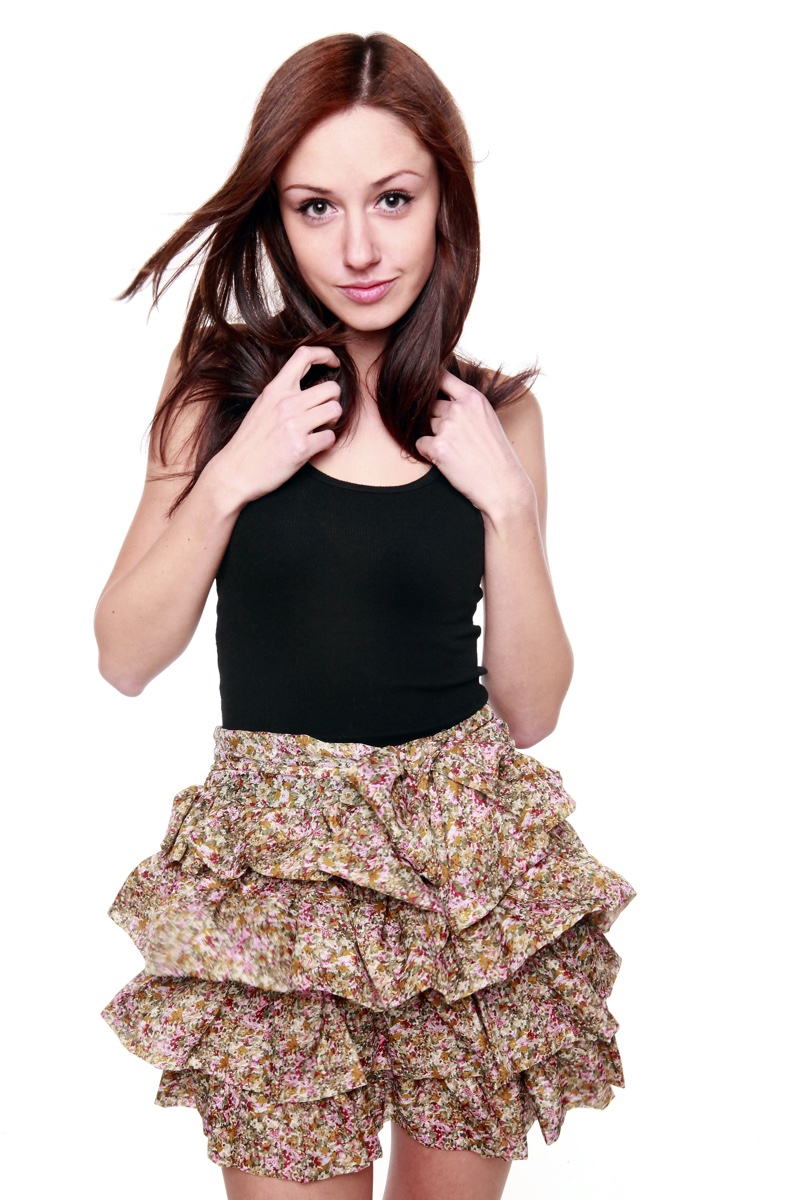 Step into the world of boho-chic with the tiered skirt. This style is characterized by horizontal layers, or 'tiers,' which create a full and flowing silhouette.
The tiered skirt exudes a carefree, bohemian vibe, making it the perfect addition to your summer or festival wardrobe. Its free-spirited charm lies in its layers, which add volume and movement, making every step feel like a dance.
Tulip Skirt: The Floral Inspiration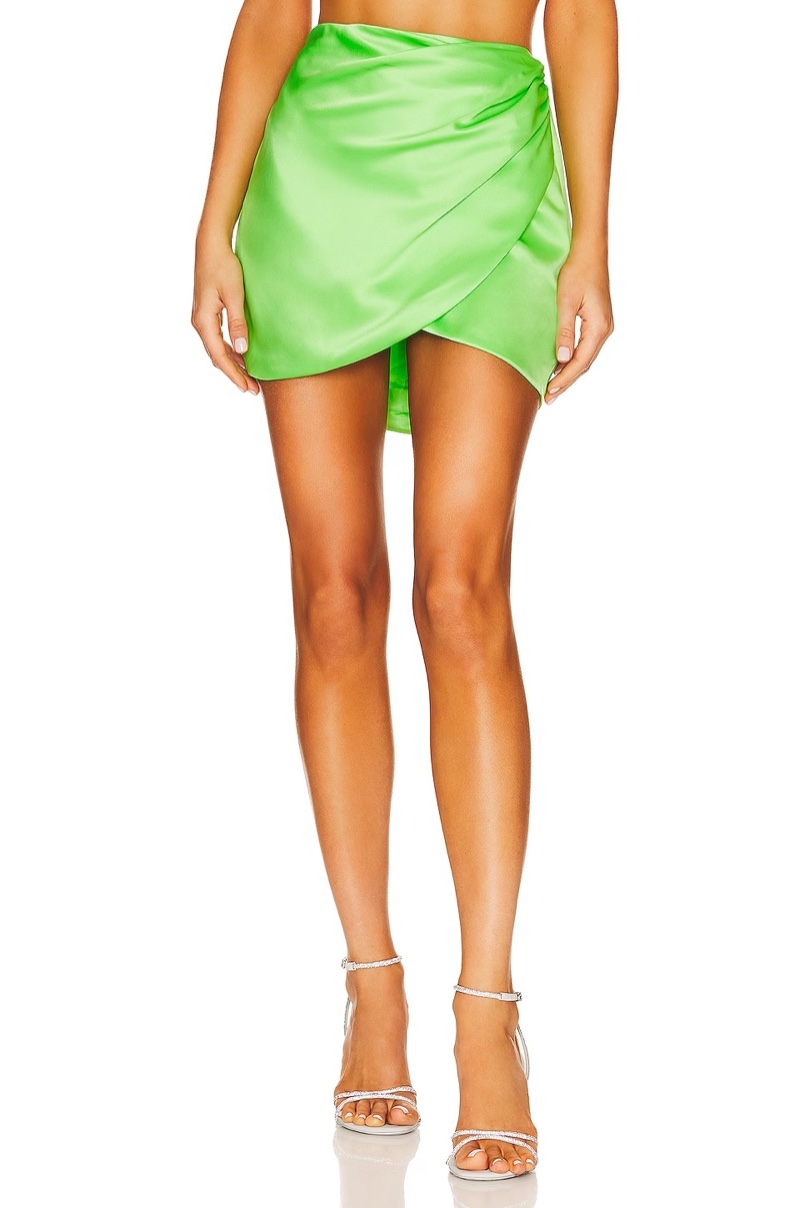 Inspired by the delicate petals of a tulip, the tulip skirt is a modern and feminine style choice. This skirt features overlapping layers or a wrap design at the front, creating a tulip-like shape.
The tulip skirt celebrates feminine elegance, offering a flattering silhouette that accentuates the waistline and hip area. The inherent grace of this skirt lies in its petal-like design, adding a floral touch to your wardrobe.
Tutu Skirt: The Ballerina's Dream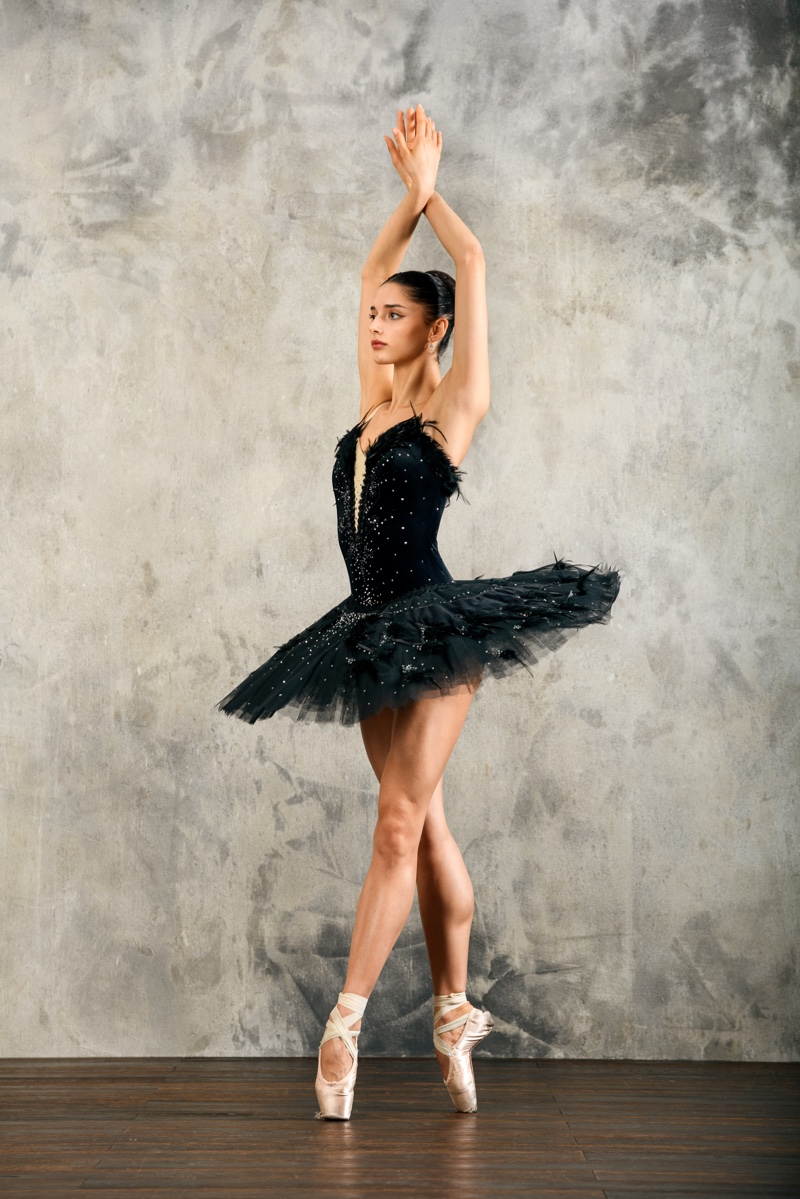 Embodying the spirit of ballet, the tutu skirt is a playful and expressive style. Known for its fluffy, voluminous design, typically created with layers of tulle, it evokes the grace of a ballerina on stage.
The tutu skirt is a theatrical statement, bringing whimsy and romance to any outfit. Its charm lies in its buoyancy and lightness, making you feel like you're in the spotlight, ready to twirl.
Wrap Skirt: The Flattering Favorite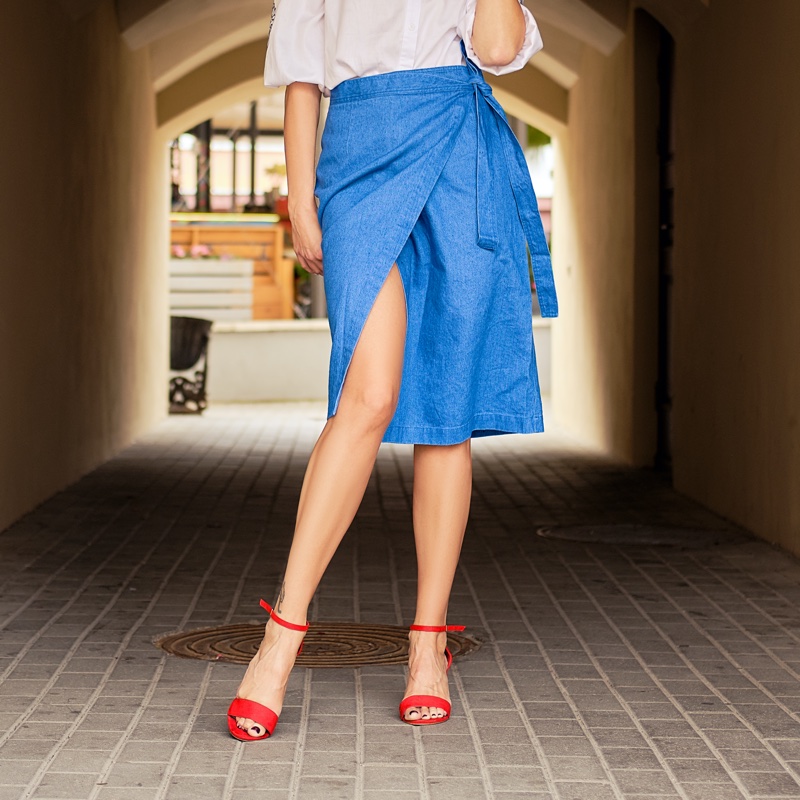 The wrap skirt is renowned for its simple yet stylish design. True to its name, this style wraps around the waist, usually fastening with ties or a belt. The wrap skirt embodies casual elegance, making it a versatile staple for any wardrobe. Its appeal lies in its adjustable fit and fluid silhouette, providing comfort without sacrificing style.
Yoke Skirt: The Slimming Style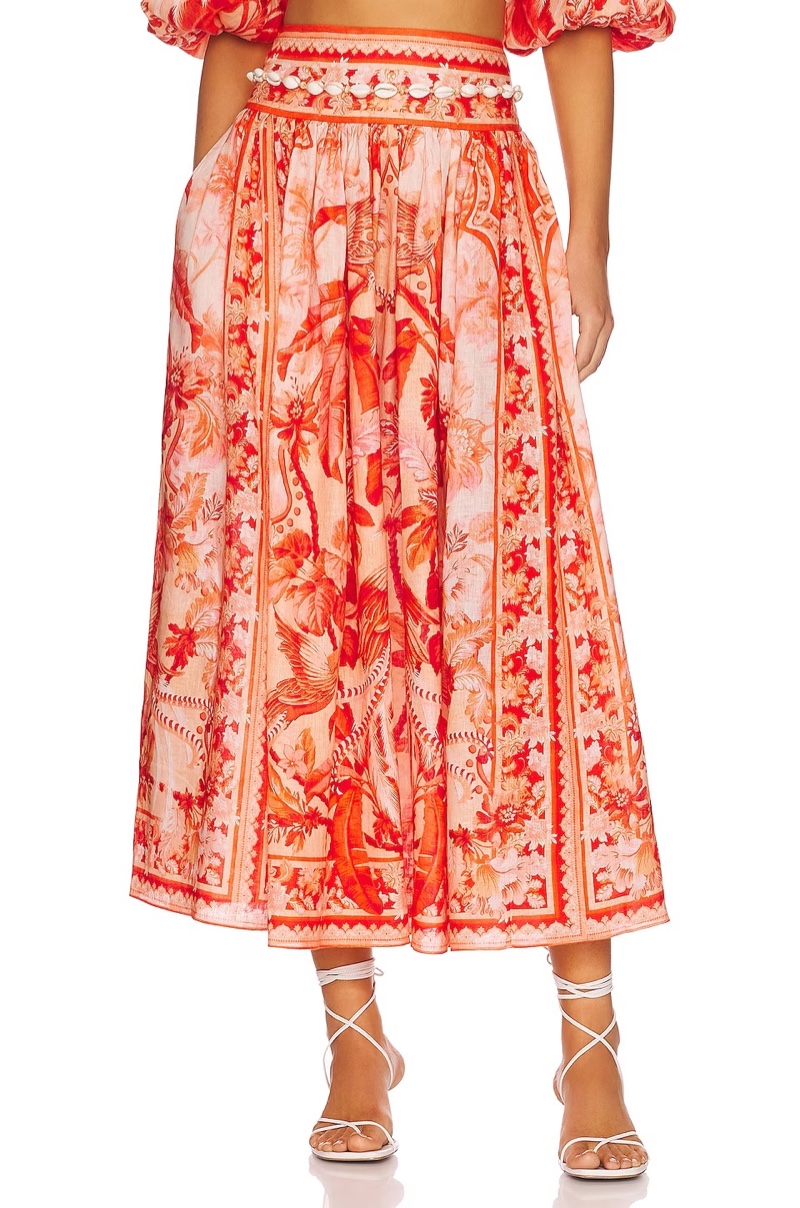 The yoke skirt is all about structure and fit. Characterized by a fitted band or 'yoke' around the waist or hips, this style transitions smoothly into the body of the skirt.
The yoke skirt is a model of tailored elegance, offering a flattering fit that enhances the silhouette. Its charm lies in the seamless transition from yoke to skirt, creating a streamlined look that pairs well with various tops.
Final Words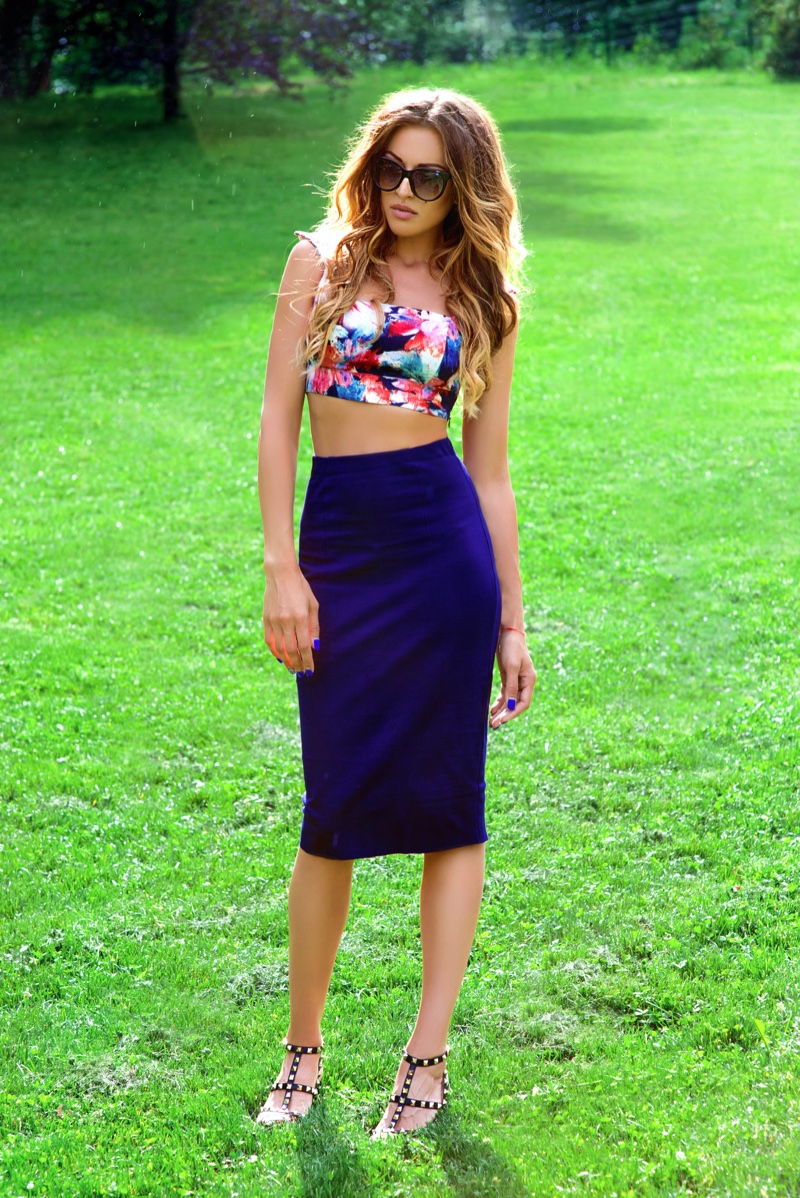 As we explore the variety of types of skirts, it's apparent how each one makes a unique fashion statement. The key is selecting styles that enhance your body shape, boost your confidence, and, most importantly, bring joy. In the grand theater of fashion, there are no mistakes – your happiness is the ultimate fashion statement.
Bear in mind the length, style, and material of a skirt greatly influence how it complements your shape and personal style. So, whether you're adorning yourself for a formal occasion or preparing for a leisurely day, there's a skirt style tailored just for you. Here's to finding your perfect match!
Frequently Asked Questions
What are the different types of skirts available?
There are numerous styles of skirts to choose from, each offering a unique and distinct look. Some popular types include A-line skirts, Circle skirts, Asymmetrical skirts, Box Pleat skirts, Flared skirts, Pencil skirts, Wrap skirts, Pleated skirts, Miniskirts, and Maxi skirts.
How do I determine which type of skirt suits my body shape best?
When selecting a skirt style, it's essential to consider your body shape to enhance your overall look. For instance, A-line skirts flatter various body types, while pencil skirts are ideal for accentuating curves. Asymmetrical skirts can add interest to a straighter figure, and maxi skirts can elongate the silhouette for a taller appearance.
What occasions are suitable for wearing different types of skirts?
The versatility of skirts allows them to be worn for various occasions. A-line skirts and pencil skirts are excellent choices for professional settings or formal events, while mini skirts and flared skirts are popular for casual outings and social gatherings. Maxi skirts can be styled for both casual and semi-formal occasions, offering a more relaxed yet sophisticated look.
Are there specific fabrics that work best with certain skirt types?
Yes, the choice of fabric can greatly impact the overall appearance and feel of the skirt. Light and flowing fabrics such as chiffon or silk are often used for maxi skirts to create an elegant and airy look. A-line skirts and pleated skirts can be made from various materials, including cotton, wool, or polyester, depending on the desired level of formality.