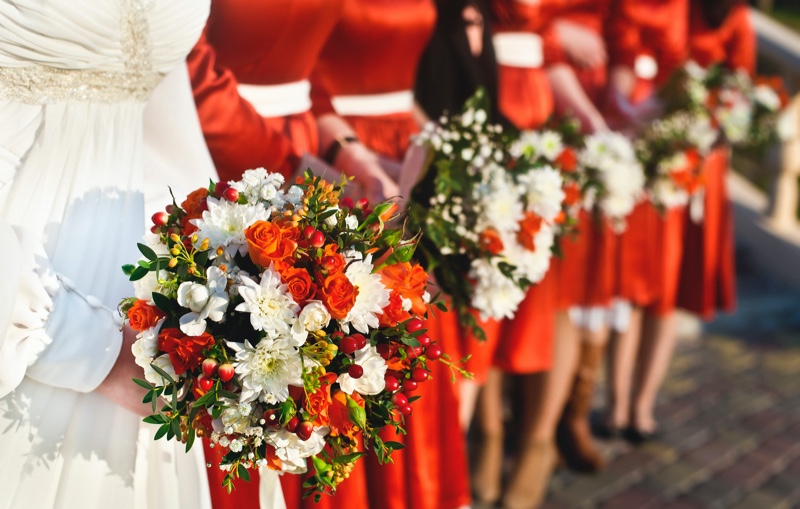 Summer is known as a time of new beginnings, new life, and fresh starts, so what better time to have a wedding! The summer months are perfect for weddings due to the warmer weather beginning and with nature in bloom surrounding you. In these transition months between winter and summer, several bridesmaid dress colors would be suitable, from classic summer pastels to vibrant shades; your options are truly endless.
When looking for the correct shade of bridesmaid dress and thinking about the season, it is essential to consider many different factors, including the location of your venue and any wedding themes you may have. The bridesmaid dresses should complement the bride's dress but not detract attention from it, so keep this in mind when choosing dress styles.
To get you started, we've selected some of the most popular and up-and-coming bridesmaid dress color trends below to offer you some ideas. Take a look:
Burnt Orange
In recent years, one retro shade that has been making a comeback on the bridesmaid scene is orange. Not a bright orange like we may have seen in the 60s and 70s, but instead a warm, earthy burnt orange that fits well with the summer season. Often best used in rustic or outdoor weddings, a burnt orange theme pairs well with wooden or terracotta elements found in the Mediterranean.
Together with the warm summer sun, these elements can create a stunning effect. When pairing burnt orange dresses with bouquets, try pairing with soft peach or cream tones and greenery in a rustic arrangement. Flower varieties in orange include calla lilies, freesia, dahlia, and roses.
If you are looking for a wedding bold wedding color theme, burnt orange also looks stunning with a bright teal or blue, which pops against the warm orange shade. Add subtle elements of this to your bouquets, table décor, and invitations for a standout look.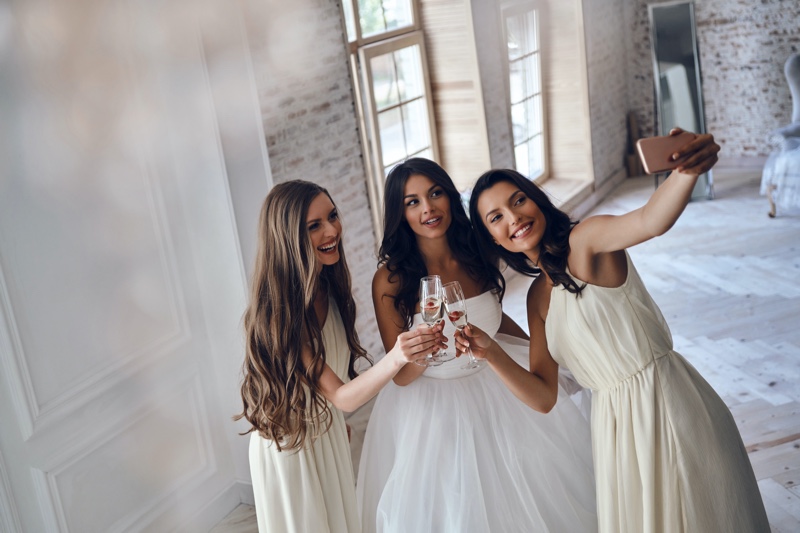 Champagne
One shade that works with every season but looks remarkably fresh in summer is champagne. From a pale, almost ivory shade to a warmer champagne color satin bridesmaid dresses, the shade is highly versatile and conveys a sense of class and elegance. Pairing this color with muted tones in your bridesmaid bouquets and décor is perfect when looking for a minimal, understated look or pair with a bolder shade such as lilac or blue in summer for a fresh look.
Florals that fit a champagne theme include peonies, baby's breath, and roses which can all come in pale shades to complement it. When it comes to bridesmaid dress material, champagne is one of the most versatile options. Champagne dresses in satin convey a richness and are perfect for more formal, black-tie occasions, while more airy and lightweight chiffon creates a more ethereal look for outdoor or beach weddings.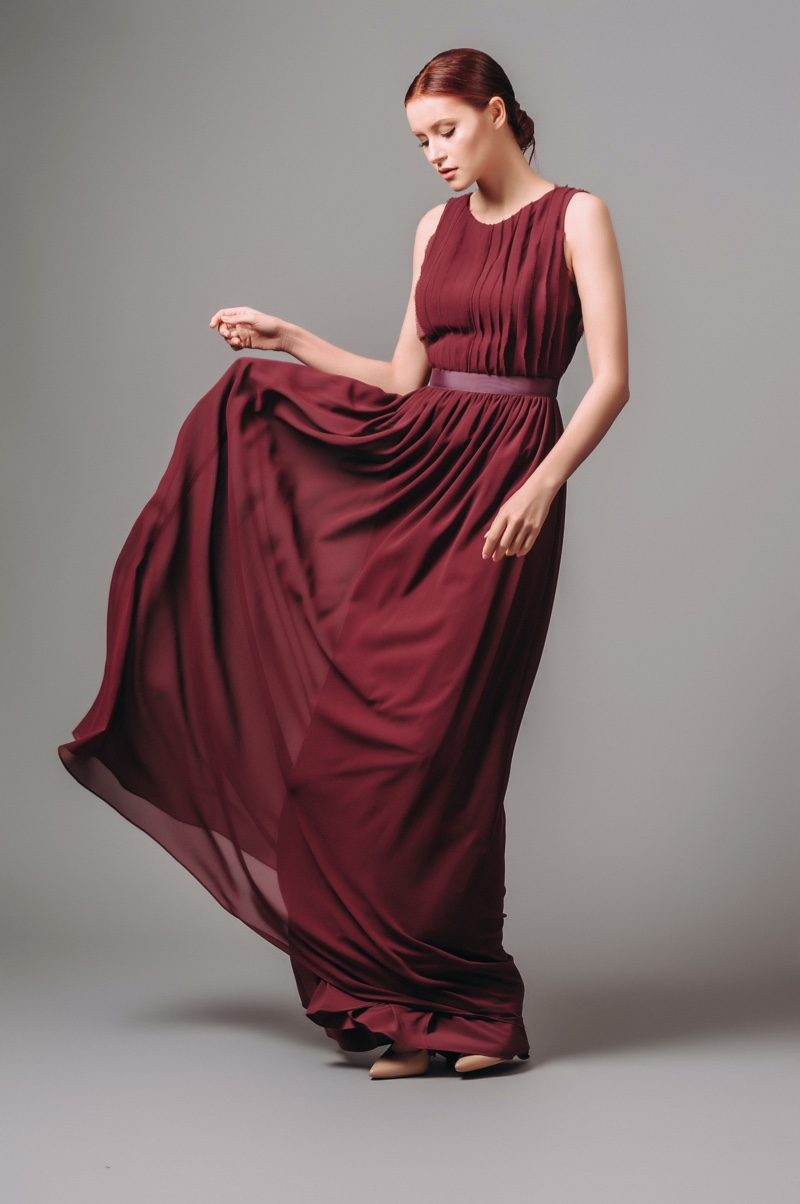 Burgundy
Burgundy is a popular color for weddings but is usually seen in winter. What is not seen as often is the use of the shade in summer, paired with lighter colors for a brilliant contrast. For example, burgundy can be matched beautifully with a blush pink which lifts and softens the shade and conveys a romantic and elegant look.
The shades both complement and contrast each other in wedding bouquets using large blush peonies and deep burgundy roses. Other flowers to include could be dahlias or wine-colored ranunculus. Burgundy also pairs well with more natural tones such as beige and creams, which can be perfect for an outdoor wedding – with the groomsmen in beige or cream suits with matching burgundy ties. This shade in summer is unexpected but beautiful.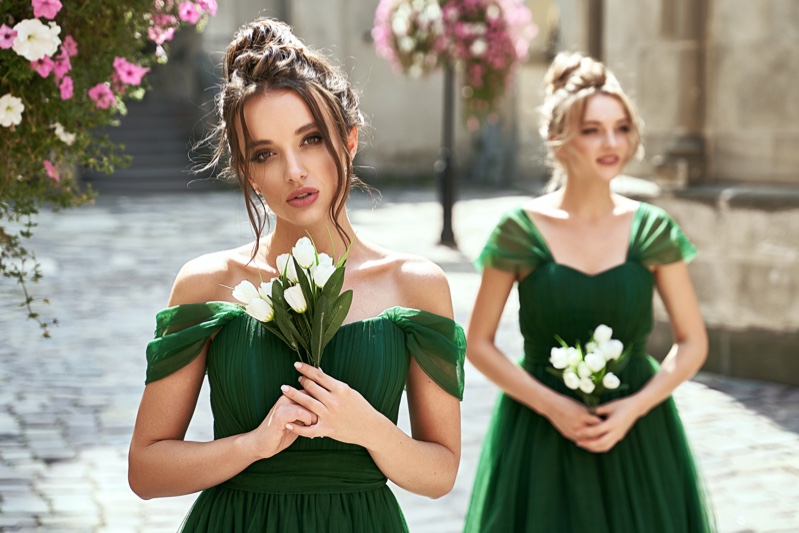 Emerald Green
Another great jewel-toned shade is emerald green. It wouldn't be a summer-themed bridesmaid dress list without mentioning green, as summer is the season of new life, where plants bloom and the trees turn green. Emerald green is a color that matches all skin tones, from the fairest pale shade to deeper, richer tones, so if your bridesmaids all have different looks, this may be a good option.
For a fresh, clean look, pair emerald green with gold and cream or white – think cream floral bouquets with lots of green foliage for a stunning, natural look. Alternatively, pair a darker emerald green with a lighter green shade such as sage for a contrast. This can be used in bridesmaid dresses, décor, wedding cake design, and invitations for a cohesive look.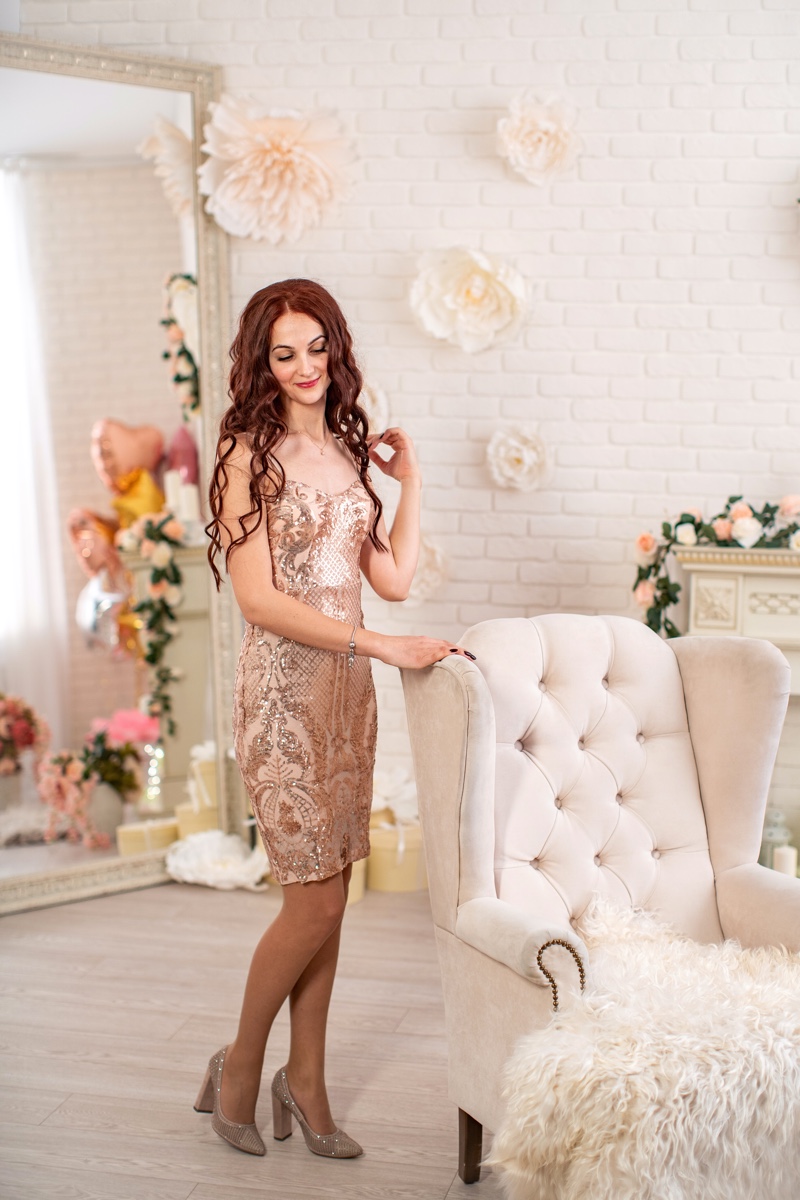 Rose Gold
If you think of metallic bridesmaid dresses, the perfect shade for summer is rose gold. This shade has gained significant popularity in recent years, and this is set to continue. This warm, pink-toned gold shade looks stunning in the summer sunlight and can be paired with several different colors due to its metallic nature.
Pair with blush for a light, ethereal look with blush and white roses, and rose gold sprayed foliage in the bouquets. Alternatively, for a bolder look, long rose gold satin bridesmaid dresses pair well with jewel tones such as emerald green or burgundy for a more lavish occasion. Rose gold wedding décor and invite accents are also popular, so creating your dream wedding around this shade will not be difficult.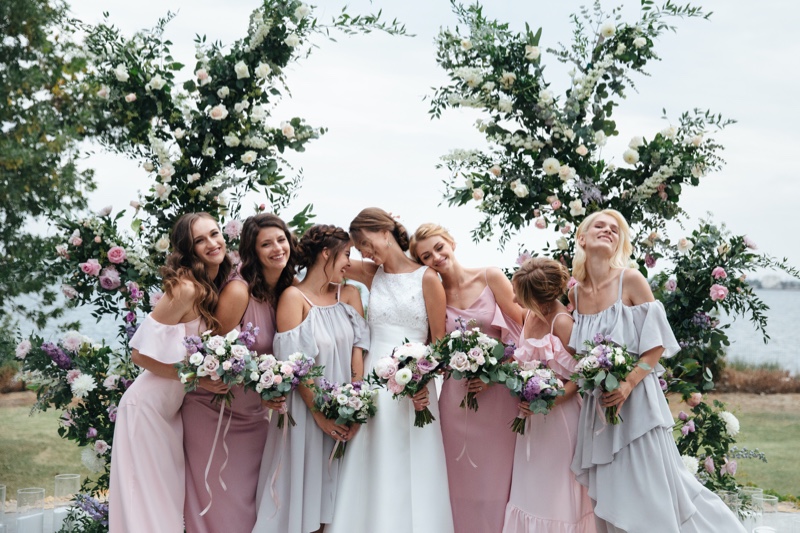 Dusty Rose
Pastel colors are usually favored for summer weddings, with a beautiful dusty rose tone being the best summer pastel tint. Soft and dusty shades are great for an airy, summertime wedding without appearing too bright in your photographs.
Pair dusty rose with any suit color, including classic black or blue, for a great color palette. When it comes to bridesmaid bouquets in this shade, floral options are abundant, such as roses, peonies, and alstroemeria.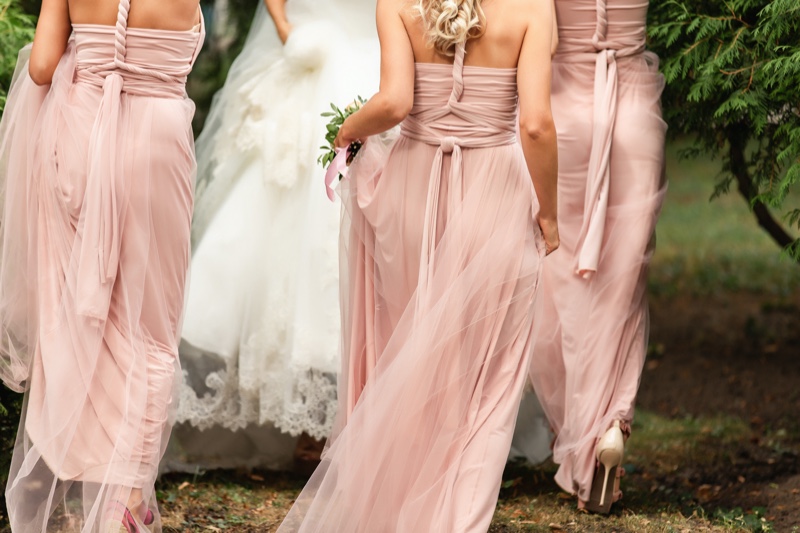 Blush
No summer bridesmaid dress list should be complete without a classic blush pink shade. This feminine, elegant color has been a bridal favorite for decades, and this is not set to change any time soon. Pink bridesmaids' dresses are perfect for a summer wedding and pop alongside summer florals.
Pair with brighter tones for a statement bouquet such as fuchsia pink or lilac, or stick to more neutral creams or whites for an elegant theme. Blush pink looks especially good with navy blue suits due to the contrast between the shades.
The Take-away
Summer is a time of freshness and new life, so often, the colors we see in nature are an excellent option for bridesmaid dresses. No matter the shade of bridesmaid dress that you chose for your summer wedding, there are several different floral options and color combinations to help create your summertime wedding theme. Let the planning begin.