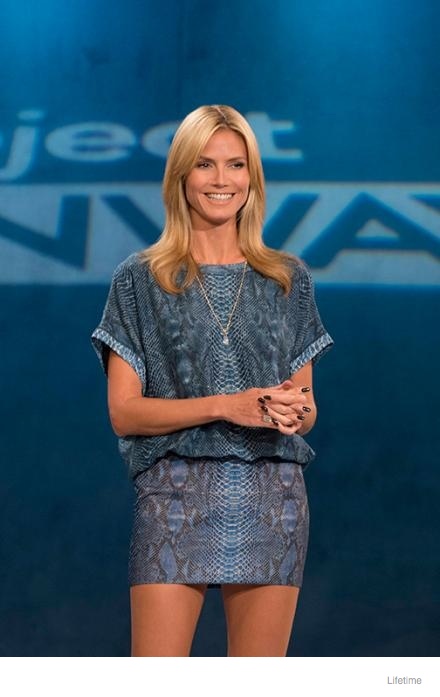 For the fourth challenge of the season, the "Project Runway" designers headed to a Red Robin restaurant for a sponsored challenge. What does a burger joint have to do with design? Are they going to redesign the uniforms or make looks inspired by burgers? Are we going to see a lettuce hat or onion dress? Then male models came out in vintage suiting that was pretty offensive to the eyes (but thank goodness the challenge wasn't about burgers). Red Robin says its a restaurant about bringing a fresh perspective on things and that the designers should do the same with these suits. I think the sponsorship worked because now I really want a burger.
As winner of the last challenge Sandhya had total control over which suit each designer got. She said she picked what she thought designers would like, but other people like Hernan, Amanda, Sean and Mitchell thought she purposely targeted them. The designers were able to make a trip to Mood to get supplemental fabric so at least that had some sort of fighting chance.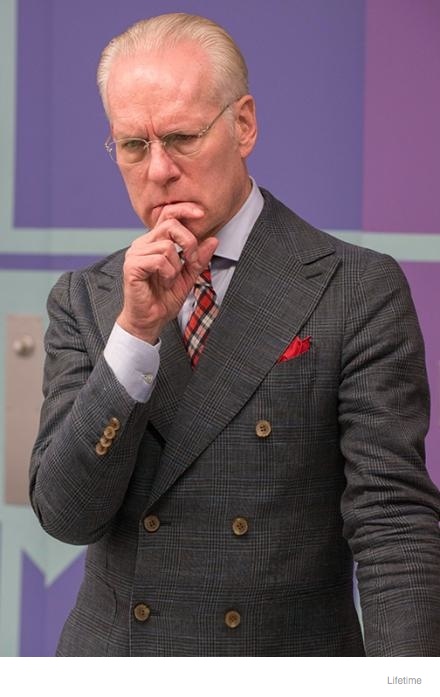 On to the workroom, both Kristine and Korina wanted to make motorcycle jackets and you could tell Korina was freaking at the idea of the judges comparing the similar looks. While Hernan was complaining about his fabric which didn't seem that bad by the way. What seemed horrible however was the VINYL he chose. Why would you use vinyl of all things? Tim even advised him to not try to use it as a fabric but he couldn't listen. He tried to blame Sandhya but she said in her interview, "If you can't make something good from what you've got, then you're just not a good designer."
Now it's time to make it work on the runway! The guest judge this week was fashion vlogger Bethany Mota. During the runway show, Hernan said, "Thanks again, Sandhya, you bitch." She then promptly flipped him off and replied with, "Never speak to me that way again". Wow, that was an unexpected ticket to Awkwardville.
Let's take a look at the top three looks and three bottom looks. You can view the full runway show here.
TOP LOOKS
Alexander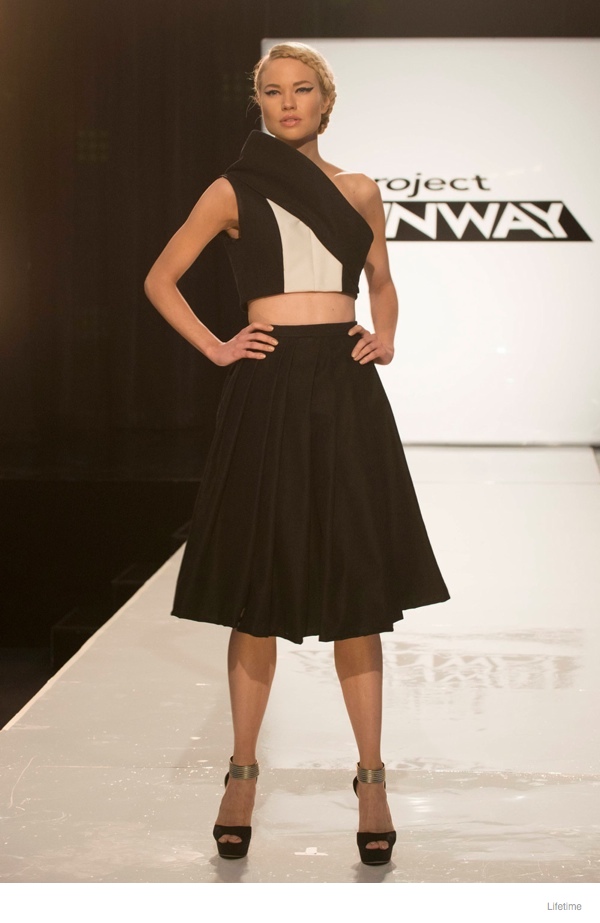 This look was perfectly fine but did not really stand out to me. It just looked like a dress that someone cut the top off of. And you could tell once the judges saw the outfit up close, they didn't think it was that great. But you went from the bottom to the top, Alexander! Good for you.
Amanda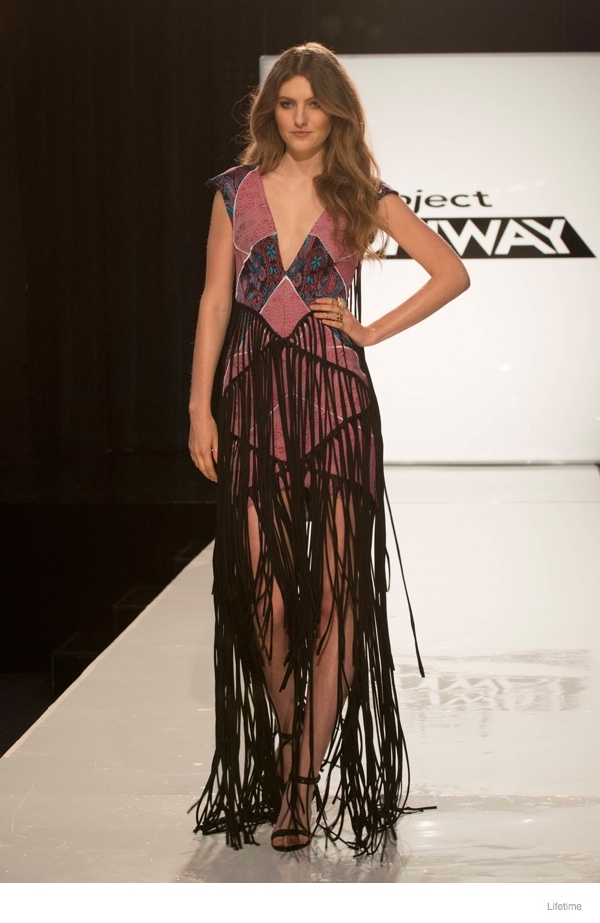 I liked Amanda's look the best. The movement, the fringe, the pattern. Just the fact that she transformed her look into that dress is amazing! Of course, it wasn't that original as Zac Posen pointed out. Zac said he saw the look on the Roberto Cavalli runways and vintage stores before. (Um, was that a read on Roberto Cavalli?) But it was a cool runway and editorial piece.
Kini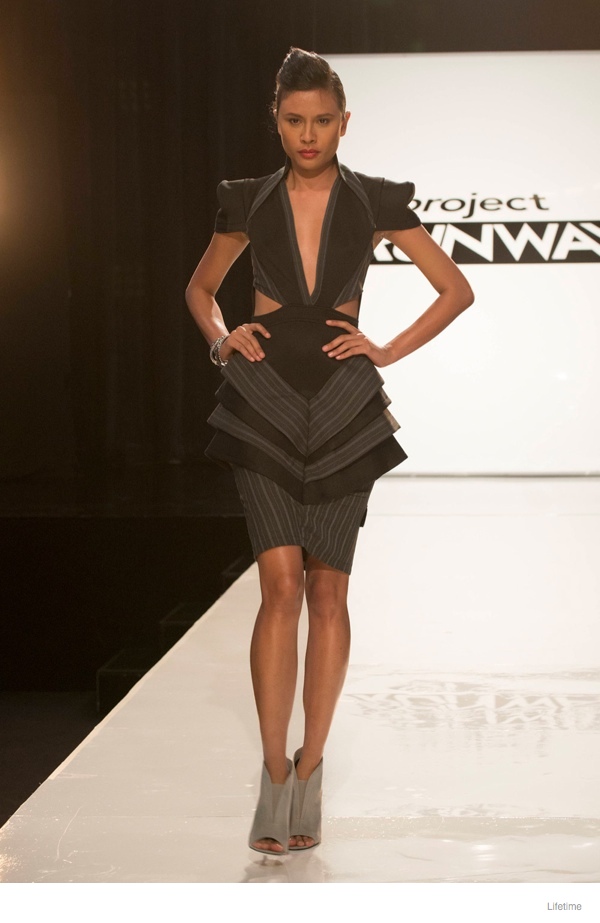 Zac loved Kini's sharp tailoring and the use of neoprene for the shoulder. Personally, I didn't love it and didn't hate it. He is definitely a frontrunner considering how the judges gushed over it.
BOTTOM LOOKS
Kristine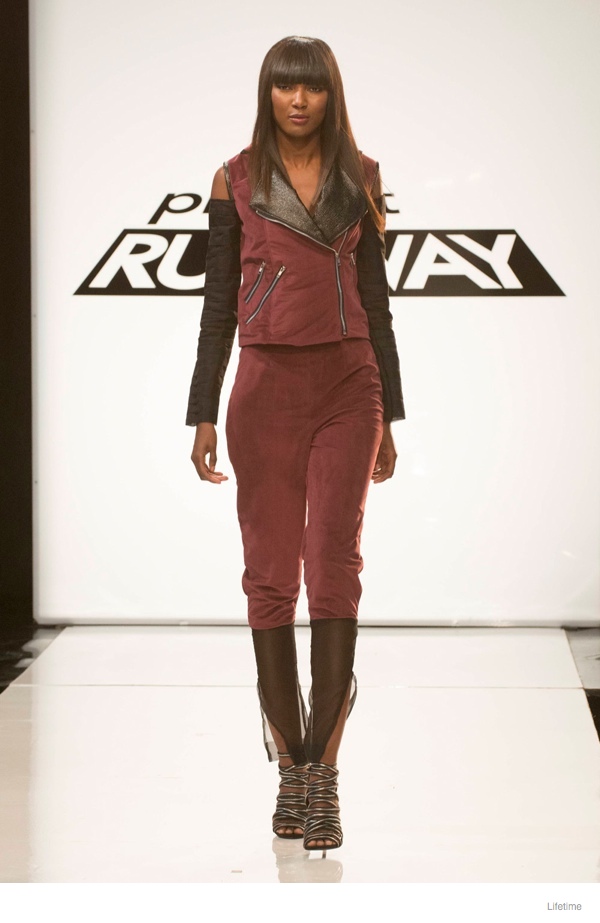 Everyone hated the mix of fabrics, and poor Kristine looked like she was going to break down on the runway. The proportions were all off. And how are you going to make a moto jacket with velour? But at the end of the day, I think Kristine has potential and just made a misstep on this challenge.
Hernan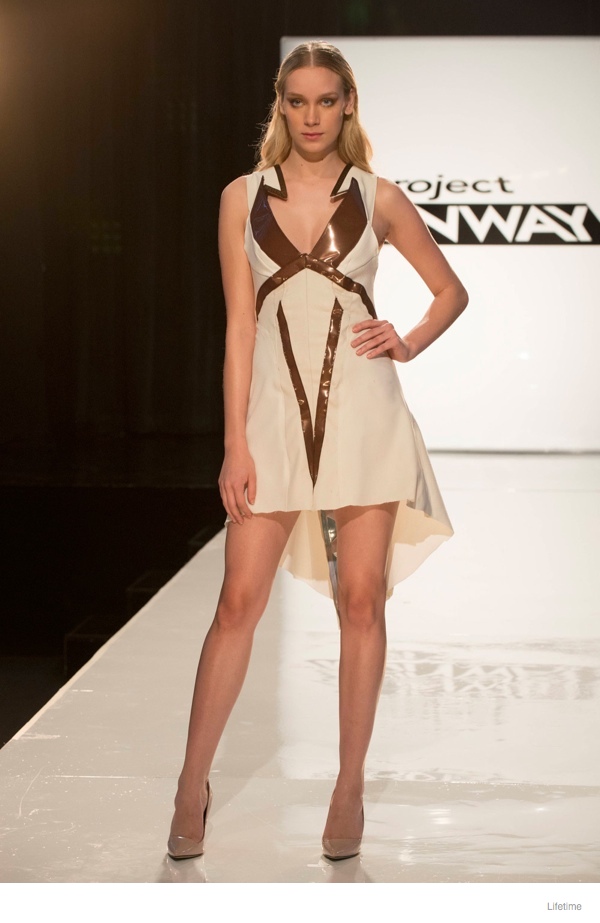 The judges were not impressed with the gigantic "V" in front, nor were they impressed with his excuses. His material was difficult to work with, it disintegrated! It was the reason for all the bad things in the world! The judges were not listening to any of his excuses and even sad it look like a costume for "Super Vagina"!
Sean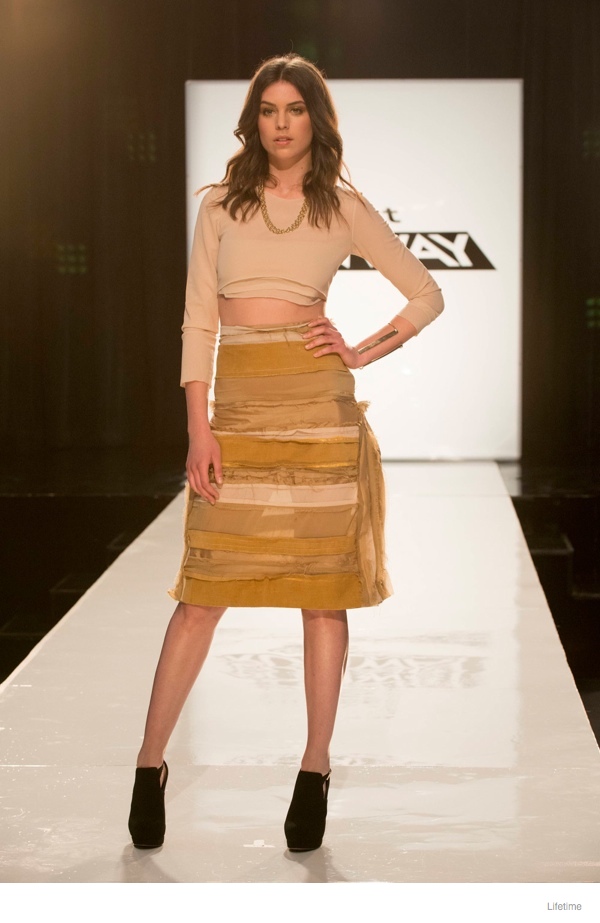 Sean's look was just sloppy. The mix and match of fabrics could have worked if the strips actually lined up, but it just looked like he slapped them on there. Sean defended his look calling it "deconstructed" to which the judges were not accepting. When he said it's supposed to look unfinished. Heidi quipped that "[the judges] have been doing this a long time." They know what they're talking about. The judges aren't taking any bulls**t this season, that's for sure.
HONORABLE MENTION – Mitchell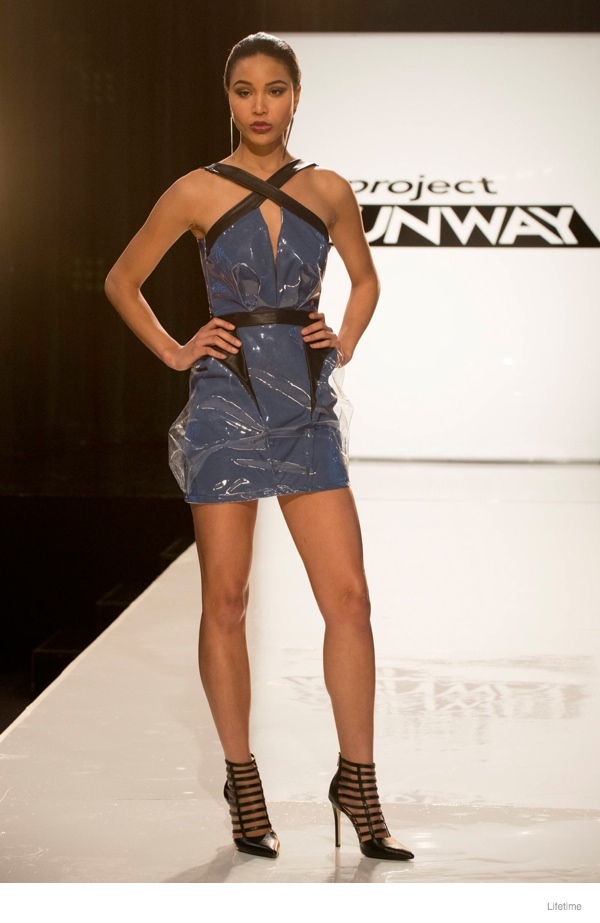 How was Mitchell's look not in the bottom? Just look at it! To loosely quote Alexander, "It looks like he put the awful blue polyester suit into a Ziploc bag." Bad judges! This should have been put in the bottom and the straps are horrendous.
Who Won?
Amanda, who won her second challenge of the season meaning that no one besides Sandhya and herself have won any of the challenges. Come on, give someone else a chance you guys.
Who Went Home?
Hernan, who said that he didn't deserve to go because he was a good designer but decided vinyl was a good fabric to work with. Yep, he deserved it.
Do you agree with the judges decision? Did seeing those burgers make you hungry? Did Sandhya purposefully give certain designers bad fabric? Discuss!