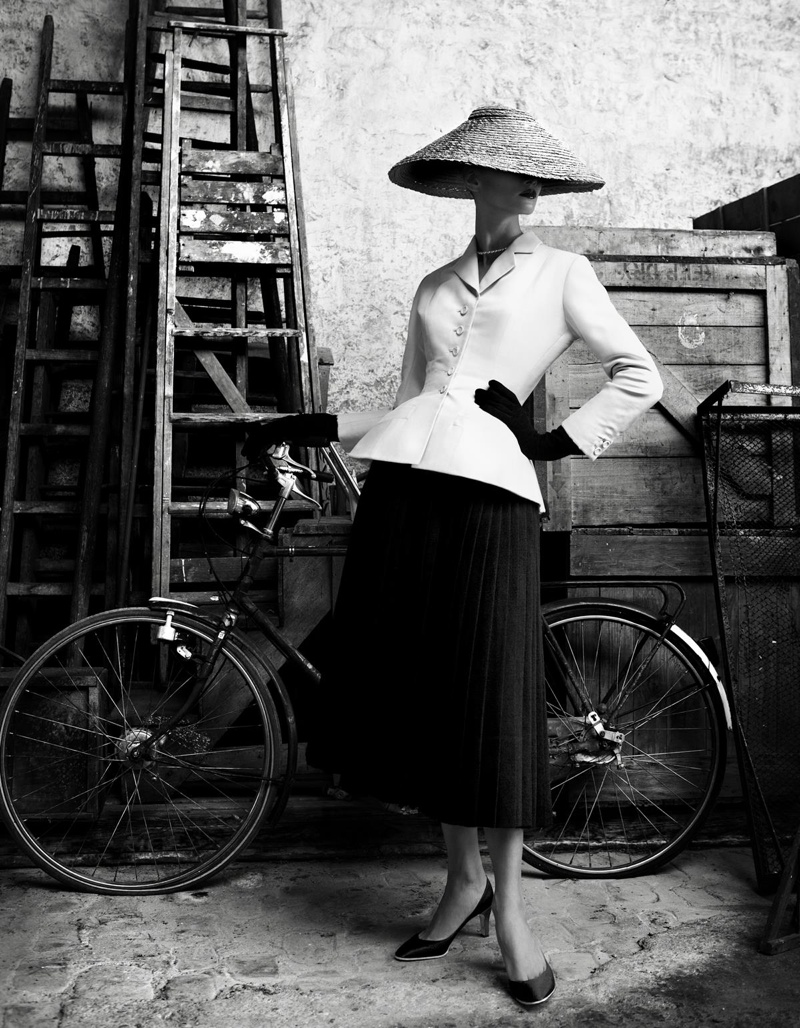 The year was 1947 when Christian Dior unveiled his first collection in Paris, and it was immediately dubbed the "new look" by Harper's Bazaar US, cementing the designer's place in fashion history. This look was characterized by layers of fabric and of course the iconic bar jacket which would endure for many years. Following up the post-war years of austere style, Dior ushered in a Belle Epoque sense of luxury with layers of fabric that sometimes used over twenty yards of material.
In the same way, Dior uses the feel of luxury in a bottle of Christian Dior perfume through a combination of notes that harmonize to classic perfection, culminating in a sleek and timeless spray bottle design–the bar jacket hits all the same notes for wearers of the piece.
Dior's "New Look"
Dior's Bar jacket is characterized by molded curves, a cinched waist, elevated bust and padded hips. Christian Dior named it the Bar jacket since the piece was intended for the afternoon cocktail hour at hotels. What made Dior's "new look" so captivating? The full skirts and focus on the female form was welcomed by many women in Europe and the United States after the war years where materials were limited and rationed. Moreover, Dior helped Paris regain its premiere fashion capital status after its fall during WWII.
Dior Bar Jacket in Photos
Through the years, the Bar jacket has been re-created by Dior creative directors John Galliano and Raf Simons (and not to mention countless other designers inspired by Dior's "new look"). Galliano often featured the piece in his couture showings while Raf Simons made the bar jacket a staple of his debut, fall 2012 haute couture collection.
The jacket has remained popular with women ever since its inception because though trends in what is considered "en vogue" for the ideal women's body type, the bar jacket flattered any woman's figure – something women searching for the perfect jacket for virtually any occasion knew they could count on. Iconic fashion pieces like this come along only once in a while – think "little black dress."
Pieces like this also become our main wardrobe staples, like the perfect watch, your signature scent, and your go-to clutch when you're heading out the door.
To say fashion as art may seem like an oversimplification, but when design and structure are nailed the way they were with creating the bar jacket, it's an absolute truth.