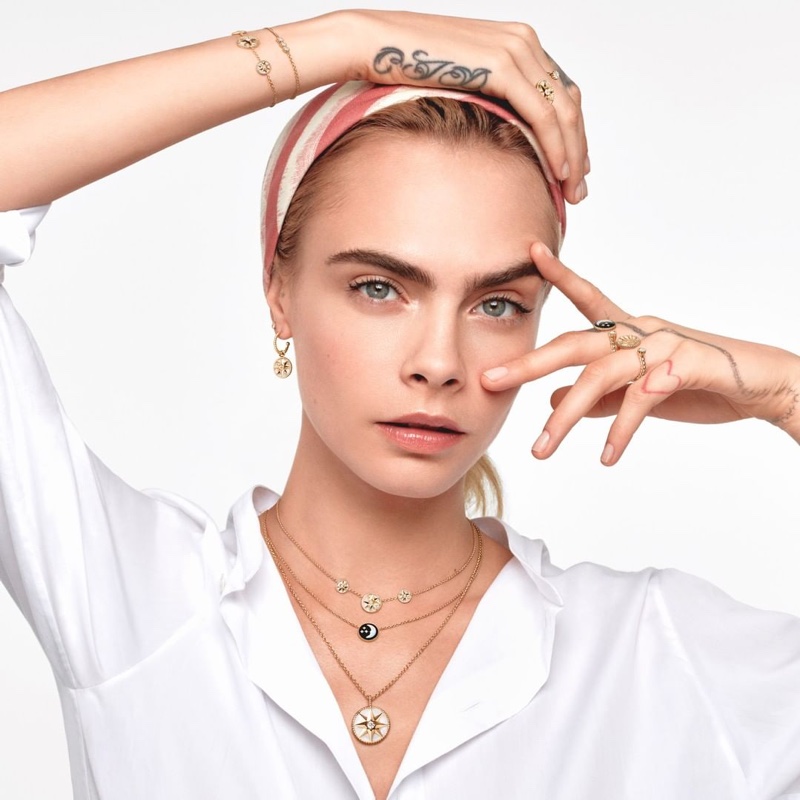 Dior focuses on its new Rose Des Vents jewelry with a new campaign starring Cara Delevingne. The English and model appears in evocative portraits photographed by Julien Martinez Leclerc. The Rose Des Vents line is designed by Victoire de Castellane, featuring mystic symbols inspired by the house's founder.
Designs range from earrings to rings to bracelets and necklaces with pendant details. Cara also models the La D de Dior Satine watch. Adorned with a Milanese mesh bracelet, it mimics the look of a satin ribbon and is decorated with small diamonds.
Related: Cara Delevingne Wows in Dior Addict Lip Glow Campaign
First named a Dior jewelry ambassador in 2019, the blonde continues to sparkle in 2021. "Victoire de Castellane reinterprets Monsieur Dior's lucky star in the form of a wind rose – an eight-pointed star. A twist of grains encircles the medallion, which turns to switch between the hard stone and wind rose side," Dior states.
Dior Rose Des Vents 2021 Campaign