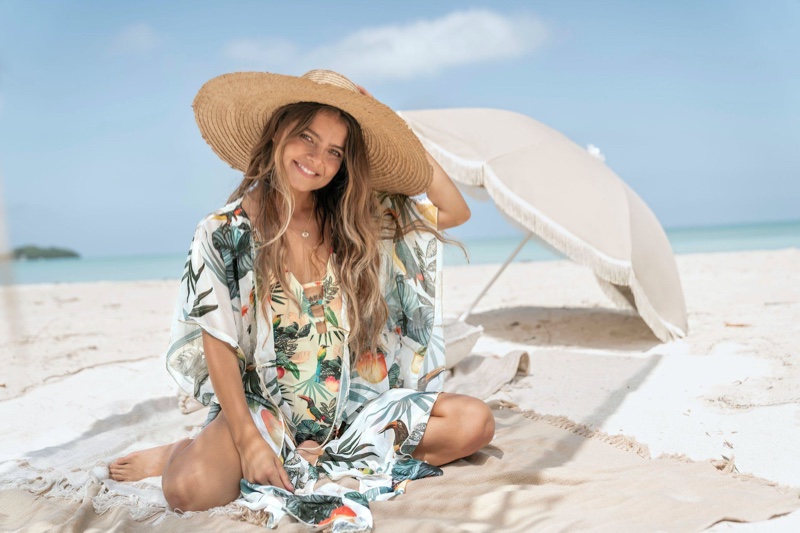 Now that the weather is warming up, it's time to put on your sunscreen and hit the pool or beach in your cutest bathing suits. Just because you're wearing a swimsuit doesn't mean that you can't be fashionable, but styling a bathing suit can be a little more tricky than regular clothes. Here are nine different ways that you can style a swimsuit this season:
1. Wear an oversized button down or shirt dress.
You know that a white button down shirt is one of the most versatile pieces in your closet. In fact, it's so versatile you can wear it to the pool as a cover up. Leave it open or button it up if you need to pop into a restaurant or shop that requires more than a swimsuit. If you're wearing a shirt, you can also leave it open, but tie at the bottom for a chic and casual look. Skip any garments made from stiffer, less breathable fabrics. You don't want the shirt to look starched. Instead, choose a button down or a shirt dress in a soft, breathable fabric such as cotton or linen.
2. Throw on a blazer.
Speaking of another versatile closet staple, you can totally make a blazer work at the beach as well. While a linen blazer in a looser cut is the natural choice for a laid-back day at the pool, you can totally make a more structured blazer work with the right swimsuit if you're feeling bold. Just make sure that the blazer can be easily washed in case you get sunscreen or sand on it. Save the dry clean garments for a day when you're not at the pool or beach.
3. Tie on a wrap skirt.
Wrap skirts are a classic beach cover-up for a reason. They look super cute and they're very easy to put on over a damp swimsuit (no shimmying required: you simply tie on the skirt and go). There are many different styles and lengths of wrap skirts so you can achieve whatever look and level of coverage you want. As an added bonus, many of the skirts can be repurposed as an everyday garment when paired with a regular top, so you won't be stuck with a cover up that you can't wear outside the beach.
4. Slip into some palazzo pants.
If you prefer pants to a skirt, then you're in luck. Loose, wide-legged palazzo pants go perfectly with a swimsuit. Not only do they make a cute cover up, they also protect your legs from wood, concrete and other rough surfaces (a must if you get sunburned). Because these pants are usually high waisted, they can totally be used to turn a bikini top into an actual outfit that you can wear out on the town. Leave on your bikini bottoms or switch to some regular panties if you just want to wear it as an outfit.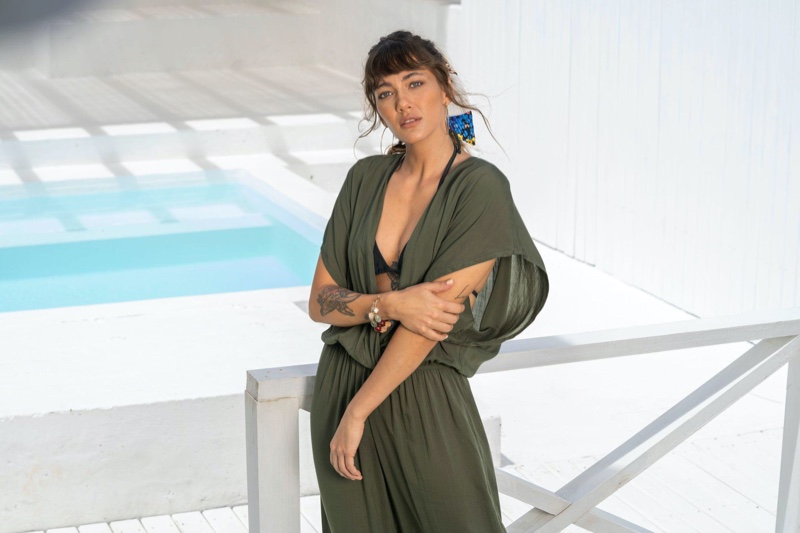 5. Try a see-through top or dress.
Sheer beach cover up dresses are designed to show off what you're got on underneath, allowing you to flaunt your swimsuit while still having some coverage. These see-through tops, dresses, and jumpsuits are perfect for styling swimsuits and for creating transitional looks that you can wear to the beach or to the club. Choose a very sheer cover up for a more flirty look, or opt for a slightly more opaque dress if you're at a more conservative beach.
6. Add some accessories.
You already know that accessories make the outfit, and this is as true for your beachside looks as it is for your regular outfits. Sunglasses, jewelry and hats can all elevate your bathing suit from "meh" to amazing. Golden jewelry looks especially good against a tan, and a classy straw hat will dial the beach vibes up to 11. You'll want to wear sunglasses at the beach anyway to protect your eyes from the glare, so you might as well choose some cute ones that will add a fashionable touch to your outfits.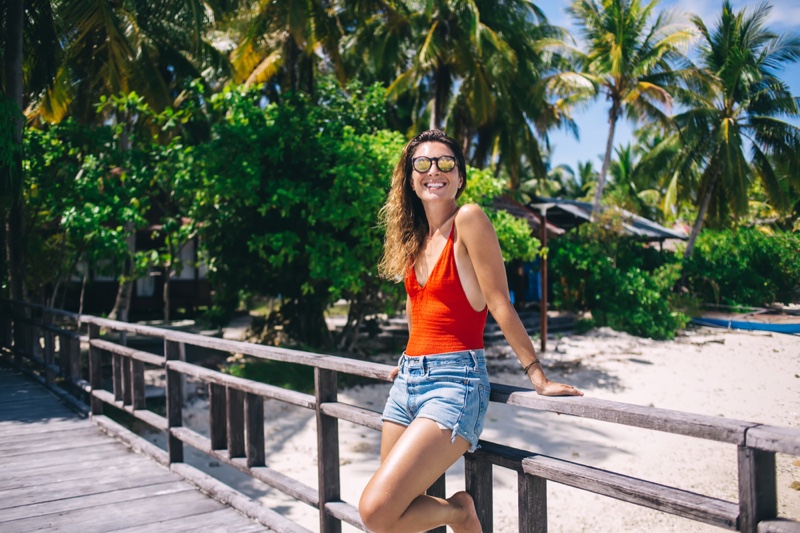 7. Put on denim shorts and sandals.
Denim shorts are a classic summer garment, which is why they're the perfect complement to your swimsuit. Go for classic jean shorts, or get a little retro with overall shorts with one strap left open to show off your swimsuit top. Pair them with espadrille sandals for a more beachy look, or pair them with sneakers if you want more sporty vibes. Bonus points if you match the colors of your shoes to your top!
8. Opt for some loose jeans.
If you want a little more coverage than shorts can provide, then some high-waisted, wide-legged jeans are the perfect solution. Go for thinner denim in a looser cut that will be comfortable to put on over your swimsuit. We especially love lighter acid wash jeans for summer to show off your tan, but you can also put on darker jeans if that's more to your taste. Top off the whole look with a straw hat and you'll be ready to hit the beach or even go shopping at the local market in your cute outfit.
9. Take advantage of cutouts.
Some dresses and tops are designed with deep v-necks, low backs and strategically placed cutouts that are designed to show off whatever you're wearing underneath—which means that they're perfect for wearing over a swimsuit. Basically, anything that you might wear over a bralette is also ideal for wearing over a bathing suit. Take a look at your closet to see if there's anything you can repurpose. You might be surprised at what you find!
Look fabulous at the pool or the beach this summer with these nine different swimsuit looks. Just because you're wearing a swimsuit doesn't mean you can't also be fashionable!