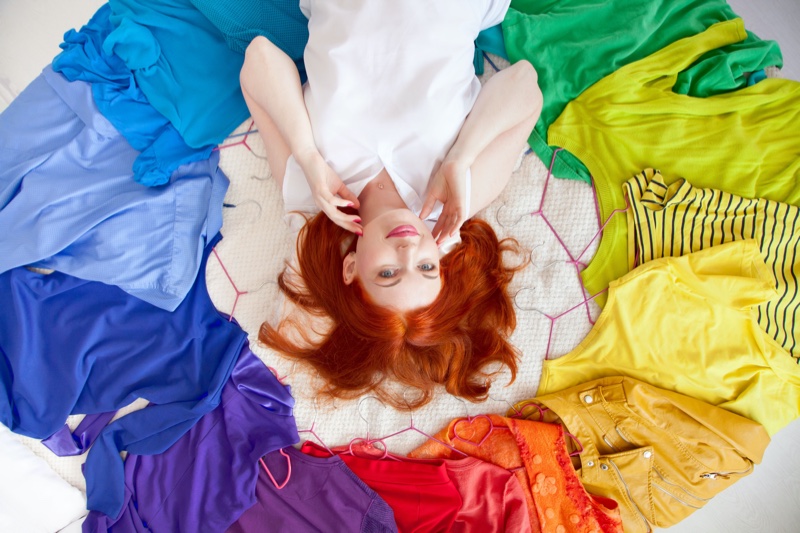 Do you remember high school? Kids identified which group they were in by the clothing they wore. There were the "preps" in polo shirts and Levi's 501. At the opposite end were the "Goths" – dressed in black, dark lipstick and nail polish, and spike collar jewelry and chains. In between, of course, were the jocks, the nerds, etc.
Fast forward to today. Your clothing choices still make statements about you – who you are, your experiences, your values, etc.
The clothing selection has two large categories – color and style. So, let's unpack a bit about the psychology of both of these. They reflect you and send messages to others.
Your Clothing Color Choices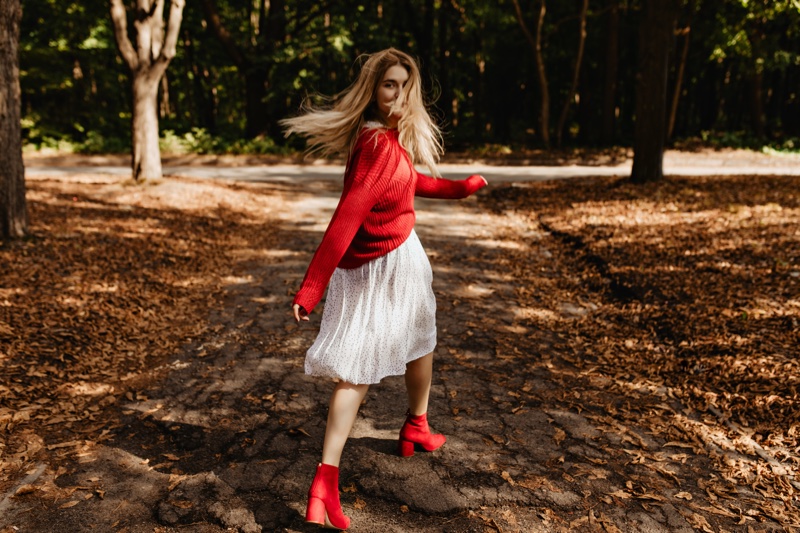 There has been a lot of research on color psychology that transfers over to the colors you choose for your clothing. Most women select clothing colors based on the image they are attempting to portray in different environments. 
Colors are categorized as cool and warm, except black and white. And they represent a message the wearer wants to send – a message usually picked up clearly by those who see her. Here are some general examples:
Red: Red sends messages of energy, strength, power, and passion, and it attracts attention more than any other color.
Green: Green is the color of nature. And green clothing sends messages of a focus on health, freshness, peace, and contentment.
Blue: Blue is another cool color that sends a message of peace and calm, idealism, and compassion.
Brown: This is a warm color that reflects maturity, stability, and wisdom. It also sends a message of reliability.
Orange: Orange is warm but vivacious color, sending a message of extraversion, enthusiasm, and freedom of expression.
Yellow: The message is creativity, energy, and a cheerful attitude. If this is how you feel at certain times, yellow will be your color.
Purple: When you want to send a message of power, dignity, ambition, and luxury, use purple.
Black: It is the most complex color because it can send so many different messages – authority, formality, elegance, and power when worn to events other than funerals.
White: So, our first thought is purity and innocence. But it also sends messages of order and cleanliness. Think of a doctor's office. Another message may be freedom – think of a blank canvas – you can write anything you wish.
Now, Let's Talk About Style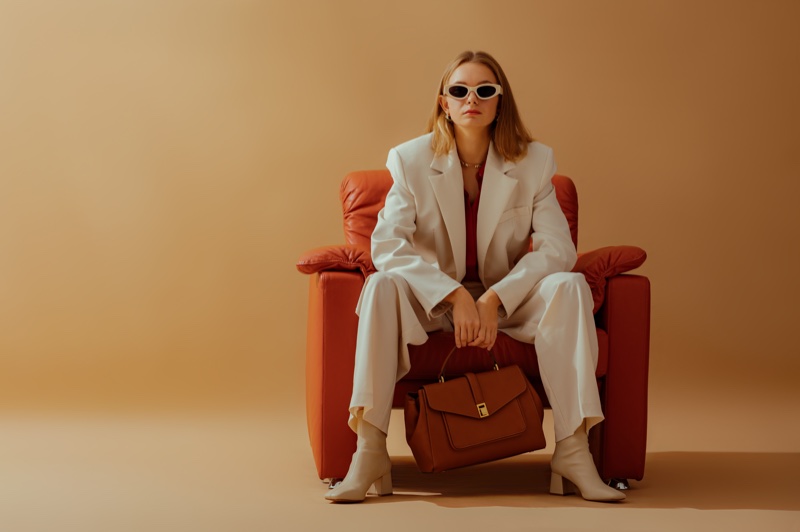 Style is such a personal thing, and we all have our preferences. Let's dispense with the designer shows and get into the real worlds of our professional and personal lives.
Most of us will choose a style based on where we are going and what we will do. But within those parameters, we have plenty of choices.
When you go to the gym, what is your style? If you're a fashionista, you will likely arrive in a designer outfit; if you care less about your appearance, you may come in sweats or a pair of faded biker shorts and an old t-shirt.
And there will be plenty of people in between these extremes. Everyone is sending a unique message about themselves – it's about freedom of choice.
The question is this: what message do you want to send in each environment you are in?
Here are a few guidelines; you should take them for what they are – just suggestions. And all of them leave room for personal preferences.
1. Dress for Your Mood
There are days when you want to be assertive and aggressive. Go for it and wear a red outfit. On other days you may feel peaceful, so go for shades of green or blue.
2. Wear Power Clothing When You Want to be Confident or Even Domineering
You are conducting a workshop, applying for a new job, or leading a team meeting. Here is the time for a tailored black or navy suit – probably a pencil skirt, blazer, and heels. A white tailored shirt compliments the outfit. If you meet a date without time to change, you can immediately lose the blazer and unbutton a little more of the shirt.
3. Casual Work Clothing
A casual dress is perfect when you need work clothing messages that say, "I'm friendly and creative," especially when working with a team on a project. Lovely trousers and a blouse with lower-heeled shoes or flats convey the right message.
But in this environment, you can add more color, maybe a bit of orange or yellow, to say enthusiasm, cheerfulness, and creativity. Your jewelry can easily add that color. If jeans will work, be sure they are in darker colors and nicely tailored.
4. For Dating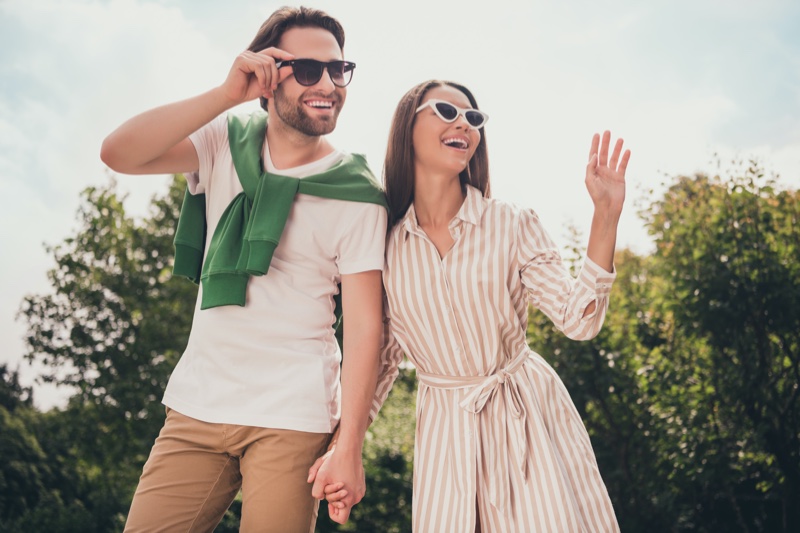 There are no "rules" for style – you are free to be anybody you want, as long as you dress correctly for the date type. If you want to understand all the varieties of dating clothing, check out Hily.com, an online dating and chat platform.
Look at the clothing styles and analyze what they say to you. The important thing is this: no matter how casual that date may be, there is no excuse for being sloppy – cut-offs and a t-shirt can still show style.
5. Designer Clothing
What's the purpose of designer clothing? It's the message of the "upper class" in style and attitude. One of the things that designer clothing says is, "I make good decisions, especially in finances," but it can also say that you may lack compassion for others. If you wear a lot of designer clothing, express empathy in your conversations and actions.
6. Your Underwear
OK. So, nobody sees it. But when you wear top-quality underwear, you feel more confident and sexier and portray that outwardly.
Final Words on Your Clothing Choices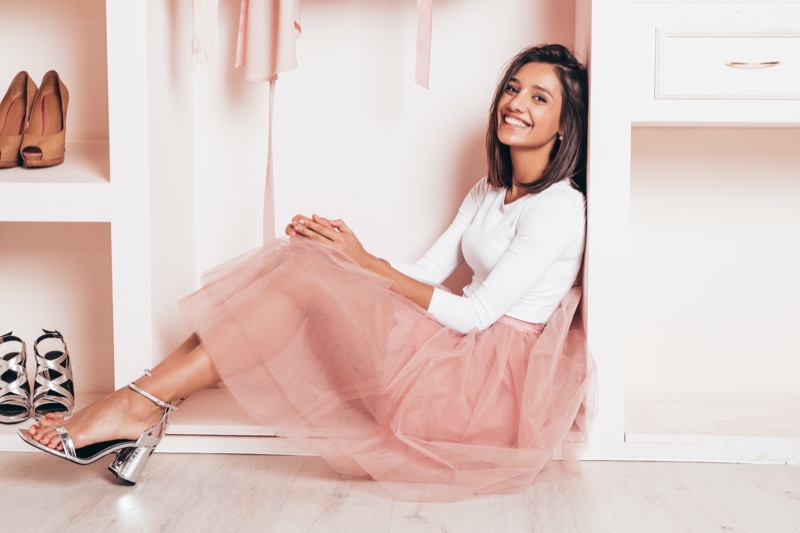 Our clothing choices have always been a means of self-expression and identification. From high school cliques to professional and personal lives, what we wear sends a message about who we are and what we value. Your clothing choices encompass color and style, each sending a unique statement. 
Understanding the psychology behind colors and styles can help us make better choices and present ourselves in the best possible light. So, next time you choose an outfit, think about the message you want to send and let your clothing do the talking.