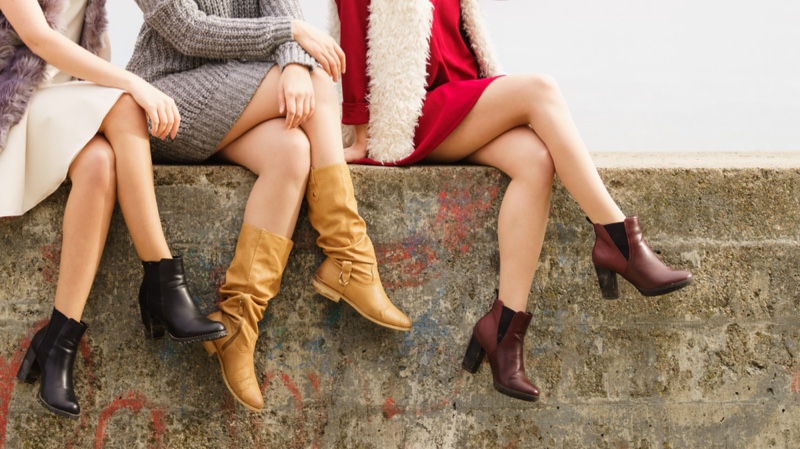 This fall-winter season, designers do not want us to head to new fashionable heights – almost all trendy shoes have been familiar to us for a long time. You want to get used to new, unusual colors, the shape of heels, and also remember how we wore certain models in the past. Autumn fashion is a bouquet of fashionable fun: cozy sweaters, classic coats, dresses with beautiful patterns. There are many more options for creating an interesting, texture-filled look when the outside temperature drops below. On the catwalks for the new season, designers have offered comfortable options: slouchy low-heeled boots, platform boots, and oxfords for those looking to add height. And for dinners in restaurants, dating, and going to the theater in the autumn-winter season, there is a place for pumps, high boots with a pointed toe, or square heels. This time, fashion houses have something for everyone, and we will help you find your dream pair of shoes for the fall-winter 2021-2022 season.

Cossack boots
This shoe has solidified its place on the list of items for the perfect essential wardrobe during the last few years. Therefore, if you have not yet had time to acquire a pair that perfectly matches romantic-style dresses, jeans, and shorts, this season, feel free to give preference to nude or black Cossacks with perforated patterns.
Almost house slippers
The quarantine trend towards comfort is reflected in footwear as well. Now anyone can supplement a cozy jogger suit with house slippers, and you can easily go out in such a look. After all, designers offer many options for slippers, which in appearance cannot be distinguished from house shoes. This trend can be seen in materials such as velvet and suede for a luxurious look. Wear not only with a jogger suit but also with a dress.
Pointed toe boots
If you haven't picked up a new addition for this season – a pair of sleek leather knee-high boots or ankle boots – this is your year. There are pointed-toe and high heels on the catwalks in classic black and dark brown, lending luxurious elegance to sophisticated and minimalist looks. You can never have too many pairs of pointed-toe boots, especially those with "timeless" silhouettes.
One can pair a sophisticated pair of pointed-toe boots or ankle boots with a cashmere coat and cape. These shoes are perfect for this whole time of autumn dinners with friends and winter holidays. A win-win option for them – a dress, mini, midi, or maxi – is up to you to decide. Do not forget about also wearing large accessories and a small clutch.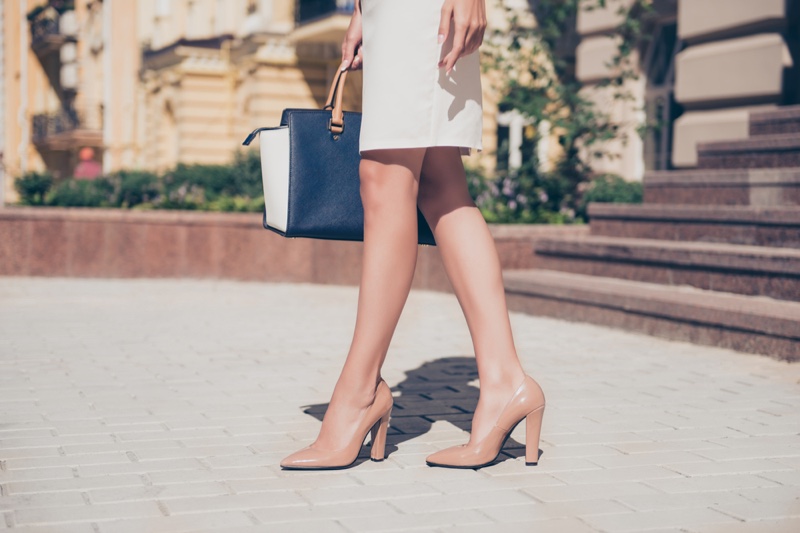 Work Shoes
The serious #girlboss image is increasingly leaving the world offices connected to the transition to remote work from home. Her shoes, however, were not. The noughties pointed toes made their mark in recent runways, '90s-style sandals made a comeback loud and bright, and taper-heeled austere models became popular at lightning speed. The pumps are back for fall but with an updated design. The silhouette is a bit retro in comparison to a simple style. Still, it retains a modern look in the collections, thanks to the metallic materials, the combination of patterned tights, and a combination with oversized clothes, respectively. Get inspired by looks straight from the catwalks. You can wear it with a dress or a suit, but instead of wearing pants, try a midi-length wool skirt with frills or pleating.
Chains
The embellished shoe trend is well represented this season among the women's shoe trends. Large chains are at the forefront of fashion accessories. In the autumn-winter season, they can be found in clothes, bags, and stylish shoes. Heels, boots, and ballet flats embellished with oversized links, gold-plated rope, or thin chains have appeared on designer catwalks. Such shoes are unmissable at a party or a dinner at a restaurant with friends. Pair your luxurious chained shoes with an equally perfect dress – with sequins or a large, bold print. For lovers of minimalism – you can wear a knitted, figure-hugging dress with a collar or an elongated jacket with tight tights.
High boots
The most standout shoes of the season are high, thigh-high boots that are great for showing off your legs. True, you can still experiment with color: in addition to the classic black and brown colors, some brands have white, purple, and even hot pink styles in their collection. Shoeme.com.au has a wide range of boots in different colors and styles. Such shoes will become not only an indispensable wardrobe item but also a bright detail.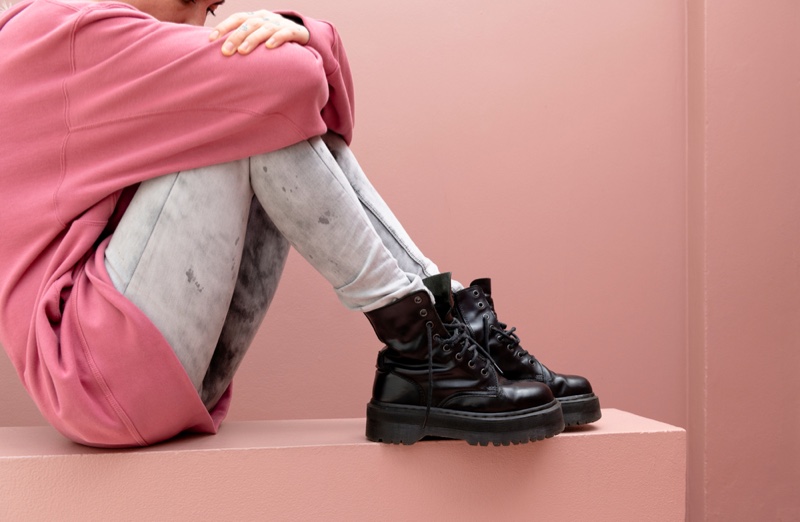 Combat boots
Our favorite coarse leather boots have been one of the top fall-winter-2021-2022 footwear trends for many seasons, and this is due to their convenience and this incomparable feeling of coolness borrowed from underground cultures. Today they are a true hybrid of recent years: not only black but also colored, with a metallic effect, with and without a lock, lace-up; they have voluminous proportions and an elegantly polished finish. An oversized slotted outsole and contrast stitching hint at an underlying rebellious aesthetic that gives traditional styles extra appeal in the fashion market.
The major hit from the catwalks is distressed boots together with an ultra "girly" floral dress, or even a frilled skirt – from taffeta and multilayer tulle.
An excellent addition to the boots in the style of the 90s would be:
black tights;
mini dress: silk, tweed, or even leather;
work suit;
oversized sweater;
jeans.
Heeled loafers
Loafers confidently take on new heights: the most current variation of this elegant shoe model is now the one with stable and massive heels starting from 5 cm. featuring a trendy component. Inspired by menswear, these fashionable shoes remain popular for the season. We love them for their versatility and stylish design. Fashion houses have added blocky, wide heels to loafers, making them look even more attractive. Alternatively, you can wear a classic silhouette with a playful chunky sole. While we used to add loafers to our wardrobe to achieve a schoolgirl aesthetic, 2021 will see color block versions, snake-print details, and rigid platforms.
When you choose sneakers or flats in the morning, put on loafers instead and immediately feel more on-trend – this pair of shoes will spice up your style. Swap your trusty loafers for a trendy, heavy-soled silhouette to add a fresh twist to your floral suit or dress.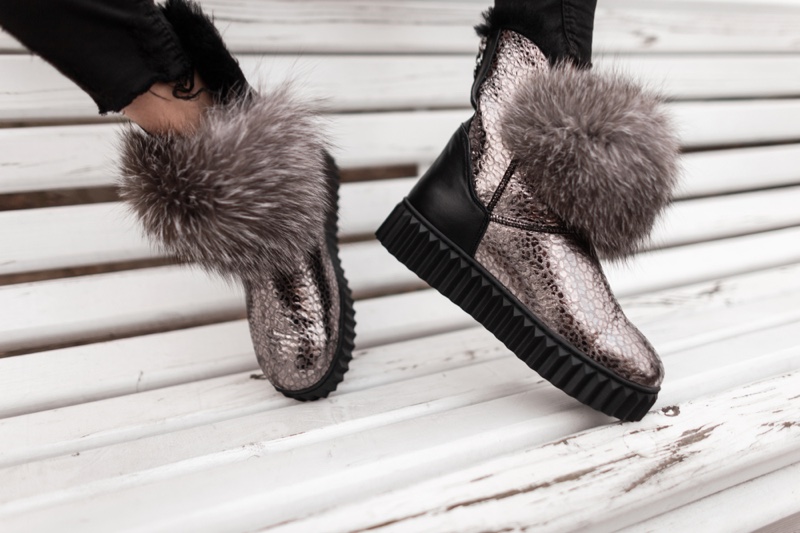 Fur Accented boots
This winter, we definitely won't have to freeze. The most fashionable shoes for the cold months are variations on heeled faux fur boots and ski boots. Of course, finding decent clothing to wear with them will not be as easy as biker boots or even hiking boots, but there are options. High boots get along well faux fur coats and down jackets, which are also extremely popular this season.
Slipper shoes with fur
Get comfy because the trend of indoor shoes is still relevant and so comfortable for fall and winter. Sheepskin-lined slippers accentuate elegant looks, plush slip-on sandals paired with silk dresses, while shaggy and fluffy boots dominated Alpine-inspired collections for fashion brands. Fur is also actively used on the streets; celebrities like Irina Shayk bring our favorite Ugg boots back to life. There is nothing cozier for cold weather – with these shoes, you will be protected from chilly days and nights.
You can wear fur boots or slippers for a spectacular daily look with pieces below like:
warm two-layer socks;
skirts with lace;
large horn-rimmed glasses;
chic suit with trousers;
dresses – both boho-style and romantic feminine.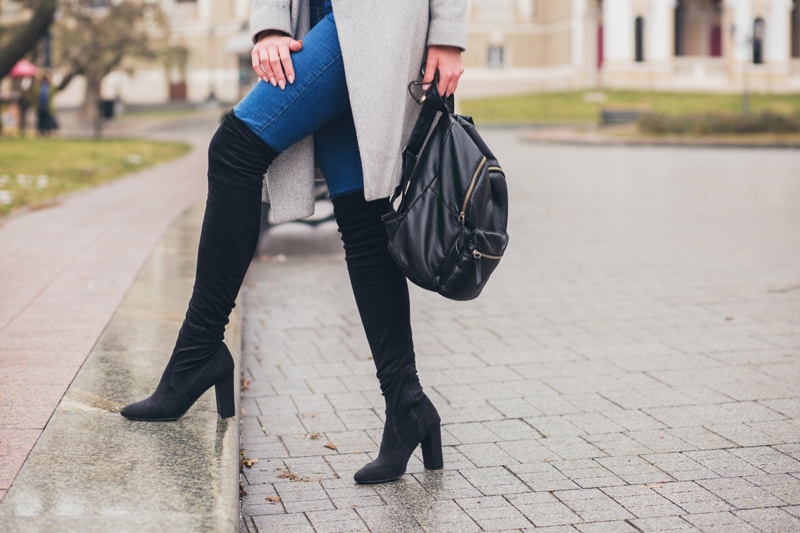 Equestrian style boots
Interest in horse riding fashion is becoming especially popular in the fall-winter 2021-2022 women's shoe trends. Remember, the last fall-winter season was all about western-inspired cowboy boots. Although it's still relevant, labels offer smooth leather riding boots for a chic style this year. Cuffs in the style of "puss in boots," over-the-knee boots, or with a wide bootleg – make this a desirable option for casual or going-out looks.
The style icon in the fashion trend of jockey boots is rightfully Kate Middleton, who wears them with true elegance and luxury. Still, at the same time, her outfits are always minimalistic and straightforward, which we can safely take inspiration from. Jockey style boots go well with:
a long sleeve dress in a small floral print;
with a white shirt;
cashmere clothing.