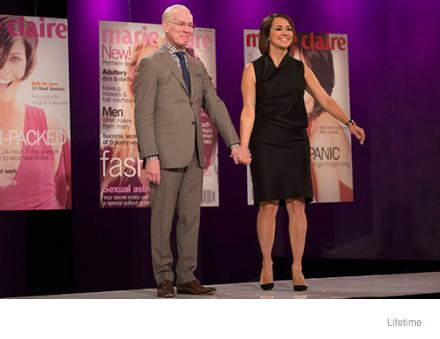 This week on "Project Runway", it was the Marie Claire challenge. The magazine is celebrating its 20th anniversary this year and editor-in-chief Anne Fulenwider along with Tim Gunn presented a challenge that is about bridging the future and the past. Designers had to make clothing that they think women would wear in the year 2034, but it is also inspired by their lives in 1994.
For the first time this season, we see the designers go to Mood. Amanda was like, "I got this in the bag," since she has been their before. When they went to the working room they were surprised by #throwback photos of themselves. And, it was actually a great idea! It's so crazy to see what people looked like twenty years ago. Kini looked adorable with his asymmetrical haircut and Amanda revealed she even designed her own 90s style dress from the quilt. And wow, Emily, she was serving body in her photo. I'm assuming she was a model because look at those legs!
But it was time to get to work. In the workroom, Angela was running around looking stressed as usual while Alexander was having problems after his model came in for her fitting and the top was too tight. He decided to completely scrap his original idea and start over. Would he be able to still produce a good look?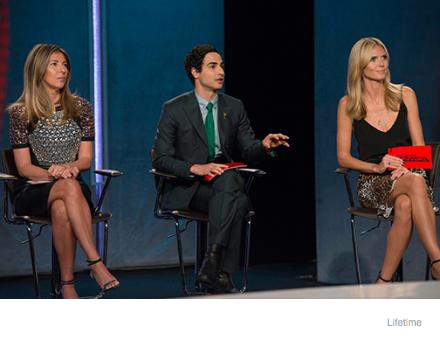 Now, on to the runway. The guest judges this week were Amanda de Cadenet and Anne Fulenwider. Let's take a look at the three top looks and three bottom looks. You can view the full runway show here.
TOP LOOKS
Emily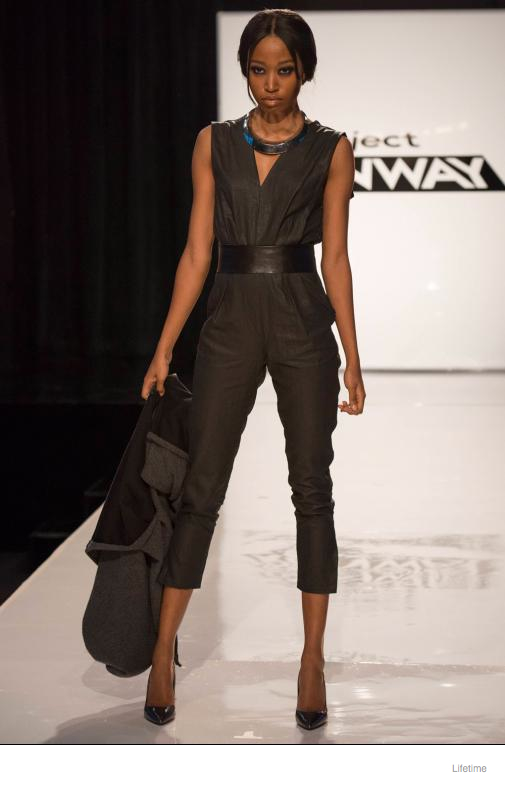 I really liked this look. Her jumpsuit/Ewok hoodie was wearable and the exaggerated hood also gave it a futuristic vibe. Was it the most innovative design in the world? No. But it was well done. Everybody loved the look except for Nina who thought she had seen the look so many times before.
Kristine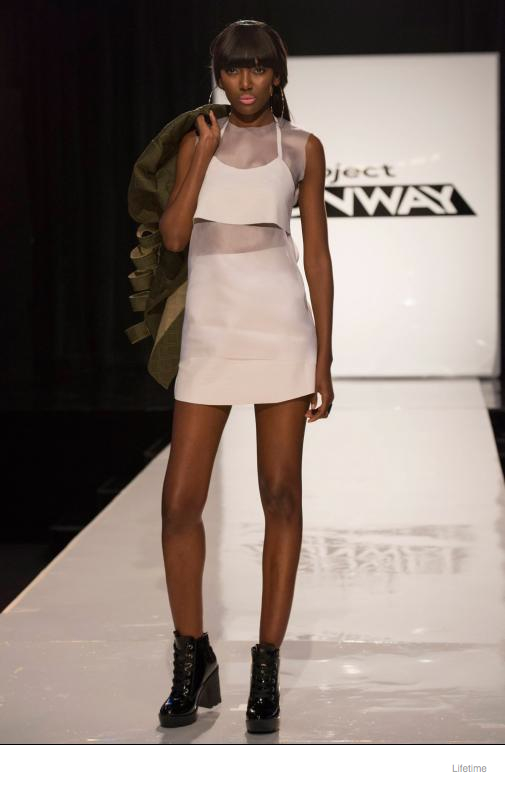 Kristine was inspired by the 90s and grunge for her look which consisted of a jacket with cut-out/floating sleeves and a sheer sort-of crop top look. Nina wanted to wear the look while Zac wants Kristine to stop with the grunge references. Personally, I felt like it was a good design but maybe a little to referential and not modern enough for a future challenge.
Sandhya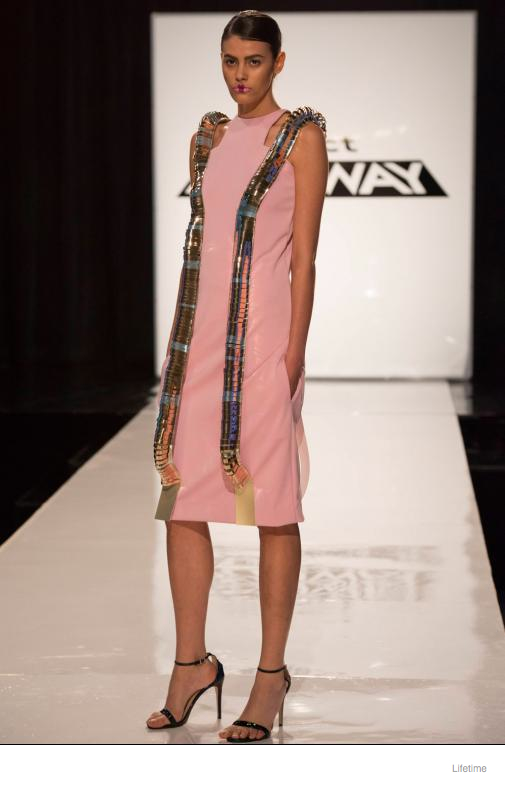 Sandhya's metallic/pink look was a winner in (most) of the judges eyes. Nina smiled when it came down the runway and said it would be a good editorial look while Heidi said it was comical but definitely the most memorable. Sure, it was innovative but it looked like two metallic tubes sticking off a dress. And upon viewing the runway images of the dress, I just don't get it.
BOTTOM LOOKS
Sean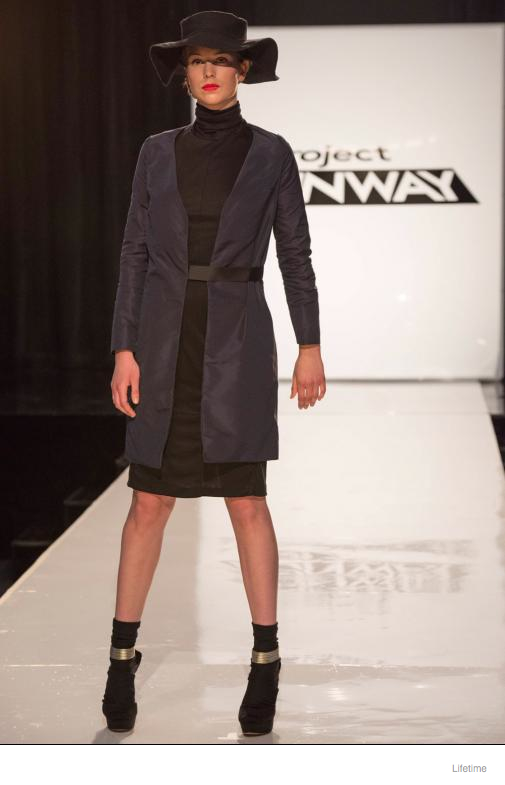 No one liked this look except for Zac for some reason. He said it looked like Prada meets Mary Poppins which is only good if Miuccia Prada were to do it! This, not so much, it just looked like a wrinkled mess.
Alexander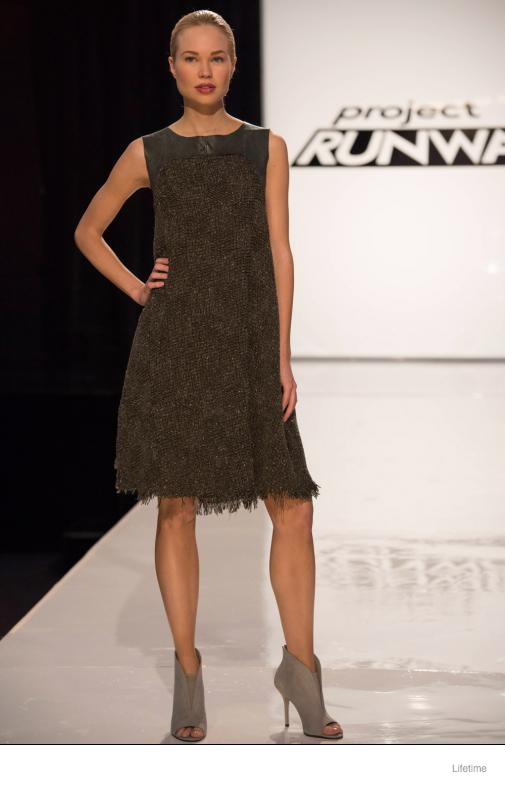 Unfortunately, he ran out of time so the look was just a very drab dress. Nina called it "Planet of the Apes" looking. "She looks like she is an ape!" she screamed from her throne judging seat.
Angela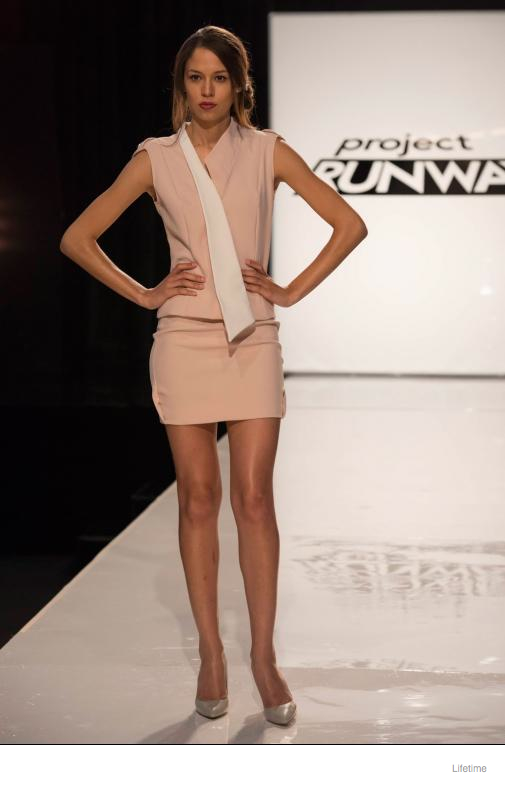 Her deconstructed suit is inspired by her time on Wall Street. With her nerves and self-doubt, I wonder what she did in finance because I would think it would be even more cutthroat than fashion, and she doesn't seem to have very thick skin. The look was horrible from the color to the construction. Heidi even said that Angela looks as sad as her clothes (wow). Yeah, it's not looking so good.
Who won the challenge?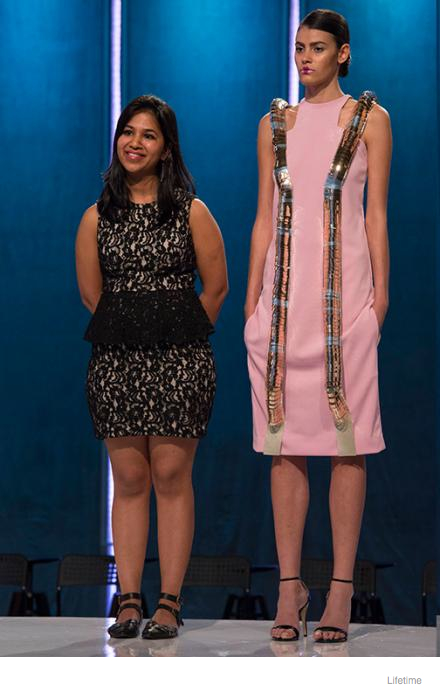 Sandhya's pink dress with metallic details. And once again, viewers at home were baffled as well as the other designers (and myself). I think I finally get why the judges gave her two wins now, though. Her work is different and stands out from the other contestants especially when they pan out from the runway. HOWEVER, it's not executed well enough for her to deserve a win in my opinion. It always looks unfinished like she should add more. A few more years and she would be a great designer. It's just not there yet.
Who got eliminated?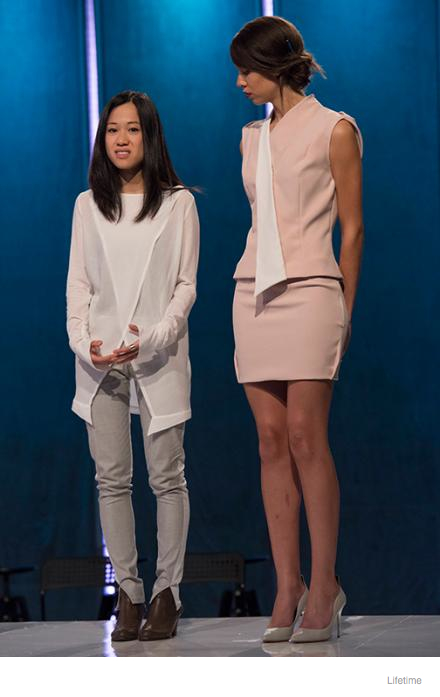 Angela and her sad pink suit. She looked a little relieved when she was sent backstage. And as Tim Gunn said, this was not the environment for her to thrive. Angela could not take the criticism well and seemed to freak out over the time constraints. It's for the best.
So, do you agree with the judges choices and what do you think about the contestants' throwback style?