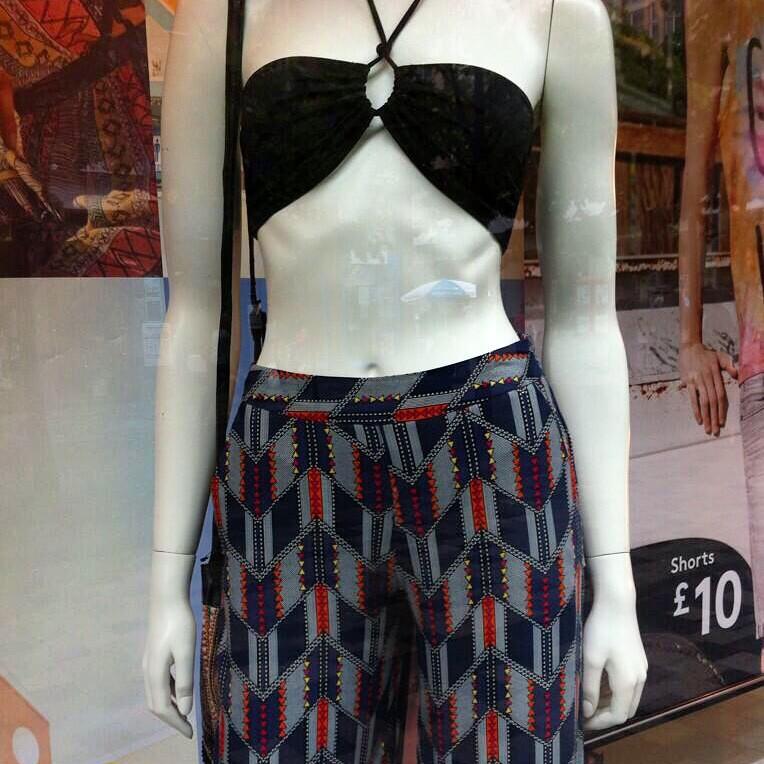 Irish clothing retailer Primark sparked controversy after a customer tweeted a photo of a rib-baring mannequin with a concave stomach, reports Jezebel. The tweet by @Melfyx asks the bargain retailer, "Dear @Primark, is it really necessary that these new mannequins have protruding ribs?? And before I get anyone saying I'm skinny bashing, I'm not, I'd just like to see mannequins in all different shapes and sizes in all stores rather than young girls thinking this is the only way to be."
Primark quickly responded to the tweet by informing the customer that the window display is being changed and the mannequin won't be used in that way again, but the photo has been retweeted over 2,000 times since. Other retailers such as Gap, La Perla and Zara have come under fire in the past for using skeletal mannequins, reports The Daily Mail.
Perhaps they should take a cue from Mango who has agreed not to use mannequins smaller than a size 6 due to problems with eating disorders among Spanish women. You can also find out more information about mannequins at https://www.officialtop5review.com/adjustable-dress-forms/
What do you think of the use of such mannequins?
More Controversial Fashion Stories:
Controversial Kate Moss Tee Pulled From Shelves
NOWNESS Takes on the Controversial 'Thigh Gap' with New Video