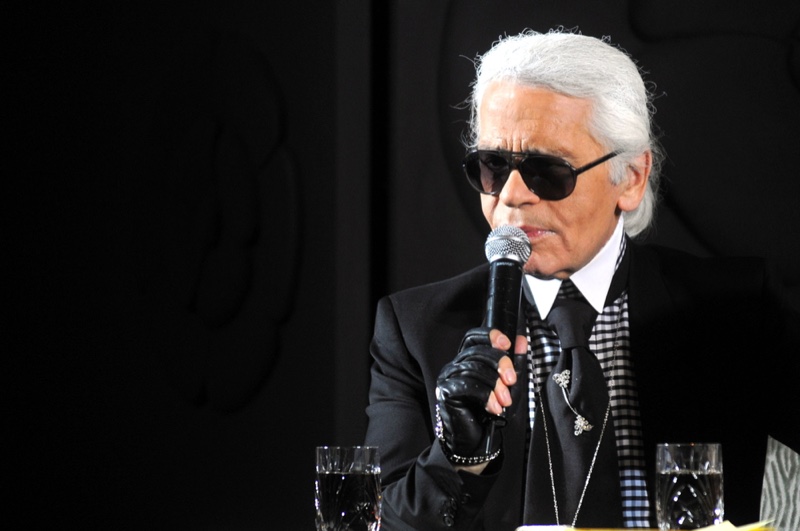 The death of Karl Lagerfeld rocked the fashion industry and left everybody in the fashion world feeling saddened. Even if you did not follow the man's work closely, chances are you admire or even own a few pieces of the brands for which he lent his talents. Houses of fashion like Tommy Hilfiger, Fendi, and Chanel have been graced with pieces this man designed.
In this article, we shall take a look at the life of this designer and provide a brief overview of the wonderful things he contributed to the fashion world. Even in death, his legendary designs will live on and provide inspiration for new fashion designers entering the industry. He died in Paris on February 19, 2019. The reason of death was announced complications of pancreatic cancer.
The Early Life of Karl Lagerfeld
Born Karl Otto Lagerfeld in Hamburg, Germany, it is believed that he was born on September 10, 1933. The avant-garde designer never did reveal his real birthday, so this is pure speculation. The "T" was dropped from his name in an effort to sound more industry-friendly.
His father was a great businessman and made a healthy fortune by bringing condensed milk to the nation of Germany. Karl and this two siblings, Thea and Martha, grew up wealthy and their parents encouraged them to partake in intellectual activities. They would discuss major topics such as philosophy and presumably music at their meal times, especially considering their mother was a violin player.
It was from an early age that Lagerfeld displayed an affinity for fashion and the art of designing it. As a young lad, he would cut out photos from fashion magazines, and was known to be critical of what his schoolmates were wearing on any given day. And in the teen years, Karl would dive headfirst into the exciting and dynamic world of high fashion.
Stylish Beginnings
Like many visionaries, he knew his future was far beyond Hamburg, Germany. He decided to move to a place where fashion is king-Paris. He got his parents' permission as well as their blessing and made his way to the famed City of Lights. He was fourteen at the time.
He had lived there for only two short years when he submitted his sketches and fabric swatch samples to a design competition. Not surprisingly, he took first place in the category of coats, and met another winner you may know the name of: Yves Saint Laurent.
It was not long after that the young Lagerfeld was working full time with French designer Balmain, starting out as a junior assistant and then becoming his apprentice. The position was demanding physically and mentally, and the young visionary worked hard in it for three years. Then, he took on a job with another house of fashion before making the bold decision to go it alone in 1961.
Success for Karl
Thankfully, but not surprisingly, Karl had plenty of work available for him and his great designs. He would design collections for houses like Chloe, Fendi (he was actually brought in to oversee the fur division of the company) and other big-name designers.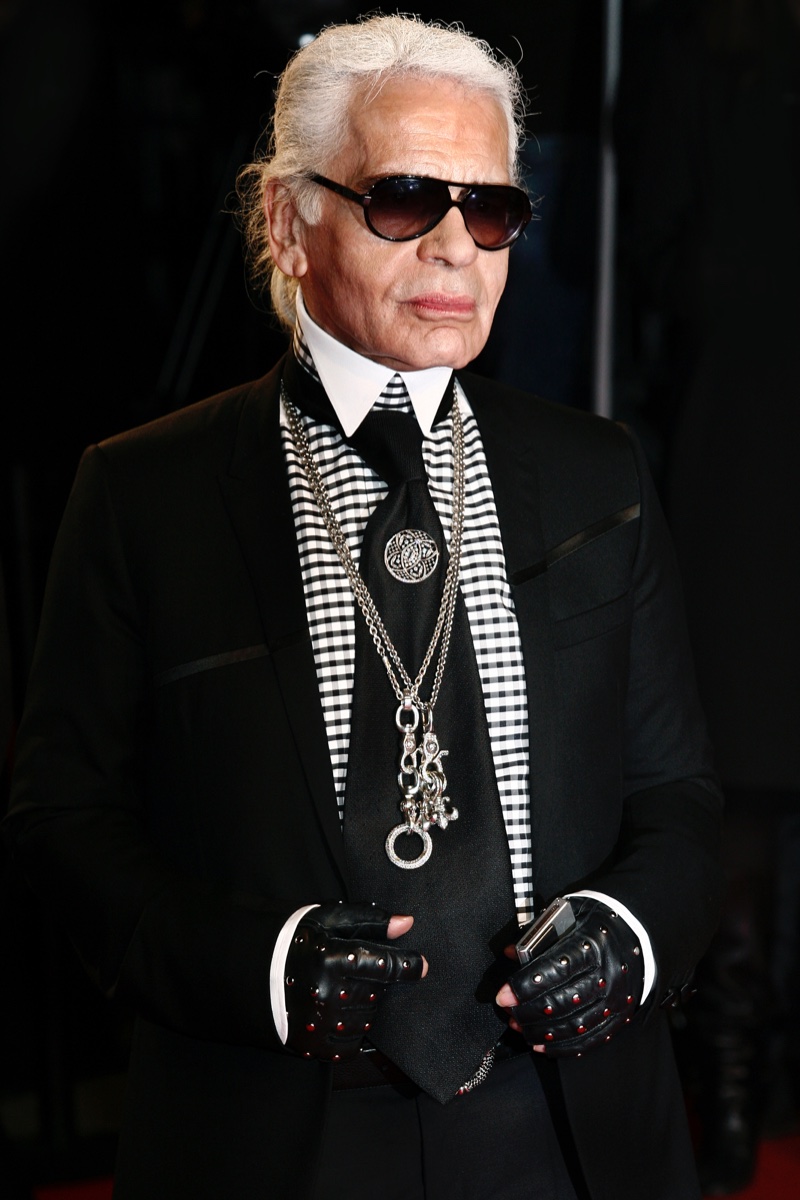 He became known among industry leaders and insiders as a man who could innovate and create designs that were spontaneous and in-the-moment. Yet, he found innovation everywhere, shopping flea markets and up-cycling old wedding dresses, creating them into something new and even more beautiful.
The 80's And Beyond
In the legendary decade of the '80's, Karl was known to be a major player in the fashion industry. He was loved among members of the press, who followed the man and documented his social life and ever-changing tastes. He kept interesting friends, one of the most notable being the artist Andy Warhol.
He developed a reputation of being a "for hire" designer. He would never stay with just one designer for very long-he was known for going from one label to the next, spreading his talent across the industry.
He created a track record of success that sets the highest standard for new and experienced designers alike to aspire to. The label Chanel was saved by the man when he did what few could imagine he brought back the nearly dead label to a vibrant life with a ready-to-wear collection of high fashion.
It was also around that time that Lagerfeld created and launched his own label, his inspiration being what he called "intellectual sexiness". The former part probably came from his childhood where intellect was encouraged, and the latter probably came from seeing fashion of all sorts on runways around the world in varying levels of modesty.
The brand grew and developed, earning a reputation for having quality tailoring combined with bold pieces that were ready to wear. Buyers could sport beautiful cardigans, for instance, that were crafted in bright colors. The label was eventually sold to popular company Tommy Hilfiger in 2005.
Like many great artists, fashion was not the only world in which he displayed his talents. His work crossed into the realms of photography and film, and he continued to work hard and maintain a packed schedule.
It was in 2011 that he designed glassware for the Sweden-based Orrefors, and even signed a contract to create a clothing line for the Macy's department store chain. Said Lagerfeld in July 2011, "The collaboration is a kind of test how to do this kind of clothes in that price range…Macy's is the perfect department store in the US, where everybody can find what they're looking for without ruining their budget."
It was that same year that he was awarded the Gordon Parks Foundation Award as a means of recognizing his work as a fashion designer, photographer, and filmmaker. Lagerfeld responded to this high honor by stating, "I'm so proud, and so very thankful, but I'm never done." He went on to state that he had been impressed by Parks' photos while he was a student.
And perhaps best of all, he opened his own store in Qatar in 2015, housing legendary pieces available for purchase.
The
Death of Karl Lagerfeld
As the man approached his mid-80s, Lagerfeld began to slow down his work. Industry insiders were concerned when he did not show up to the end of his Chanel fashion shows in Paris in the early part of 2019, which the house chalked up to his being "tired."
It was not long after that he passed away, on February 19, 2019.
Posthumous Fame
Even after his death, Karl Lagerfeld is still making headlines in the fashion world.
Many wondered just who would be the recipient of the designer's estimated $195 million fortune. The answer is none other than Choupette, the Birman cat that Lagerfeld loved so dearly.
Choupette, his cat, is reported by NBC news to inherit some of this money. Lagerfeld had said in the past that his cat was an "heiress."  "…The person who will take care of her will not be in misery," he stated in a 2015 interview.
He hired maids to care for his beloved pet, and even considered her a full-time job in and of itself. Choupette lived a lavish life, and today has nearly a quarter-million Instagram followers as well as 50,000 followers on Twitter.
This is not to say that Choupette was without her own money before the inheritance. The cat has earned over $3 million thanks to various modeling gigs. She will add to her already epic fortune!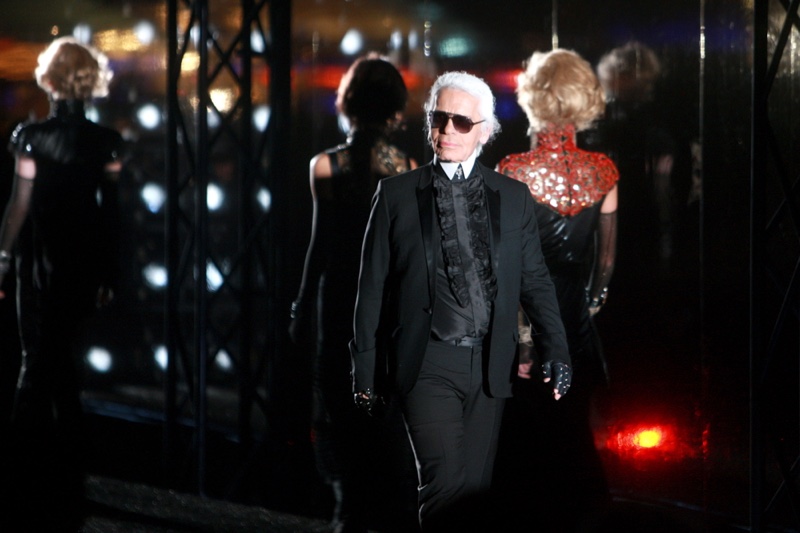 Final Collection
At the time of this writing, the final collection of Karl Lagerfeld for Chanel debuted. It was described by attendees as being inspired by a lovely winter's day spent in a peaceful mountain village and was presented 5 March 2019.
The collection features design like houndstooth, tartan, and big checks. The models walked among a smattering of snow, wearing tweed suits that exuded an air of masculinity. The trousers were wide-cut and worn at the waist, as many are wont to do with slacks and jeans of today. The pieces were enhanced with such accoutrements as high collars or shawl collars, or even miniature capes, and featured details like faux-fur lapels. The tweed jackets were trimmed with a thick, woolen braid, left raw or woven.
Some featured flared collars. There were also knit pullovers that were oversized and soft, and ski sweaters were presented with embroideries of crystal. There were also cardigans that were adorned with motifs of beautiful mountains that inspire. The collection can best be described as a lovely marriage of ski wear and urban fashion. The models were also styled with large jewelry, some of which featured the legendary Double C design that is trademark Chanel.
Karl Lagerfeld will surely be missed when it comes to the fashion world. However, his memory will live on and he will forever be an inspiration when it comes to new and upcoming designers. His accomplishments will certainly be one for the record books. His death was one that brought pain to many, but at the same time the fashion world was lucky to have his talent.