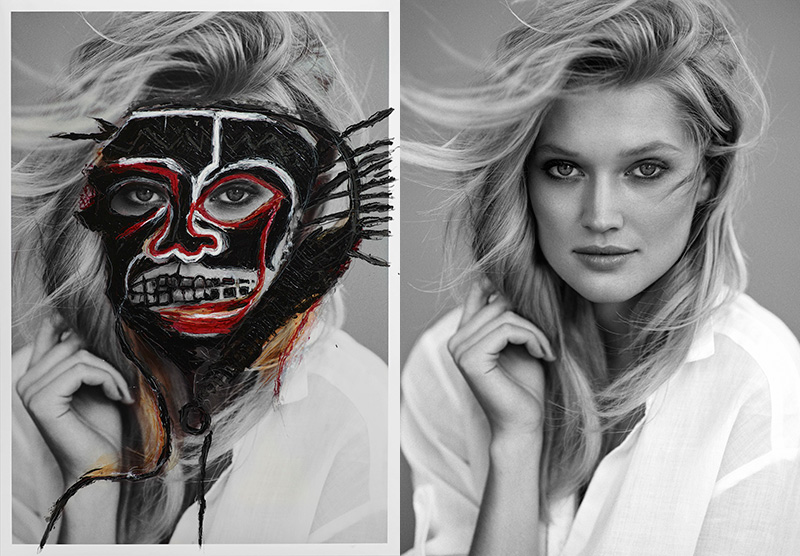 Creative duo Hunter & Gatti have fused their passion for painting and photography into one project with their "I Will Make You a Star" exhibit. Showing during Art Basel in Miami this month from December 1st to December 30th at KATSUYA by Starck, the images take their fashion photography of notable figures like Pharrell Williams, Diane Kruger, Toni Garrn, Anja Rubik and Bruno Mars and transcends the images with "over-paintings" similar to masks covering the subjects' faces. Inspired by Jean-Michel Basquiat's neo-expressionist artworks, the canvas pieces are meant to "give eternal life" to the original images. FGR recently had the chance to talk to Hunter & Gatti (aka Cristian Hunter and Martin Gatti) about the exhibit and what inspires their work.
We love the suggestion of breaking the beauty [of a famous person], altering the face and make it almost unrecognizable, trying to show that you don't know who that person is.
What is the inspiration behind the exhibit? What makes it different from others you have done?
The inspiration behind the exhibition has to do with our desire to bring a new life to the traditional photography format and give an entirely new meaning to it. There's a certain notion of cannibalism to the world of fashion, since a picture that may be considered today as important or groundbreaking can be easily forgotten tomorrow. Moreover, we are living a moment where being commercial is more important than being creative. That's why we started painting over our photographs three years ago. It was an attempt to perpetuate the wildfire velocity of fashion and the fast cycle of trends, to find a new meaning and give eternal life to our pictures. And, in a way, make them more human with the use of our hands, the paintings and everything.
More particularly, for "I Will Make You A Star", our latest series of overpainted celebrity portraits, we were inspired by the neo-expressionist paintings of Jean-Michel Basquiat. Our intention was to explore the transience of fame and the limits of popular culture, bringing together our sober black and white portraits with the visceral strength of Basquiat that transforms them into something unique and timeless.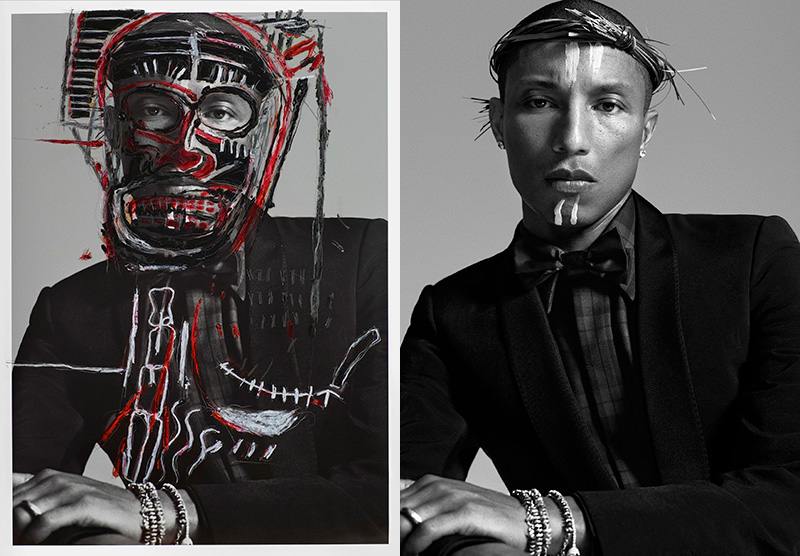 Why is it called "I Will Make You a Star"? 
The first spark came while watching a documentary about Basquiat. When Basquiat made his first steps in art, Rene Ricard, an important art dealer that spotted his work at a party, approached him and told him: "I will make you a star". Basquiat rose not only as a great painter, but also as the ambassador of a new way to understand art – the artist as a celebrity, as a popular icon. New York's art scene used Basquiat as a way to redefine the boundaries of art, as a new way to sell it. That's why we felt that, in the same way that magazines use our pictures to sell more issues or the art industry uses the image and iconic personality of Basquiat to sell his art, we could use Basquiat in order to sell our pictures and give a new life to them…The celebrities and models we photograph become, in this way, a new star, redefined by the use of Basquiat's portraits as our inspiration.
Why draw over famous people's faces? 
We have made in the past numerous black and white portraits of celebrities and models… You may feel that you can actually get to know the depicted persons, but the truth is that they are just pictures; you cannot get a glimpse of the real person behind the photo. You have the impression that you know the person because he is famous, but, in fact, you don't know anything about him. Nothing comes out from these pictures, besides the beautiful images of the famous characters. Francis Bacon has said that, "The job of an artist is always to deepen the mystery. Even within the most beautiful landscape, in the trees, under the leaves, the insects are eating each other; violence is part of life." That's why we love the idea of painting over our pictures. Basquiat's portraits are raw, visceral, strong… We love the suggestion of breaking the beauty, altering the face and make it almost unrecognizable, trying to show that you don't know who that person is. As Bacon says, we need to go deep into the essence of the character and show that there is something profound, obscure in all of us. We wanted to give a new soul to our pictures, just play with the opposite of what we see… It's like a scream, an answer to why go deep into the mystery of it all.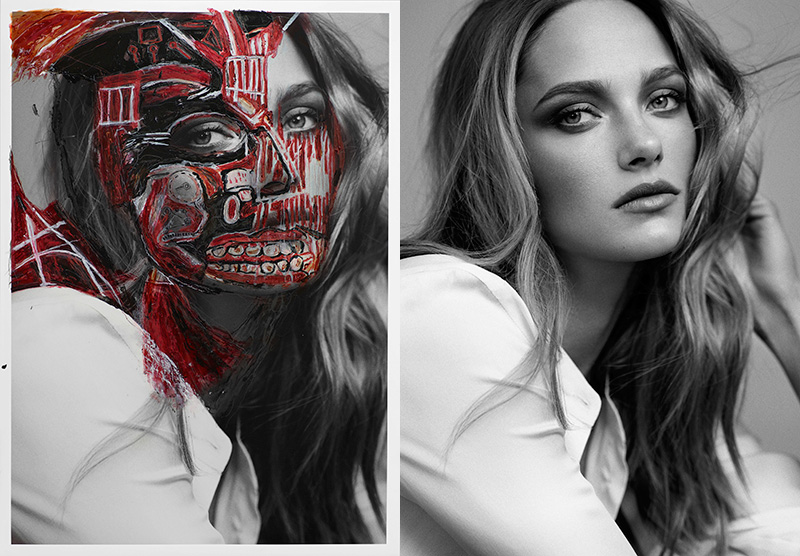 How does Basquiat's work speak to you? 
The inspirational portraits of Basquiat are strong, intuitive and with plenty of violence in them… We love the contrast between his paintings and our beautiful but sober black and white celebrity portraits. But we didn't follow strictly the color palette that Basquiat used in the original artworks. Besides black and white, we just used red, different tones of red, which symbolizes blood, trying to get immersed into the human nature and get this strong feeling.
Do you think fashion photography is art?
This is very relative; a fashion image can have an intention to it, a soul besides just showing clothes… What we are trying to do is to demonstrate that fashion photography can be art, but it can also be just a commercial product.
What do you hope people will take away from this exhibit? 
If we consider these paintings in our current socio-political context, the whole concept has much more sense… Nowadays, everybody shares pictures, everybody uses Instagram or Facebook showing something that most of the times is not a real moment but something made up just for the picture… a moment of beauty that was there just for that shot, a fake smile, etc… Our paintings try to play with this idea; nothing you see is real, because behind every image there are always hidden infinite parallel realities of the person you are looking at.