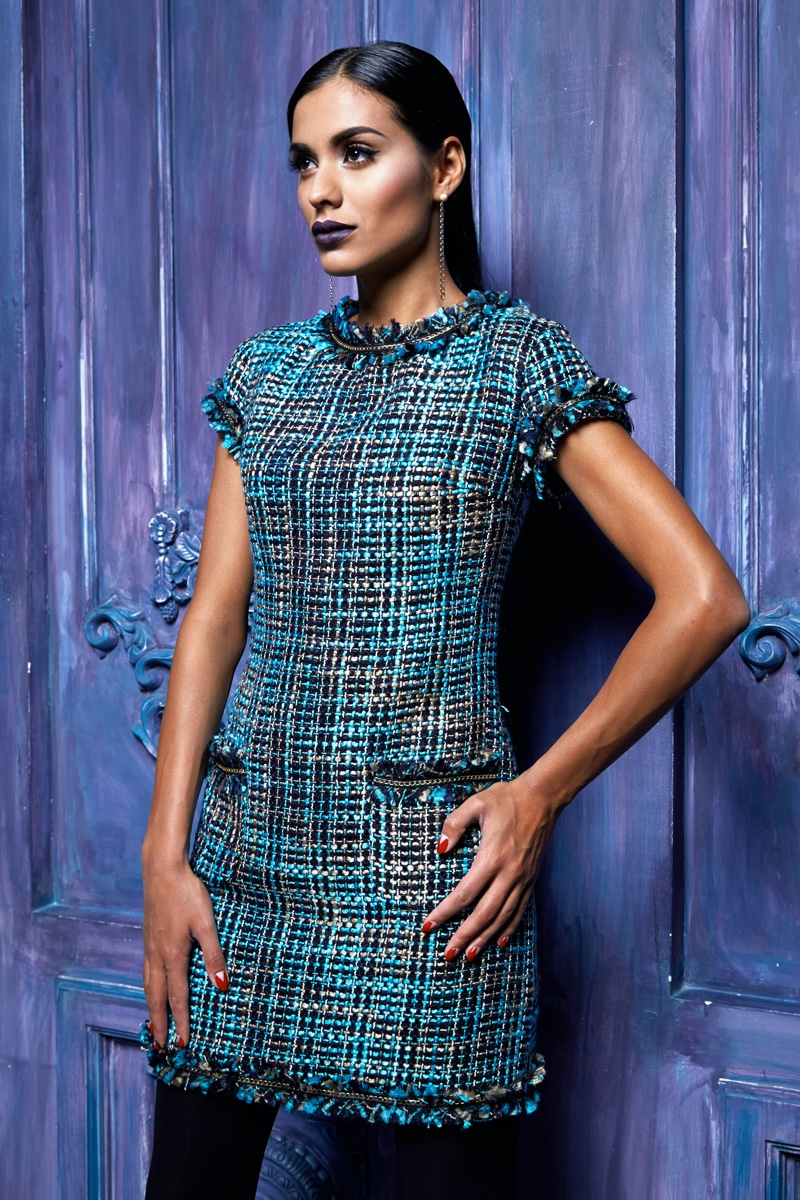 As the summer season ends and we start to feel the brisk breeze of autumn through the trees, it's time to say goodbye to our flowery summer dresses and replace them with some autumn staples.
However, it's worth remembering that just because autumn is filled with earthy and muted tones doesn't mean your wardrobe must be. Fall gives you plenty of sparkly and vibrant clothing options.
So, let's explore the not-so-seamless transition into your autumn wardrobe, full of different colors, prints, and textures. Whether you prefer leather boots or warm knitwear sweatshirts, there are several ways to add sparkle to your outfit for the next few months.
How to Make Your Fall Wardrobe Shine
Embrace Jewel Tones
From women's dresses to sweatshirts, there are many ways to add some shine to your look. One of the simplest ways to add color to your fall wardrobe is to embrace jewel tones. Deep and rich autumn colors include emerald green, sapphire blue, and amethyst purple, among many others.
If worn correctly, these colors can be elegant and complement the changing hues of the falling leaves. A burgundy or deep green dress can be the ideal statement item for any occasion.
Wearing neutral accessories lets your outfit take center stage. Jewel-toned dresses will make you stand out whether you're headed to the office, attending a fall wedding, or having a private dinner with friends.
Play with Prints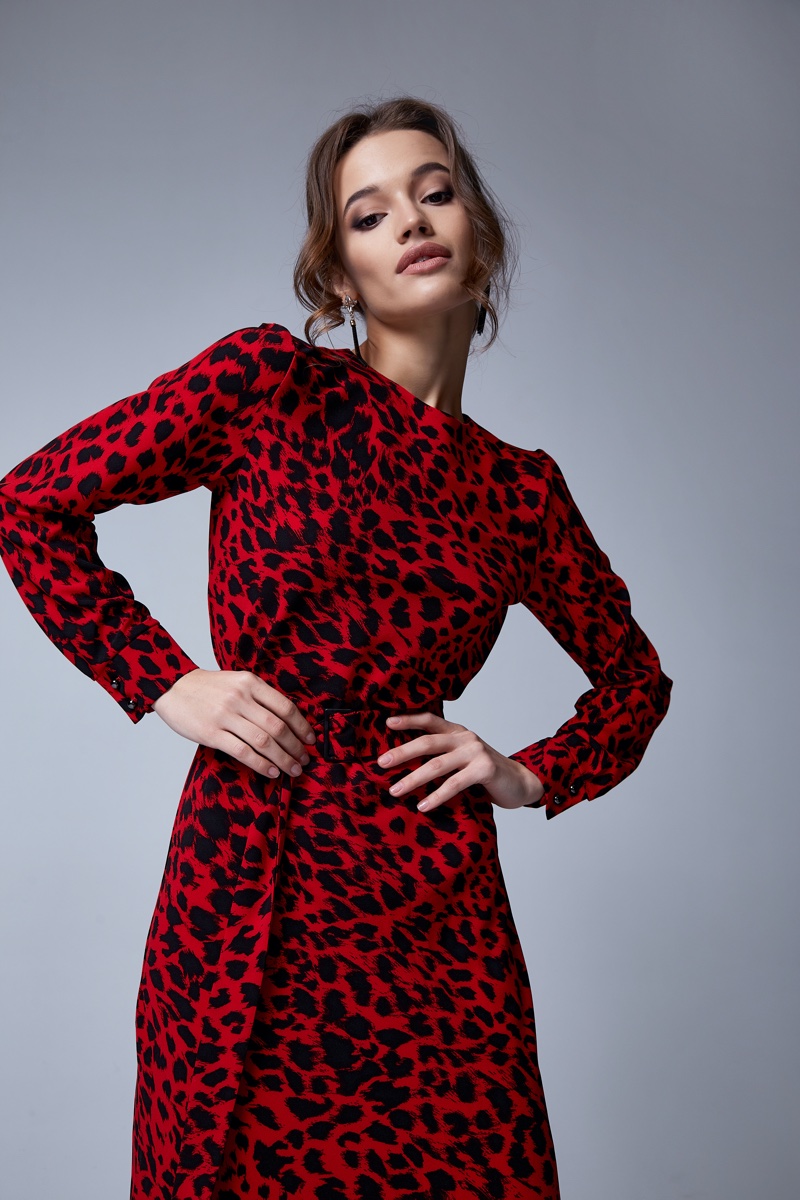 Fall is the best time to experiment and play with prints and patterns. Although many people associate fall fashion with darker colors, like black, dark brown, and navy blue, a patterned dress can deviate from the norm.
Floral prints, geometric patterns, and animal prints can all be used to spice up your fall wardrobe, as these prints often come with extra sparkles and diamonds stuck to the pattern.
When searching for a printed dress for fall, remember to look for autumnal tones such as burnt orange, deep crimson, or mustard yellow. These colors will make your wardrobe match the season. Layer your printed dress with a jacket, tights, and ankle boots for a warm and stylish look.
Mix & Match Textures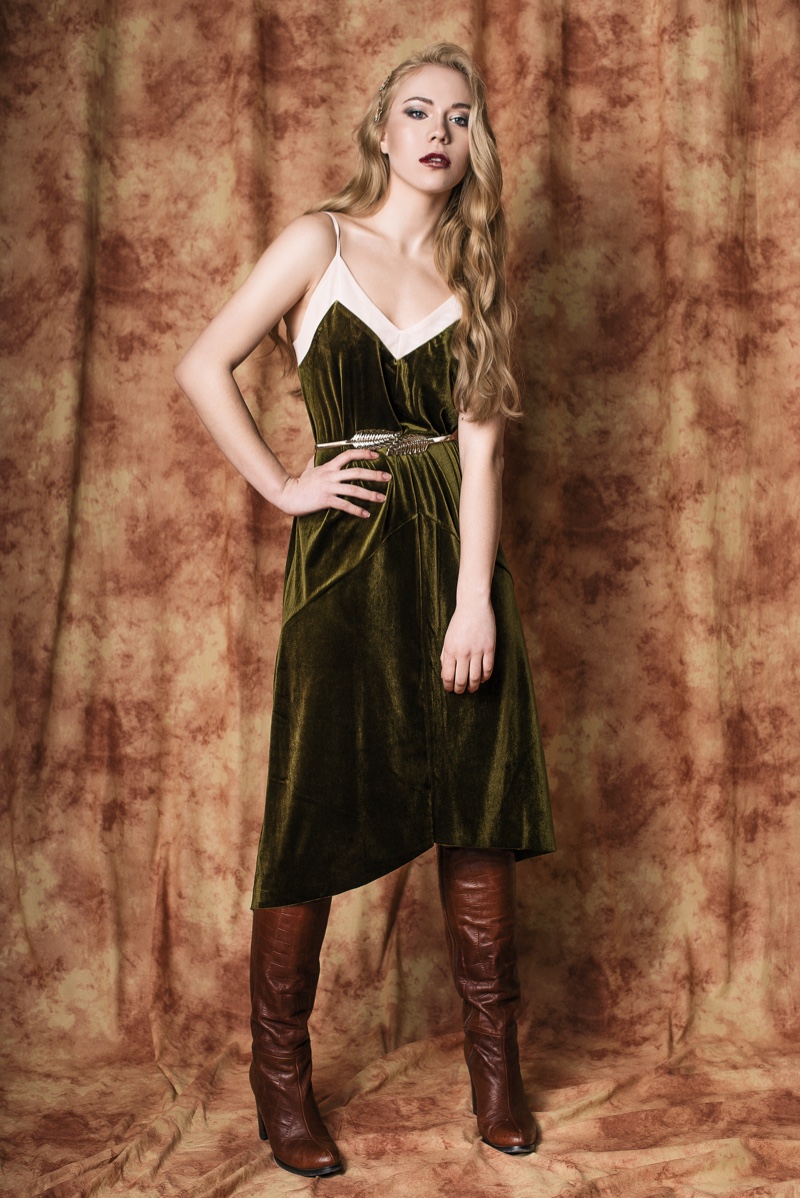 There is no better time than fall to experiment with different textures in your clothing with some mix and match. Textured dresses in your fall wardrobe can add depth and character to your outfit, but make sure also to consider dresses made of velvet, suede, or corduroy for an ideal tactile feel for the season.
A rich, autumnal-colored velvet dress can be both stylish and cozy. To add a touch of classic, combine it with a striking belt and ankle boots for a chic fall look. Suede and corduroy dresses are also a warm and fashionable option for the colder months. Lastly, add a denim jacket or chunky knit cardigan to finish the perfect autumn look.
Layer with Cozy Knits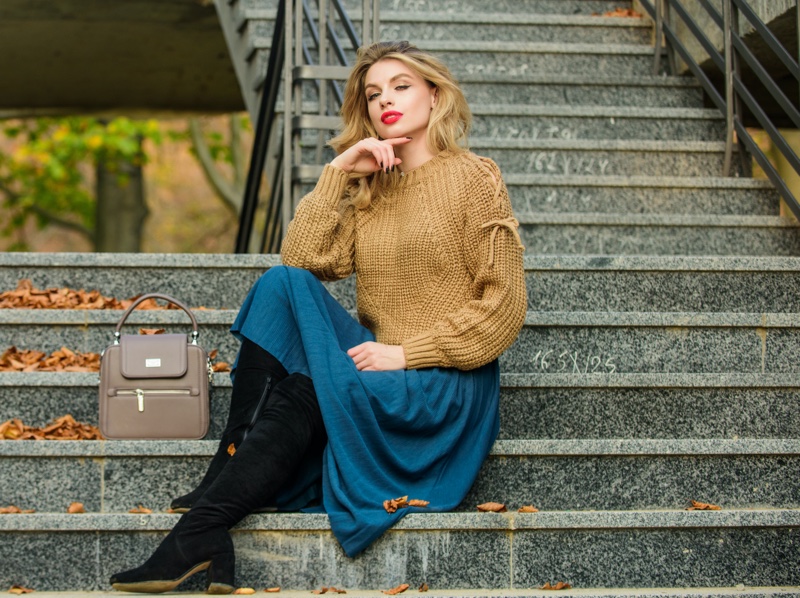 Layering becomes more crucial when the temperature drops to an icy 5 degrees Celsius. Colorful skirts paired with comfortable knitwear are a simple way to inject color, comfort, and style into your fall attire. A bulky sweater or cardigan can instantly make the difference between a summer dress and a fall-appropriate style.
Pair a lightweight sweater with a midi or maxi dress and tights for a versatile and classic style. You can wear these dresses with high boots or ankle boots to keep your feet warm and create a fashionable silhouette. 
As the seasons change, this powerful yet natural combination gives a splash of color to your outfit while doing the most crucial thing: keeping you warm.
Don't Forget About Accessories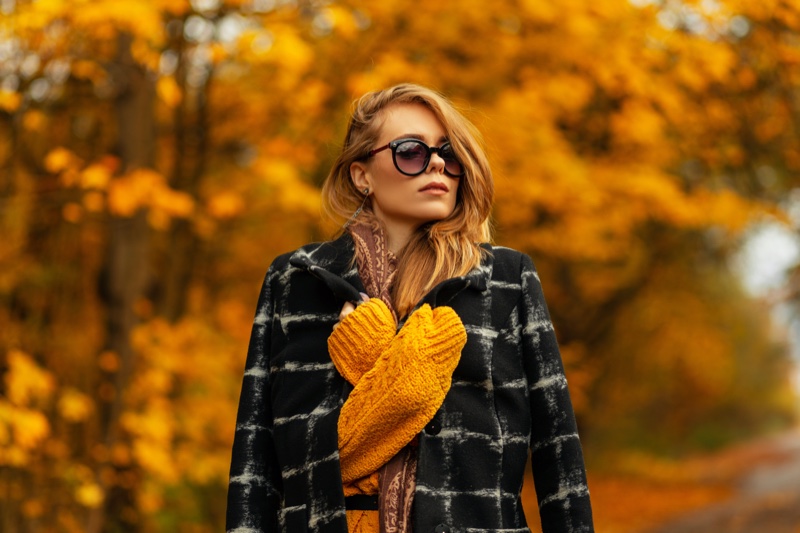 Remember that accessories can make or break an outfit and play a crucial part in adding color and style to your autumn wardrobe. It's important to wear accessories that complement or contrast your outfit's shade.
For example, a statement necklace, eye-catching earrings, or a colorful scarf can completely transform your outfit in less than a second. Choose accessories that match or contrast your outfit, such as a tri-color scarf with a brown coat.
For example, a statement necklace with amethyst stones can add a touch of refinement to a rich purple gown in case of a cocktail party.
Opt for Seasonal Footwear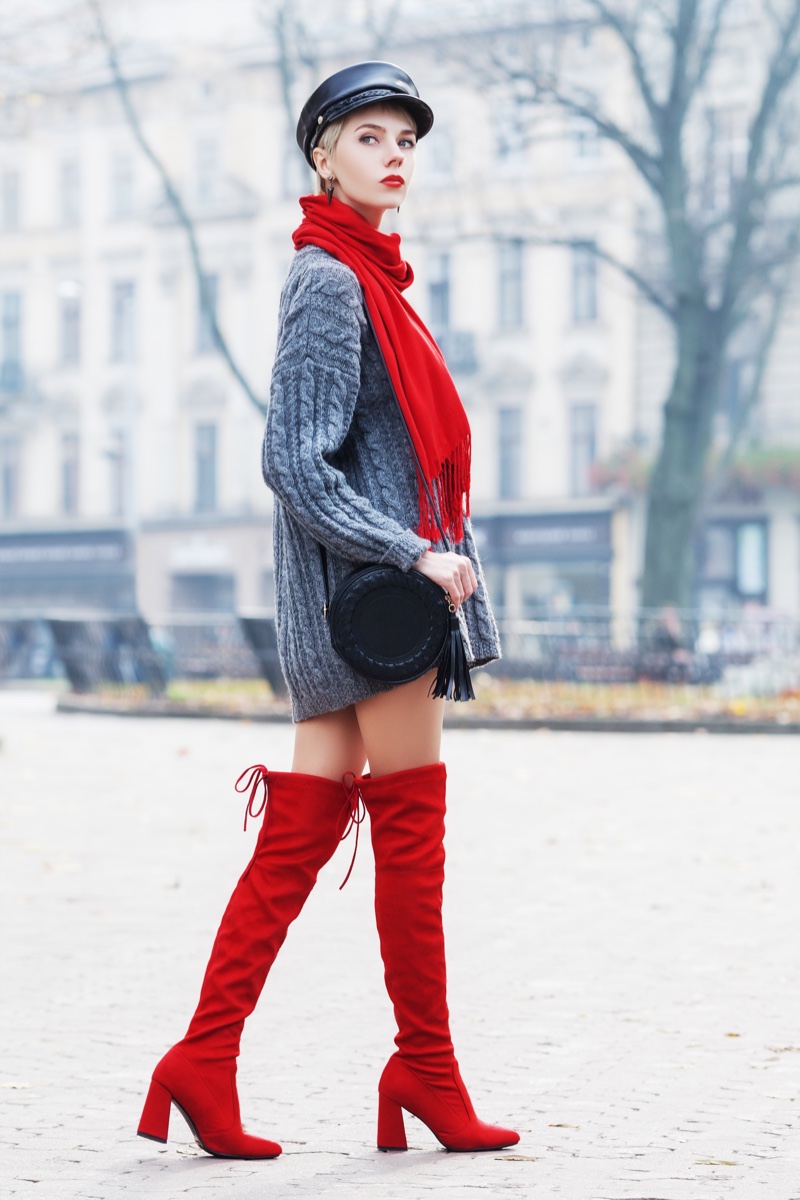 Your choice of footwear can also contribute to the overall vibe of your fall ensemble. Instead of traditional brown or black boots, why not choose colorful, patterned, or even dual-colored boots?
Ankle boots in deep crimson or forest green may brighten any outfit, while knee-high boots with small embellishments and various textures can add visual interest. This minor and seamless change could improve the overall feel of your fall wardrobe.
Experiment with Outerwear
Of course, don't forget about a strong and warm jacket or coat to accompany your flawless new fall wardrobe. A trendy jacket or coat is often essential to stay warm in the fall, so why wouldn't you incorporate it into your colorful outfit?
Look for coats in vivid colors or exciting designs to make a statement. A bright red trench coat or a plaid wool jacket can provide a pop of color to your fall outfit while keeping you warm. Consider how it will complement your vibrant dress and the overall style you want to achieve when choosing outerwear.
Fall Colors & Clothes
Keeping your wardrobe from becoming dark and stale as the fall draws in is the way to go. As we all say goodbye to summer and hello to the crispness of autumn, make sure to give your fall wardrobe a sparkle with some colorful dresses.
Remember, you can show who you are and your style while honoring the season's vibrant energy. A world of options awaits your creative and personal touch, whether you pick rich jewel tones that mirror shifting leaves or play with amusing designs.
Whatever you do, don't forget to layer your outfits with comfortable knits and imaginative accessories, and you can even use outerwear as a colorful showpiece — don't underestimate the statement a bold coat or dress can make. So, let's dive into autumn with the excitement of your vibrant new style.