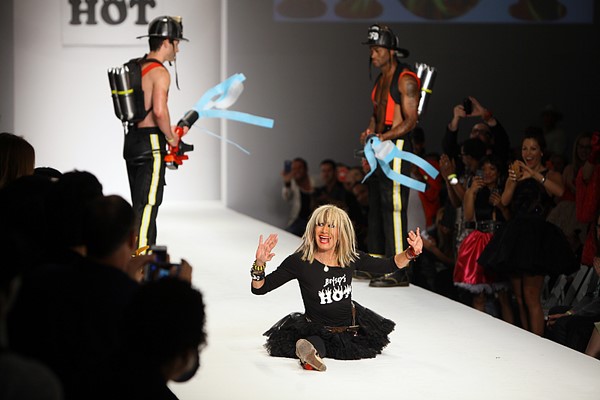 The episode starts with the models going on castings for Style Fashion Week. Since Lenox was called out first the previous week, she was given a "Tyra Treat" of getting a private runway lesson with Miss J. She was able to pick two others to go with her, and she chose Raelia and Shei. During their lesson, Lenox shows that she can not twerk, so now she'll never become a real runway model. 🙁
Runway Challenge
The models went on go-sees for four fashion shows. Denzel booked a total of zero since most designers complained that he was too big for the clothes. But as he says in his interview later in the episode, he can not "physically drop anymore weight", according to him not medical professionals, of course. Shei and Will do well at the go-sees though, while Lenox only booked one job. At one of the runway shows, Raelia only walks halfway down the runway but makes up for it by rocking her other show.
Mitch Stone Hair Shoot
Next is the photo shoot which is for a new hair care product line by Mitch James, a hair stylist who works with the models regularly. The concept for the shoot is that the guys have to lift the girls over their shoulders for the image. The pairs are: Adam and Lenox, Denzel and Shei, Keith and Mirjana, Raelia and Will. Most of the guys had trouble lifting up the girls. Especially, Raelia and Will where Raelia was just kind of standing above him rather than getting picked up. And of course, there was Mirjana who was yelling at Keith on set about not picking her up right. Tensions flared as Will told Keith to stand up for himself and then Mirjana's anger was set on him.

Who Won and Who Got Eliminated
At the judging panel, Denzel gets called out for not losing weight while Lenox is called out for not twerking, oh excuse me, only booking one show and struggling in the shoot. In the end, Will is the first named called out and Denzel and Lenox end up in the bottom two. Denzel is the one who gets eliminated. And viewers will never see the beard weave again.
Tyra then reveals that it's time for the contestants who have a chance to come back are returning for the winner to be revealed. The girl and boy with the top social media scores end up being Ben and Chantelle. But only one out of the two can return. We'll find out who re-enters the competition next week.