Cara on Paparazzi and Modeling–Current It girl Cara Delevingne gave a rare interview with The Guardian where she discussed modeling, singing, acting and the paparazzi. The current face of Burberry's fall-winter 2014 campaign tells The Guardian's Alexis Petridis that she only got into modeling to earn enough money to put herself through drama school. She says that her parents stopped supporting her financially at age 16 and recounts carrying around a video camera when she began modeling to record "all the weird parts of it." "You're looked through, you're not looked at, you are treated as a kind of mannequin. I got a tattoo saying Made in England above my foot to represent that, that I felt like a doll for so long. Because you are just a kind of puppet, you know, entertainment. You kind of feel that you need to have no soul really, to do that job, a little bit."
Delevingne also disclosed her true feelings about the ever-present paparazzi, admitting that she one day fantasizes about punching the paparazzi. "I'd love to, I really would, I'd be so happy, I dream about it at night," she says.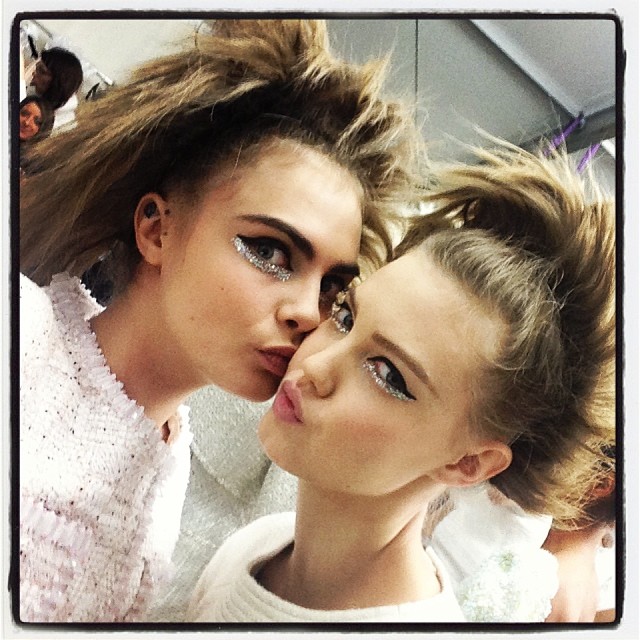 Delevingne clearly has a passion for music and acting and although her most recent foray into acting in Sky Arts' Playhouse Presents: Timeless, has been well documented; she has also been cast in films such as "Anna Karenina" and "Kids in Love" previously. She also explained that she recorded music with British artist manager Simon Fuller at age 16 however, she was not present for the production of it.
Delevingne ultimately disclosed that giving up modeling for acting would be "blissful" and when asked if she would be happy modeling if acting didn't work out, the outspoken model says, "You know what? If that happens, if I've made a fair bit of money or whatever, I can stop and I'll do music. I will cut six months out of the year to make an album. That's the point. I can't just here and there do recording sessions, you've got to stop and you get rid of everything, all the sh*t that's going on around you and actually lock yourself away and do it."
Enjoyed this update?