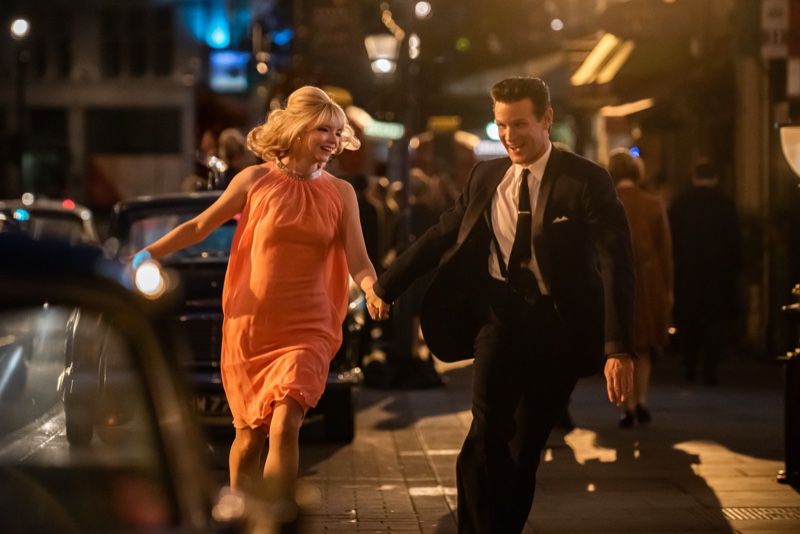 A new psychological thriller from director Edgar Wright, Last Night in Soho, stars Anya Taylor-Joy and Thomasin Mackenzie. Anya plays a 1960s starlet named Sandie while Thomasin plays Eloise, a young fashion designer in modern times who can enter the 1960s mysteriously. As the synopsis says, "But the glamour is not all it appears to be and the dreams of the past start to crack and splinter into something far darker."
Costume designer Odile Dicks-Mireaux took inspiration from 60s celebrities such as Brigitte Bardot, Cilla Black, and Julie Christie for Sadie's wardrobe. Anya Taylor-Joy's platinum blonde hair is also inspired by Bardot according to Elizabeth Yianni-Georgiou, the film's hair and make-up designer.
Dicks-Mireaux looked at modern fashion students and Wright's mood reels for Eloise's costumes. A standout look of the movie is a pink tent dress. "That is the dress to me, in the film," says Dicks-Mireaux in a press release. "I had to find something that could inspire [Eloise's] modern fashion designs. And Edgar's not afraid of color."
Related: Anya Taylor-Joy Shines As Tiffany & Co. Ambassador
Eloise also has a memorable fashion moment in the film, wearing a newspaper dress. Mackenzie shares, "Eloise has a very specific, really cool style. It was amazing having such an input and an opinion, it really helps to bring Eloise alive. The newspaper dress is incredibly detailed and intricate, something only a very skilled person could make."
You can see more when Edgar Wright's Last Night in Soho arrives only in theaters on October 29th.
LAST NIGHT IN SOHO Costumes & Fashion