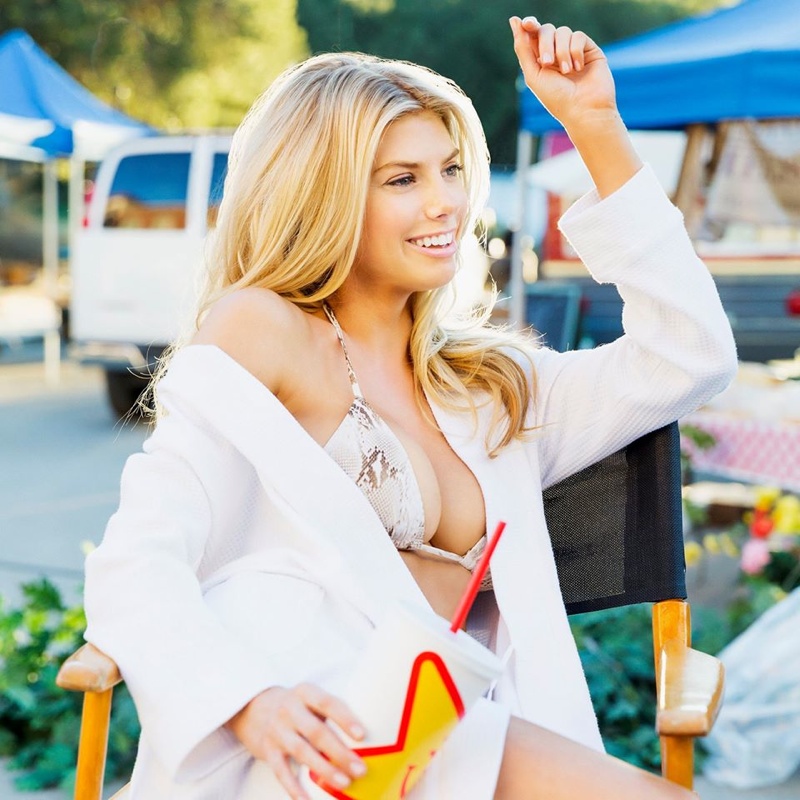 Sara Sampaio's recent red-hot turn as a Carl's Jr commercial girl had us thinking back to the burger chain's most famous faces throughout the years. Who could forget Charlotte McKinney's Super Bowl commercial which created its own set of controversy in February of this year? The sexy advertisements have gotten a lot of flack for featuring scantily clad women and are often banned from being on television. But despite all the protest, it looks like sex still sells. According to Adweek, the Charlotte McKinney 'All Natural' spot was the burger joint's most successful campaign yet–receiving over 2.5 billion media impressions in less than two weeks. The last time we checked, the video was viewed over 10.5 million times on Youtube. Check out a list of famous Carl's Jr. commercial girls below.
Paris Hilton – Spicy BBQ Burger (2005)
Paris Hilton's 2005 Carl's Jr. commercial was the one that started the whole scantily clad women in bikinis selling burgers thing. The ad was originally supposed to run during the Super Bowl but it seemed that the Hilton mogul washing her car in a swimsuit was too much for censors, and it was pulled before it even hit the air.

Kim Kardashian – Grilled Chicken Salad Commercial (2009)
Before she was Mrs. West, Kim Kardashian stripped down to he robe for Carl's Jr's sexy commercial promoting its new line of Grilled Chicken Salads. The reality television star even took a bubble bath for the advertisement.

Kate Upton – Southwest Patty Melt Commercial (2012)
Sports Illustrated Swimsuit model Kate Upton starred in a steamy, retro themed commercial for its Southwest Patty Melt where she rolls up to a drive-through movie theater and strips down in a stockings and a polka dot dress.

Heidi Klum – Mrs. Robinson Spoof Commercial(2013)
'Project Runway' host and supermodel Heidi Klum channeled Mrs. Robinson from 'The Graduate' in a steamy commercial where she catches the eye of a younger man while eating the Jim Bean Bourbon Burger.

Hannah Ferguson – Texas BBQ Thickburger Commercial (2014)
Another Sports Illustrated model, Hannah Ferguson, was a star in a Carl's Jr commercial for its Texas BBQ Thickburger. Washing a car in a black bikini and cowgirl boots, the American babe is joined by a special guest for the advertisement.

Charlotte McKinney – All Natural Burger Commercial (2015)
Now called the next Kate Upton, Charlotte McKinney started as a Guess model and went on to star in Carl's Jr's All Natural Burger where she seemingly strolls through a marketplace naked (but she's actually just wearing a bikini). Originally set for a Super Bowl run, the advertisement was banned before it even hit the air. But, much like Upton's 'Dougie' video, the commercial has made McKinney an overnight star.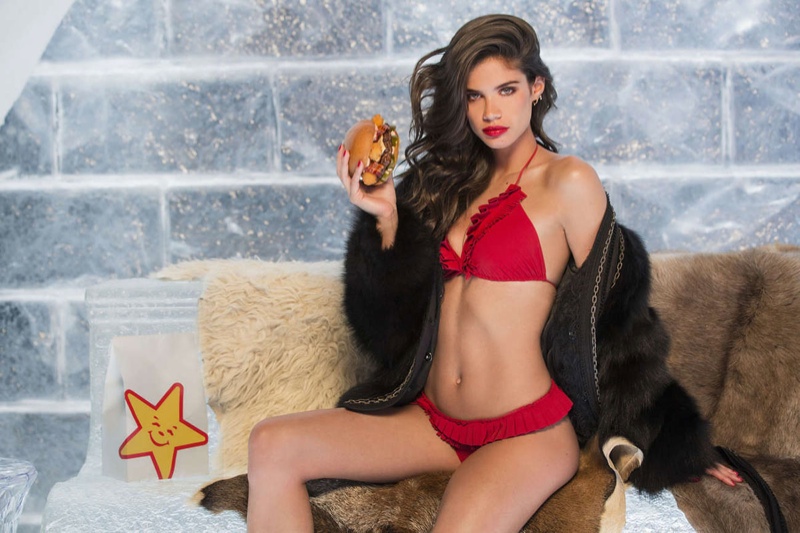 Sara Sampaio – Diablo Thickburger Commercial (2015)
2014 Sports Illustrated Swimsuit Issue Rookie, Sara Sampaio, turned up the heat for the recent Diablo Thickburger commercial from Carl's Jr. The Portuguese model strolls through the Norport Ice Hotel with a red-hot bikini, marking the latest in a long line of sexy burger ads.