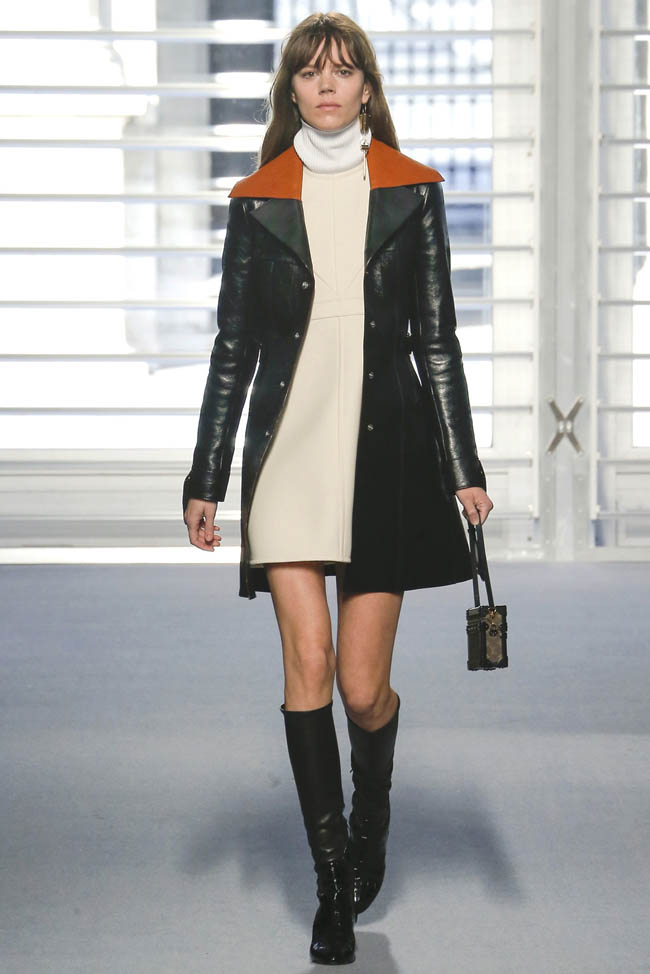 Louis Vuitton Fall 2014–Marking his first collection at the helm of Louis Vuitton, artistic director Nicolas Ghesquière, made his vision for the brand known with a sleek and contemporary collection for fall-winter 2014. His predecessor Marc Jacobs was known for featuring elaborate sets to go along with his designs–models on carousels, models on escalators or an Orient Express inspired train, but Ghesquière kept the setting simple at the Louvre's Cour Carrée venue with no decoration save for industrial blinds which were opened to flood sunshine on the runway.
Could this mean a new day at Louis Vuitton? Yes it does. The silhouette this season features high-waisted short A-line skirts paired with long-sleeve or sleeveless tops in futuristic, optical prints. In glossy or matte finishes, there is something quite modern about the look in shades of burgundy, mustard, brown and cerulean. The Louis Vuitton woman's accessory of choice is a small and diminutive bag shaped like a mini luggage trunk and monogrammed with the LV logo–connecting Ghesquière's modern eye to the brand's heritage.
Enjoyed this update?