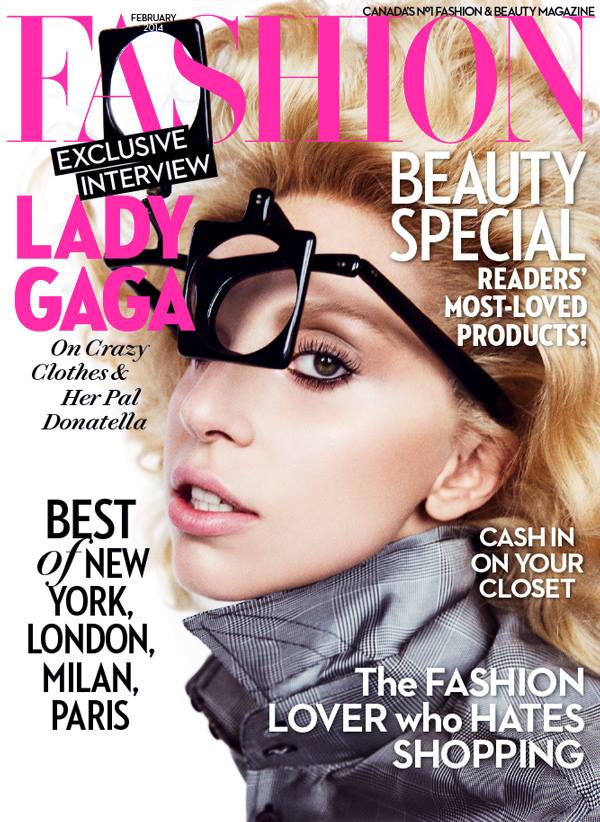 Gaga on Fashion – Pop star Lady Gaga lands the February 2014 cover of Canada's Fashion Magazine, and opens up to the magazine about her friendship with Donatella Versace (the singer recently appeared in Versace's spring campaign), style, weight and more. Gaga wears a jacket and pair of glasses from Comme des Garcons in the image lensed by Inez and Vinoodh. Check out some choice quotes from the interview below and look out for the new issue on January 13th in Canada.
On her friendship with Donatella Versace:
"We don't mind being those blonde martyred icons as long as we have our champagne and our Marlboro cigarettes whenever we're together."
 
Gaga's reaction to being criticized for gaining weight:
"I want to remind everyone that people who win Nobel Peace Prizes and cure diseases are not supermodels. Your legacy does not need to be a perception of beauty that's not realistic."
 
On how she has influenced the culture of fashion:
"I was in H&M the other day, looking around just to see the effect that Monster culture has had on street fashion. People used to say, 'Who is this weird girl with her crazy outfits?'"
Image courtesy of Fashion
Enjoyed this update?