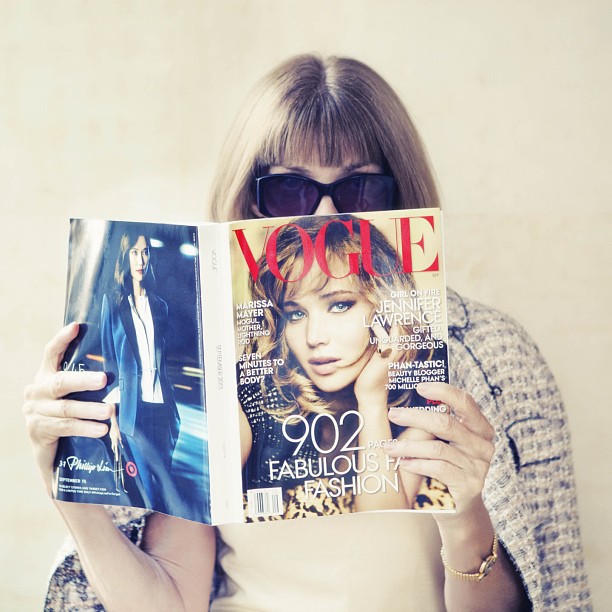 Anna Gives Advice–Suzy Menkes, Vogue's latest international editor, chatted with Vogue's resident fashion icon and editor-in-chief at Central Saint Martins and shared some insightful advice to fashion students, young designers and up-and-coming journalists on fame vs. success, runway shows vs. presentations and red carpet events. Wintour had some choice words to describe the red carpet at the Tony Awards to the aspiring designers in the audience, "The red carpet, in the United States, has become too much of a business. It's a fact that celebrities are paid to wear everything and to me that sometimes comes across as very manufactured and individual. I was just recently at the Tony awards in New York and, God, they need your help. Let me tell you, it was a disaster. So there are opportunities, but don't expect the Oscars the first time out. They have all these teams of people telling them what to do, what to wear and how to do their hair, makeup. And they're so scared of being criticized, whereas, you know, what's wrong with looking different. How many mermaid fishtail strapless sequins (gowns) can we see?
When it comes to runway shows vs. presentations, Wintour says, "Please listen to me when I say: an interesting creative presentation is just as effective as a fashion show. I see people who are paying hundreds of thousands of dollars on fashion shows which I simply don't think is necessary. A presentation gives us all an opportunity to meet you, rather than go and sit in some dark room somewhere and wait for you to start;then (have) no time to say hello and rush off to the next one."
On fame vs. success, Wintour explains that, "It's possible in today's world to be instantly famous, whether it's through Instagram or whatever platform it may be, but it's a very different matter to be successful financially and in the long term. I personally would advise you to think carefully before you start your own business and consider possibly working for a designer or a company whose work you admire."
Enjoyed this update?