The year 2020 is extremely unusual because it brought us a pandemic to battle. Not only did this economic recession take a toll on the economy, but it also took away the lives of hundreds of thousands from different countries around the world. That said, experts have one vital recommendation to decrease the possibility of being infected with the Coronavirus – that individuals must wear face masks at all times, especially while in public places, and treat it as an indispensable part of the new normal.
The majority of U.S. health officers have also said that the use of non-surgical face masks is still perfectly alright to use to minimize the spread of the virus. The medical front liners should be prioritized to make use of surgical and medical face masks. This has been emphasized in various states, where people are allowed in public settings to wear cloth masks or any facial coverings.
Even when exercising or doing yoga, the use of a face mask is also recommended. As some cities scale down to a lenient lockout restriction, introducing a yoga face mask to be a part of your yoga wardrobe is something you might want to consider. Continue reading the guide below if you are looking to purchase or make your own yoga face mask.
Yoga Face Mask FAQs
How many should I buy? 
While it is ideal to use seven yoga face masks during the week (one for each day), the rule of thumb is to have one face mask for each yoga class; for example, if you have a yoga class 4 days a week, then you should have at least four yoga face masks on hand.
Do not ever settle for just a single yoga face mask; not only is this ineffective, but it can also make the wear and tear of your mask way quicker, compromising your defense against the virus.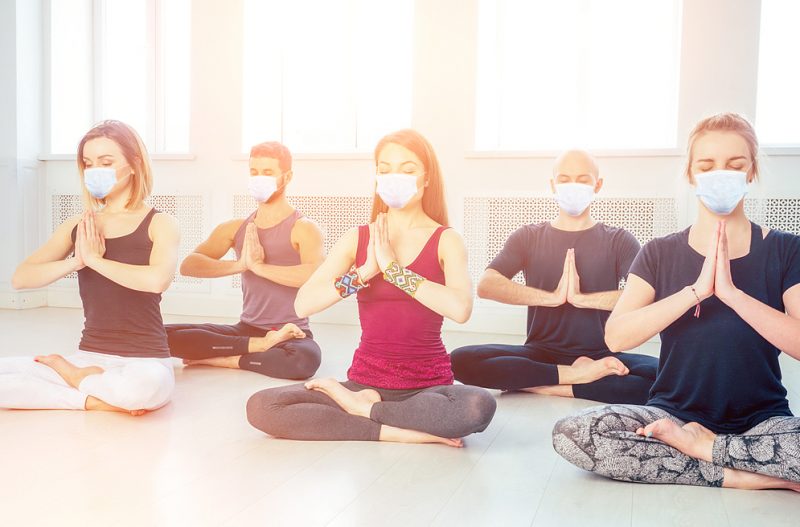 What fabrics should I consider to use for my yoga face mask? 
According to the experts, a fabric made out cotton with at least a thread count of 80% will be the best to use for a yoga face mask. As opposed to cotton fabrics of low thread counts, a higher thread count will help improve the mask's capability to filter out small microorganisms. In other words, the higher the cotton fabric thread count, the smaller its pore size is, augmenting the filtration of particles, particularly that of the Covid-19 virus.
Meanwhile, new shreds of data have been found to support the effectiveness of using a multi-layered yoga face mask as very efficient in limiting the transmission of the COVID-19 virus. Studies have further shown that cotton-made yoga face masks compared to a chiffon fabric and natural silk are inexpensive but much better in every way when it comes to quality.
According to the health officers' guidelines, non-surgical face masks such as cotton yoga face masks must at least consist of two tightly-woven fabric layers. There will not be that much defense against the virus if it is just single-layered. There would be a fairly substantial difference if it is two-layered, stopping many virus particles from getting through. Also, using disposable coffee filters and paper towel sheets as yoga face mask inserts helps improve protection. However, due to their chemical content that can be dangerous to inhale, other filters such as vacuum and mechanical air filters are strongly discouraged.
Should the mask be loose or fit?
According to health experts, non-surgical yoga face masks may be less breathable, but if they are well-fit and also have secure ear loops or links, it would allow people who wear it to breathe with ease. Without being too tight, these masks should cover not just the mouth but the nose as well. To minimize contagious respiratory droplets spread, a snugged-fit yoga face mask plays a crucial role as wearers will no longer have to make adjustments and touch their face masks every time constantly.
If the right fabric is used for a yoga face mask, this should not risk ending up hindering your vision in any way or trigger mild eye irritation, especially when you are in a yoga class. But in addition to this, health experts also suggest that the yoga face mask must have a customizable metal strip around the nose to provide a firm grip during a yoga session and avoid repeated slip-off. Also, the loops must be sized correctly.
You can ensure your yoga face mask is a proper fit by moving your face's different parts and turning your head. Make sure that the yoga face mask will remain in place as it is.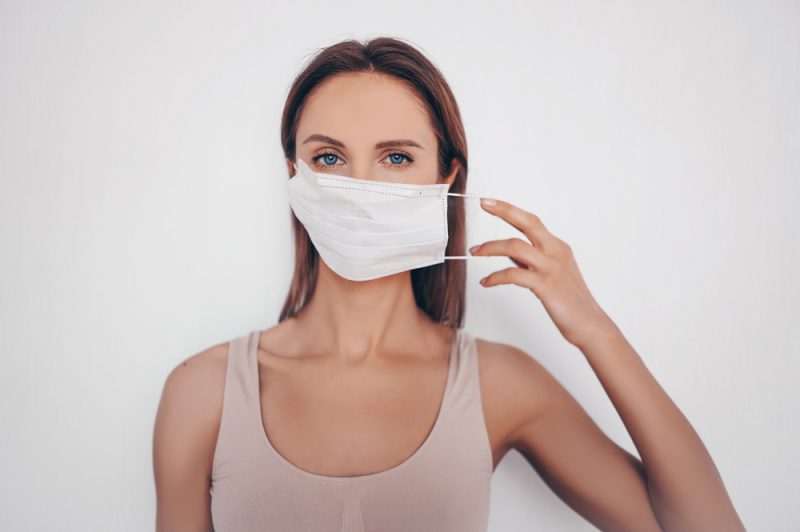 How to properly remove a yoga face mask? 
Most people worldwide are removing their face masks the wrong way; this is good as wasting all your preventive efforts at Covid-19. Here is how you can properly remove your yoga face mask, as per the experts:
Step 1: Untie the ties from the back of your head if there is any.
Stage 2: Remove the ear loops – one ear at a time.
Step 3: You should never touch the front of the mask. Consider it already as infected. The presence of the mind is critical when doing this step. Another cardinal rule is, when doing the three steps, never touch your face. Your face needs to stay uninfected.
Step 4: Wash your hands and arms thoroughly with soap and water after removing the face mask and then take a shower. Never touch something or anyone in your home if you did not take a bath yet.
Preventing COVID-19 does not require exceptional efforts when doing Yoga. Commitment to complying with the new normal is what it takes and making sure to make it a habit always to do the preventive steps. It will be unbearable and suffocating to a certain extent, but any adherence and selfless act will protect not only you but also the people around you. That should make all the efforts pay off.
How much is a yoga face mask?
You will find a great selection of providers of yoga face masks around the U.S., but most of the good ones are available from $15 to $50 each. In shopping for a yoga face mask, quality over the price should be your mantra. Just because it is expensive does not necessarily imply that it will protect you well against the virus. Choose well, and as you do so, be guided.