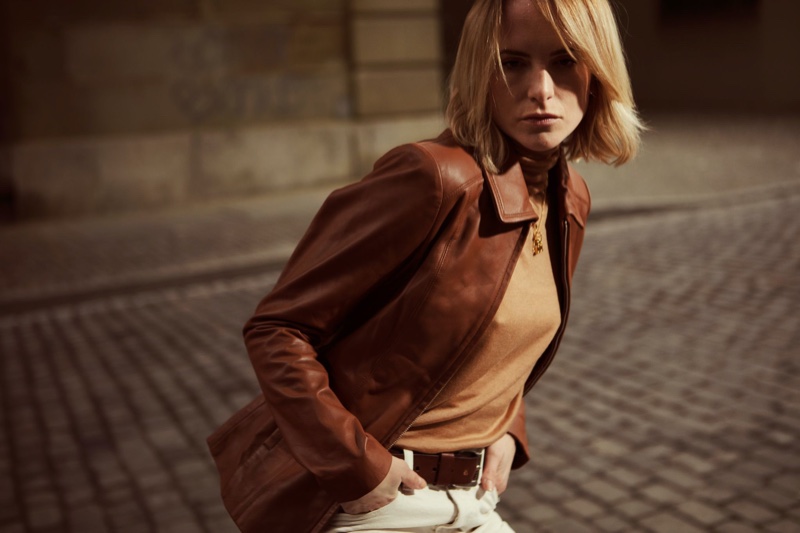 The clothes we put on speak volumes about our personal attributes. Our individuality is reflected by the color, style and material of our clothing essentials. Therefore, a consciously built wardrobe is the ultimate step towards showing the world who you are as a person.
Speaking of clothing essentials, outerwear plays a huge part in exhibiting our style choices. It is the first thing a viewer spots in our overall look. You can make a strong statement with one of the most popular essentials in the outerwear category, the leather jacket women have redefined the fashion sense and females prefer to buy jackets in different colors that go well with their personality.
Black or brown are not the only choices for jackets. You can get your hands on a variety of colored jackets, which look absolutely wonderful. Plus, if we consider the proven effects of clothing colors on one's personality, they can also be used to reveal your true personality.
Following are the color leather jacket options that you can choose based on your personality.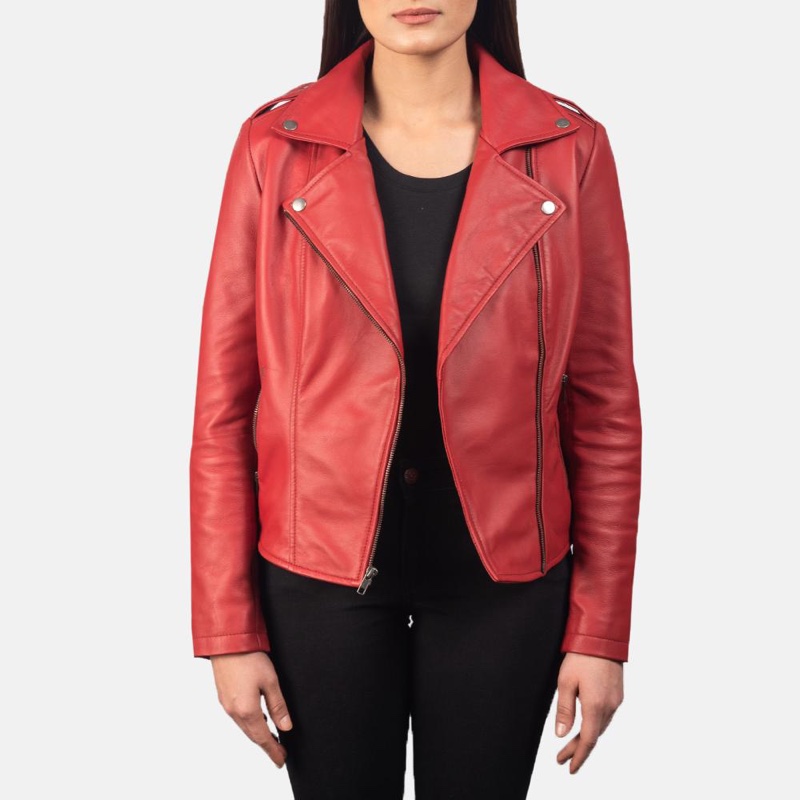 Red Leather Jacket
Red stands for passion and power. If you are a lady with guts, show the world your true power by donning a classy red leather jacket.
The rich hue of red will perfectly embody your courage and confidence, giving off edgy vibes. The premium quality leather makes a perfect combination with red. The jacket can be paired with other clothing essentials in black, white, or blue. An outfit created with black leather pants, a black silk top, and the red jacket will look absolutely gorgeous.
Red should be the choice of every strong willed woman out there who dares to be different and is a powerhouse of energy.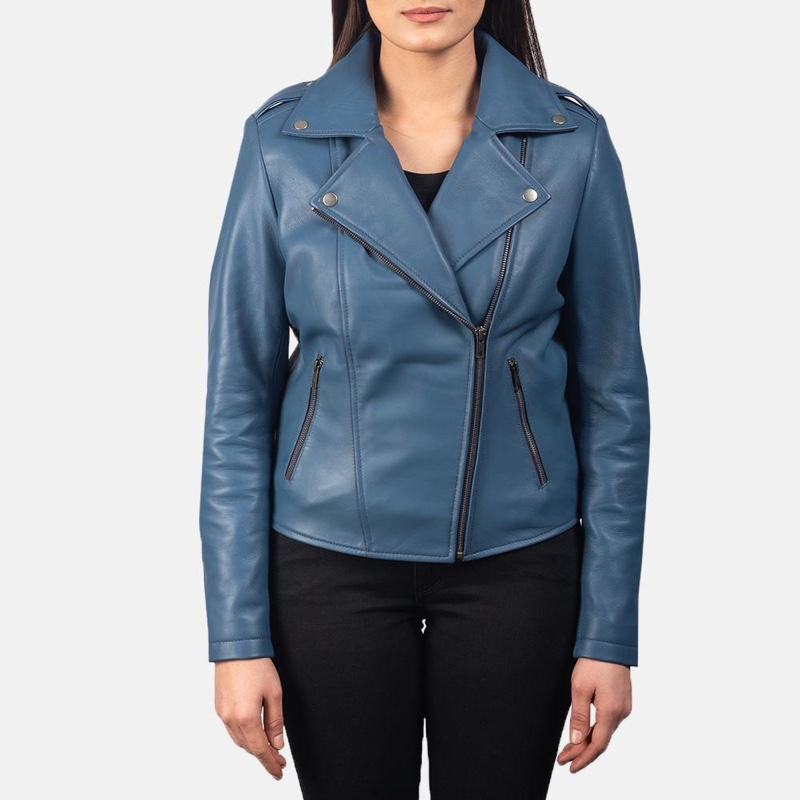 Blue Leather Jacket
Blue is often correlated to loyalty and courteousness. Therefore, if you have a trustworthy personality along with traits like serenity and kindness, a blue leather jacket will be the perfect choice for you.
All shades of blue are cool and soothing. Therefore your jacket can be used to portray the same effects in scorching summers. Wear it with your short white dress, floral midi skirts, or a stylish grey jumpsuit to create attractive spring and summer outfits.
Blue is also associated with organization, professionalism, and creativity, which means you can wear your blue leather jacket to layer business casual attires.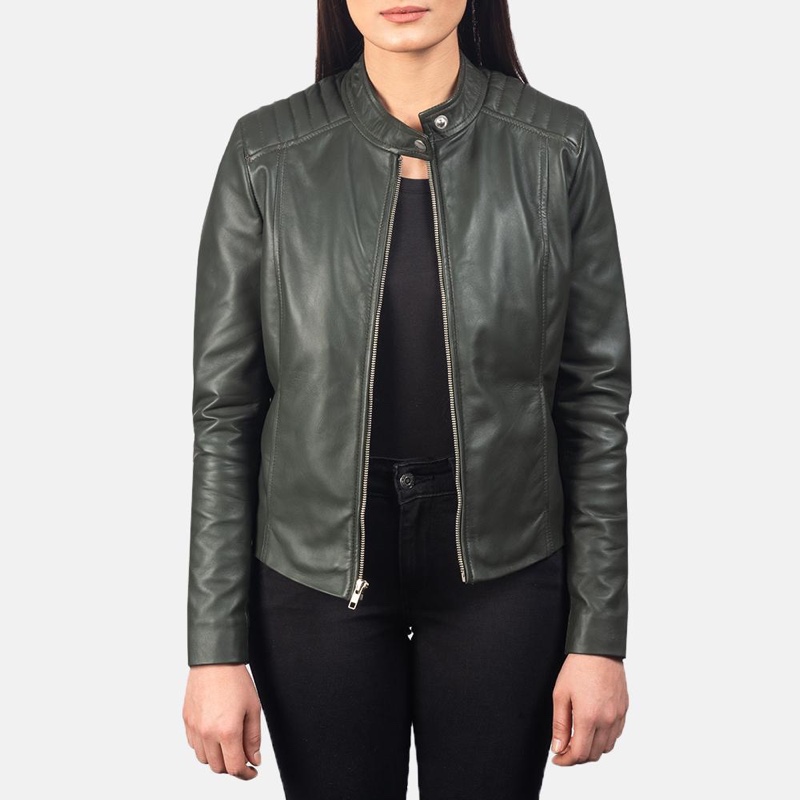 Green Leather Jacket
If you are a girl with optimistic views about life, a green leather jacket is all you need to portray your optimism. Green is a pleasant color associated with pleasant traits like soft-heartedness and peace. It also stands for innovation, striking a balance between a positive and futuristic personality at the same time.
A green leather jacket can be paired with a variety of outfits. You can wear it over a simple t-shirt and capris, or a black pencil dress for a refined look.
The green shows that you are environmentally conscious and close to nature. These traits translate well with your green leather jacket, making you look charismatic in the eyes of people.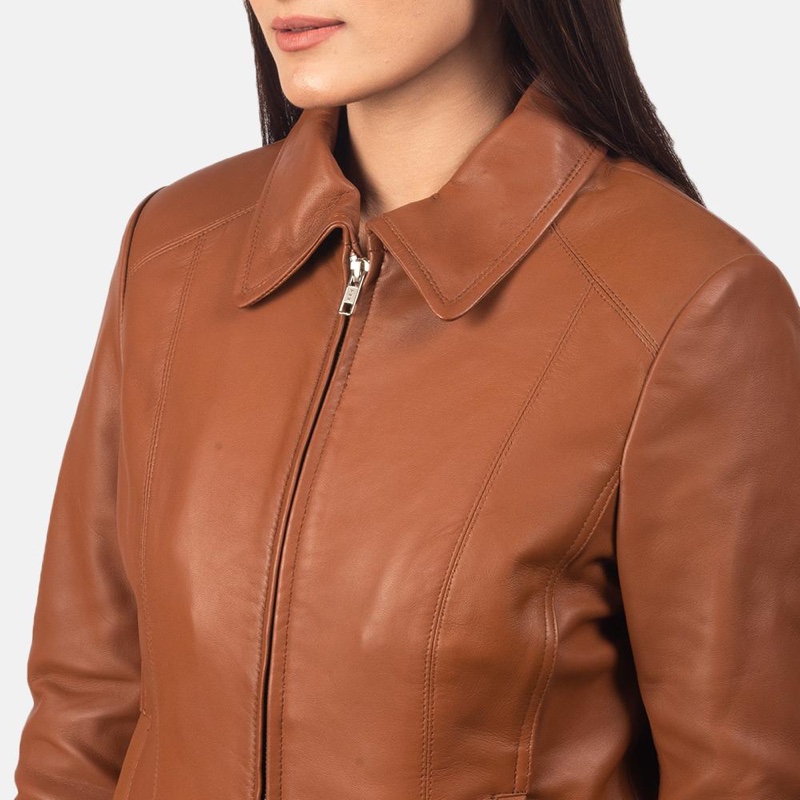 Brown Leather Jacket
When you put on a brown leather jacket, you portray a humble, well-behaved person who likes to get and give respect. Brown is the go to color for women who are strong, enduring, and highly reliable.
Although brown is mostly chosen by conservative people, it doesn't necessarily mean you need to have a backward approach to wear a brown jacket. Rather, it will symbolize your simple, virtuous personality and down-to-earth nature. It is also proven to shun the communication barrier as the wearer seems congenial.
It is an undeniable fact that brown is highly versatile. You have a number of options for building outfits with your brown leather jacket.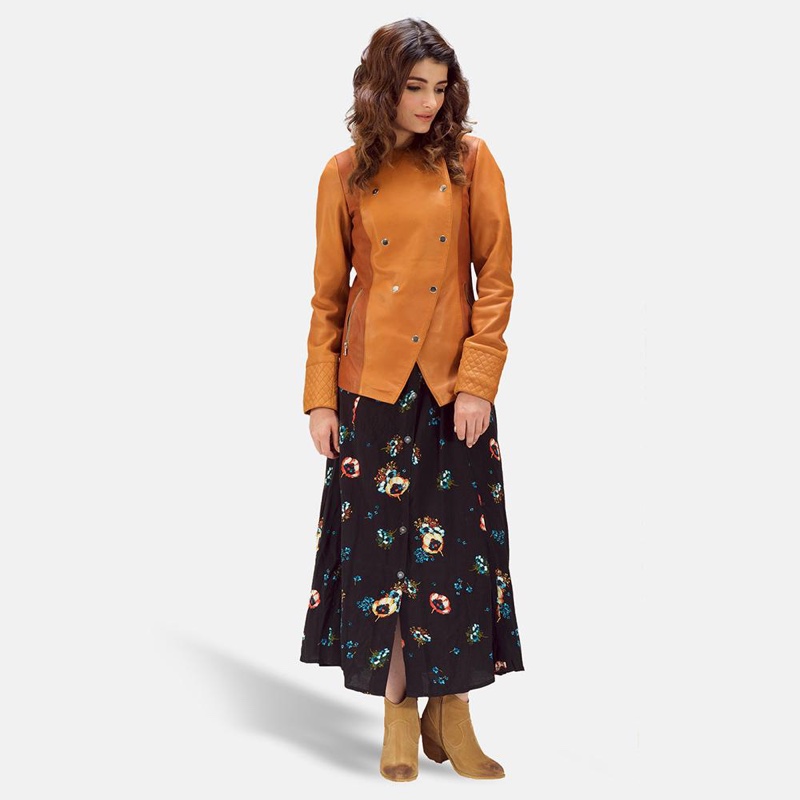 Tan Leather Jacket
The tan is from the family of brown, but it differs in terms of personality portrayal. Tan leather jackets are more suited to the stable, well-grounded women who have a fearless character. It is an earthy color but has a vibrancy that makes it apt for creating a strong style statement.
You can pair your tan leather jacket with darker shades like black jeans with a grey t-shirt or a cream-colored dress.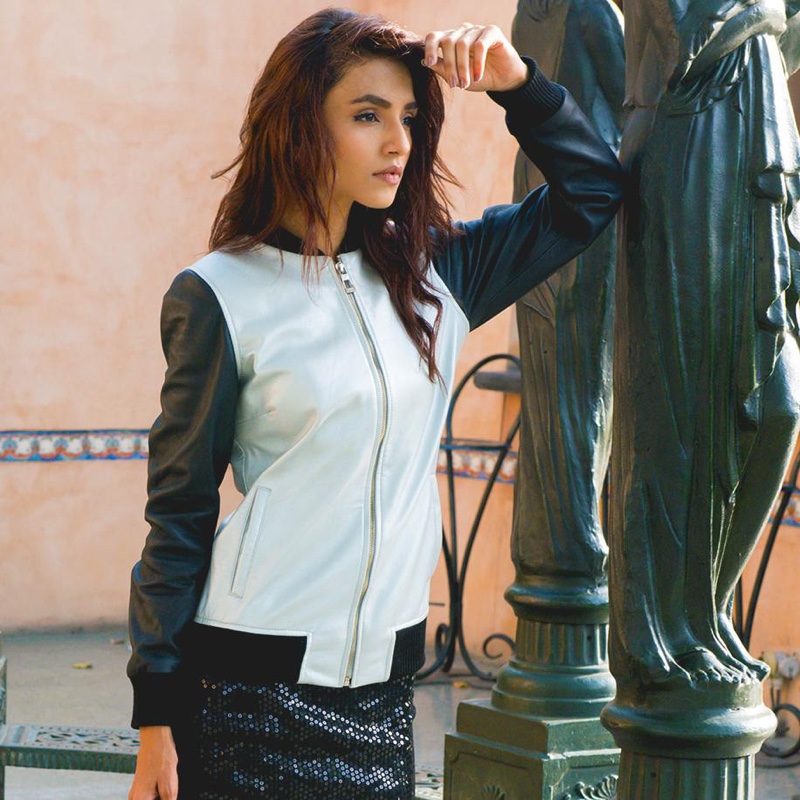 Silver Leather Jacket
If you have an extrovert personality and don't mind being the focus of attention at a gathering, get your hands on a dressy silver jacket. The metallic shade goes perfectly well with your audacious personality, giving you a chance to outshine others.
Silver should be a part of every adventurous woman's wardrobe as its bling helps her stand out.
Pair your silver jacket with a black jumpsuit or a blue dress to portray the hip, showy side of your personality.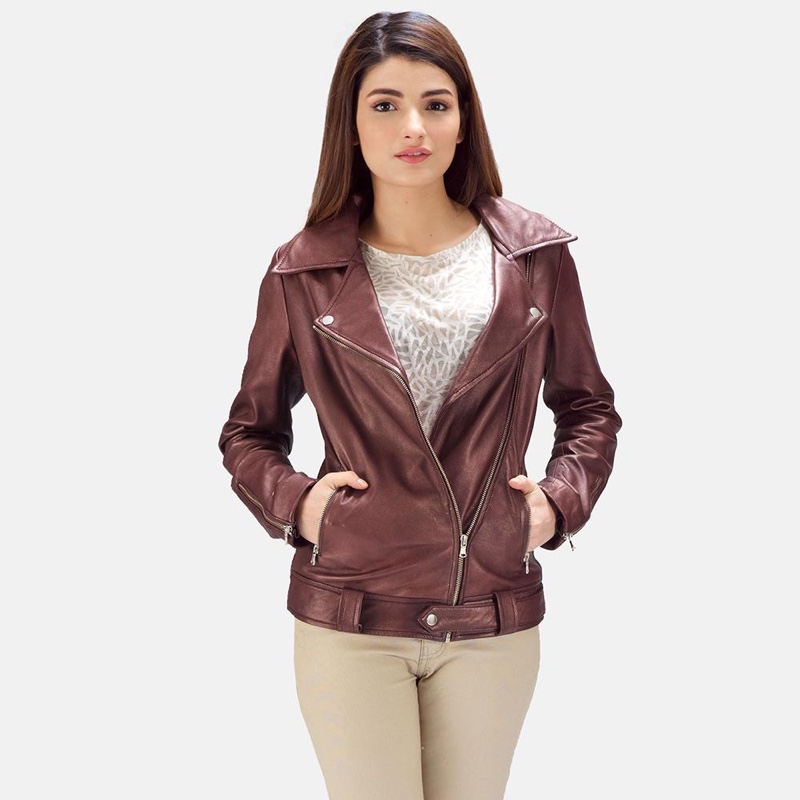 Maroon Leather Jacket
Maroon symbolizes beauty and warmth. The dark hue can also be used to create a mystery and irresistible charm around your personality. Maroon leather jackets are for sophisticated women who are admired for their unique traits.
Maroon leather jackets look highly appealing when paired with equally decent hues like beige and black. You can either opt for a printed top and off white pants with your maroon jacket or go for a monochrome look by wearing it over a maroon dress.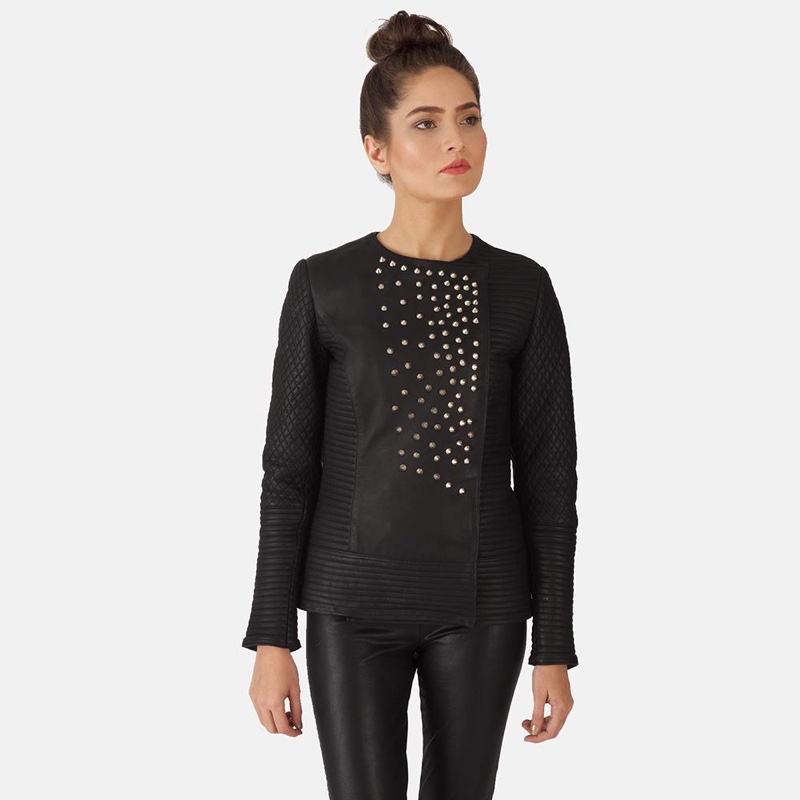 Black Leather Jacket
Who says only men can wear black jackets?
Women with a bold and ambitious character can also opt for a classy black leather jacket that perfectly portrays their confidence.
The black is also correlated with intelligence and leadership qualities. Get your hands on a voguish black leather jacket if you are an authoritative person.
You can choose the commonly available black biker or bomber jackets, or go for custom jackets uk to get a tailored jacket that is perfectly suited to your personality. Another good thing about black is that it makes you look slimmer.
The sky is the limit when it comes to pairing options with the black leather jacket. It goes with an array of colors and styles, so you can hardly go wrong with outfit creation.
Takeaway
Different colors of leather jackets give off a different personal expression. We highly recommend choosing a jacket in a color that perfectly translates your persona. It is even better if you know how to build various looks with your jacket to give a clear message to the world about your preferences and individuality
Photos Credit: The Jacket Maker