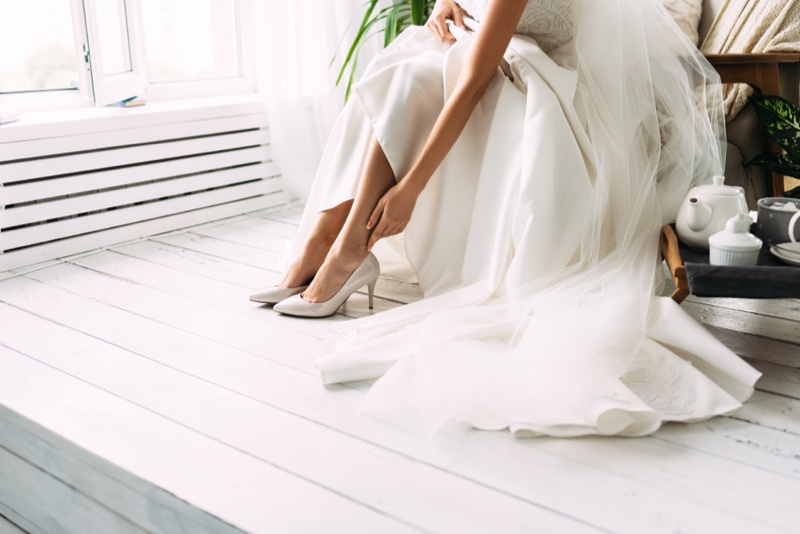 Picking the bride's dream wedding dress and the groom's dapper attire will come first and foremost when doing your wedding day outfit planning. A close second, however, will be your choice of shoes. Not only are shoes the ultimate fashion statement in the world of accessories, but you have to stand around in them all day. You'll be wearing them down the aisle, during the vows, for millions of photos, and dancing at the reception. Needless to say, this is a pretty important choice. Once you've picked out the dresses and suits, your next stop should be the shoe department.
#1. Picking A Shoe Style
The bride should pick a shoe style that flatters her dress choice or the motif of the wedding. Your shoe style can be formal, stunning, or conservative. Consider factors like the time of year and venue of the wedding as well. Open-toed shoes in the winter might lead to frozen toes, for example. You can pick classic pumps, sandals, wedding booties, or something totally non-traditional like flip flops or bare feet for a beach wedding.
The groom's shoe styles are a bit less overwhelming, but there are still choices to be made. A classic formal men's shoe is the Derby style, which closely resembles Oxford shoes, an upscale leather shoe. The Oxfords have a bit more shine, these are low tops that don't quite cover the ankle. Men can also go for no-traditional styles such as some well-shined boots.
You'll also need to keep your budget in mind. There are wedding shoes out there to fit any budget. While you can find a great looking pair of shoes for $50 to $75, you can also shell out $100's of dollars if your heart desires. While savvy couples are relying on economical weddings, some people are out there taking out personal loans to fund their dream wedding, according to Forbes. Your shoes can be something you save a little money on if you choose carefully.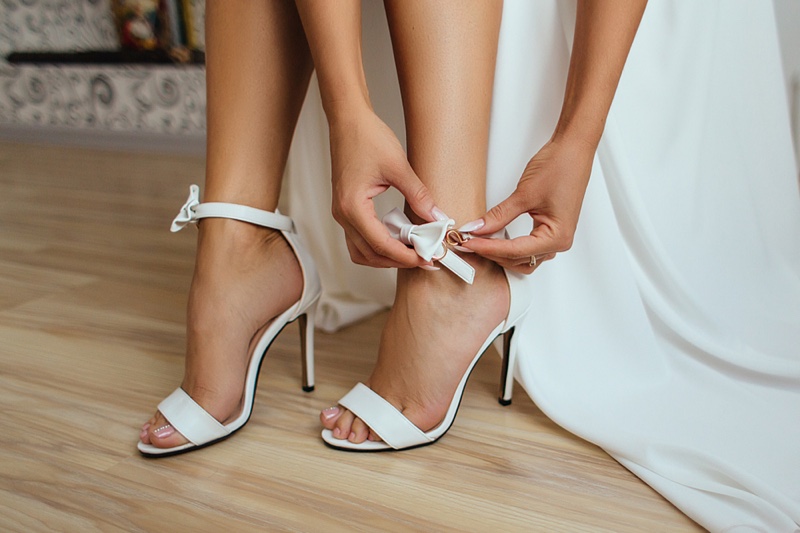 #2. Choosing A Shoe Color
Brides often choose white or silver-colored shoes that match the color of their dress but you don't have to go that route. A pop of color on your shoes can be a welcome break from the norm. Men can also play with colors a bit, besides basic black, you can go with grey, brown, navy, or another complementary color to the suit you are wearing.
If you're having trouble coming up with inspirational wedding shoe ideas, check out this Harper's Bazaar list of the best wedding shoes of 2020. In addition to white, you'll see a lot of silver, gold, and platinum in the mix. You can also incorporate a pop of color from your wedding palette.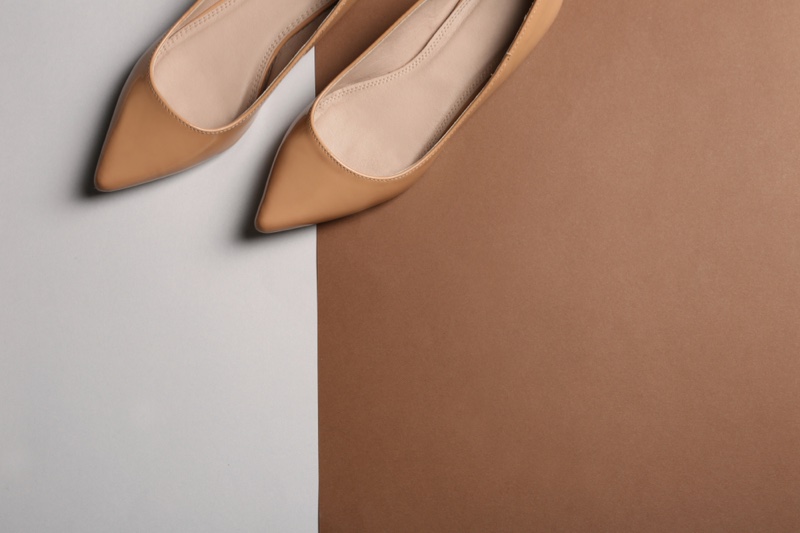 #3. Comfort Is A Factor
We tend to prioritize style when it comes to wedding clothing, but comfortable shoes are not a luxury to be overlooked. As we've established, you'll be doing a ton of standing around on your wedding day. You don't want to be in agony by the time you'll be hitting the dance floor. If heels don't feel right to you, opt for a lower chunky heel or even a cute pair of ballet flats.
Men, breaking in your shoes will be the key to an ouchless experience. If your shoes are brand new, make sure to take time to break them in and soften them up before your wedding day. Brides might be afraid to break in their shoes, especially if they are white. You can avoid messing them up while breaking them in by wearing them around the house.
You can also make any pair of shoes more comfortable by adding cushioned insoles or padding on the heel or at the toe, depending on the shoe. Practice walking in your shoes before you make your final selection. Try to imagine spending all day wearing them, rushing from location to location, and dancing for hours before taking them off. If they still seem like a good idea, buy them immediately!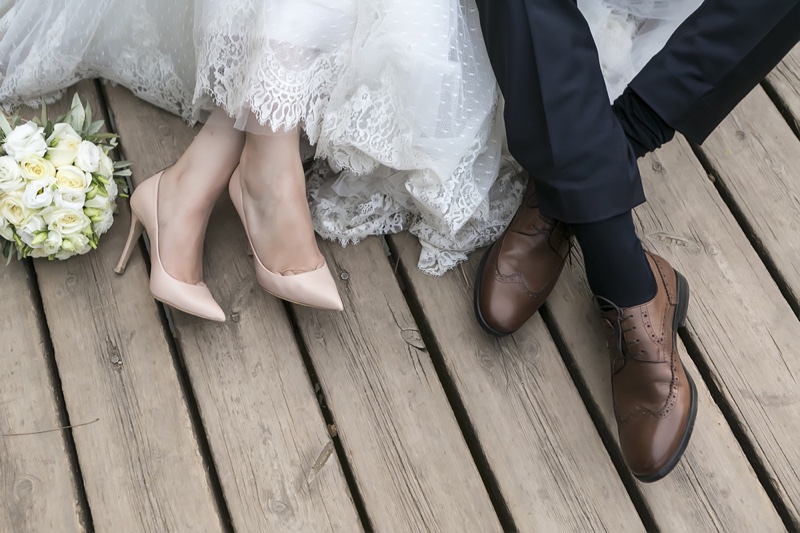 #4. Comfortable & Stylish Socks
The majority of bridal shoes don't require socks unless you are really going outside the box with some nice wedding day tennis shoes. Women will usually be going without socks or adding some sheer hosiery.
Men, however, will most likely be wearing socks. For guys, while plain black socks are a common choice, it can be fun to tie the groomsmen socks into the wedding colors, according to sock retailer No Cold Feet. You can get black socks, patterned socks, or playful colored socks with customizable labels at No Cold Feet that make great groomsmen gifts as well.
#5. A Change Of Shoes For Later
It's becoming more and more of a tradition for the bride and maybe even the groom to have some backup shoes for the end of the evening. You can opt for some much more comfortable shoes that you can dance in as the night goes on. Brides can have fun with plain white tennis shoes or flats they can bling-up with some glitter and gems. Men can also bring a nice pair of dark dancing shoes to the reception. They often change into these shoes after the traditional first dances are over.
Don't put off your wedding shoe shopping until the last minute. You'll need to be wearing your final shoe selection when go for fittings for your dress and suit. It's very important to the tailoring process that you're wearing the exact same shoes as you will be wearing on the big day. Take this opportunity to add some personal style to your outfit with your shoe choices. One last suggestion, shoes are part of your wedding outfit that you can wear again and again. Choose a pair that you can see yourself wearing to other occasions and it will make you feel even better about your purchase. Being able to have that memory of your wedding day with you at other formal events in your life will be a huge blessing.