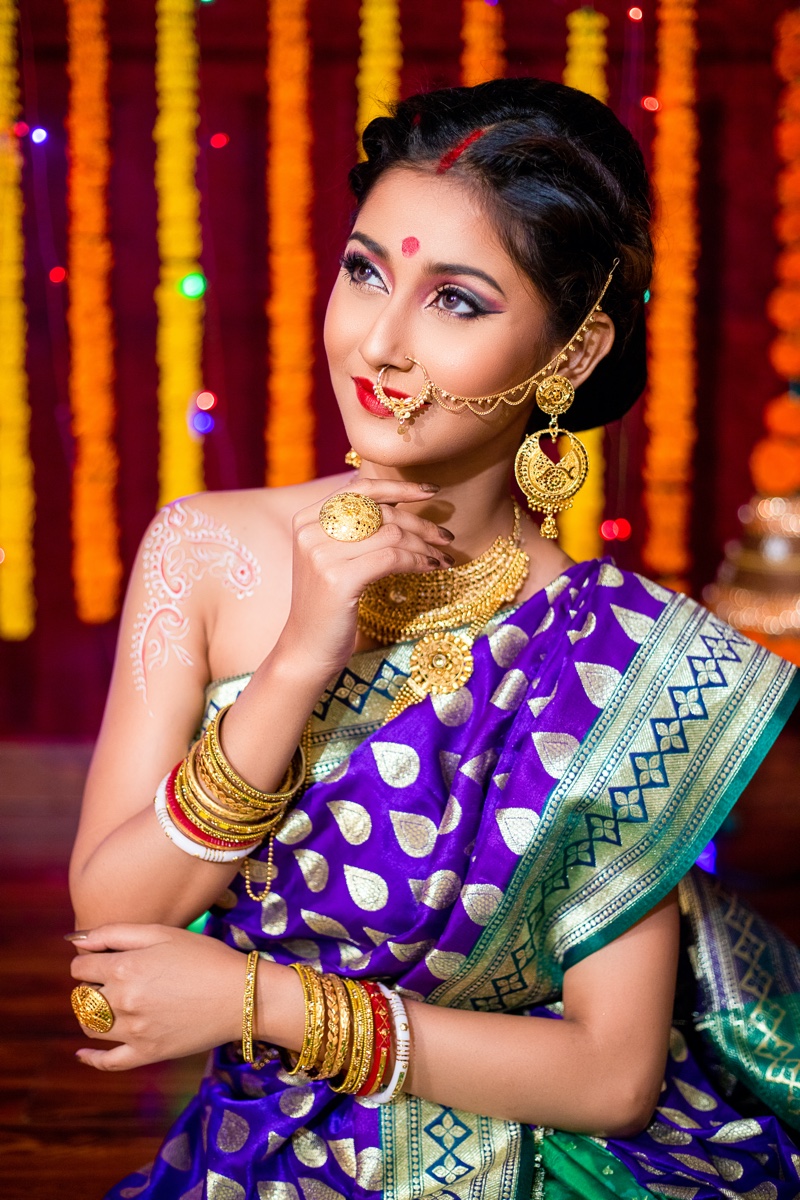 A traditional saree is a must-have for every Indian woman. Even when there are many trending garbs that you can wear for a new look at various events. A traditional saree always beats all forms of clothing. Also, once in a while it is best to wear one of these traditional sarees like the Bengali saree and give your fashion taste a fresh appeal. The Bengali sarees are graceful and elegant and showcase the varied and rich Indian culture. Fortunately, there are many beautiful Bengali sarees to choose from. Just as the name suggests these sarees are common among the Bengal women but other women around India still adorn them as well. Here are some of the different types of Bengali sarees you can buy online in India to look super stylish.
Tant saree
Are you tired of heavy silk sarees and need a change to a cotton saree? The tant saree is one of the most comfortable of the Bengali sarees. In fact, you cannot miss it in a Bengals woman saree collection. It is made of lightweight cotton fabric that is best for the humid weather of the West Bengal area. It is the best handloom saree of the cotton varieties among the Bengali sarees. Since they are worn regularly, you can wear this saree to work or a casual party. Give this Bengali saree a try, for you can get it in red and white that is best for the Durga puja festival. Since those are the colors that represent the festival. Alternatively, you can wear one with subtle motifs on the whole saree but with ornate designs on the border and pallu.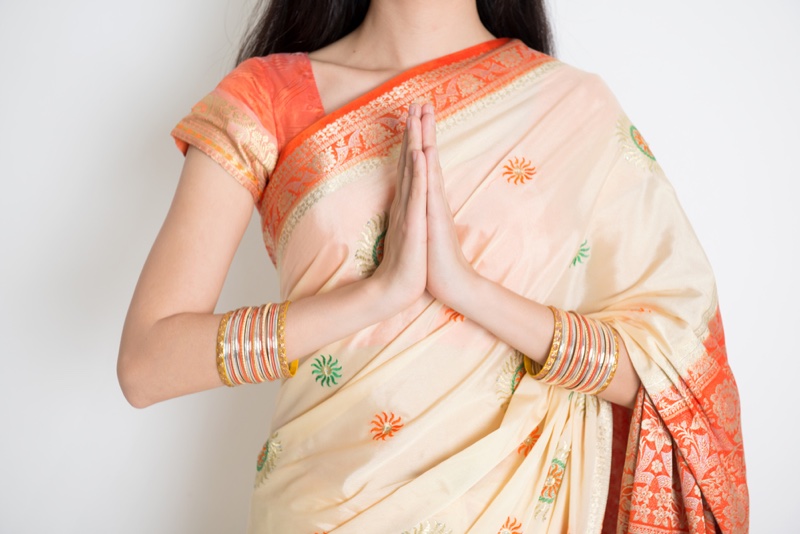 Baluchari saree 
Unlike the tant saree, the Baluchari saree is another popular Bengali saree that is made of silk fabric. This saree is made from pure silk or Tussar. It displays the finest weaves that showcase the great skills that the artisans have. It is a perfect saree for a bride in one of her ceremonies. Since it looks super stylish with the geometrical and floral brocaded designs on the saree. Also along the border or pallu, there are snippets of the Mahabharata and Ramayanaof the Indian mythology. Other common motifs are temples, sculptures, animals, marriage ceremonies, and vegetation.Thus, due to these artistic motifs, most women don't pleat the pallu to flaunt them perfectly and avoid ruining their look. Wear a Baluchari on your big day and awe everyone in attendance.
Garad Saree 
This saree is similar to the Korial saree that is another type of Bengali saree. It is worn commonly in holy occasions, pujas, and other small scale ceremonies. It is made from one of the world's pure fabric the mulberry or Tussar silk. Hence the Bengali women love it for how attractive and feminine it looks. Additionally, they are lightweight and easy to carry. As 'Garad' means white, it is white in colorand is enriched with a red border with flower-shaped motifs and symbols. This red border is lighter than that of the sister saree the Korial showing the difference between the two sarees.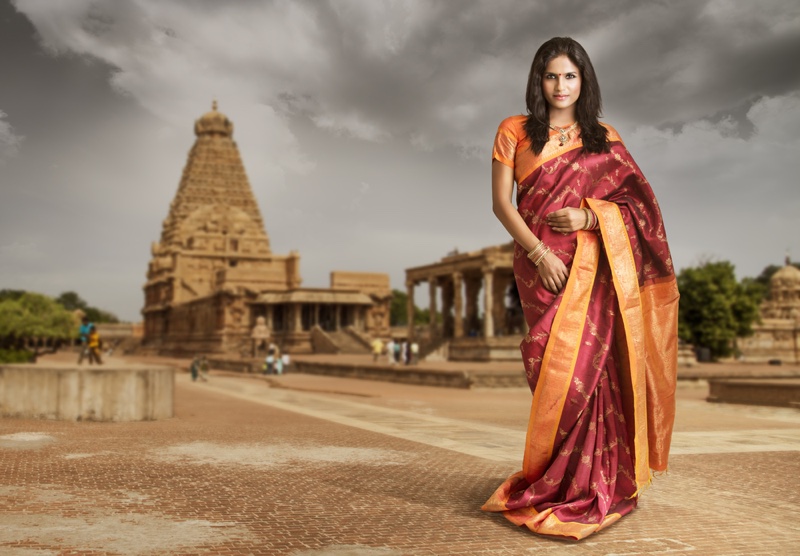 Korial saree 
This saree is a twin sister to the Garad saree. If you are not among the Bengali people differentiating the two is quite a challenge. Anyhow, it is a perfect saree for a reception party. The Korial saree is the most sought among the many Bengali sarees. It is a white saree with a deep red border with an opulent and rich weave. The reason women love this saree is that it is a timeless and simple piece that is of bespoke beauty. During the Durga Puja, most married women prefer this saree to wear to the celebrations. To get a stunning and effortless look with this saree. It is accessorized with a large red bindi and hair held up in a bun.
Dhakai Jamdani saree
The origin of this saree is Dhaka in Bangladesh, hence the source of its name. Although now they are popular in Bengal and are available in most of its regions. There are different prints and designs that you can spot in this saree. Hence the name 'Jamdani' means the typical styles that are used to make this saree. They are popular due to the energetic shades and the breathable fabric of a mixture of silk and cotton. Bengali women wear it to glamorous parties and events as they can flaunt this woven and transparent ensemble. Try this saree to one of your highbrow events and stand out from the crowd.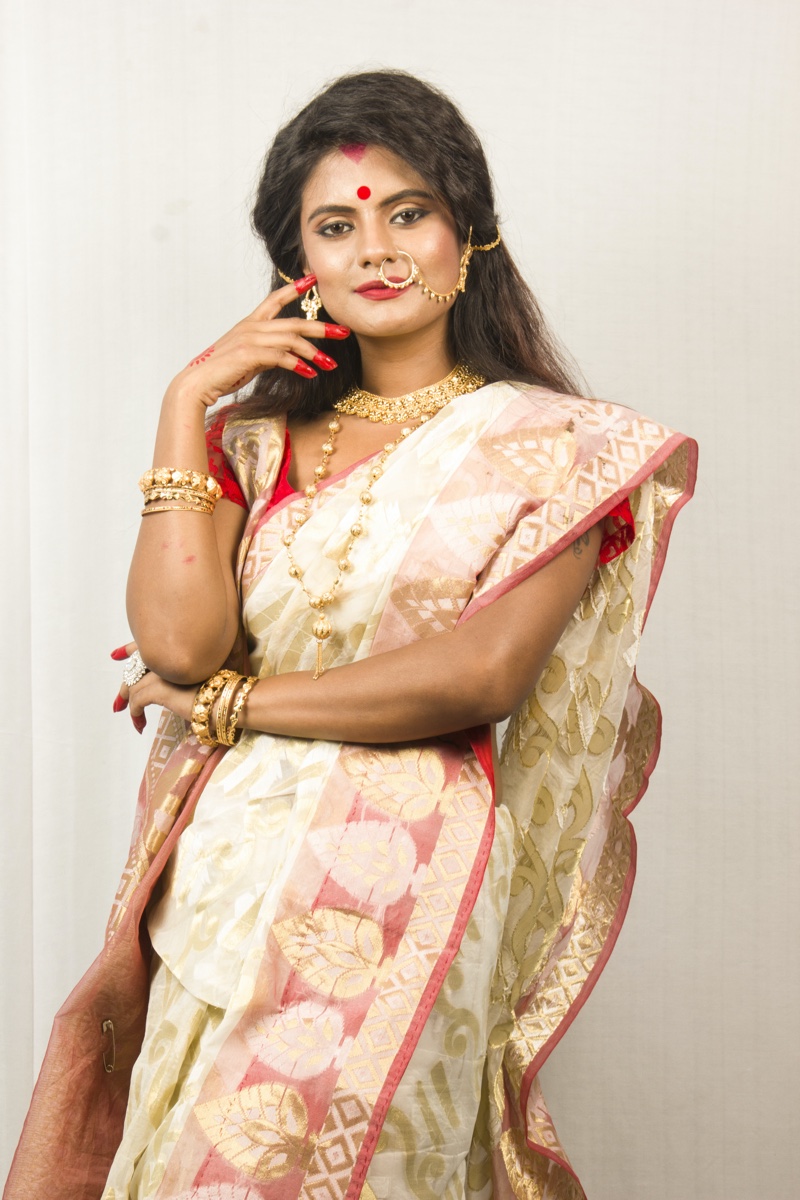 Murshidabad silk saree
This is another silk saree from Bengali that is among the plethora of the many silk sarees. It is a lightweight saree that has elegant printed designs. Hence to art lovers, this is an ideal saree for them due to the elaborate designs. They are adorned to evening parties where you can show off the colorful and pleasing ensemble. The batik print style is a common print design that is spotted in this saree.
Tussar saree 
This saree is slightly coarse in structure. You can find them in patta and butti styles that are famous among the Bengali women. Although it is produced in many places it is largely produced in Bengal. They are a picture-perfect type of saree. Plus, one of the common stitches works for this silk saree is the Kantha stitch. A bride can choose to wear this saree at her reception in a vibrant hue for a beautiful look.
To sum up, the above Bengali types of saree are the most ethnic pieces that an Indian woman can opt for. These sarees showcase the beautiful garbs that the Bengali women wear in most events and also daily wear. They add to their already gorgeous appearance. The sarees show class, culture and also the styles you can wear to various events. Invest in one or two of this saree and step out in them to your next high-end fashion occasion. To enjoy how stylish and exquisite you look.