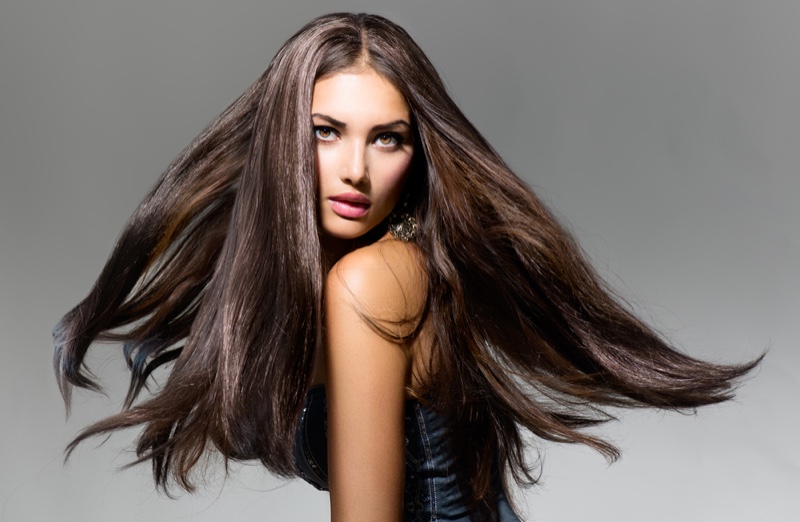 Have you always yearned to have long and silky hair, but don't have the time and patience to grow or maintain it? Or do you have the patience but are not fortunate enough to have a crowing mane? 
If yes, you can now actually have your dreams fulfilled thanks to hair extensions. You can also use hair extensions to try a new hairstyle or add some color to your hair. With so many hair extensions for women available, this article should help you make a choice. 
Real vs. synthetic hair extensions
Hair extensions are most importantly divided into synthetic and real hair extensions which differ in its production methods, look and feel.  
Human hair extensions are made using real donated human hair. Synthetic hair, however, is made of various synthetic or plastic blended fibers that imitate real human hair. 
Both come in various styles, colors, and forms. However human hair looks and feels real to easily blend with your hair. Synthetic hair usually has a coarse feel and doesn't blend well with your hair. 
Human hair extensions can be treated like your hair. You can safely straighten, blow-dry, curl and even apply hair products to it. However, you can't color synthetic hair because most dyes contain damaging ammonia. Synthetic hair can't be styled because the heat of hair styling products like curling iron can melt or damage it. 
While synthetic hair extensions are relatively cheaper, they are not long-lasting because they get easily and quickly damaged. They may last a few months while well maintained human hair extensions can last for even a year. 
Now that you know the features of human and synthetic hair extensions, it's time to learn about the top hair extensions available. 
Types of hair extensions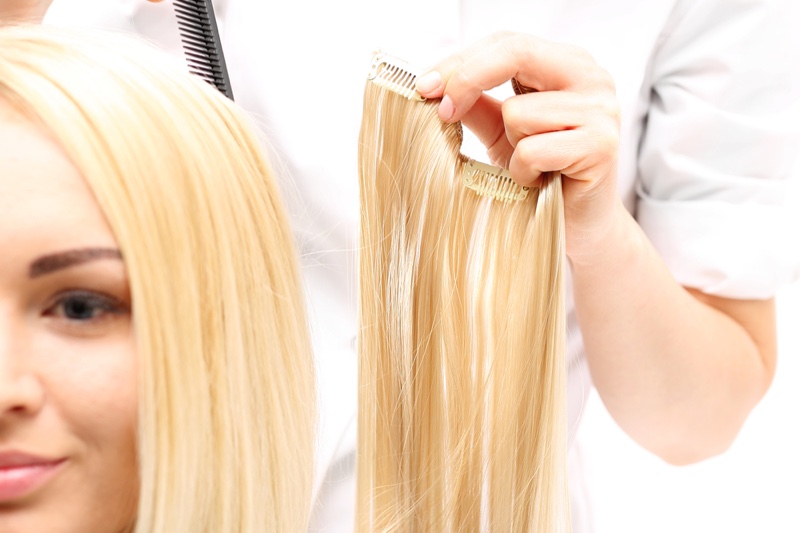 1. Crochet Hair braids
Crochet hair braids or latch book braids involve crocheting synthetic hair extensions to your natural hair. It's done with a latch or crochet hook and is similar to weaves. Crochet hair braids are sold in packets, differentiated by style and color. 
Crochet braids make your hair longer, remain attached for a long time and help with hair growth. You have the choice of wearing twisted, curly, cornrow or French braids.
Your natural hair is first twisted, braided or styled into cornrows. A latch or crochet hook is then used to attach the synthetic braiding or loose bulk hair to your natural hair. 
The hook is used to grab hair extension parts which are then pulled under each cornrow. The whole thing takes about 4-6 hours and can either be done at home or by professionals. 
Crochet braid s are popular because they are low in cost and maintenance. They don't even harm the scalp because there is no glue, caps or clip-ins used. 
They don't need regular washing, only some moisturization. But don't over-moisturize because it can lead to product buildup. Wrap your hair and braids with a silk or satin bonnet or scarf while sleeping for protection. 
Crochet braids are removed by using scissors to cut as close to the base of cornrows as possible. Then apply and leave some oil for half an hour. The remaining braids slowly slip out as you untangle your cornrows.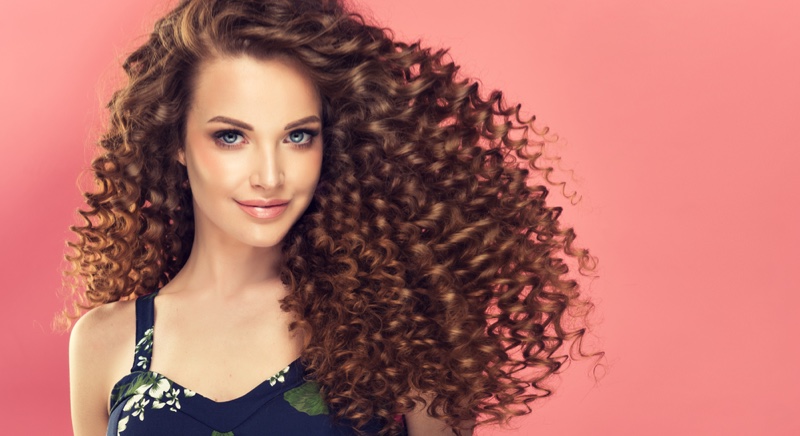 2. Clip-in hair extensions
Clip-in hair extensions or wefts comprise of a strand of pieces attached to a fabric or silicone base and clips. The clips easily open and close to attach the extensions to your hair as required. 
These are the least permanent extension types that are quickly and easily removed and put back on. You need only 5-15 minutes to attach them at home. They are also least damaging because no chemicals, heat, pressure or other installation techniques are used. 
They are also one of the most popular hair extensions because they clip on your hair with minimal damage. Human hair variants are very low in maintenance. Just brush, shampoo and condition it as you do your hair, and let dry. 
3. Tape-in hair extensions
These extensions are pre-taped and then glued to your hair roots. It should be done by a hairdresser because the extensions have to be aligned with your hair roots. 
A heated tool is used to heat the glue to attach the extensions while a glue remover is used for removing them. The process takes about 40-60 minutes, and the extensions in good condition may be reused. 
Avoid applying any heat or adhesive products like tape to your hair roots because it can damage the extensions. Use the extensions with care because the tape may get loose or slip off. 
Tape-ins are semi-permanent, lasting 4-8 weeks before they have to be removed and re-applied. Hairdressers usually recommend gentle and special shampoos and styling products that ensure the glue remains stuck to your hair. While you can style them, be careful with the roots where the glue or tape is.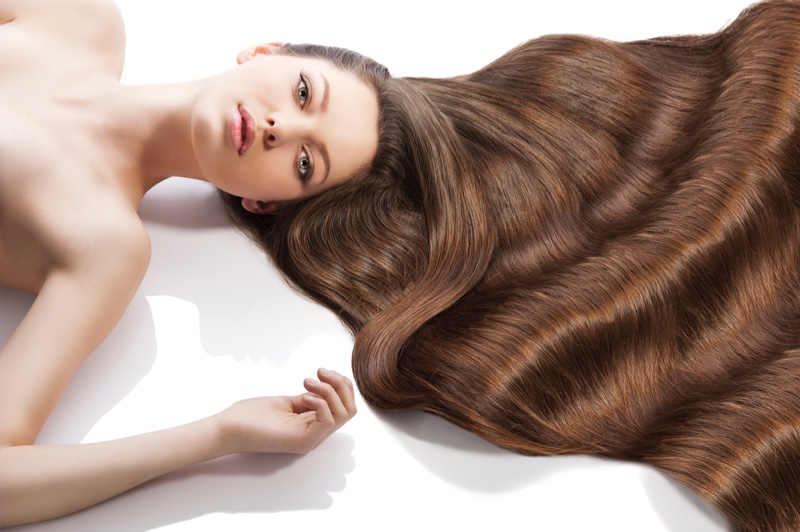 4. Sew-in hair extensions or weaves
Weaves are attached by first braiding your natural hair into cornrows and then using a needle and thread to sew them into the braid. This is a lengthy process extending a few hours and can strain the scalp to make you feel uncomfortable. This is why it's a better choice for those with thick than thin hair. 
Weaves are popular because it's practically sewn into your hair and doesn't come off easily. You, however, have to moisturize the scalp and hair edges weekly with deep conditioning products. Washing your hair with special protein products minimizes hair damage. 
The weaves are best removed every 6-8 weeks, especially if you are growing your hair. Don't leave them on for longer than 4 months because it affects your hair's natural growth process. 
5. Fusion & Pre-Bonded hair extensions
A hairdresser needs 3-4 hours to fuse fusion hair extensions to your natural hair using adhesives like glue. It's however not advised for everyone because it can damage your natural hair. 
It is applied using a machine looking like a hot glue gun, which glues the hair to your natural hair strands. It may also be applied using a heat clamp for melting the glue to your hair. Pre-bonded extensions can be treated with your normal hair products. 
Though they are semi-permanent and can stay in your hair for up to 4 months, they need repositioning every 2-3 months as your hair grows. Besides, the glue chemicals may lead to hair loss, breakage and scalp problems.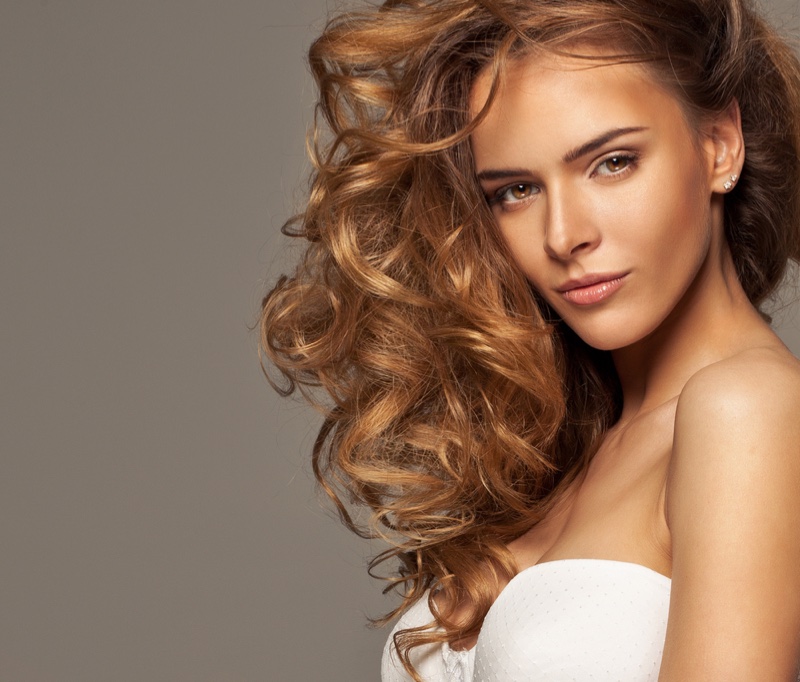 6. Microlink hair extensions
Microlink hair extensions are also called micro bead or micro loop hair extensions. Small silicone-lined beads are used here to attach hair wefts to small sections of your natural hair. 
A special tool is then used to secure, and tighten the bead in place. While no heat or glue is used, the application has to be done professionally. These extensions are semi-permanent and last a maximum of 4 months.
The application takes about 2-4 hours, and you can later wash and style your hair as usual. These extensions have to be repositioned every 2-3months because the beads tend to move away from your scalp as your hair grows. 
The extensions may also damage your hair because too tight beads can pull your hair roots. You may also lose hair if the beads aren't properly removed. 
7. Wigs and hairpieces
Wigs are topically applied to your hair to replace hair lost by hair loss, balding or just to give a change of look. Hairpieces often come in the shape of a bun, hair tie or ponytail. They are placed atop your hair to cover thinning hair or to create a different hairstyle. 
Human hair wigs can last a year if carefully washed. Synthetic hair versions may however not last for more than a month. Hairpieces also need careful treatment because they are usually attached to something made of plastic.
There you go. Now that you know about the most 7 popular hair extensions for women, you can make a wiser decision and choice about buying one.