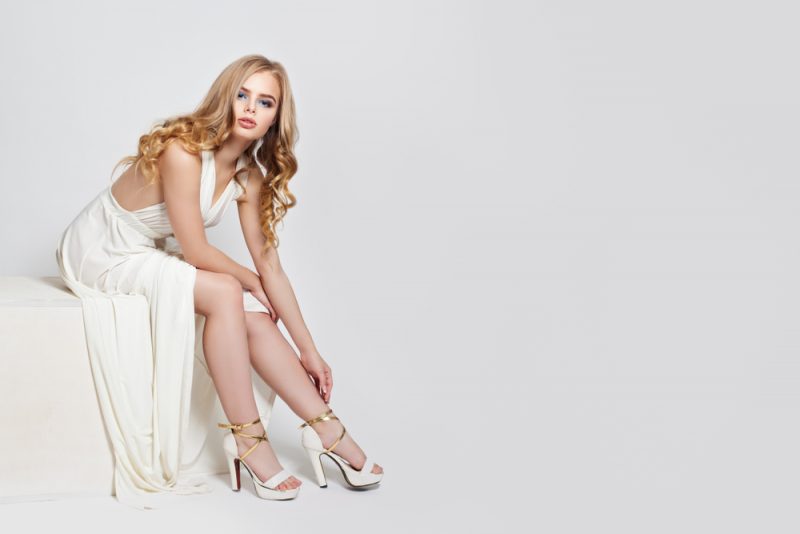 There's a lot of preparations that go into making wedding days flawless. But it takes just one or two blunders to spoil the actual moment. The worst part is, you'll probably remember it for a long time, whether you're the bride, the groom, or a guest.
Photos and videos that caught these mistakes could also be awkward to display at home or post on social media. Couples, especially brides, want to make everything impeccable on their big day, from the ceremony, reception, guest list, and souvenirs, up to the theme, dress code, and set up, among other things. If you're the best man or maid of honor, you're expected to welcome guests, assist the engaged couple with mini emergencies, and lead the rest of the bridesmaids and groomsmen.
You should know also, how not to give a toast. Meanwhile, if you're part of the entourage or a guest, you should follow the written and unwritten rules for everyone to keep everything in sync—most importantly, the wedding fashion. Brush up on these fashion errors below, so you're always dressed and styled properly for every wedding you go to, including yours.
1. Wearing a White Gown
One of the rudest things anyone can do during a wedding is to compete with the bride's style. This might involve wearing a tiara, a flower crown, an extravagant outfit, or even a hairdo that's way too eye-catching. Generally, it would be best to steer clear of anything that will make the event more about you than the couple. (3)
But the worst thing is wearing a white dress or anything similar to a wedding gown. White has been considered reserved for the bride throughout bridal fashion history, especially for western culture. Therefore, wearing something that looks like a bridal gown is a form of stealing the spotlight from the main protagonist of the event. (2)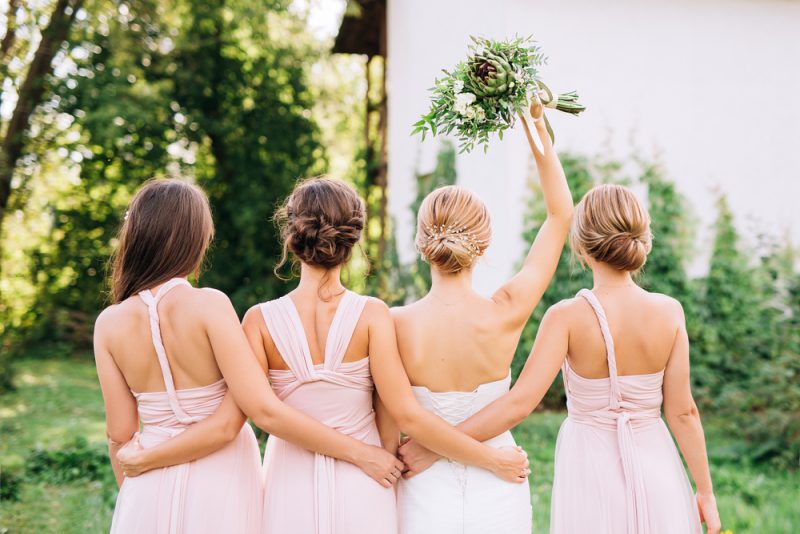 2. Bridesmaids Wearing Something Too Attention-grabbing
If you're a bridesmaid, you might feel awkward about dressing like everyone else. Couples usually plan out the color theme for the entourage and provide what bridesmaids and groomsmen should wear. However, if they won't, try to check if they approve of the color or cut of your chosen dress.
Another thing to avoid is going overboard with your makeup to stand out. If the bride says explicitly, bridesmaids should stick to nudes and toned-down pinks; you should skip the red lipstick.
3. Guests Dressing Like a Bridesmaid
For guests, attempt to find out how the bridesmaids will be dressing to avoid dressing like one. Don't wear anything in the same shade or cut to be safe. The wedding entourage is reserved for the closest friends and family of the couple. Dressing like them could make it seem like you're overstepping boundaries, even if you don't mean to. (2)
It's best to follow the dress code if there are any. If the event isn't too specific about colors, you might want to go for something neutral, like nudes or shades that don't look too similar to the entourage. After finding out, the theme bridesmaids will be using, cross those out from your list and try out other styles. Pantsuits and long-sleeved midi dresses are always safe and stylish choices for most weddings.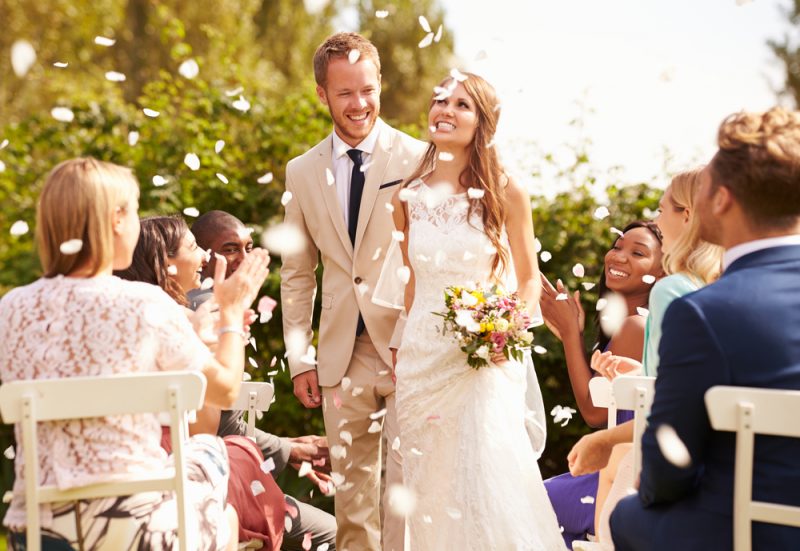 4. Not Taking the Dress Code Seriously
Exempting yourself from a wedding dress code could make the situation awkward for everyone. It could even cause the couple to feel stressed, especially if you wear something against their beliefs. Remember that weddings can be cultural, religious, or both.
Even if you don't have the same beliefs, respecting the couple's, especially on their big day, is crucial. But if you also follow certain religious and cultural practices that would affect how you dress, it may be a different story. Try to reach out to the couple and discuss what outfits you plan to wear so they can give you their seal of approval. (2)
Either way, it's best to come to a middle ground or follow the dress code indicated for most situations. If the couple made a simple request about color, cuts, and patterns, guests could find or even borrow appropriate clothing and shoes for the particular celebration.
5. Not Picking the Right Flowers
There are so many kinds of species and bouquet styles to choose from. As a bride, it's tempting to pick the prettiest type that would match your outfit or even your favorite flowers. But it might not be that simple because even the flower choice could symbolize something you wouldn't want to imply. (1)
For example, striped carnations mean refusal, cyclamen means ending a relationship, foxgloves mean insincerity and orange lilies represent hatred. Many other flowers could have a negative connotation, and you might want to avoid them, especially if you're superstitious. (5) On a different note, some might be too fragrant and cause severe allergies down the aisle or during the reception.
It's a good idea to limit your choices to ones that aren't too aromatic. If the bridesmaids are carrying flowers, ask them if they're allergic to any type so you can make the necessary changes. (1) Moreover, if you want your bouquet to stay comely throughout the entire celebration, ask your florist how long the flowers can last before they wilt. Ending up with a limp and dying bouquet might not be the best look for a blushing bride. (1)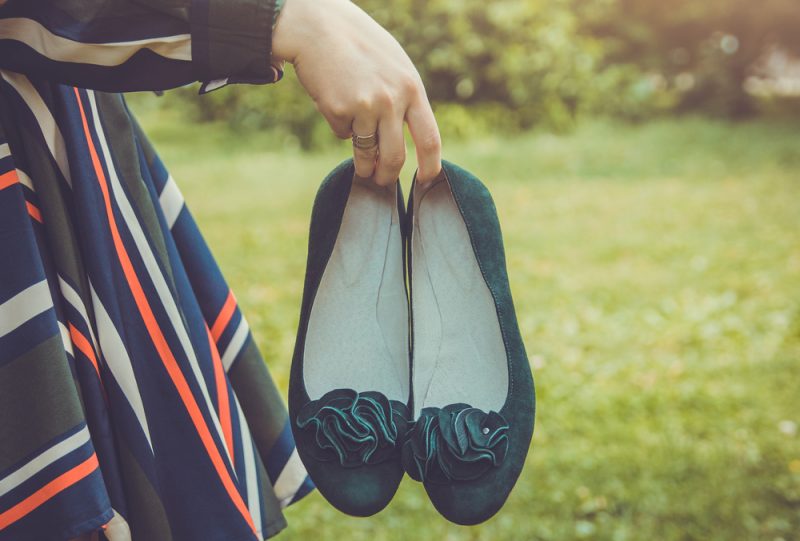 6. Not Having an Extra Pair of Shoes
You might've experienced not having a pair of shoes on a night out or regretting wearing uncomfortable heels. Without backup flats, you might have to deal with the pain for a more extended period or settle for going barefoot. Whether you're the bride, part of the entourage, or a guest, it's essential to wear the right pair of shoes for the occasion, but so is bringing an extra pair for comfort.
During the ceremony and pictorials, sticking to whatever you planned for your outfit should be good. But when it gets uncomfortable, it's a good idea to switch to comfortable flats, especially if you love to dance. (4)
Conclusion
Wedding days, especially traditional ones, could be tricky to dress for. But one thing to remember is to dress according to your role on the day. Whether you're a bridesmaid or a guest, the engaged couple has certain expectations you should live up to on their big day. If you're the bride, you also have to make sure that your gown's precisely what you want, comfortable to wear, and complements the overall theme of your wedding.
References: