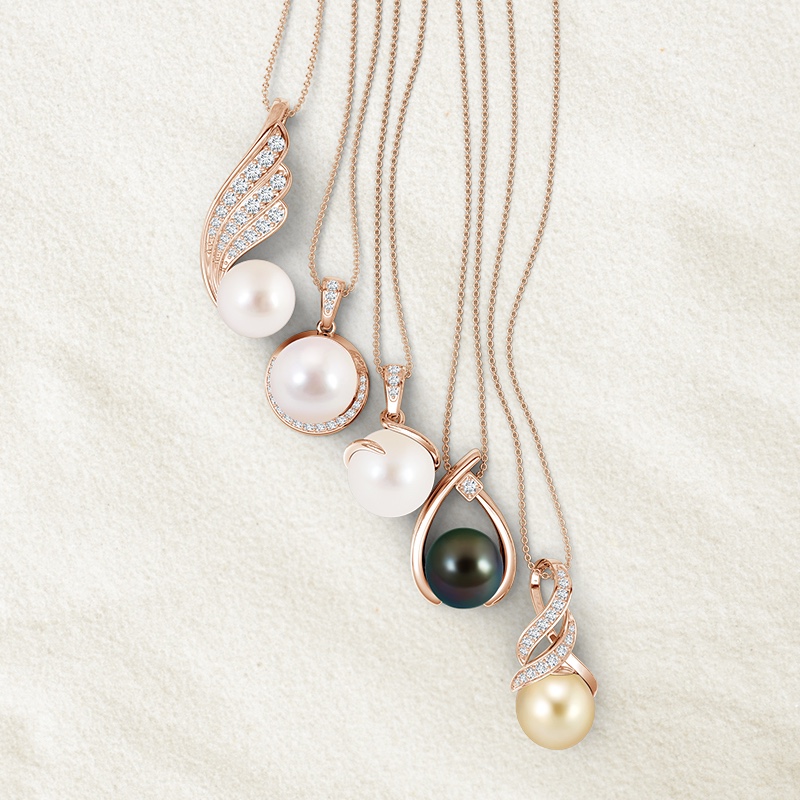 Pearls are considered purely organic gems of the sea. Choosing the right pearls for your jewelry is extremely important and is an investment in itself.
Pearl jewelry is versatile, and each piece is unique in its own way. It can be styled simply if your personality resonates with that of a girl next door as well as in an ultra-glamorous manner if it identifies with being the life of the party.
Here are some of the things you must consider before buying your pearls. 
Choose the Right Pearl Type
Freshwater Pearls
Freshwater pearls are primarily cultured in lakes and rivers. These pearls take a shorter period to form and are more readily available. Freshwater pearls are not as lustrous as other types of pearls but are much more affordable and comparatively smaller than saltwater pearls.
Akoya Pearls
Akoya is the most common type of saltwater pearls. If you're planning to buy a classic strand of white pearls, Akoyas are a perfect choice. This type of pearls is well-known for its beauty, appearance, and luster.
South Sea Pearls
South Sea pearls are available in two primary colors – white and gold. These pearls are the most prestigious of all the pearl varieties. White South Sea pearls flaunt a classy appearance while Golden South Sea pearls are quite a show-stopper due to their unique hue.
Tahitian Pearls
Flaunting a mysterious hue, these are the only naturally dark pearls available globally. Tahitian pearls have become popular amongst pearl lovers and are one of the most sought-after pearl varieties. These pearls stand out from the rest of the pearl varieties, due to their unique colors and overtones.
Set Up a Budget
Each pearl type is priced in its own way, and just like diamonds, the prices can increase exponentially with the increasing size of the pearl. For example, the price difference between a 6.0-6.5mm Akoya pearl necklace and a 9.0-9.5mm size is quite a bit. Hence, it is always better to have an estimate in mind before shopping for pearl jewelry.
Choose the Right Size
Choosing the right size matters when it comes to pearls. While smaller pearls are preferred for little girls and teenagers, larger-sized pearls are flaunted by adult women.
Choose the Right Length
Choosing the right length is also essential when buying pearl strands. The 14 to 16-inch choker is an absolute classic and probably the most versatile one. If you wish to go with something more elaborate, the18-20 inches, princess-length, will be perfect.
Understanding the Pearl Value Factors
Luster
Luster describes how light reflects off the pearl surface. The sharper the luster, the more valuable the pearl.
Surface Quality
Pearls with smooth, clean surfaces are more valued than those with multiple blemishes.
Symmetry of Shape
Perfectly round pearls are the rarest shape of all and hence, the most valued. Then comes the other variety of perfectly symmetrical shapes like tear-drops and ovals, circled baroque, etc.
Color
This value factor is judged according to the natural color, the depth and saturation of the color, and the rarity of the color.
Origin
The value of cultured pearls that dominate the industry today vary by pearl type: Freshwater (least expensive), saltwater Akoya (mid-range), black Tahitian (mid to high-range pricing) and South Sea (highest pricing).
Hope this article helps you make an informed decision when it comes to buying pearls. Take a look at Angara's wide selection of pearl jewelry to pick a piece that speaks to you and matches your style and budget. You can also participate in Angara's referral program and earn dazzling rewards.