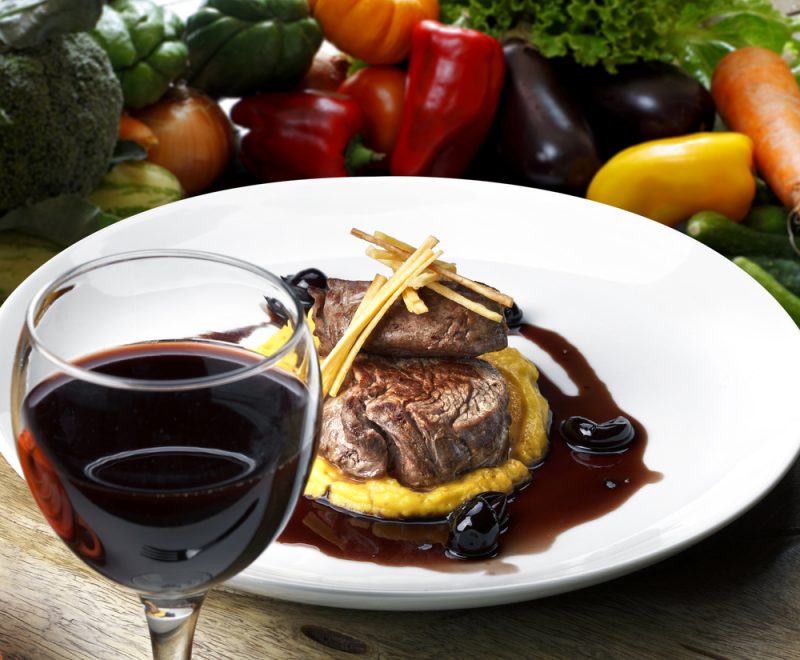 Is there anything tastier than a perfectly cooked steak alongside your favorite wine? We certainly don't think so! Wine and steak are a combination as old as time itself, but to ensure the best dining experience possible, it's essential to do your research as to which wines are best suited to which cuts of steak. Luckily, Lea Jones, a professional sales representative and self-professed foodie based in Orlando, Florida, is here to help! 
Filet Mignon
As a foodie, Lea Jones thinks that filet mignon is the most delicate cuts of steak. However, it's not just the delicate nature of this piece of meat that should be considered when choosing the perfect wine pairing. Due to the characteristics of a filet mignon, this type of steak is often served with sauce. The kind of sauce you choose can affect the ideal wine choice. If you are opting for a simple filet mignon seasoned with nothing but salt and pepper, then Lea Jones recommends a light-bodied Pinot Noir. But if you are topping the steak with sauce, choose a smoky Pinot Noir or a rich Chardonnay. Alternatively, Lea Jones suggests a Malbec as the boldness of the wine goes great with the texture and flavor of filet mignon.
Porterhouse
The porterhouse steak comes from the cow's short loin area and is a combination of both filet mignon and New York strip cuts of steak. For this reason, Lea Jones advises serving porterhouse alongside a medium-bodied red wine, like a Syrah, which has notes of berries that will complement the flavor of the porterhouse. If you are planning on serving the steak with a heavy sauce, especially a cream-based one, then you may want to select Cabernet Sauvignon or Merlot instead. These two types of wine are high in tannins, making them more bitter, so if you're eating your porterhouse with béarnaise sauce, for example, the sauce will help balance out the intense flavor of the wine.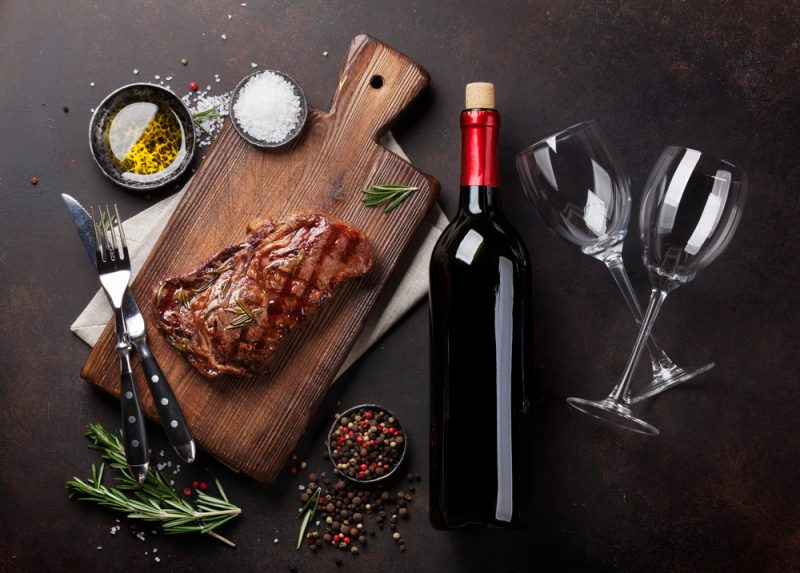 Ribeye
Ribeye is the most popular cut of steak for a reason. It is both juicy and flavorful – what's not to love? However, just because it's popular doesn't mean people know which wine is best suited to it. Lea Jones asserts that to find the perfect wine pairing for ribeye, you must consider the juiciness, meatiness, and fattiness of the steak. Ribeye has all of these three characteristics, which means you need to choose a wine with a bold enough flavor that will cut through and stand in contrast to the delicious flavors of the steak. Lea Jones recommends a Cabernet Sauvignon, owing to its high tannin content, or Zinfandel, which is both fruity and spicy and creates a nice contrast to the steak. If you're only mildly flavoring your ribeye, such as with salt and pepper, then either of the above will do. Still, if you're adding a spicier seasoning like paprika, then Jones advises opting for an aged Bordeaux or a young Cabernet Sauvignon. 
New York Strip
Finally, Lea Jones claims that New York strip steak is the most adaptable cut of steak there is. It does not have a particularly strong flavor or texture, which makes it extremely flexible when it comes to the rest of the dish. For a lighter dish, consider serving the steak alongside a fresh salad with a balsamic vinaigrette and either a rosé or a Pinot Noir. Conversely, if you wish to serve the steak with a classic side of mashed potatoes, consider Cabernet Sauvignon to balance out the dish.
Lea Jones concludes that serving a steak dinner can be one of the most fabulous meals for a dinner party, but you do not want to lower the impact of the meal by selecting a wine that does not complement the steak.