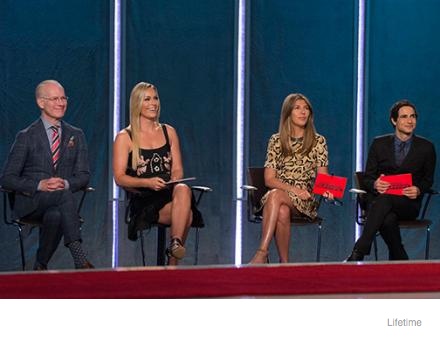 For the fifth episode of the season, the "Project Runway" designers had to make a red carpet dress for judge and host Heidi Klum to wear at the Creative Arts Emmy Awards. They were given a dossier of Heidi's past red carpet looks to get inspired by. Seeing that Heidi's style is really specific (think bright colors, Roberto Cavalli glamour and glitz), it proved to be a challenge for some designers.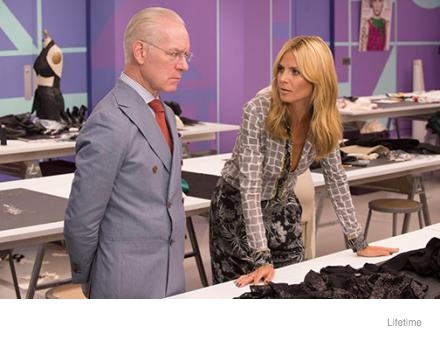 The initial challenge gave them $250 a piece to shop at Mood. But once Heidi entered to workroom and critiqued their looks it seemed that more than half of the designers were in trouble. (Korina, Sandhya, Mitchell and Kristine, more specifically) So she gave them a second chance by allowing them to go back to Mood with an extra $100. The catch was that if designers did not want to go back, they could not keep the money but were able to give to the designer of their choice their $100. Sandhya asked around, and was able to get an expensive fabric that costed $120 per yard. Mitchell and Korina seemed upset that she spent so much while Char said she could not blame her. Personally, I think there is nothing wrong with what Sandhya did. They each had an opportunity to ask for money and they didn't take it.
When they got back to the workroom, Korina, Mitchell and Kristine all started from scratch which seems like a very bad idea. Just augment what you already have, guys!
After that mad scramble it was time for the runway. The guest judge for the week was Olympic gold medalist Lindsey Vonn.
TOP LOOKS
Kini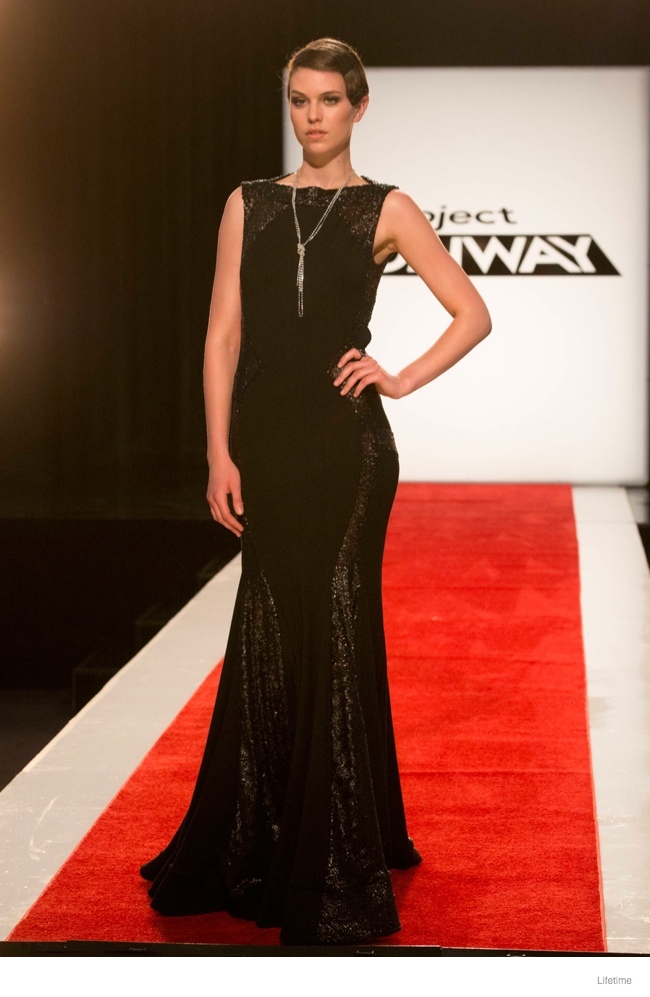 He was able to whip up his look fast, proving he was no stranger to making red carpet gowns. The expert on gowns, Zac Posen, gave him the highest score and praised his use of fabric. Heidi and Lindsey loved the dramatic open back. Personally, I think it was a little too safe in black. I would have liked to see it in color.
Sean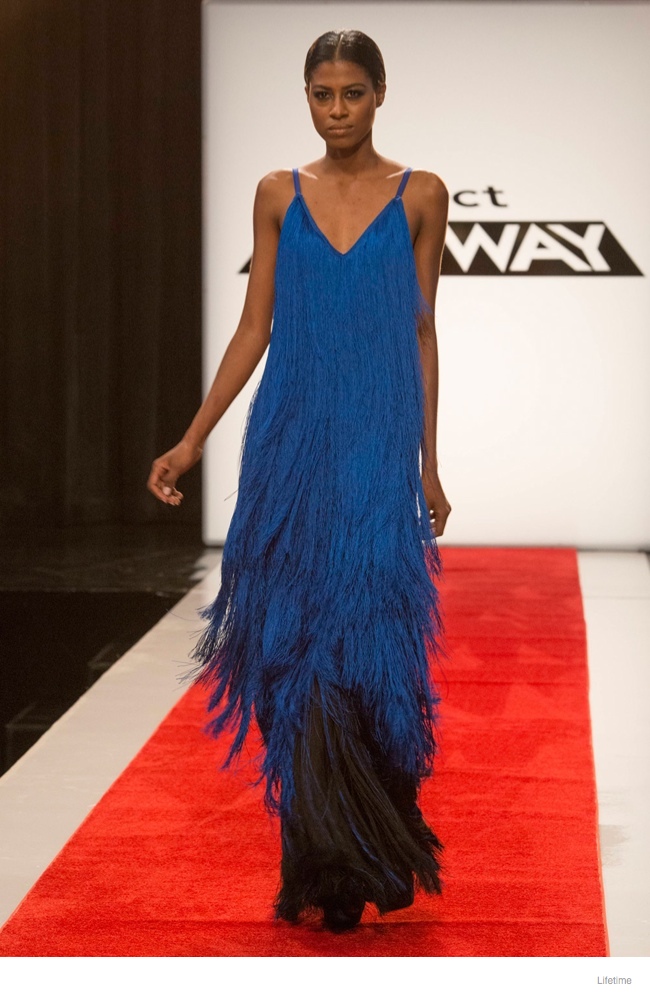 Sean made a dazzling blue fringe dress. Heidi and Nina liked the movement. And Lindsey liked that Sean gave the fringe a "haircut". I think it was an interesting concept but I was not a fan of the neckline. Perhaps it should have been strapless or more fitted. Instead, it just looked like fringe on fringe.
Amanda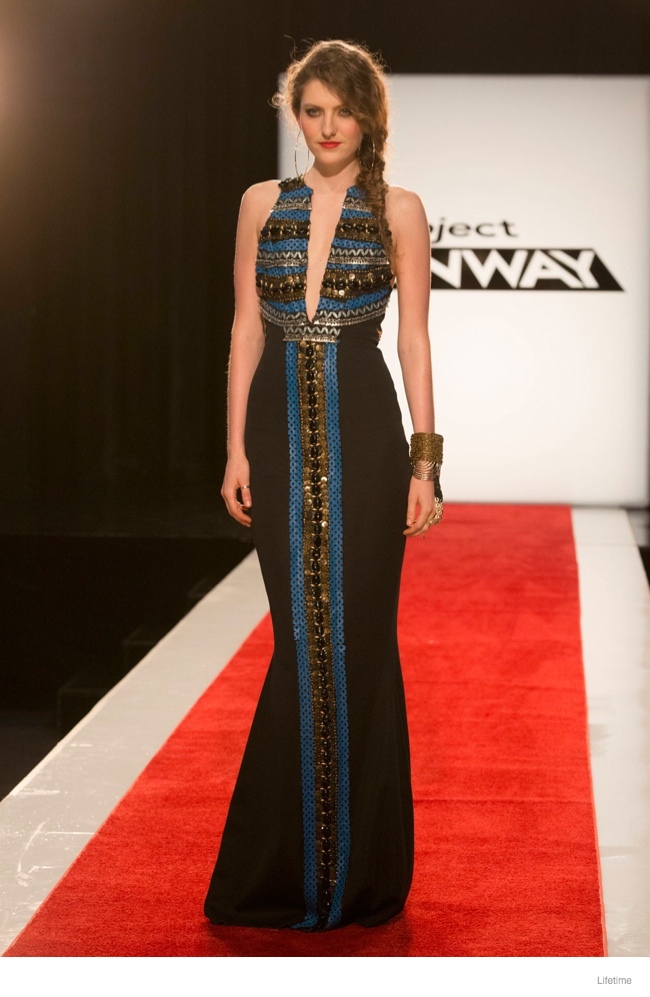 Zac was not a fan of her trim while Nina said it needed to be polished more but there was an idea there. Lindsey said it would not photograph well while Heidi thought it could photograph nicely. It was a good idea, but I agree with Nina that it needed more polish. As it was, it looked like a dress you could get from a catalogue.
BOTTOM LOOKS
Korina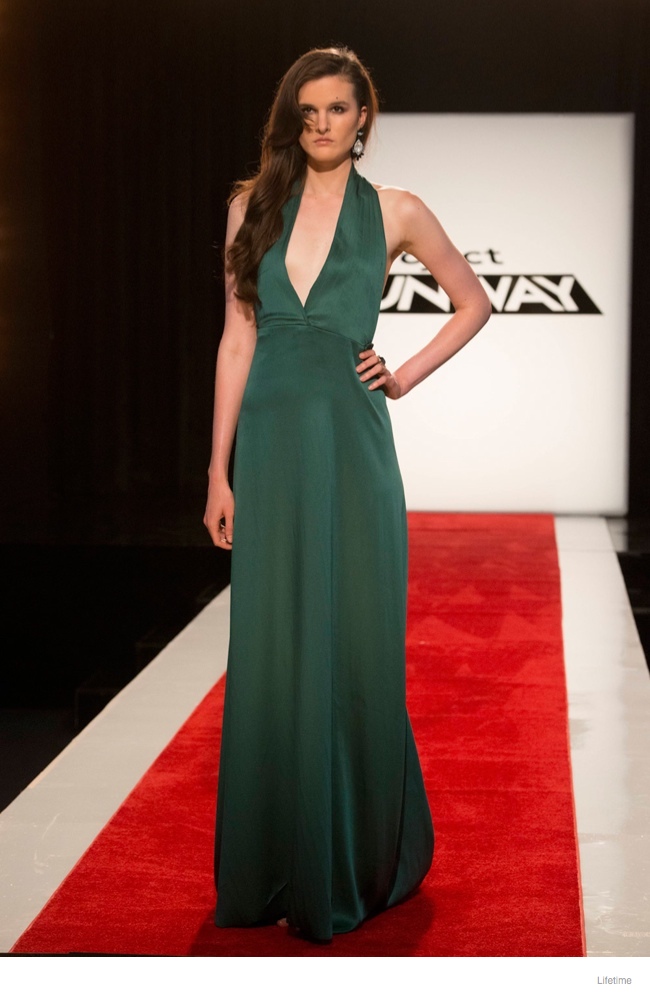 Korina went from a dark green to a kind of hunter green for her dress so already it wasn't an improvement in that department. Nina critiqued her sloppy execution of a basic dress, asking if she would wear it herself which Korina responded with "no." And when they were able to get a closer look, she even said "This is amateur hour here on such a basic design!" Yep, it was bad. But what do you expect when someone made the dress in five hours?
Mitchell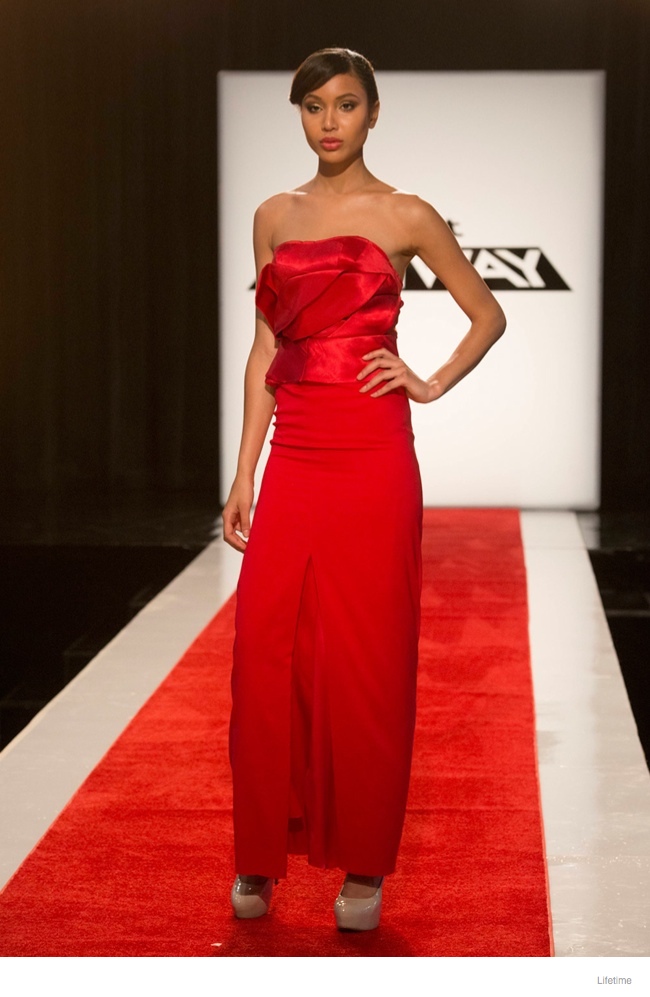 That was one of the worst looks I have ever seen on the runway. Why did he go back to Mood, even? He just got more red. "I think a lot of things went wrong with your dress," said Heidi which is an understatement! Mitchell couldn't even defend his look it was so bad. He called it the "Hot Mess Express", while Zac said he was out of his element.
Kristine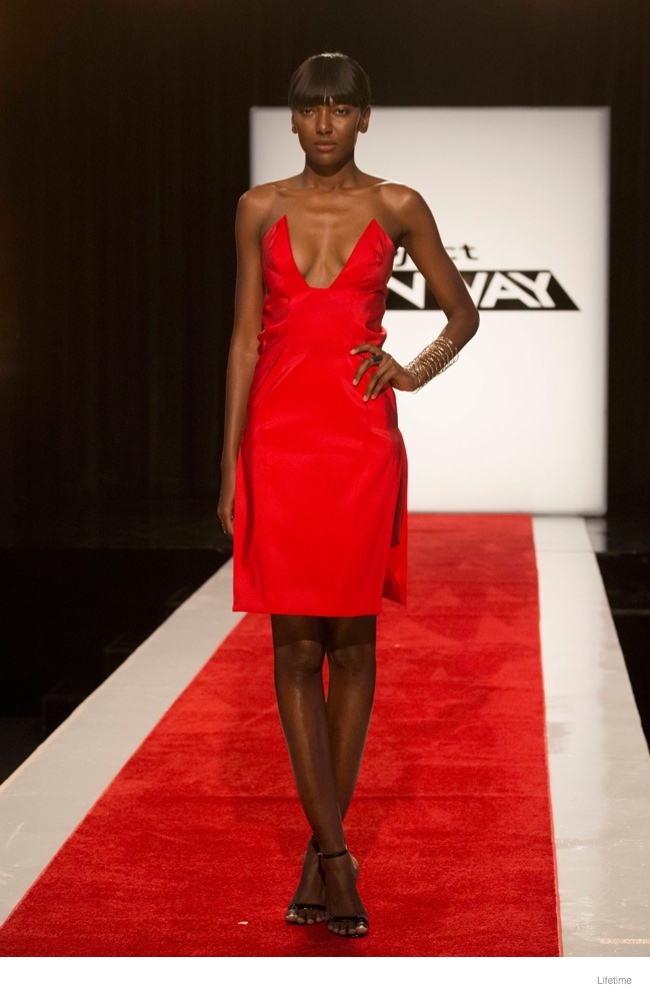 Zac and Nina were fans of the side paneling but said the top section looked like devil horns. Lindsey said that the dress looked like "The Devil Wears Prada", but the model was wearing the devil. Zac said that in all his time as a judge, he never gave a look a zero but gave Kristine's look one. Ouch! I agree it was bad, but Mitchell's was worse in my opinion.
Who won?
Sean with his fringe dress, meaning that finally someone besides Amanda and Sandhya has won. A lot of designers flopped at this challenge so it really was a race between him and Kini, and Sean won out.
Who got eliminated?
Mitchell AND Kristine. I wasn't expecting a double elimination to involve Kristine. I thought she had a few more rounds left in her. But maybe the judges saw that this was two weeks in a row that she had a bad week, and didn't want to give her another chance. As I said last week, Mitchell's Ziploc dress deserved to go home so I agree with the decision on him.
Do you think both designers deserved to get eliminated? What do you think of the winning look? Comment below!