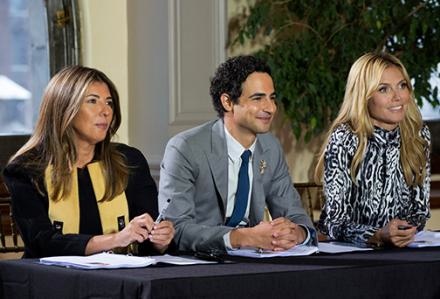 Everyone's favorite show about fashion design is back—it's Project Runway (duh)! There have been many imitators (cough Fashion Star), but Project Runway has managed to remain successful during it's thirteen season run. In the first episode of the season thirteen premiere we met eighteen new designers only for there to be three cut right away (way harsh). I mean, it was pretty obvious who was going to get cut because they didn't get a "talking head" also known as that professional interview against a white background. Maybe I'm just observant, but whatever.
Let's talk about some of the designers that stood out to me. The German designer Fäde because his style is so whacky but you can tell it's authentic so props. Then there is Sandhya with her really colorful and embellished designs. Not going to lie, I thought she was going to get cut. I think she has great ideas but still needs some polish. Then there was Angela who was quite nervous. The judges told her to "turn up the volume". Which, I agreed with. You can tell she has some well-done work but it's a little too simple for a show like this.
It was then revealed that a returning contestant would come back based on a vote in an online poll. Is it just me, but I don't think Project Runway needs returning contestants? I definitely think there have been designers who have been ousted too early but do they deserve a second chance? Anyway, the choices were between Kent (known for having a ruuude attitude in Season 12) Alexander Pope (known for having red hair and getting in a fight with Kent in Season 12) and Amanda (known for being…nice? Sorry.). I'm just saying, we don't need returning contestants, that's all. The results were revealed and Amanda won the online poll. I think it would have been more interesting to see Kent but Amanda is a pretty solid designer.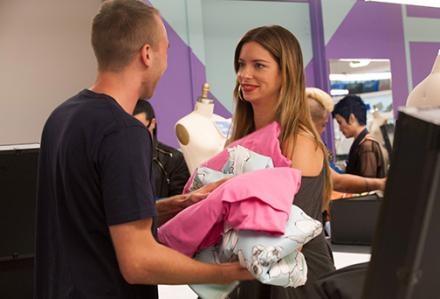 All fifteen designers went to the work room and it was revealed that they wouldn't be shopping for fabric at MOOD (gasp!) or going to a auto parts store to get unconventional materials (double gasp!). Instead, they were given pre-determined fabrics that they could swap. The idea of the challenge was to design an outfit for spring 2015 with their own aesthetic. Not going to lie, some of those fabrics were ugly. I'm hoping the Project Runway producers did that on purpose because really it was cruel (to my eyes). This year we learn that Aldo will be providing the accessories wall for the designers.
Not much happened during this time except for the fact that Korina is clearly being edited as the mean girl this season. Her and Mitchell were talking mad crap about the other designers' work. Was Mitchell really one to talk though? Also during this time Sandhya shared she had an arranged marriage and dropped that fact like it was nothing. "Oh yeah…I have an arranged marriage and my husband is really nice and supportive." Like what?!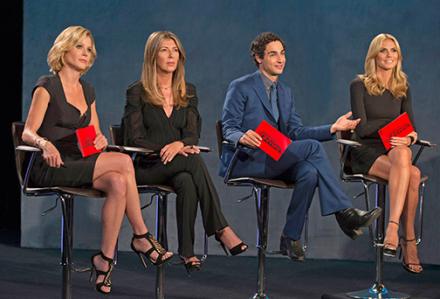 Anyway, on to the runway action. The guest judge was Julie Bowen from "Modern Family" who eased the tension with a couple jokes. I have to say, she was a pretty good guest judge. Normally, they are too nice or don't say much at all but Julie really spoke her mind. Let's review the outfits, shall we? You can see all the looks here.
Alexander – Not too shabby but not a winning outfit, the print clashes way too much in my eyes and the shape is kind of basic.
Amanda – Those jeans were so well done and fitted amazingly, but it wasn't exactly a show-stopping outfit.
Angela – The outfit had some good ideas but wasn't executed correctly as shown by the pants that showed the model's but crack. Nina called the slots on the pants "sluts" much to my laughter. But clearly, this girl has good ideas she just needs to execute them.
Carrie – This was my favorite look of the night. The styling was A-plus and looked like it could be at a real runway show. Who knew that someone who is all about black and leather could do something so…current?
Char – I liked the proportions and color and print combination. Overall, a solid outfit, definitely in the top.
Emily – This was not good at all. It looked like someone just threw on a top over a dress. Would have been better just to keep it one fabric.
Fäde – Very nicely done, and by looking at the designer you wouldn't expect such an elegant look but definitely one of my top picks.
Hernan – It's a pretty basic dress. Certainly too safe for the runway.
Jefferson – Those shorts, as Nina Garcia said, "WTF". I couldn't believe Nina would say WTF, but she did. It looked like a not very well-made bathing suit in my opinion.
Kini – So basic. It looked like you could find this at Ross or Marshalls. But a safe look.
Korina – It looked good, except there were some issues with the crotch area. The design was bunched up in there. Oh, my.
Kristina – Very beachy, sporty luxe. It's on trend but it didn't exactly wow me.
Mitchell – I agree with the judges it was very "junior". If you are going to a do a top and shorts you better turn it out. And he didn't.
Samantha – This was a strong look too. Although, I feel it could use some color. I loathe when designers use all black on the runway. No embellishments, not even a pop of color?
Sandhya – I didn't like it at all, sorry. I'm all for creativity, but as I said before her designs lack a certain refinement. Hopefully she proves me wrong soon.
Sean – It was a nice dress. But why was there a triangle over the model's crotch? These designer's are having issues with their model's crotches.
Who Won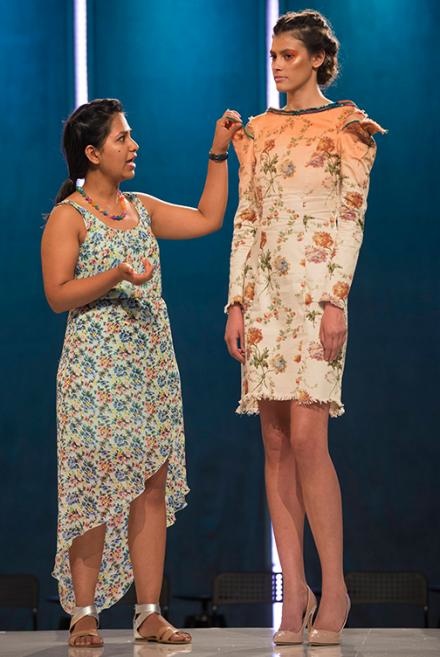 Sandhya and her cutting edge dress. I disagree with the decision but the judges are going to do what they want and I swear sometimes they pick certain winners just so viewers can be like, "what?"
Who Got Eliminated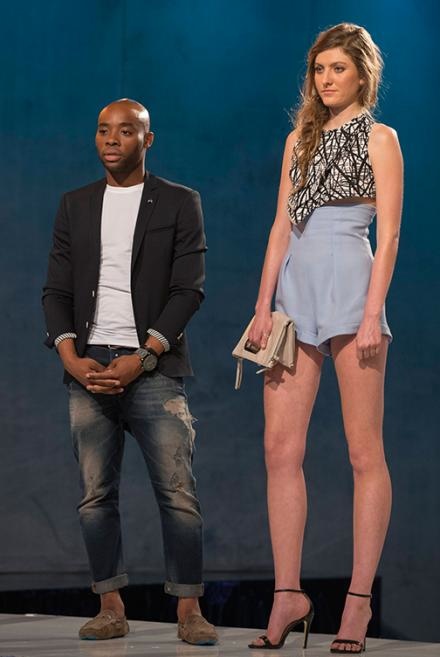 Jefferson and his unflattering top and shorts. It was a bad look, but Mitchell's (who was also in the bottom) was a little worse in my opinion. To loosely paraphrase what Zac Posen said about Mitchell, I don't really want to see anymore of that. But the PR judges have spoken.
So, what did you think of the premiere episode? Which Project Runway designer had the worst look, best look? Comment below!