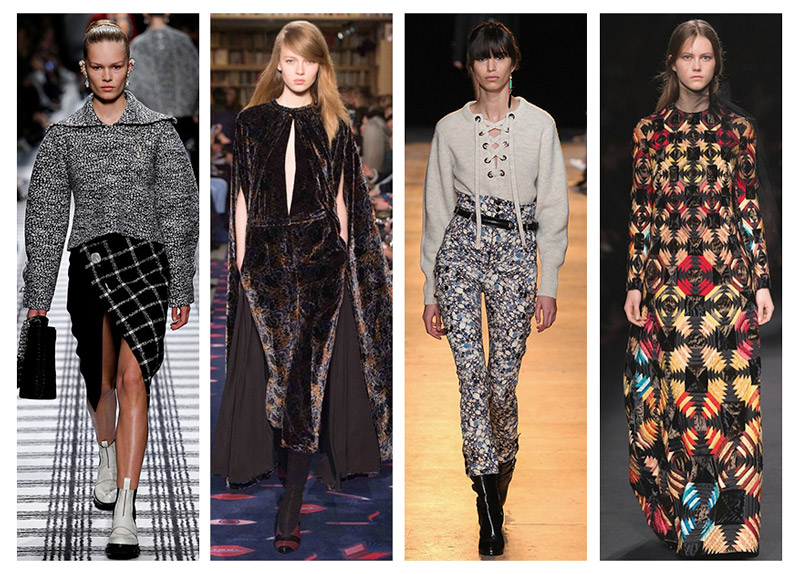 After four cities and nearly a month-long run of runway shows, Paris Fashion week brought an end to the fall-winter 2015 collection previews. While we already took a look at New York's fall 2015 trends as well as Milan's, Paris designers also had their own unique offering of new styles and trends. From high-waist skinnies to groovy prints, these are the looks you will start to see everywhere in fall. Check out all of Paris trends below.
Paris Fall 2015 Trend – Groovy Prints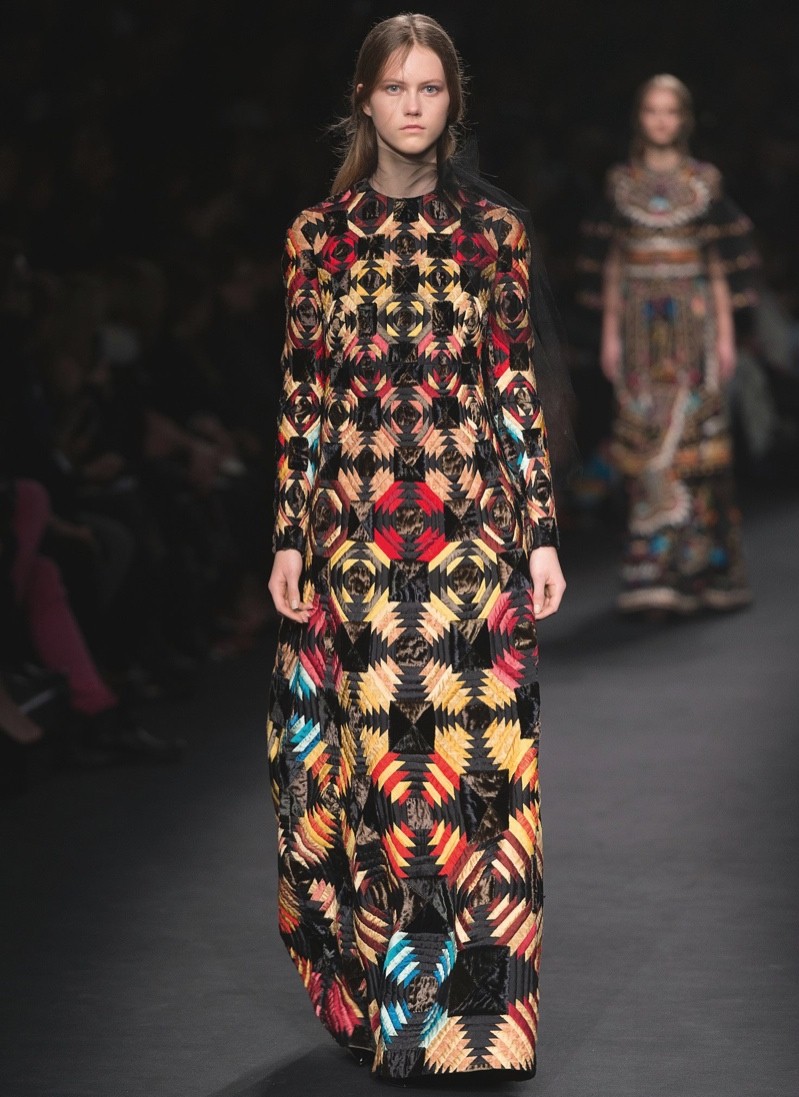 The 1970s struck a chord with Paris designers for fall 2015, with many labels showcasing their own take on groovy prints. From psychedelic waves to optical stripes, designers pushed the limits of taste on the runway. At Valentino, a mostly black and white collection got a little help in the color department thanks to bold, quilt-like fabrics.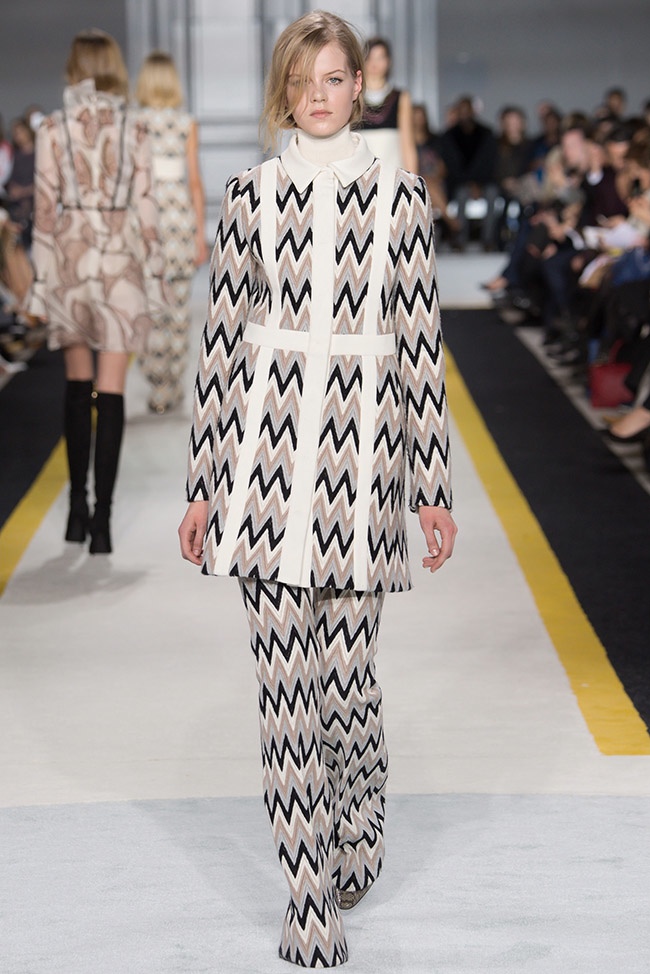 Groovy Prints–At Giambattista Valli, the Italian designer continued his love affair with 1970s inspired silhouettes. Showcasing colorful chevron motifs, Valli made a statement with flared pants and covered up necklines.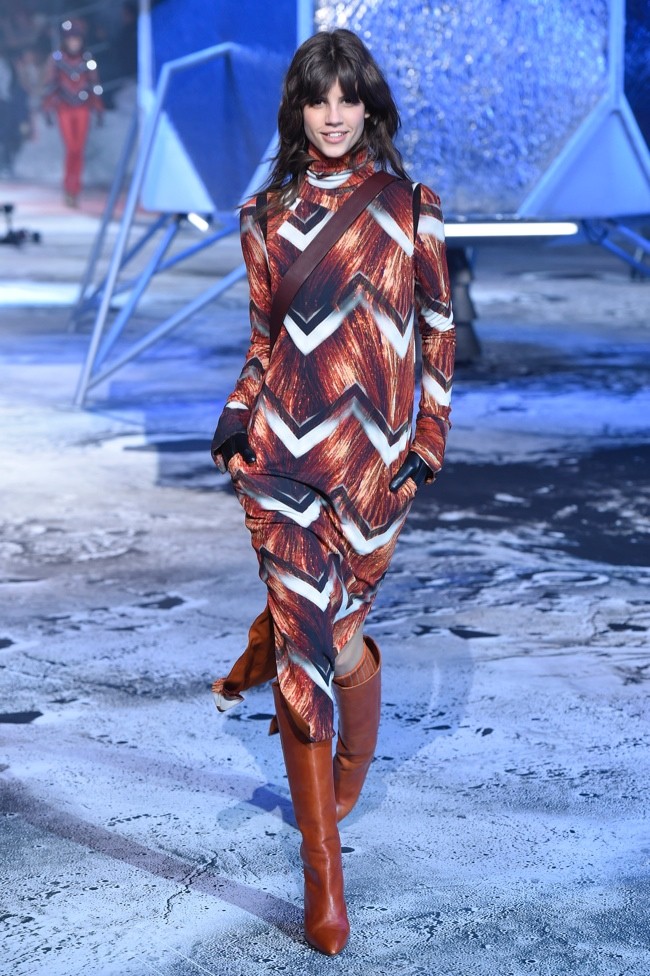 Groovy Prints–With a collection presented on a lunar landscape, H&M Studio appeared to get into a seventies groove with a vintage color palette and whimsical prints. A high-neckline ties into the retro look.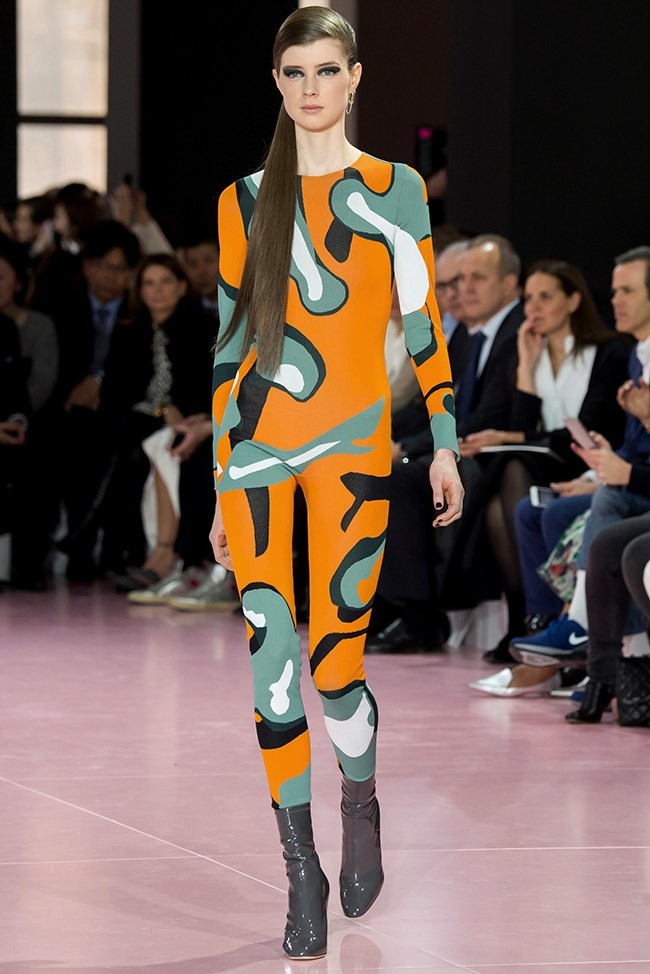 Groovy Prints–Creative director Raf Simons decided to create an animalistic collection for Dior's fall 2015 collection, going with groovy prints on everything from shift dresses to even body suits. Worn with vinyl boots, the Dior woman will certainly stand out from the crowd next autumn.
Fall 2015 Trend – Puffy Sleeves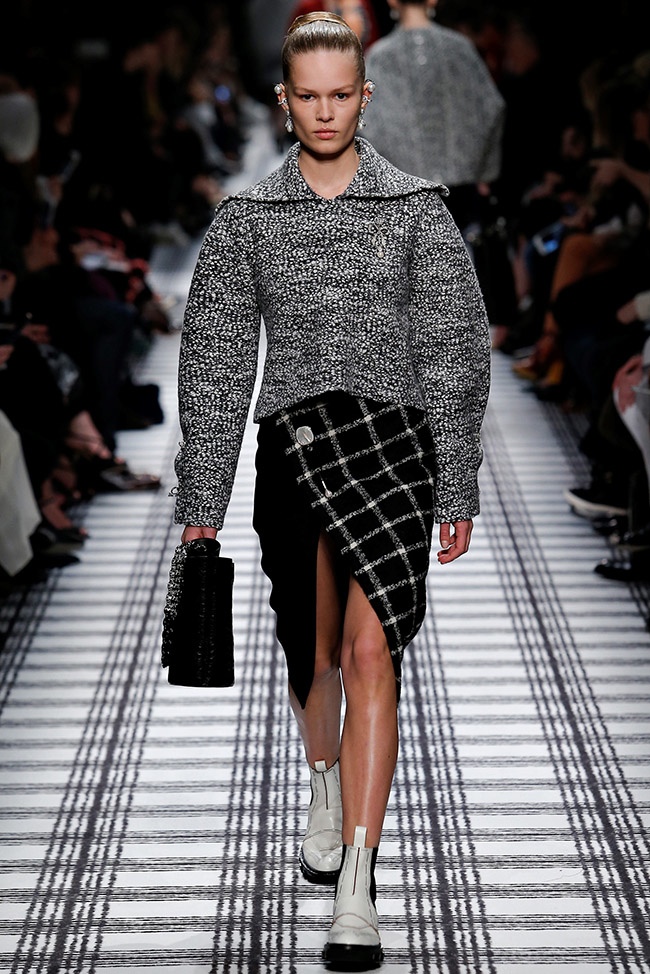 Is the power dressing look back in style? At Paris Fashion Week, many designers went for a puffy sleeve look that became popular in the 1980s. The strong shoulder also creates an illusion of a smaller waist as well as a more dramatic silhouette. At Balenciaga, Alexander Wang looked to the future with a convincingly modern collection full of cocoon coats and dresses.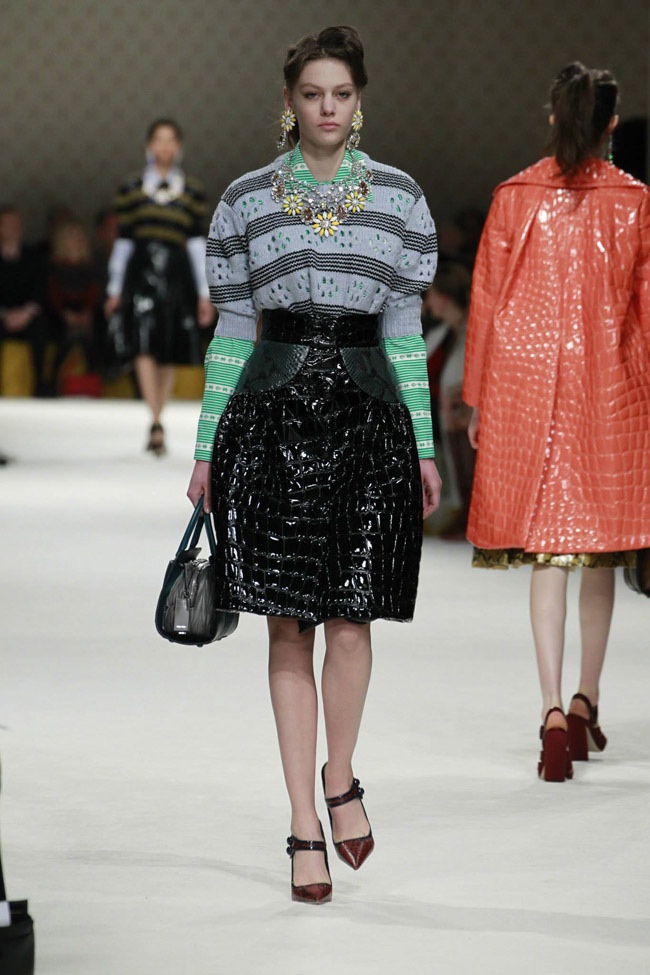 Puffy Sleeves–Looking like finds from a vintage store, the Miu Miu fall 2015 collection was not afraid of color or shape. Models wore striped sweaters with bold, puffy sleeves layered over long-sleeved shirts and tucked into high-waisted skirts.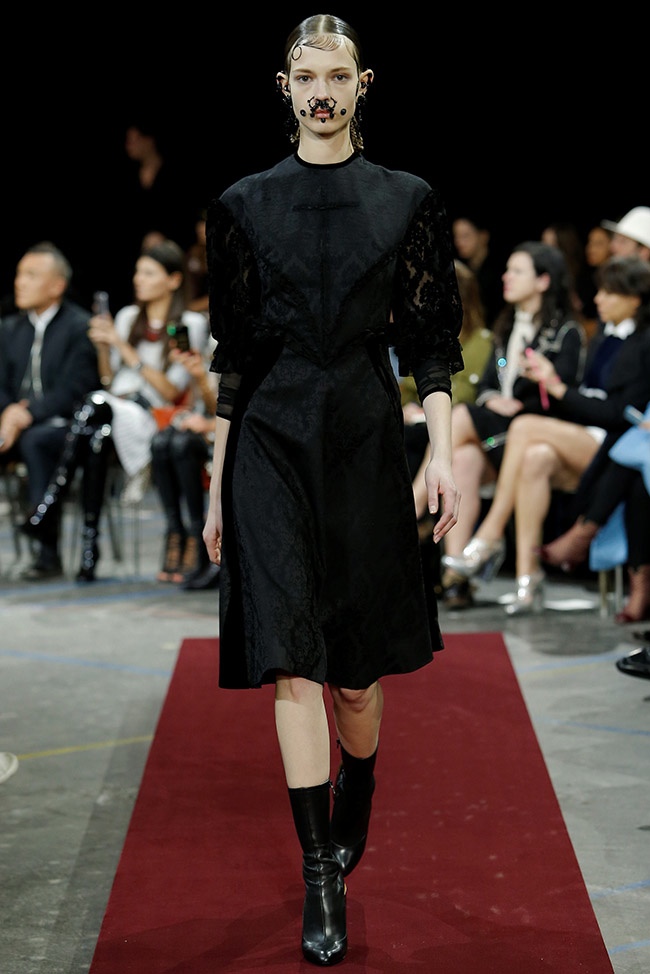 Puffy Sleeves—Givenchy's Victorian inspired collection saw a more stronger sleeve shape in black and lace. Demure as it is, Riccardo Tisci brought an edge to his Victorian girl with boots and dramatic face jewelry.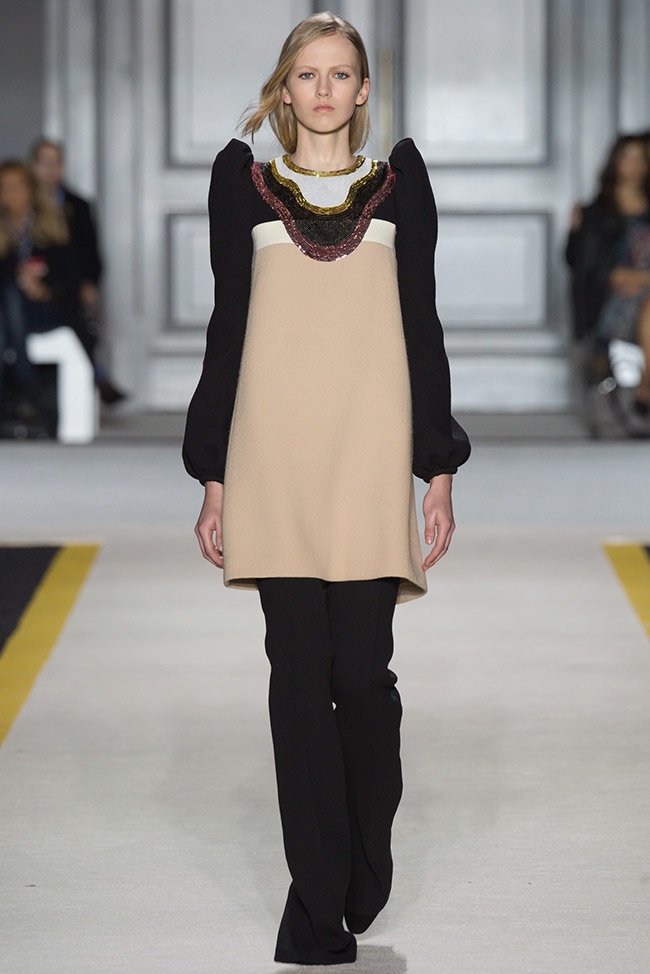 Puffy Sleeves–With a collection steeped in 1970s references, Giambattista Valli turned up the volume with puffy sleeves. Paired with wide-legged pants and long dresses, the look got embellished with jewelry looks.