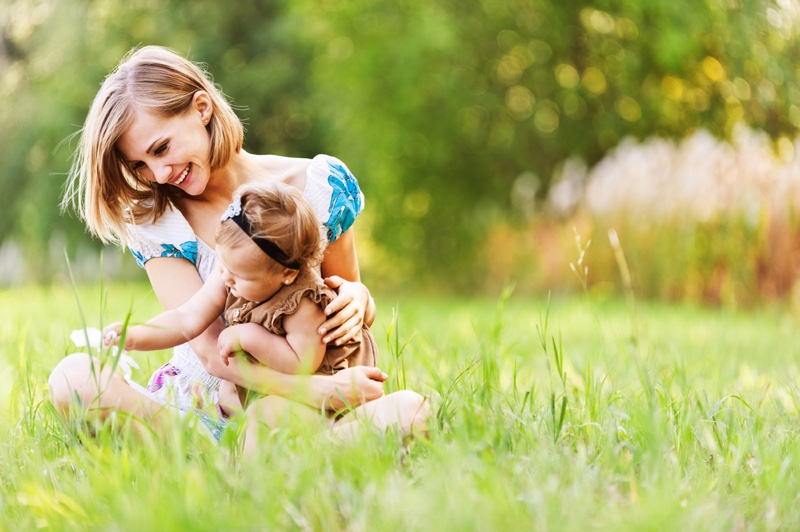 Hey, Mama! We heard you are in need of a new self-care routine. Being a mom is one of the most important jobs out there, and it's also one of the toughest! You give so much to your children, whether they're a newborn or a teenager, so it's critical to fill your own glass from time to time so that you can continue to fill up the glasses of your kids. Establishing a regular self-care routine could help you not only relax and center yourself, but also help you become the best mom you can be. Whether you're a seasoned pro at self-care and you're looking for inspiration for new ways to recharge or you are new to the self-care world and want to learn where to start, we've not only included tips on how to create the perfect self-care routine for yourself but have shared our favorite self-care methods.
While the term self-care may have risen to prominence recently and seem like a frivolous thing to do, self-care has been around for centuries. It has many proven health benefits. Self-care could be something as simple as getting a manicure and pedicure or as adventurous as booking yourself a vacation. But it's also many other tiny self-care activities that stand to make a huge difference in your life and can even help you appreciate your mind and body more so than ever!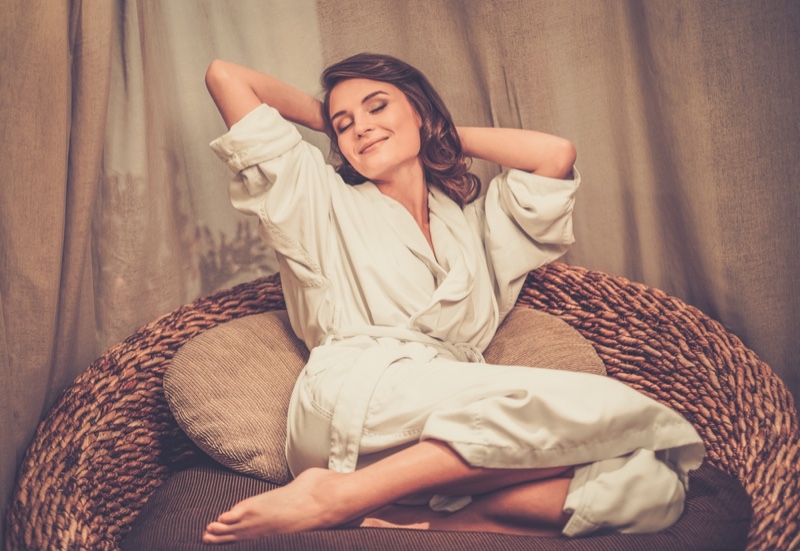 Creating a Routine
While self-care may seem easy, research shows that most people don't practice self-care as much as they should. In fact, many people claim that they don't have time for self-care. As a mother, it could be easy to fill your day with things you need to take care of because you are balancing your household and kids. But it's critical for you to take time out of your day to spend on yourself.
Take Five – We want you to be successful in creating a self-care regimen, which is why we recommend you start with taking five minutes a day to do something that brings you joy. Once you accomplish this for a few days in a row, find one day a week that usually isn't hectic or busy for you—whether it is in the morning before everyone wakes up or after you drop the kids off for school—and dedicate an hour for yourself.
You could read your favorite book, take a bath, put on a face mask, or take a long walk through nature. All of these activities are easy to fit into your routine, but they still provide so many benefits. The hardest part of building a self-care routine is taking the time for yourself, which is why it's best to start out with small activities and then build up to longer breaks once you feel more comfortable pampering yourself.
Set Boundaries – Setting boundaries can be tough, but when it comes to your self-care routine, it may be beneficial to set boundaries with your kids, family, friends, or significant other. Let them know that you have blocked out time exclusively for you and that you would love some peace and quiet. Having your family and friends onboard can help you stay on track.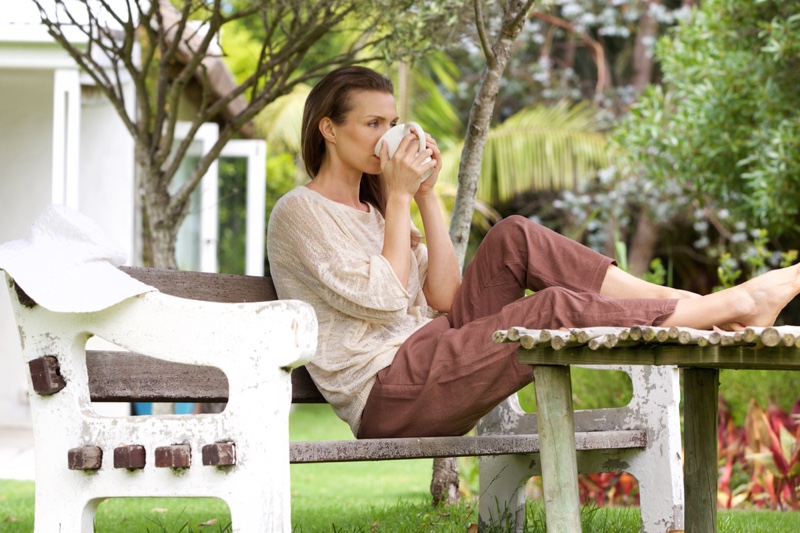 Self-Care Activities We Love
Now that you're familiar with how to create a self-care routine, here are some inspiring ideas on how you can take time for yourself. There's no wrong way to care for yourself, as long as you feel like you are truly investing in yourself and filling the time with things that bring you joy.
Invest in Cute Loungewear – If you spend most of your time at home, cute plus-size loungewear could add a little pep in your step. When you dress up—even if it's just in plus-size legging outfits that make you feel cute and comfortable—your confidence soars, and you'll go about your day in a pleasant mood.
Head to Bed Early – Everyone needs the proper amount of sleep to function properly and feel their best—eight hours to be exact. As a mom, you're probably missing out on critical sleep time because everyone depends on you. Get your family and friends on board and tell them about your goals for your sleep schedule. Having people understand what your needs are could help you get to bed on time or earlier. Whether getting more sleep looks like setting your alarm clock for an hour later in the morning or jumping into bed 30 minutes before you're used to, either way, more sleep is one of the greatest forms of self-care.
Spa Day at Home – Whether you're into face masks or luxurious body scrubs, take time one day a week to pamper your skin! You can also turn on some relaxing music and diffuse essential oils while you relax to create your own spa environment.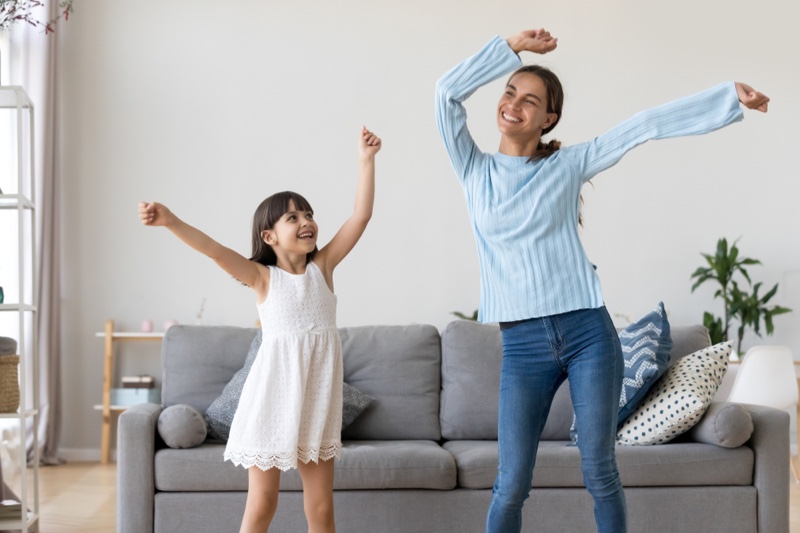 Dance Party –  Yeah, we said it! When was the last time you turned on your favorite music and moved your hips? Dancing is great for your mental and physical health, so make a playlist of tunes that make you want to dance and take 15 minutes for yourself. Moving your body will make you feel so good all day!
Pour Yourself a Drink –  Once you put the kids to bed, enjoy your peace and quiet time with a nice glass of wine. You can either reflect on your day or think about things you're excited about as you sip on your glass of wine.
Yoga – No fancy yoga studio membership required here! There are so many yoga workouts you can find online for free that only require you to take a couple minutes out of your day! If you find yoga to be intimidating, there are many yoga instructors who weave the body positivity movement into their instruction to make people of all shapes, sizes, and experience levels feel welcome! Whether you start your mornings off with a quick yoga session or take a quick stretching lunch break, your mind, body, and soul will thank you!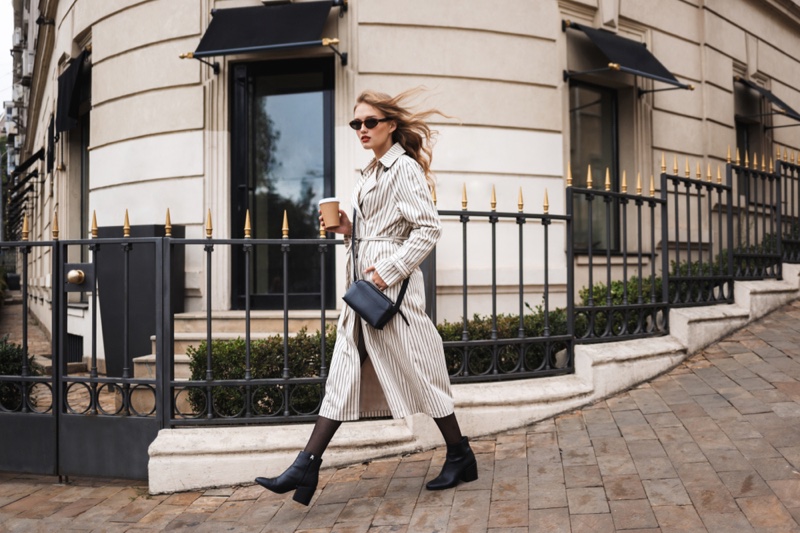 Go for a Walk – If you find yourself on edge one day, schedule some time to take a walk outside. If your kids aren't driving you nuts, you could even bring them along. But it would be especially nice for you to get out and get some fresh air.
Meditate –  The concept of meditation can be hard to grasp, and it may seem more stressful than relaxing if you're not familiar with it. However, there are many apps that can help you build a meditation routine with guided practices. These apps allow you to unplug from the rest of the world and relax. What's more, meditation can last anywhere from 3 to 15 minutes, which means you can usually fit them into your busy schedule with ease. These powerful meditation breaks will have you feeling clear-minded and relaxed.
Self-Care Will Fulfill You
Having the most important job in the world can be stressful, which is why we hope this self-care guide and these routine tips can help you build days that fulfill you. You deserve to care for yourself and indulge yourself in the things that bring you joy!