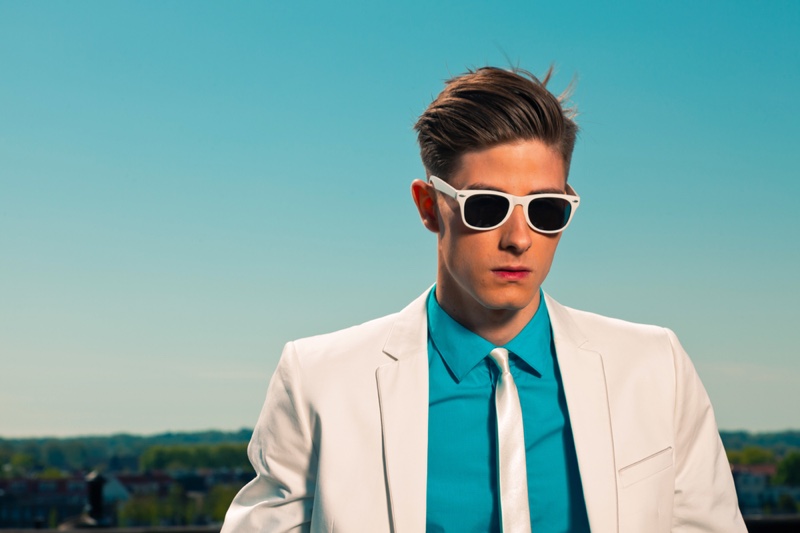 Your man's last year's short sleeved t-shirts, flip-flops and the few pair of jeans in his wardrobe might still cut it, but there is no harm in updating his wardrobe with a few versatile summer pieces. Additionally, unlike us women, men tend to have a hard time finding the right colors and styles to wear during summer. Believe us when we tell you that he will appreciate you going out of your way to get him something cool this summer.
To make your shopping easier, we came up with seven versatile summer pieces you can get him this season. These pieces are bound to give him a cool look without diminishing his style.
1.
A
Tailored
Short Suit
A short suit is a gold standard for the summer season. This is a trend that has been gathering momentum in the past years. Of course, the defining feature of the suit is the short. Ensure it finishes just above your man's knee and that it tapers a bit on the thigh.
This is a style that can be worn comfortably on hot summer months since wearing a full-body suit might make one look out of place. It is also a great look for men who are very secure about their masculinity. Additionally, if your partner loves to show some leg, let him do it with a short suit.
Buy one made from a light material such as linen or cotton. You do not have to go with the usual grey and black suit colors. Since it is the summer season, experiment with more vibrant colors such as blue and white.
This summer, buy him a comfortable and elegant short suit, and he might just decide to dump his old cargo shorts.
2.
A
Bomber Jacket
A bomber jacket makes your man look sophisticated cool.
This is a fashionable jacket that is not going to go out of fashion any time soon. This versatile piece will keep him warm during the cold months and give him a casual look in the summer. Even better, he can team the jacket with almost anything in his wardrobe. Think in the lines of jeans, chino pants, shirts, and t-shirts.
If you want to make sure his jacket is unmatched, pay a few extra bucks and buy a lightweight leather bomber jacket. This will be a great piece for those cool summer nights when the temperatures are not as brutal. Alternatively, you can get him a bomber leather jacket that comes in a lighter color such olive or tan or a perforated one that will keep his body cool even during the hot afternoons.
You can't go wrong with an authentic leather jacket. It does not only give your man a cool look, but a high-end one too.
3.
Chino
Pants
Sometimes the summer gets too hot for jeans. Light chinos are the perfect substitute in such instances. They are the smart casual definition of summer.
These pants strike the perfect balance when it comes to comfort and style. Because they come in solid colors and are light in weight, they have a coolness that is hard to achieve with jeans. Additionally, if your man is not a shorts guy, chino pants will do just fine.
Buy the ones marked lightweight and be sure that they are not too long or too tight. Do not compromise on the clean lines and drape if you want a good fit. You can opt for versatile colors such as caramel, navy or an all-white pair for the summer parties. You can also buy one in a cool deep color such as beige which will give him a relaxed look in a hot summer afternoon.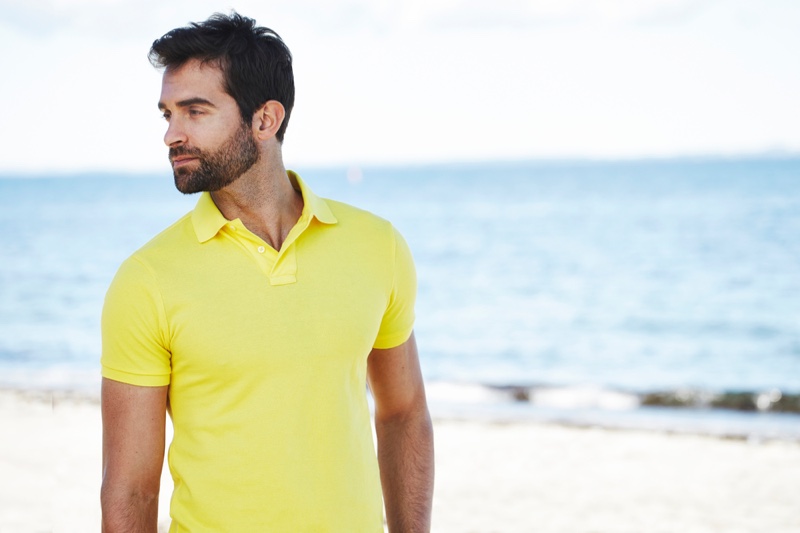 4.
A
Polo
Shirt
A polo shirt gives your man the put together look. What separates this piece from the t-shirt is its versatility. It can be worn for beach walks, a game of golf, or on hot work days.
If he spends most of his days in the office, get him a polo shirt. It will complement his other work appeal. It can also be paired with chino pants for an off the clock night out look.
Try to select one with a simple design and natural color to ensure he does not look too busy when wearing it.
5.
A
Weekend Bag
Summer comes with the perfect excuse to go out of town and have a good time. If you have plans of travelling together before the cold comes biting, you will need a weekend bag. On the other hand, your man might be travelling on a work-related trip. A weekend bag will be the perfect gift.
A weekender is something that will make it easier for him to pack for a long weekend trip. One that is slightly bigger than his briefcase will be perfect. Since they come in all styles and colors, choose one that resonates with his style.
6.
A
Pair of Boat Shoes
Boat shoes provide a laid-back beach style look. It is a shoe that can be dressed up or down. We love it because it is not only versatile but stylish too.
These shoes are hot enough to be paired with shorts or chinos. They can also be paired with a tailored shirt to give a mature and more approachable look. Due to the shoe dressed down look, it complements the semi-formal summer style.
You will find this shoe in a variety of colors and design. You do not have to settle for the common cream or navy color, look out for white, tan, pale blue or beige boat shoes.
It is prudent to consider your man's wardrobe color combinations so that the boat shoes you buy him can tie together his casual outfits. Further, remember to buy a water-based shoe polish to protect the shoe.
7.
A
Summer Hat
A hat is one of the essential accessories for summer. However, many men will first shop for shorts, shirts, and sunglasses and forget a summer hat. You can save the day by buying him a summer hat. It will not only be for protection purposes, but it can be a stylish addition to his wardrobe.
The most common summer hat for men is the fedora hat. However, you can deviate from the norm and buy him a straw hat which is more formal. A baseball cap is another option. A trilby hat which is a lot similar to the fedora hat but comes with a smaller brim is another perfect option.
You will want to choose a hat that resonates with your partner's style. This will see the hat you buy does give a finishing touch to his other summer outfits.
Final
Words
Buying your man something nice will put a smile on his face. We hope now you have an idea of what to get him this summer.
Remember, when you go buying something for him what matters is him. Ensure you buy him something that he is likely to like rather than buying what you picture he will look good in.
Notably, this is not an exhaustive list of versatile summer pieces for him so don't let our list limit your imagination. If you have something else in mind that you know your partner will love, go ahead and buy it.