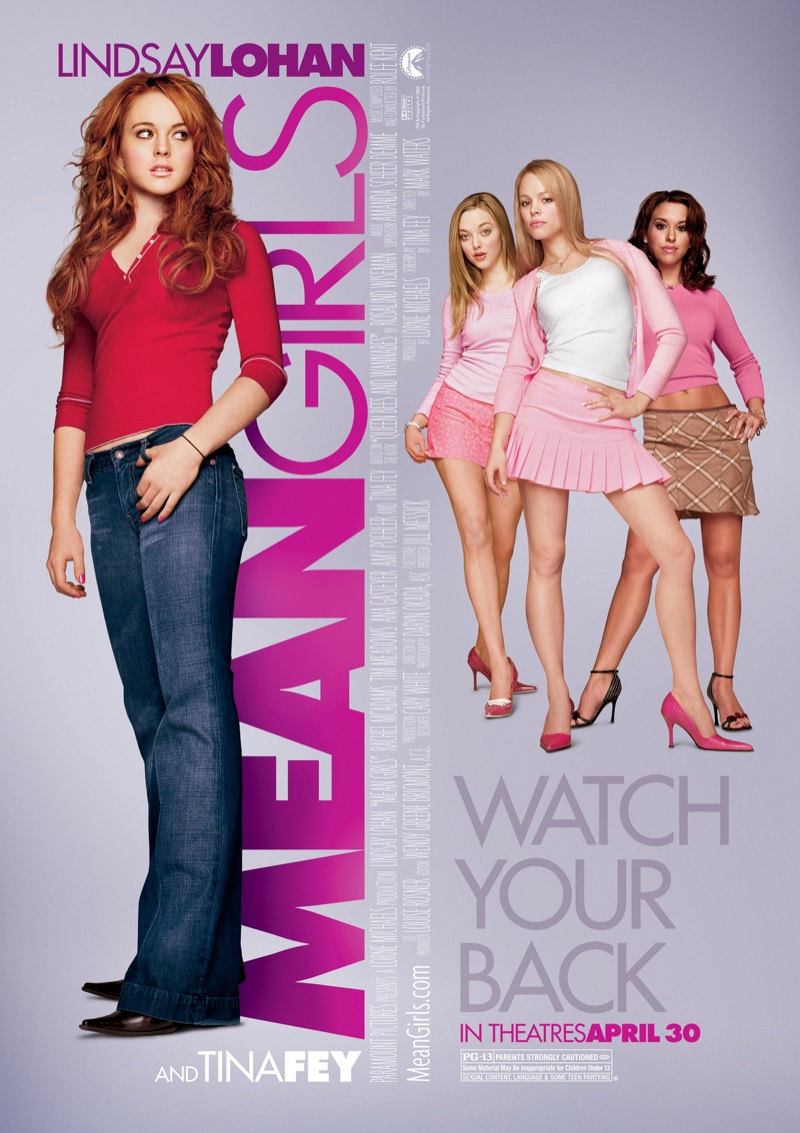 If we start talking about the most stylish student movies for teens, Mean Girls (2004) with Lindsay Lohan's character Cady would probably come to your mind first. The film director is Mark Waters, and the screenwriter is Tina Fey. The idea of the film was taken from the story Queen Bees and Wannabes narrated by Rosalind Wiseman which describes attitudes, behavior and competition between girls in high school, and the damaging impact it has on their future. The film stars Lindsay Lohan, Rachel McAdams, Lacey Chabert, Amanda Seyfried, Lizzy Caplan and others.  
Brief Review
Cady is a newbie who starts studying in a high school where several popular girls consider themselves a school queens. The movie shocks viewers with straightforward sex-related episodes and slang dialogues.  According to the review on https://edubirdie.com/, Mean Girls is an excellent piece of cinematography performed in a satire genre. This is exactly how girls tend to behave in real daily student life. The movie portrays high school life without embellishments of any sort, including the attitudes towards students' minorities, students with disabilities and homosexuals. Also, the hypocrisy of adults is shown along with the feelings of inferiority of the new girl indirectly bullied by the ruling clique.
Cady Heron (Lindsay Lohan)
Cady is 16, and she is one of the students that have the best grades at school. She was educated at home in childhood because her parents were anthropologists living and working in Africa. The survival skills she acquired in Africa didn't help her to become one of the popular girls in school. She didn't take into account that status in this school depends on the stylish uniform and influential friends, not intelligence. Cady was forced to survive in the environment where the places in the school hierarchy are identified by the seats in the cafeteria. This student film shows how informal school hierarchy influences the behavior of all students. Cady has to resist the enormous pressure of this mini-society. This situation explains how in the real, big world smarter and more talented people are bullied by the ones who take advantage of their outer appearance and benefit from their effortless popularity.
Regina George (Rachel McAdams)
Regina is a rich, popular girl, a leader in the class. She rules the Plastics – the ruling clique which received its name because these three girls resemble Barbie. The pink uniform that they wear on Wednesdays shows who the boss is. George inherited her ability to manipulate from her chic mother whose values in life are defined by boob job. Regina pretends to be sweet and welcoming with Cady to know her secrets and then hit her as a victim. She even invited Cady to join the table of popular girls, but her initial goal was to sniff out Cady's soft points.
Gretchen Wieners (Lacey Chabert)
Gretchen is one of the members of the Plastics, Regina's sidekick, who always tries to achieve acceptance of the latter. Wieners also comes from a rich family: her father is the founder of Toaster Strudel. The main "job" of Gretchen is to collect and initiate gossips.
She is a mean-spirited girl that is influenced by Regina who keeps Regina's family secrets. Gretchen uses a lot of dirty slang and makes fetch annoying other students.  She tries to wear nice clothes and comply with Regina's style.  She is not that stylish as Regina and she always compares herself to other girls. Though Gretchen sometimes can nice at times, for example, when she met Cady and complimented her bracelet.
Karen Smith (Amanda Seyfried)
Amanda Seyfried appeared as Karen Smith in one of the best movies for students. Karen is a silly best friend of Regina and Gretchen.
On the contrary to Cady, Karen is slow-witted, but popular member of the Plastics who adopted the role of clown. She entertains the viewers with her vivacity, carelessness, and stupidity. Karen's major function is to bring out the magnificence of gorgeous Regina and perform her minor duties.
Janis Ian (Lizzy Caplan)
Cady made two friends once she entered the high school and Janis was one of them. Janis is a semi-goth who explained Cady the school hierarchy based on the seats taken in the cafeteria and made a plan on how to take Regina down. She warned Cady about Regina's duplicity when Regina invited Cady to sit at the table of "the gorgeous." The plan of Janis was to recommend to Regina the athletes' diet so that she gained a lot of weight.
The movie is highly recommended for students and their parents to prevent similar situations and teach children to respond to these challenges adequately. Also, Mean Girls encourages the spectators to think about the decay processes in the society, their reasons and the ways to address them.