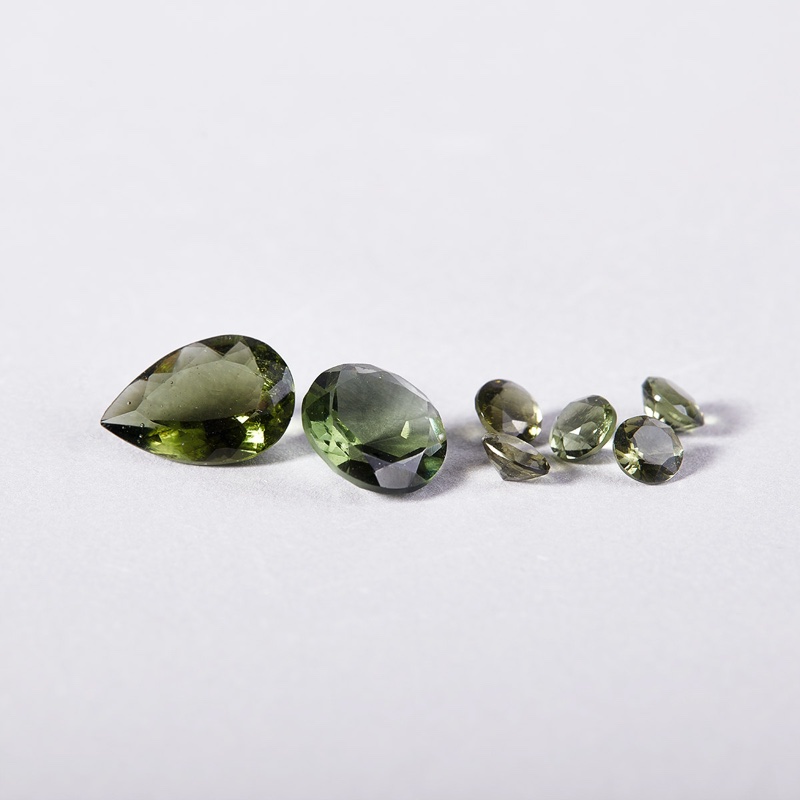 A green color, extraterrestrial origins and deposits only in the Czech Republic (and by rare exception in neighboring countries). These are the characteristics of the moldavite, also known locally as the vltavín. It is truly a unique stone in the world which is without equal. In this article we'll take a closer look at moldavites and beautiful moldavite jewelry.
Where did moldavites actually come from?
The origin of this green gemstone has long been a mystery. Today scientists are mostly inclined to believe that it is as a result of a meteorite a kilometer in diameter which fell to Earth some 15 million years ago. After impact, parts of the meteorite and rocks in its vicinity apparently melted and were hurled by pressure up to 400 kilometers away. Moldavites were then created during solidification, so they are in fact natural, amorphous glass. The place that is still there today to remind us of this cosmic event is called the Nördlinger Ries crater.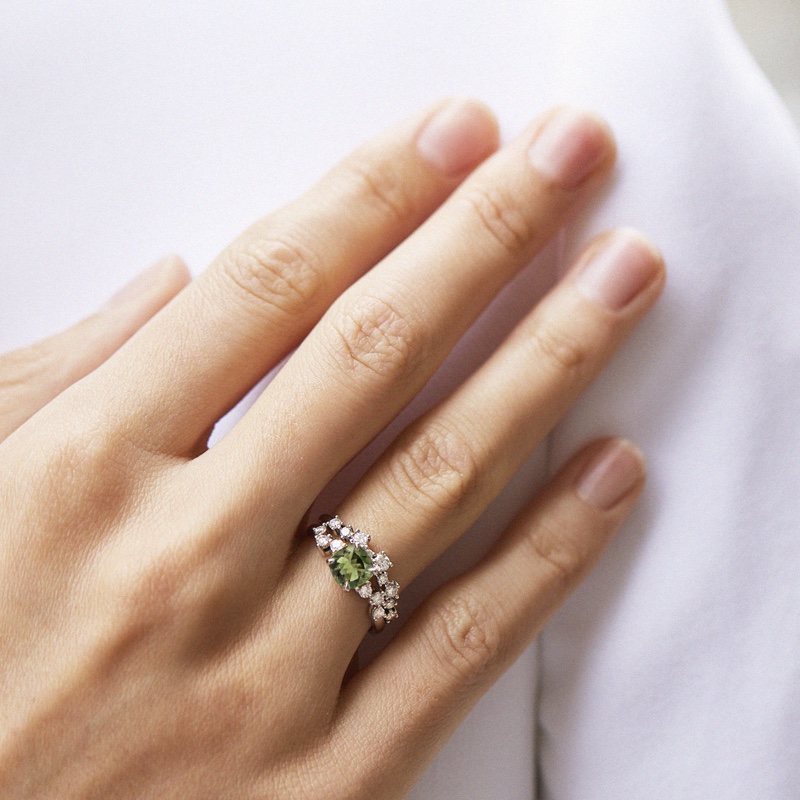 Where did the stone's name come from?
This exceptional gemstone got its name from the place where it was first officially found around 1790 which was Týn nad Vltavou. But why is it then also referred to as moldavite in English? This name was first used by Franz X. M. Zippe, the manager of the museum collection at the National Museum of Prague in 1836. And the reason is simple – Týn nad Vltavou is called Moldauthein in German. Another significant milestone for moldavite was the Provincial Jubilee Exhibition when jewelry with moldavites was first showcased to the public.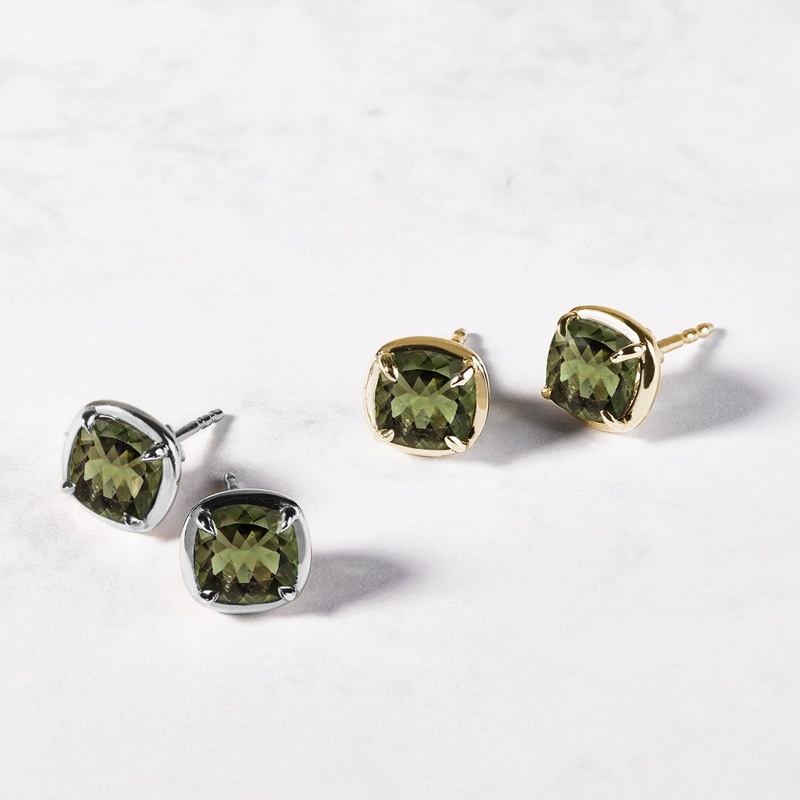 Perfectly imperfect gemstones
Moldavite necklaces and rings have one special feature – the imperfections in the stone are often visible to the naked eye. They are caused by bubbles and the stone's irregular structure which is as a result of the way the stone was formed. So no two moldavites or moldavite jewelry pieces will ever be the same and it is as a result of their imperfections that the stones are so unique and valuable.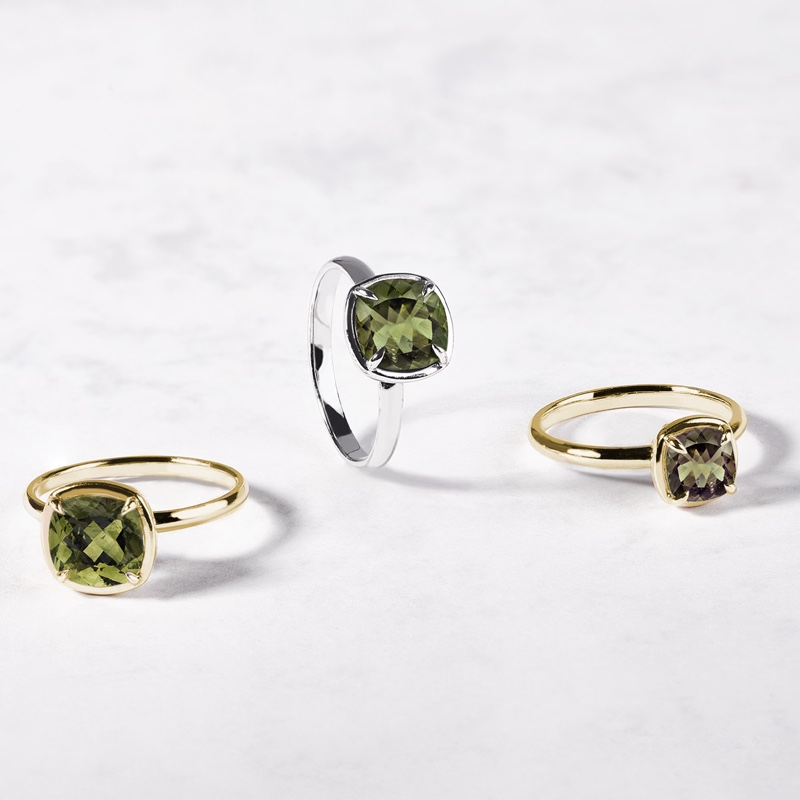 Are there any other similar green stones?
Peridots can at times pride themselves with similar shades of green as moldavites. However they differ in that they may contain elements of yellow or brown in them and the stones don't usually have visible inclusions. So if you are a little worried about jewelry with inclusions for day to day wear or you would like a stone with a slightly more vivid color, peridots might just do the trick. Peridot earrings look youthful and energetic and create a harmonious whole when combined with a peridot ring.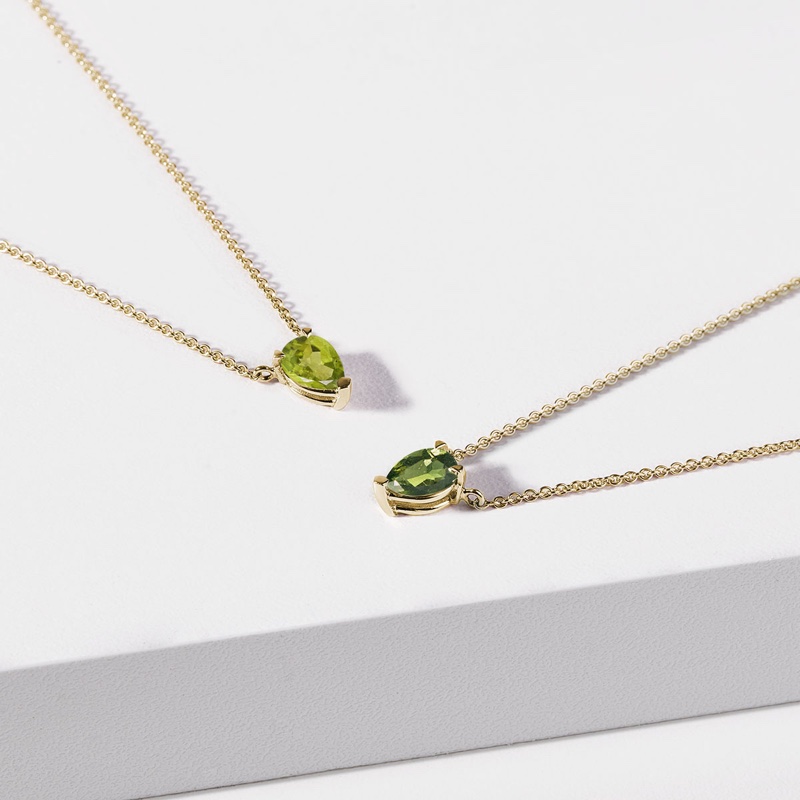 Tips on how to buy moldavite jewelry
If, apart from just jewelry you are also looking for an investment, then you could opt for buying the raw stones themselves. The price of raw moldavites is expected to rise rapidly as their stocks have been dwindling significantly. However for jewelry such as moldavite rings, cut stones would likely be more suitable for practical reasons. What's more, the stone's color will stand out nicely once it has been cut and polished.
When you buy moldavites, above all make sure that you shop at reliable retailers. To an untrained eye, it can be quite difficult to recognize if the stone is genuine or not. For this reason, you should ideally look for jewelers who provide certificates of authenticity for the products they sell and one of them is for example the KLENOTA jewelry studio.
Moldavites are the perfect choice for women with sophisticated tastes who love earthy tones. Are you one of them?