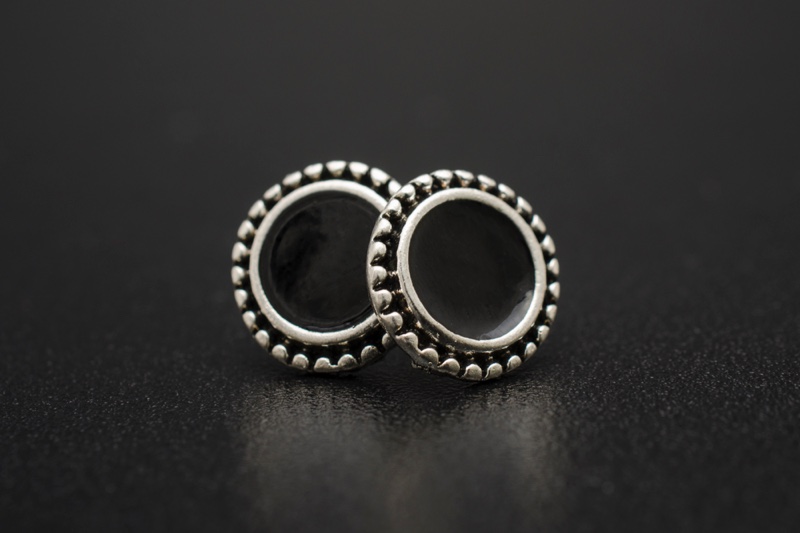 Daith piercing is a perforation that passes through one's innermost cartilage fold of the ear, the crus of the helix. This piercing is quite popular these days, not only among teens but women over 30 as well.  Many people also get this piercing as it works like acupuncture that employs pressure points to cure headaches.
So, if you haven't got daith piercings yet, it's high time to opt for one. And now if you are thinking about what to wear as your daith piercing jewelry, follow our collection guide given below. No matter whether you want casual styles for everyday wear or sparkling pieces for prom or wedding, we have got you covered:
1) Daith Clicker Hoops: Daith clicker rings are quite common when it comes to daith piercing jewelry. They come in a wide range of designs, from gemstone encrusted and Australian white opals to diamond and gold clicker rings. Pick a style that suits your taste. It's better to go for a gold hinged diamond clicker ring as it will perfectly complement all your outfits.
2) Seamless rings: Seamless rings are another common and popular jewelry for your daith piercing. These rings generally arrive with the minimalist design to make your piercing look simple yet elegant. You can go for shapes such as a heart or a moon. For a true super chic look, select a shaped seamless ring in 14k gold. Many rings also come with colored cubic zirconia; shop them if you want to add some shine to your piercing.
3) Circular Barbells: Circular Barbells look great on daith perforations. They feature two end balls that are usually made with pearls, gold, diamond, Baltic Amber and so on. Pick something in nickel-free solid 14K gold for overall sophistication.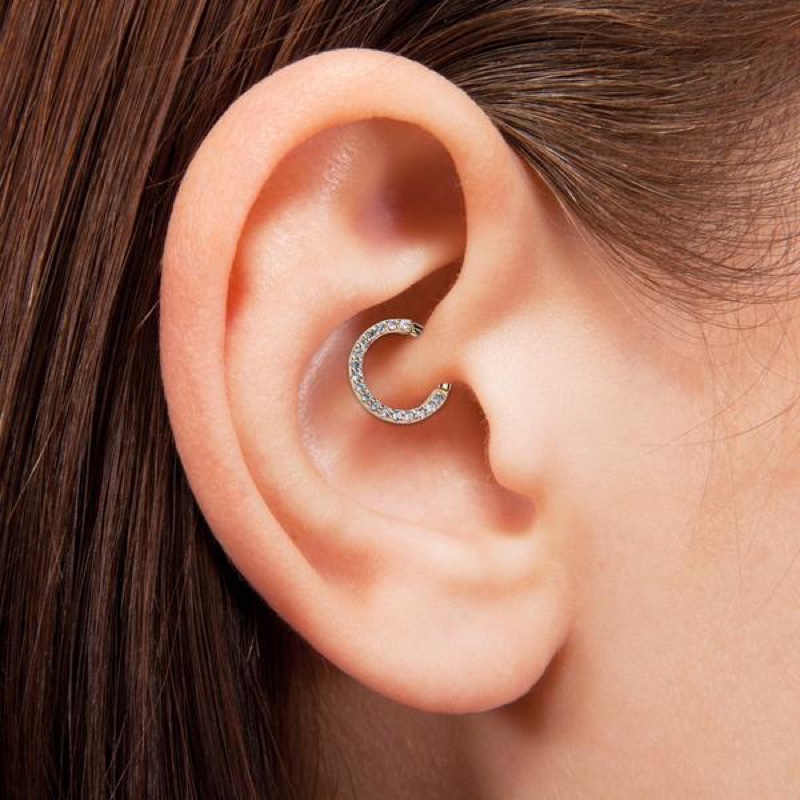 4) Curved Barbells: Just like circular barbells, curved barbells are ideal for a daith piercing. These gently curved barbells offer a classy look while going beyond the norm. The ends of these barbells are constructed with materials such as diamond, color, pearl, etc. You can also pick end shapes such as spikes to give your piercing a unique look.
5) Straight Barbells: Straight barbells featuring round or teardrop cubic zirconia at the ends are a perfect option to rely on when it comes to daith jewelry. These barbells offer simplicity, beauty, and sophistication to a piercing, all at the same time.
6) Spiral Barbells: If you want a sleek and modern look in an interesting design, then spiral barbells would be right for you. They offer a unique look and feel to a daith piercing. Shop for a spiral barbell in solid white, rose or yellow gold to add a subtle shine to your perforation.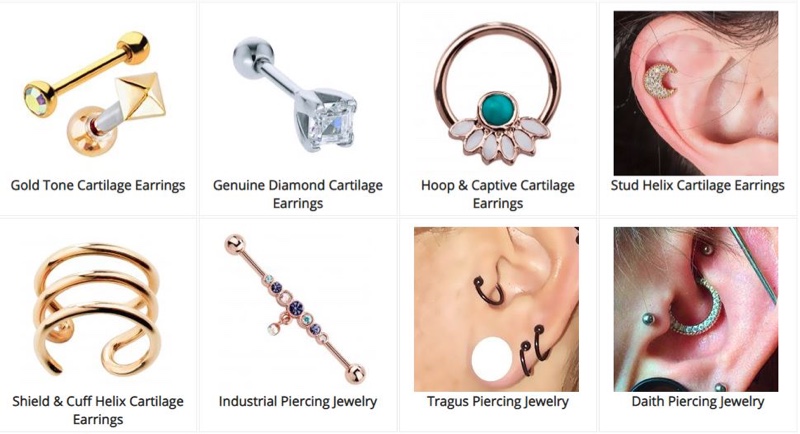 7) Segment Rings: Segment rings offer a sleek and smart alternative to captive bead rings with a secure fit. Simply insert the hoop into your daith piercing and attach the segmented part for a secure hold.
8) Captive Bead rings: A Captive ball ring is the best jewelry for daith piercing as it fits comfortably in the area. Go beyond the ordinary style with a gold twisted captive bead ring. You can shop for beads in opal, pearl, diamond, gold, and gemstones. Something that will also look fantastic in other body piercings!