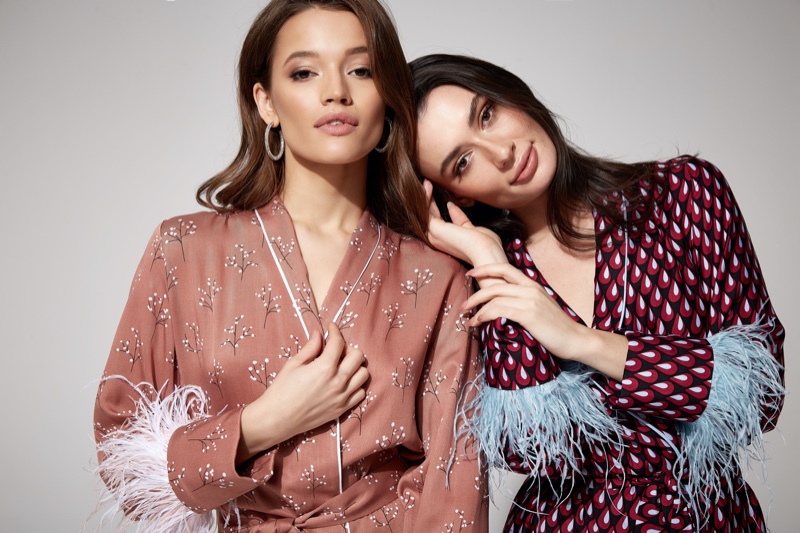 If you've been wearing nothing but pajamas since the lockdowns and work-from-home began, you're not alone. But now that things are opening up and returning to (some semblance of) normal, you don't necessarily have to start dressing in real clothes. You can keep wearing your pajamas – especially because many PJ sets look just like regular clothes.
In any case, it's trendy right now to wear pajamas as day clothes, and with many PJs made out of luxe fabrics and with fun colors and patterns, you can get more creative with pajamas than you can with your regular outfits. Here's how to wear your PJs out of the house and still look polished and put together.

Add Polished Elements to Your PJ Look
A little polish can mean the difference between looking put-together and looking like you just rolled out of bed. Finish off your women's sleepwear looks with sophisticated, elegant accessories that will elevate the look and pull it together. Offset a matching PJ set with a pair of stiletto high heels – and roll up the cuffs of your PJ pants to show them off. Grab an elegant clutch handbag and complete the look with drop earrings, a statement necklace, and a bold red lip.
Mix and Match PJ Sets
Wearing a matching PJ set out of the house isn't the only way to go. You can mix and match tops, bottoms, and robes from different PJ sets for a more interesting look. Grab a pair of silky, wide-leg bottoms in a neutral color to pair with a colorful top. Wear a belted robe as a jacket over a sleek and silky slip dress, and layer that over another piece of lingerie in a bright, contrasting color.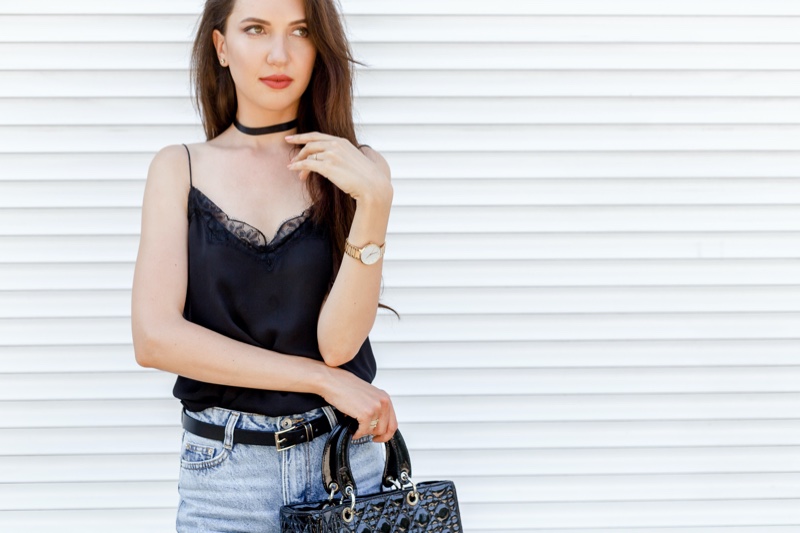 Wear a Short Robe or PJ Shirt as a Top
Pulling off a PJ look doesn't necessarily mean that your whole outfit has to be pajama pieces. A button-down pajama top with a wide collar and piping can look sophisticated yet casual when paired with blue jeans. Leave the top of your pajama set unbuttoned to reveal a crop top underneath. Take a page from the book of one InStyle writer and pair a piped PJ top with a pleated skirt, metallic flats, and a designer handbag. Throw on a long robe over a tank top and jeans.
Of course, you can also mix-and-match your comfy PJ bottoms with "normal" tops. Coordinate a cozy, solid-color turtleneck with a pair of bright and silky pajama bottoms, or wear your favorite trench coat over a pajama set.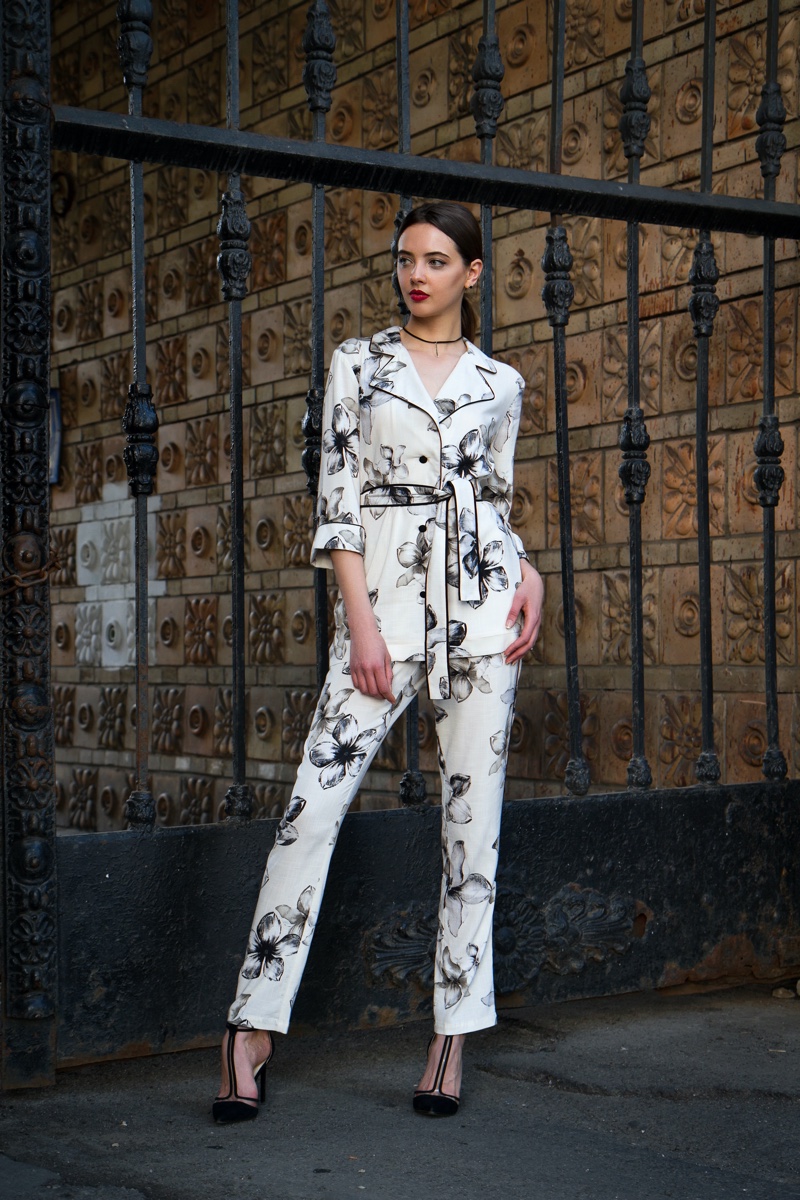 Neutralize Busy Prints
Sleepwear is available in a range of busy patterns and loud prints – no one worries about standing out when they're getting ready for bed. But you don't have to stick to solid colors and muted prints when wearing pajamas outdoors.
Grab your brightest, loudest pajama prints and pair them with neutral accessories. A blazer or jacket in a neutral color, like beige or gray, can tone down and offset a particularly colorful print. Coordinate with a matching handbag and shoes.
Bring Bright Colors Down to Earth with the Right Accessories
Sometimes pajama sets can seem too whimsical for streetwear. Women's sleepwear sets in particularly feminine colors, like soft pink, can look too gentle and sweet to be seen outside of the bedroom.
That just means you have to style your bright colors with the right accessories to toughen them up or bring them down to earth, as necessary. Pair a soft pink, floral, sheer nightgown with drop earrings, a pair of chunky heels, and a handbag in a matching shade, or toughen up your feminine look with a black handbag, matching black mules, and perfectly coiffed hair.
Dressing up a pajama look with statement jewelry, bold makeup, and a more formal-looking handbag is always a good choice, but it's not the only one. A messy bun or braid and a pair of sneakers or Birkenstocks, or even a couple of indoor-outdoor slippers, can pull your look together, too, especially if you're going for a more comfortable, casual aura.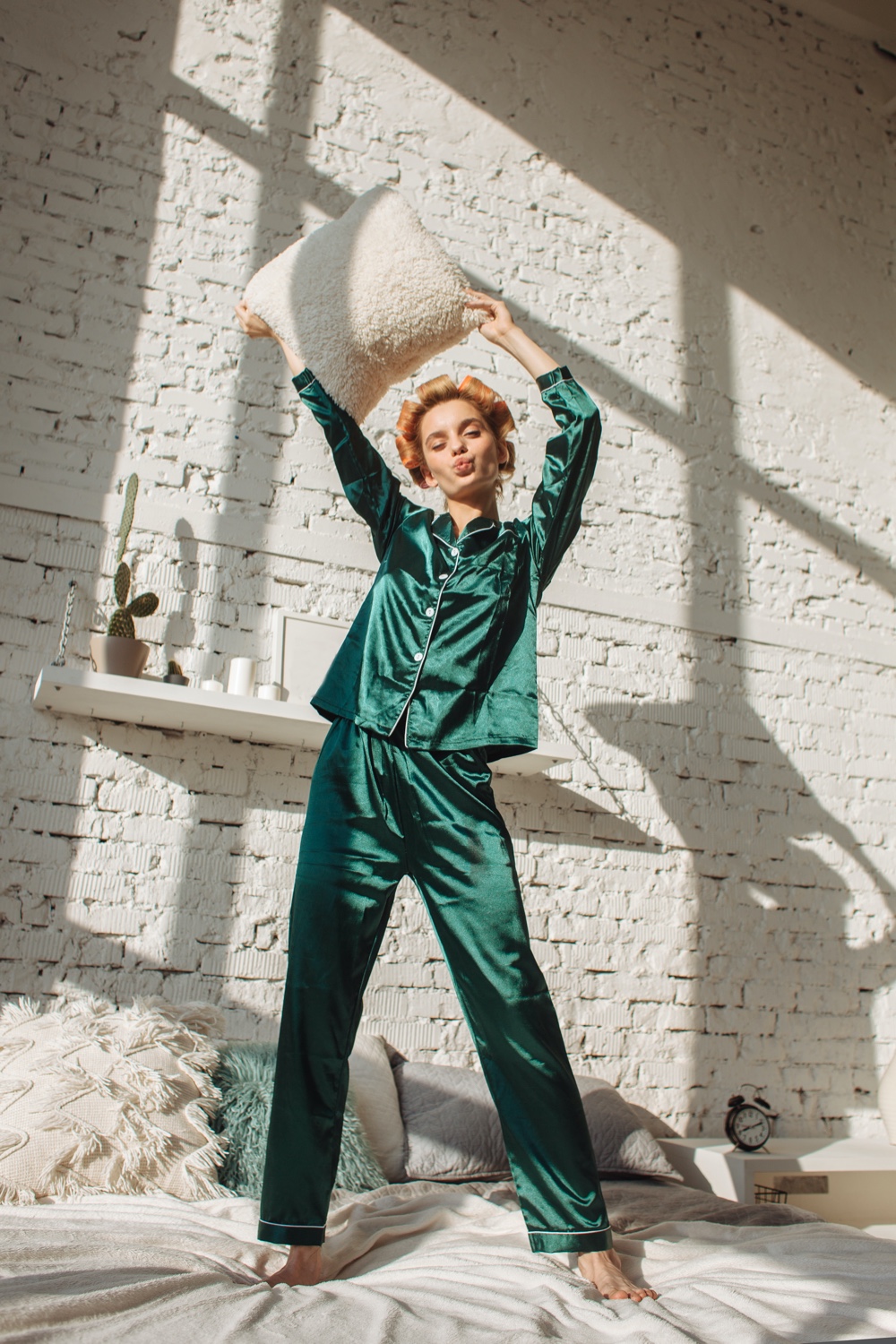 Add the Secret Ingredient – Confidence
The number one reason why many women struggle to pull off a pajama look – or any look, really – is that they fail to wear the ensemble with confidence. Feeling confident in your sartorial choices can go a long way towards making you look stylish instead of sloppy. Square your shoulders and walk with your head held high as you show off your pajama sets to the world.
It's time to take pajamas out of the bedroom. As you head back out into the post-pandemic world, you can stay comfortable in your favorite PJs, at the office, in the grocery store, on a night out, or wherever you happen to find yourself.