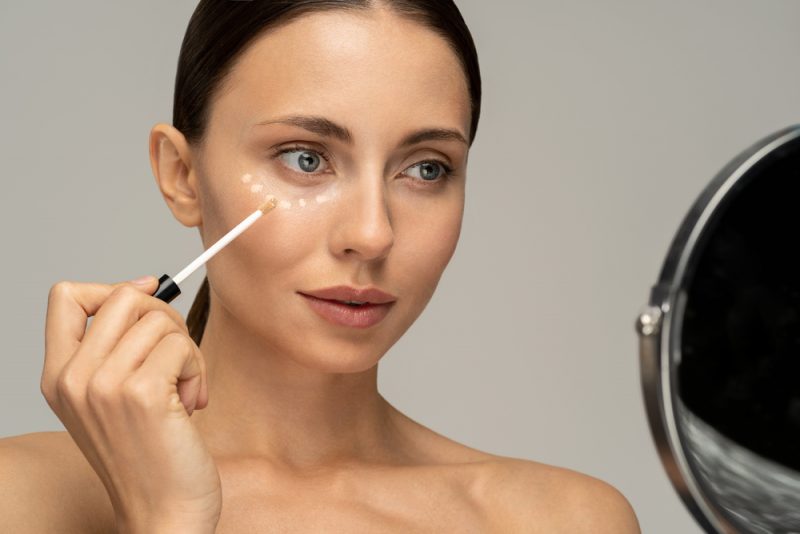 Getting the appropriate color of concealer for your skin type and tone can be confusing, but there is no cause for worry because we have provided pro tips that will help you learn how to choose the best natural concealer for your skin needs. Also, you'll learn how to apply a concealer correctly and cover dark spots on your skin.
Find the Right Color
Select a color that matches your skin tone. Apply a lighter shade around the under-eye, a few shades lighter than your skin, so that you can cover dark lines under your eyes. Also, use about one or two shades darker for contouring.
To select the perfect shade, brush different shades of concealer on your jaw, then use a mirror to view your jaw at a close range to choose the color that best fits your skin tone. Do it in a place with natural light. You may consider moving to the window or go outside.
Select Coverage Level
Use full coverage to cover very dark circles completely. You can get a lighter coverage by adding one drop of serum or oil to the concealer. You can use foundation anytime your skin is more relaxed, and your skin complexion is not too dark.
How to Use a Concealer
Here is how to use a concealer to achieve different purposes:
Concealing Dark Circles: Reduce the darkness around the area. Use a primer (peach-toned) or a lighter shade of concealer, and then apply another one that rhymes with your foundation and skin tone.
How to Reduce Puffiness: To achieve this, use the concealer on the right parts. To get rid of bags under your eyes, you should begin with cream for eyes that have caffeine in them. Use a tissue to blot the affected area, then dab with a concealer. Don't apply concealer directly on the puff itself, but under the puff (the area that appears darker and swollen).
Covering Blemishes: To cover pimples, blemishes, or spots, you'll need a liquid-liner or a concealer brush that has fine tips. To apply concealer on such areas, dab concealer on the affected parts, and then gently tap it using your finger. Now, use a furry brush to apply a matching shade of concealer to blend the skin surrounding the area. For finishing, gently pat with powder.
Reducing Hyper-Pigmentation: To reduce dark patches or spots caused by hormone changes or sun, cover them with a peachy-undertone color corrector before applying the right concealer for your skin color.
How to Tone Down Skin Redness: Brush one coat of green primer or color corrector on your skin before applying your concealer. The green tone counteracts ruddiness since green naturally contrast red. Although it's not easy to get the right shade of concealer for your skin tone, the above tips will guide you properly to achieve this and also apply concealer beautifully.