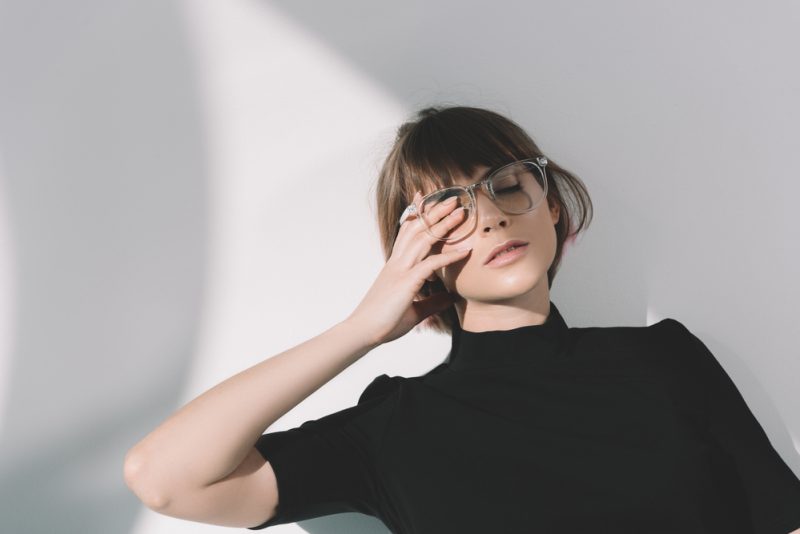 Fashion and functionality have been at odds with each other ever since someone; for some reason, thought that stilettos were a good idea. Luckily, with some apparel, you can have both. In choosing clear glasses, for instance, you can have the style you desire by picking the frames that suit your personality best. And, you can have functionality by choosing the right type of lenses. This will be the focus of this article – How to pick the best lens for your clear glasses.
Before we dive into the details, we have to warn you that this will not be a walk in the park. Sometimes, with all the different kinds of lenses and coatings available for you in the market, you may experience a bit of information overload. What it all boils down to, however, is to pick what features of lenses are worth buying. Remember that the lenses are the gates that you have to look through every day. There is no sense of rushing such an important decision.
How Important are Lenses to Clear Glasses
The frame is the cherry on top of the ice cream sundae that is a pair of glasses. But the ice cream itself has to be the lenses. They are the part of the glasses that do the work and are also visible, thus contributing to the look. The main things that you have to consider when choosing a pair of lenses are appearance, vision, safety, and, of course, comfort.
People often get it wrong when they shop for glasses. They spend hours upon hours picking the right frame, then neglect to choose a good pair of lenses to go with it. This is a shame because the purpose of why anyone wears glasses is the lenses, and the value you get from wearing one directly correlates to the quality of the lenses.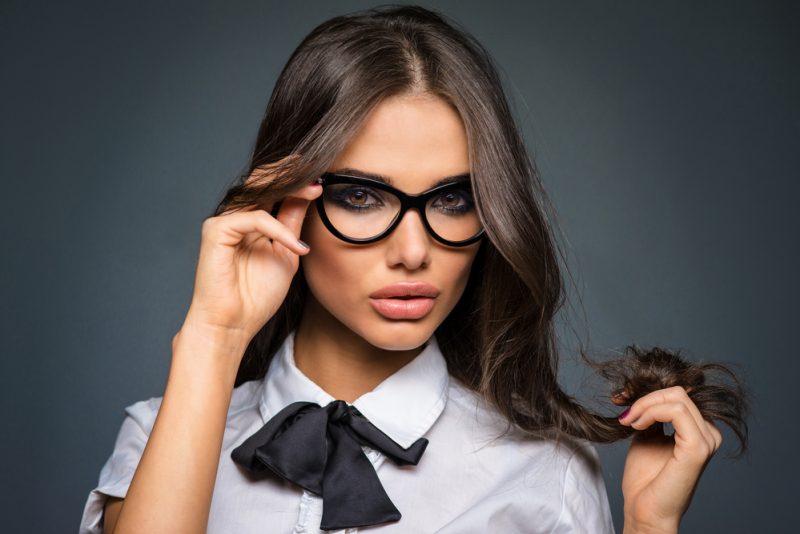 Kinds of Clear Lenses – Pros and Cons
Glass Clear Lenses
Since time immemorial, the lenses eyeglasses in were always made of glass. Made from silica, this substance is abundant and making glass cheaper to manufacture. As a hard substance, it also presents the best optics and is a lot easier to clean. Though glass lenses are rarely used today, it persists with those that have a specific inclination to it.
The problem with glass, however, is they are brittle. Even the high-quality ones tend to break and shoot off little fragments of itself. Because it is a hard compound, it can do damage to your eyes and can even cause blindness. This is the origin of that prominent saying about hitting a guy that is wearing glasses.
Plastic Clear Lenses
Glass dominated the lens industry until 1947 or the year that plastic glasses introduced. Today, they remain to be the more popular option when manufacturing a pair of glasses. They are lightweight, do not break often enough, and can still produce excellent optics.
Most importantly, they have overcome glass lenses when comparing the costs of creating them.
Polycarbonate Clear Lenses
Polycarbonate lenses were first used on thick industry-grade equipment such as the masks that welders wear. This usage of the material is relatively new as it was first used in the early 1970s. A few years after that, other uses of polycarbonate lenses, such as for regular glasses, became common and started becoming more popular.
Polycarbonate glasses are known for being tough. It is the same material used on bike helmets, children's glasses, and even bulletproof cases. It has become the preferred eyewear when talking about safety.
Recent developments introduced new ways of mixing materials to create better versions of the glass that are both lighter, harder, and cheaper to the manufacturer. If this goes on, the clear polycarbonate glasses could become the mainstream glass of the future.
High Index Plastic Clear Lenses
The clamor for a thinner but harder lenses led to the development of high index plastic lenses. It is made with a similar compound as the polycarbonate lens, albeit a lot denser and compact. This made it a better alternative, but it is more expensive to its heavier, bulkier counterparts.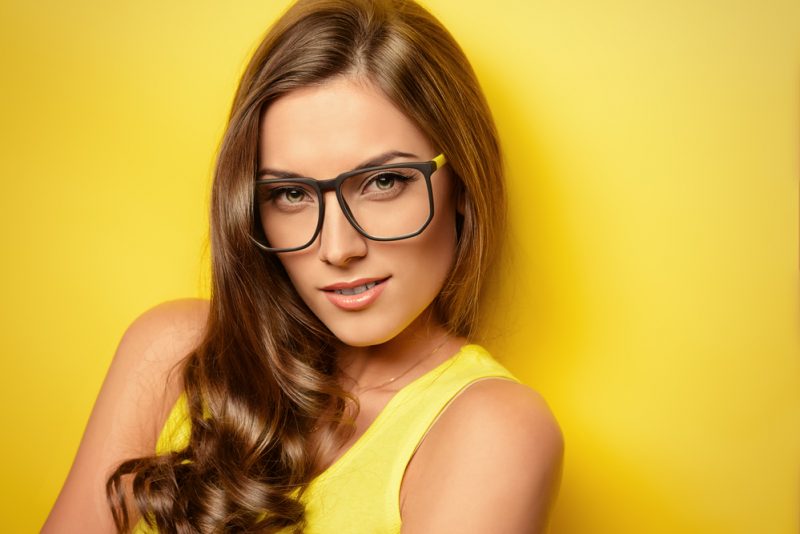 Clear Glasses Treatments
Here we will now start to talk about the things about glasses that we do not see. While the frame and the color of the lenses itself are easy to discern and relate to, the coatings are a bit less salient. This also makes it tougher to sell patients to the who do need them. Keep in mind that to ensure that the wearer will get the most out of his or her glasses, he or she should, at the very least, consider the essential coatings.
Clear Glass Anti-Scratch Coating
This one's a bit self-explanatory as both a means to protect your investment, as well as your eyes. The anti-scratch coating ensures that your glasses will not suddenly turn blurry even after scratching it against a rough surface.
Most lens materials, even the toughest ones, will still succumb to scratches. This is because almost every material that is clear and transparent is softer. 
Clear Glass Anti-Reflection Coating
One of the first things that usually have shoppers up in arms is the anti-reflection coating that the store might want you to buy. It might sound like a scam thinking just how little value it adds to your pair of glasses. Some might even try to believe that a few reflective lights here and there should not bother you. However, anti-reflection coating does not necessarily only remove the glare that gets reflected by the glass. It also eliminates the distortion caused by it. This includes the blurriness caused by reduced contrast.
Clear Glass UV Blocking
UV light has been long known to harm our skin and body. The eyes, in particular, are much more vulnerable to UV since it is much more sensitive to light. If you are the type of person that regularly walks out in the sun, having UV blocking for your eyes is a feature that you cannot pass up.