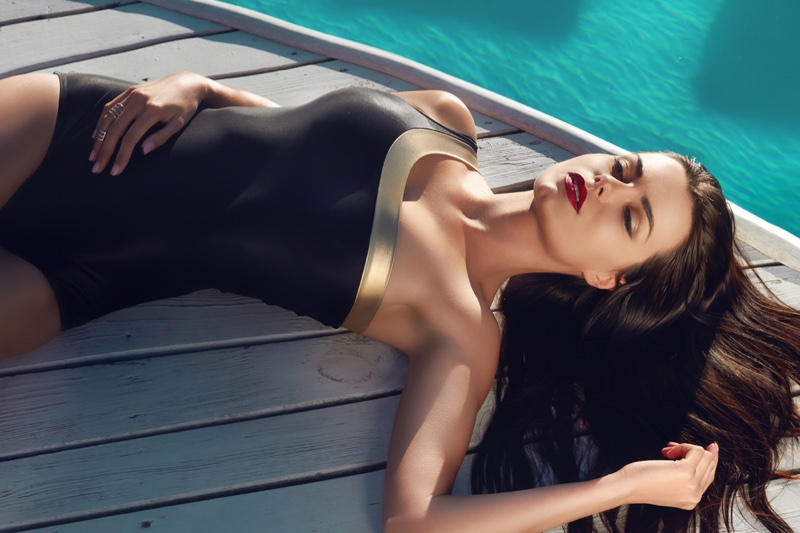 As the summer months roll around, everyone is going to start thinking about what they are going to wear when they stretch out in the sun by the pool. Whether you are on holiday, at a public swimming pool, or even in your own back garden, you will want to look as chic as possible. Here are some of our top tips to help you do so.
Find the Right Swimwear
The centre of the look should always be the swimwear itself. You need to make sure you find some good quality pieces that will look amazing whether you are in the pool or just lounging to one side. Find pieces that make you feel comfortable and well-supported as well as looking as stylish as can be. Whether it is a bikini, a one-piece, or anything in-between, it needs to make you feel your best.
Never be afraid to mix it up with a bold print, like what you can find at Moontide. Though blocks of color can always look amazing when styled correctly, choosing a print like those used in Moontide's swimwear collection will give you a range of different styles that you could try.
You might also want to think about the cut of the swimwear. Not everyone is particularly happy with smaller and more skimpier pieces, so you should have a look for high-waisted items and other flattering pieces that might suit you more.
Choose Slip-on, Slip-off Shoes
Those beautiful gladiator sandals might seem like a great choice to wear until you decide that you want to take them off and are left fiddling with a tiny buckle. There are plenty of great sandals on the market that will complement your outfit while also being easy to take on and off.
These are going to be much better for wearing to the pool. Chances are that you will kick them off as soon as you get poolside anyway, so you need to make sure that you find ones that are easy to take on and off. Sliders are a great choice here – they are functional and you can find a massive amount of variations to choose to buy!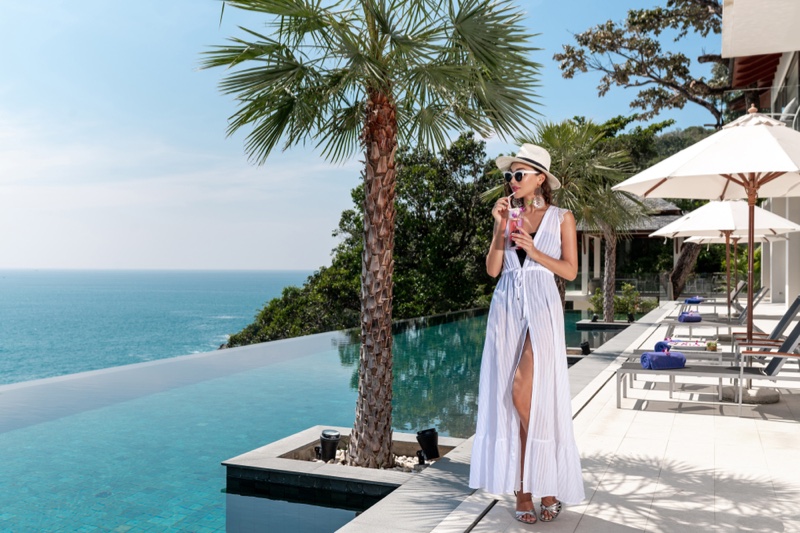 Cover-Up
It is always a good idea to have some sort of coverup with you at the pool. They can really help to tie an outfit together, and they can provide you with a little bit of modesty when walking there. There are also many different styles of cover-up that you could choose from – a kaftan, sarong, or even a maxi dress can all work wonders.
Think about how your cover-up will match the rest of your outfit. If you have a range of different colors and prints for your swimwear, you might want to choose a cover-up that is a single colour so it works for all of them. Mixing clashing patterns is an art, so if you do want to try it make sure you tread carefully!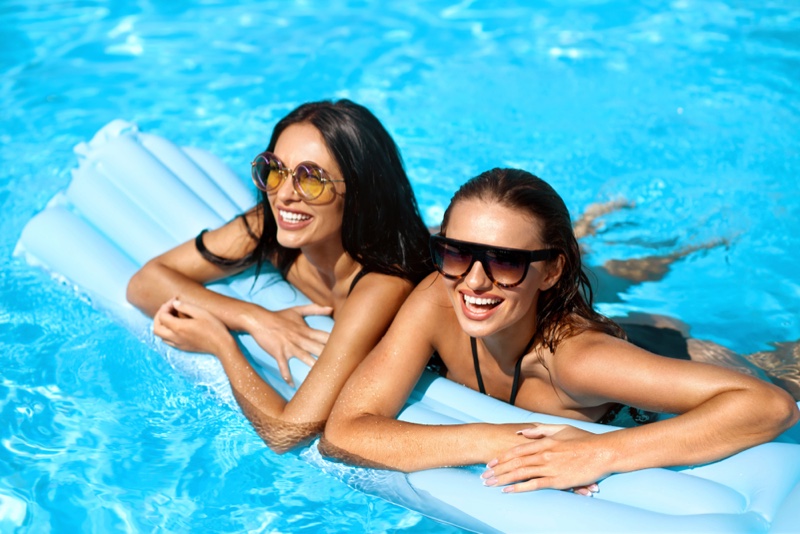 Sunglasses
Everyone needs a good pair of sunglasses if they are going to be laying out by the pool. You might not want to wear a lot of jewelry while sunbathing or swimming so sunglasses might be just the right accessory for you.
There are so many styles of sunglasses out there to pick from, but you need to make sure that you find ones that suit your face shape so they are as flattering as possible. Those who wear glasses or contact lens might want to think about getting prescription sunglasses so they do not have to muck about and either make do or go without when at the pool.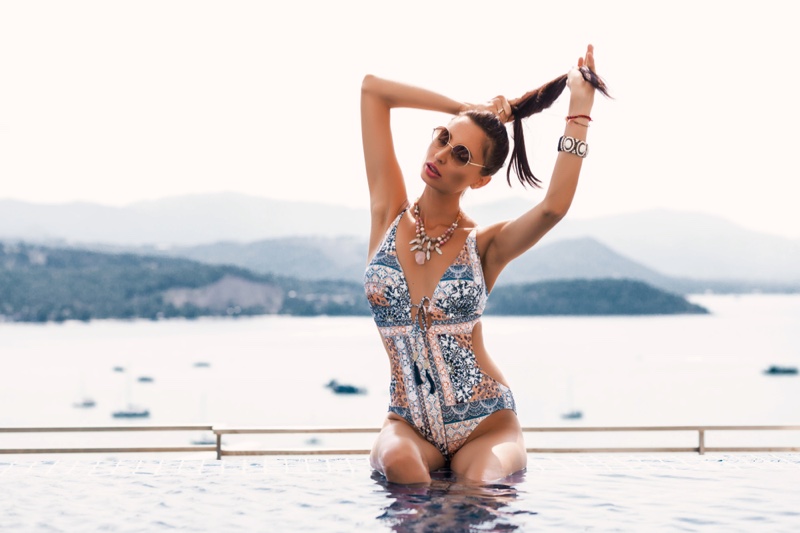 Hairstyles
Make sure you give some thought to your hair when planning a day at the pool. If you are intending to go in the pool, it might not be the best idea to overly style it, as it is just going to get wet even if you try to avoid it as much as you can.
Leaving your hair down on a hot summer's day can quickly prove to be difficult, especially if your hair is quite long and thick. You can very quickly overheat and be left feeling quite uncomfortable in the sun. When it comes to pool hairstyles, one of the best will always be the braid. It can look cute and is practical for keeping your hair back and out of the way whether you are swimming or sunbathing. Try a French or Dutch braid to make it a little more interesting than a standard plait!
These are some of the things that you should look to bring together if you want to look chic by the pool this summer. Start by finding the right swimwear – this is the centerpiece and it will bring together the rest of the outfit faster than you know!