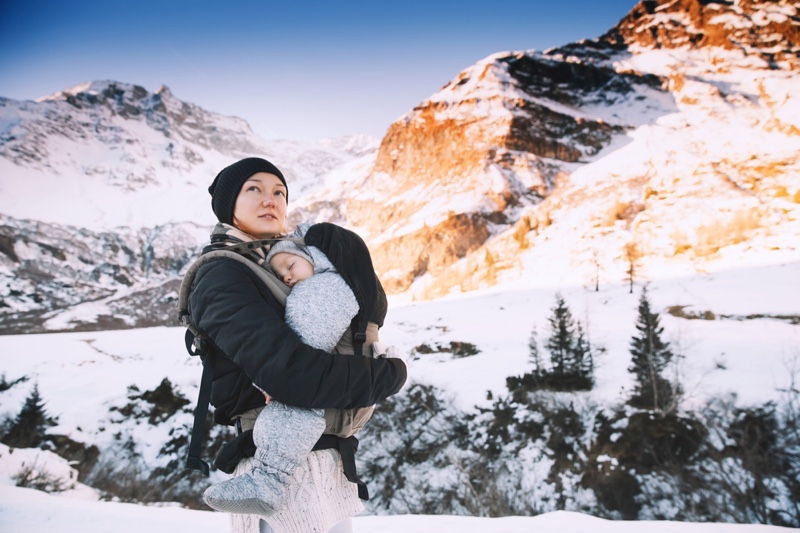 Going cold-weather hiking with your toddler can seem like an impossible task. The snow is not the easiest surfaces to walk on, and the frigid temperatures can make it seem a little scary to take your toddlers too far out.
But you shouldn't let the cold climate hinder you from letting that adventurous spirit free. With a couple of guidelines on how to dress a baby for cold-weather hiking, you'll be back on those hiking trails within no time. Let's take a look at those guidelines.

Cold-Weather Layers for Babies
The easiest way to keep your toddler warm during hikes is to layer her up. There are three layers of clothes that you should dress them in.
Base layer
It's easy to feel overwhelmed when shopping for your kid's winter gear, especially when you consider how fast they outgrow their clothes. But even when hand-me-downs and secondhand winter clothes for babies aren't available, the one important thing I'd recommend budgeting for is the base layer.
Essentially, this is the most vital layer on your toddler because it's right against their skin. Therefore, it should fit them nicely, have ability to wick away moisture, be breathable and keep the wearer warm even if it's wet.
Too many details to remember? Well, I can make this easy for you- just never buy cotton as a base layer!
Instead of wicking away moisture, cotton fabric absorbs or retains it, meaning your child will feel wet when they sweat. The best alternative is merino wool for several reasons. For one, it's soft and thin so it will feel comfortable on your baby's skin. Two, it's hypoallergenic. And three, it has temperature-regulating capabilities.
Whether you're looking for a vest or t-shirt to serve as a base layer, consider merino wool. For the parent, investing in trekking poles can be quite useful.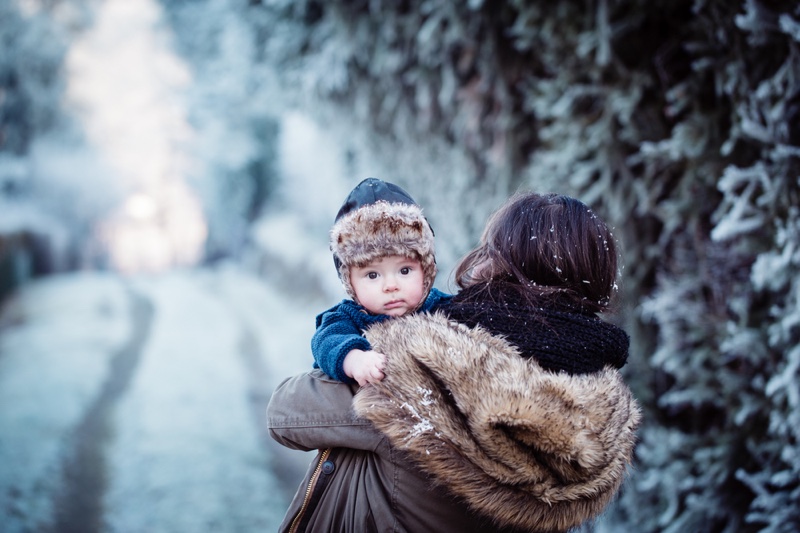 Mid layer
Compared to the other layers, this is the least important. So if you're on a shoestring budget, you can buy your baby's middle layer from consignment shops and thrift stores. The important thing is that you find something warm enough. If your baby is the kind who loves to run around, consider keeping this layer in your backpack and only dressing your baby when they start moving.
If you're going for a short outing on mild climate when there aren't any strong winds or snow, you should dress them in a base layer and mid layer only. However, you can pack an outer layer in case the conditions change.
Outer layer
This is the outermost layer, and it protects your toddler from external elements. It's the one that fends off whatever the winter season throws at you- whether that's a downpour, snow or hail. That said, this layer should have important attributes such as water repellency and wind blocking.
Your Carrying Style determines How You Dress your Baby
Keep in mind that you and your toddler will be sharing body heat, and combined, you might generate quite a significant amount.
Using a front-facing baby carrier
Speaking of baby carriers, you should be very careful when choosing one for your hiking trips with your toddler. Apart from carrying your baby, the carrier should be sturdy and capable of standing up to the harsh elements of the environment. Given these conditions, buying a baby carrier for hiking can be confusing for a lot of parents. Thankfully, Adventure Gears lab editor Ashley Casey is here to run you through what you need to know.
So how does the baby carrier affect their dressing? For starters, it means that you shouldn't overdress them. Your toddler will be sharing your body heat, and as you continue to hike, you'll generate more heat.
Advisably, you should carry your baby over your mid-layer or between your base and mid-layers.
Backpack carrying
For this point, we will assume that you're carrying your baby over your outermost layer. This then means that he or she is not affected by the heat you're generating. In that case, you should check your baby's outer layer and ensure that it keeps them warm. Pay keen attention to their head; you can use a retractable mirror to confirm that they still have their hats on or check that that they aren't encountering so much wind in their face.
Wrap Up
When it comes to dressing your baby for cold-weather, layering is the best solution. Use your best judgement to determine what layers they need and which ones they can do without. Even though you should aim to keep them warm, you need not overdress them to the point they start overheating and dehydrating.