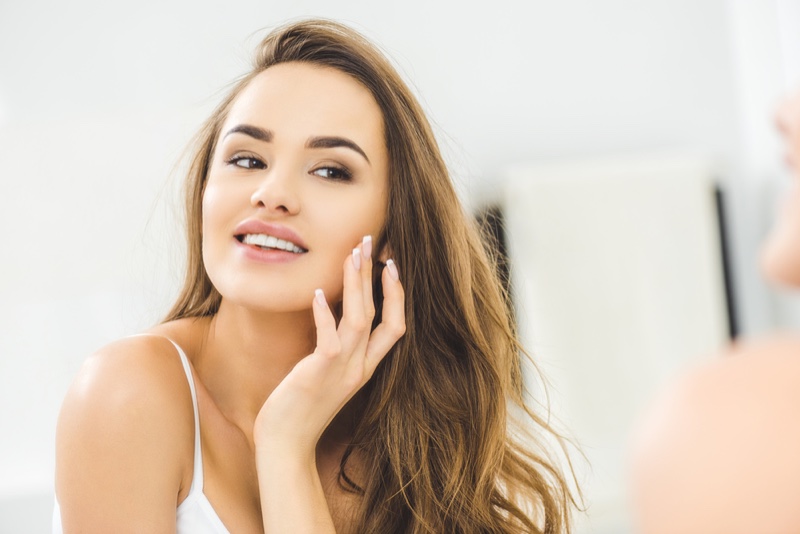 Stress, the environment, the sun and everyday living can all contribute to the aging of your skin. Anti-aging products make multiple promises to help you to look younger, but do they work? The American Chemical Society says there is no facelift in a bottle.
However, looking at some of the popular ingredients gives you deeper insight into the potential or false hype regarding anti-aging creams.
Retinol
Retinoids are vitamin A-based anti-aging compounds. In the 1970s, they were used for acne, but over the last few decades, scientists have discovered that retinoids can also increase how fast superficial skin cells turn over.
Prescription-strength retinoids are effective for decreasing wrinkles and fine lines, according to Harvard Health Publishing. This happens due to heightened collagen production. Over-the-counter retinoids may not be as effective since they are not as strong as the prescription options.
This ingredient may also slow collagen breakdown, increase skin elasticity and lighten sun-related brown spots. Skin does not become thinner with retinoid use. In fact, this ingredient actually contributes to thicker skin, according to Dr. Patricia Farris, a dermatologist in New Orleans.
Alpha Hydroxy Acids (AHAs)
These acids are derived from animals and plants. The AHA types most often seen in these products include:
● Glycolic acid
● Hydroxycaproic acid
● Lactic acid
● Tartaric acid
● Citric acid
● Hydroxycaprylic acid
● Malic acid
Out of all of the AHAs, lactic acid and glycolic acid have the most research and are the most promising, according to the Food and Drug Administration. This ingredient is most often used for exfoliation of the skin. However, AHAs may also help to improve the appearance of surface wrinkles and lines.
Glycolic acid specifically works to loosen the bond that works to keep dead skin cells together on your skin's surface. Once these cells are gone, the skin looks healthier and brighter. This will also make it easier for moisturizers and other skincare products to penetrate the skin.
One study published in Clinical, Cosmetic and Investigational Dermatology had volunteers use AHAs over the course of three weeks. The results determined that significant skin texture improvements were experienced by nine out of 10 of the participants.
AHAs can help with skin discoloration and age spots. These acids can help to lighten and balance these areas for a more even skin tone.
It is important to note that AHAs can make your skin more susceptible to sun-related damage. When you are using these products use a quality sunscreen to prevent burning and other sun damage.
Peptides
Topical application of synthetic bioactive peptides allows them to effectively reach the skin's cells. A peptide is an amino acid in short chain form. When it comes to anti-aging, this ingredient may help to increase collagen production.
Collagen is a type of protein that is responsible for helping your skin to remain smooth, firm and youthful. As you get older, your body naturally produces less collagen.
There is a great debate regarding the efficacy of peptides in anti-aging products. They break the 500 Dalton rule due to their size. This rule says that the molecular weight of a substance must be below 500 Daltons for the skin to absorb it, according to research published in Experimental Dermatology.
It is believed that signaling is partially responsible for allowing peptides to work without them needing to penetrate the skin. It mimics the peptides that naturally occur telling the skin to essentially think that collagen is breaking down. This then triggers the skin to produce more collagen to replace what it believes is being lost.
Another way peptides may work is by breaking them down until they becoming smaller peptides. If this happens, they will not break the 500 Dalton rule. The smaller peptides will then be able to penetrate the skin.
Vitamin C
Vitamin C is frequently touted as a nutrient for the immune system, but it is also a common ingredient in modern wrinkle cream formulations. This nutrient is thought to help with skin hydration, tone and firmness. It may also protect the skin against environmental threats.
Topical application of vitamin C works to rejuvenate the skin and slow the aging process by improving collagen synthesis and reducing free radical damage, according to research published in Dermatologic Surgery. This process helps to reduce age-related collagen decline to keep the skin firm and plump.
Vitamin C is naturally present in the two uppermost layers of the skin. As you get older, the levels of this vitamin in the skin start to decline, according to research published in the Journal of Investigative Dermatology. Other factors that can cause vitamin C to decline include excessive exposure to pollutants and ultraviolet light.
The stratum corneum layer of the skin can pose an obstacle regarding topical vitamin C absorption. Research shows that a 20 percent vitamin C solution allowed for maximal absorption, according to research published in Dermatologic Surgery. This same study reported that concentrations higher than 20 percent had lower absorption rates, so more is not better.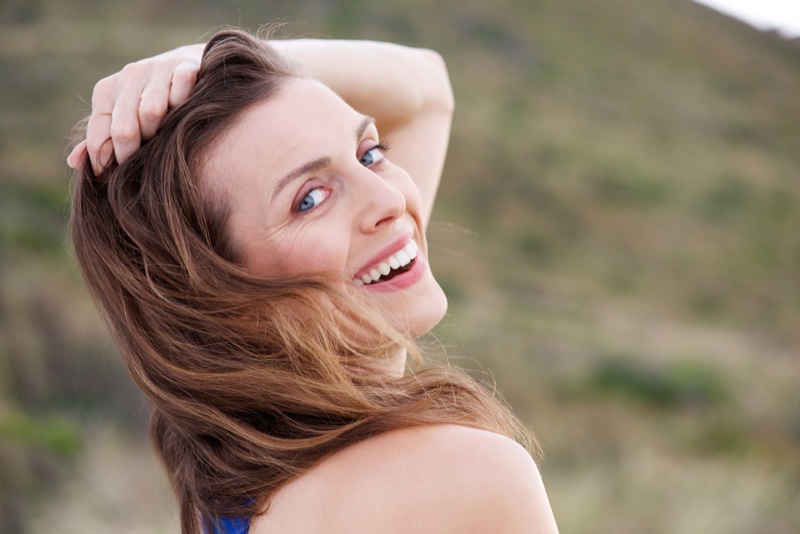 Coenzyme Q10
Coenzyme Q10 is an enzyme that the body produces naturally. It plays a role in the health of all of the cells in the body, including the skin cells. Aging can cause the levels of this enzyme to decrease. When this happens, your cells are unable to regenerate as efficiently.
This enzyme has potent antioxidant properties, allowing it to protect your cells against oxidative damage, according to research published in Molecular Syndromology. This type of damage can contribute to the signs of aging.
While coenzyme Q10 is present in topical cosmetics and skincare, the majority of the benefits are associated with taking this enzyme orally. One study published in Biofactors looked at people taking this supplement over the course of 12 weeks. The conclusions of the study include a significant reduction in microrelief lines and wrinkles, as well as noticeably better skin smoothness.
An additional study in the International Journal of Cosmetic Science showed that this enzyme can help to counter sun damage and reduce the signs of aging. The researchers state that this nutrient can decrease skin cell melanin content. This ability could make it effective for reducing sun-related skin discoloration.
While oral administration appears to be the most effective, topical application has also shown some benefits. Applying this enzyme directly to the skin may help to alleviate the damage associated with external and internal agents. This is due to this nutrient helping to promote antioxidant protection and helping to heighten skin cell energy production, according to research published in Biofactors.
Green Tea Extract
Green tea is often touted for its metabolism and immune benefits, but it may also help to enhance the health of your skin. The polyphenol content of this tea is largely responsible for its anti-aging benefits.
Free radicals can age and damage the skin. The antioxidants in this tea extract fight against them to minimize their effects. Catechins, or polyphenol antioxidants, account for most of the antioxidants in this extract. One of the most researched and prevalent catechins is epigallocatechin gallate (EGCG).
EGCG has shown to have protective benefits for the skin. Research shows that not only can this polyphenol hydrate the skin, but it can help the skin cells to retain moisture too, according to research published in the International Journal of Molecular Sciences. This same research showed potential anti-pigmentation properties for EGCG as well to aid with reducing dark spots.
Green tea extract may also have anti-inflammatory properties. This benefit could aid those with acne and sun damage. Other potential skin benefits may include hydration and reduced sun-related damage.
Skin health improvements have been observed with both topical and oral use of green tea extract. One study looked specifically at topical administration. The research showed that with 60 days of regular application the study participants experienced improved skin elasticity, according to Aging Clinical and Experimental Research.
Niacinamide
Also referred to as nicotinic acid and vitamin B3, niacinamide may help to improve the appearance of uneven skin tone, dullness, enlarged pores, fine lines and weakened skin surface.
This nutrient can help to prevent environmental damage and lock in moisture. When applied topically, niacinamide helps to stabilize the function of the top layer of skin. This plays a role in improving moisture content and retention, according to research published in the Journal of Cosmetic Dermatology.
The same study shows that this nutrient can smooth wrinkles and improve the skin's surface structure. While more research is necessary, this nutrient may also help with the following skin issues:
● Protecting against sun damage
● Treating hyperpigmentation
● Protecting against oxidative stress
● Enhancing the lipid barrier
● Minimizing the appearance of pores
● Reducing blotchiness and redness
Resveratrol
Resveratrol is often referred to as the longevity molecule due to its potential anti-aging benefits. This is a type of plant compound that is present in grape skin. Red grapes have more than white grapes.
Studies have been done to look at the potential for the nutrient regarding cardiovascular and skin health. One study concluded that this ingredient improved skin firmness, radiance and elasticity, according to research published in the Journal of Drugs in Dermatology.
Ultimately, the research is limited so most of the purported anti-aging benefits are simply theories or based on anecdotal evidence. For example, some people claim that resveratrol helps to hydrate their skin, but no actual study has proven this.
Hyaluronic Acid
Hyaluronic acid is among the most common primary ingredients in skincare products. There is immense research backing the most common claims. The most common reason people use products with this ingredient is to hydrate their skin.
The body naturally produces hyaluronic acid. It has a gooey texture and it is clear. Large amounts of this substance are present in your skin. Its primary function is to retain water to ensure that your body's tissues are moist and sufficiently lubricated.
This acid can help to promote the suppleness of your skin. Using supplements that contain this ingredient have been shown to reduce the natural decline of this acid in the body, according to research published in the Journal of Agricultural and Food Chemistry.
This research shows that such supplementation could help to keep hyaluronic acid levels in your skin high enough to alleviate the signs of aging. Other research shows that oral doses of 120 to 240 milligrams a day for a minimum of 30 days significantly reduces skin dryness and increases the skin's moisture, according to research published in Nutrition Journal.
Research has also been done on the topical application of hyaluronic acid. One study shows that serums that contain this acid help to reduce wrinkles, according to research published in the Journal of Clinical and Aesthetic Dermatology. Other possible benefits of this acid include healing dermatitis and redness.
Biotin
Biotin is one of the B vitamins that your body uses to create energy. It is one of the most essential vitamins for your skin. While it is known that it benefits the skin, the overall impact is still not well understood.
Scientists believe that dry skin may be associated with a deficiency in this vitamin. The dry areas may also become scaly and red, according to research published in Seminars in Dermatology.
This nutrient is typically used in oral form. Little to no research has been done to determine the efficacy of topical biotin. However, there are skincare products that contain the topical form of this vitamin.
As you can see, some anti-aging cream ingredients can be beneficial while others fall flat. Because of this, you should implement some tried and true anti-aging methods into your regimen. These include using sun protection, moisturizing your skin, eating right and not smoking. From here, you can decide if an anti-aging cream can further contribute to your skincare routine. Once you've decided to use one, do not forget that for it to work, just like any other skincare products, you need to apply it consistently. Consistency is key, as they say. Skincare products in general tend to show signs of effectivity after weeks of usage. So be patient and be religious with your routine.