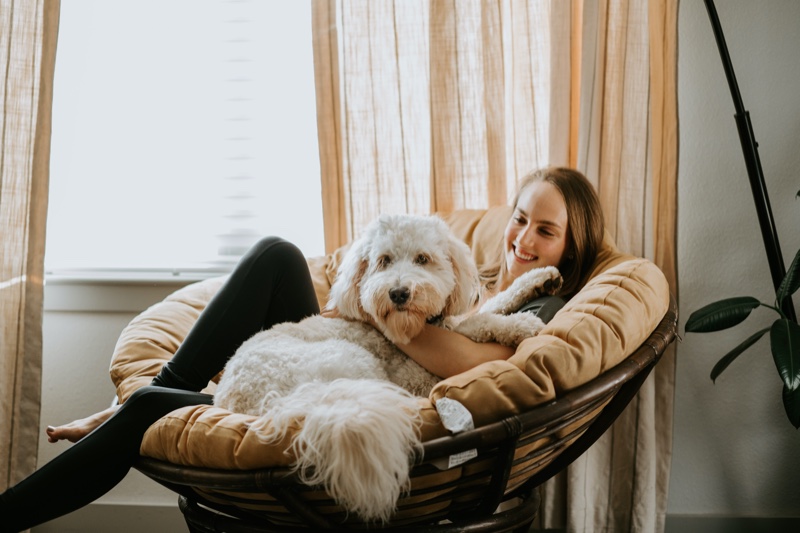 Although finding a bed for your four-legged friend might seem like a simple task, it's not as straightforward as you might think.
There are lots of different types of beds designed specifically for dogs, and finding one that makes your pet feel secure and comfortable can prove challenging.
Often, dogs like to sleep curled up. When a dog sleeps in the wild, they like to dig a small nest and curl up inside. This is to keep them warm and also safe from predators.
A quality calming dog bed is like a nest, and it is designed to make your dog feel safe.
Dog Anxiety
Unfortunately, lots of dogs suffer from anxiety, which is a major problem, not just for the animal but for the dog owner too. Trying to help an anxious dog is not going to be easy, especially if they haven't undergone any formal dog training.
A lot of pet owners believe calming dog beds protect their pets. These beds can help calm your dog and make them feel secure. Most of these beds are large, and they are fitted with memory foam padding that gives your pet orthopedic support.
Some dog owners go the extra mile by investing in a calming bed that has a self-heating feature. This feature is highly beneficial during the colder months.
A camping bed provides your furry friend with comfort, warmth, and the support they need to get a quality sleep. If your dog struggles to sleep, they might act up, and their stress levels are bound to rise.
But keep in mind that not all dog calming beds are the same, which is why we have created this guide to buying a dog calming bed.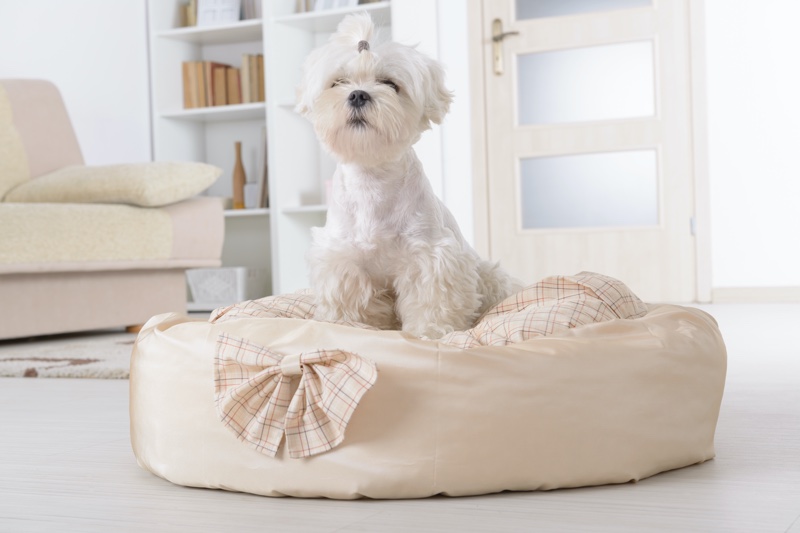 Is the Cover Washable?
Let's face it; dogs can be smelly creatures. Although we love our four-legged friends, the nasty odor they leave around our homes is one of the disadvantages of dog ownership.
Before purchasing a dog calming bed, you will want to make sure that the cover is easily washable. If you are unable to wash the cover, cleaning the bed will prove frustrating, especially when your dog comes inside the house after playing outside in the rain. Bringing dirt, mud, and debris indoors can make being a dog parent tough. These nasty substances are bound to end up on their calming bed, along with hairs and bacteria.
Make sure that the cover is washable so you can maintain it. Keeping it smelling fresh will help keep your dog feeling happy and your home smelling good.
However, after time, you might want to replace the cover. Find out if the bed manufacturers make replaceable covers. This way, you won't have to replace the entire bed. Instead, you can purchase a new cover.
Washable calming beds tend to last a lot longer than non-washable beds. Although most dog owners keep their dog beds indoors, you can also put them in your pet's kennel or bring them outside when your pet decides to sit out in the sun.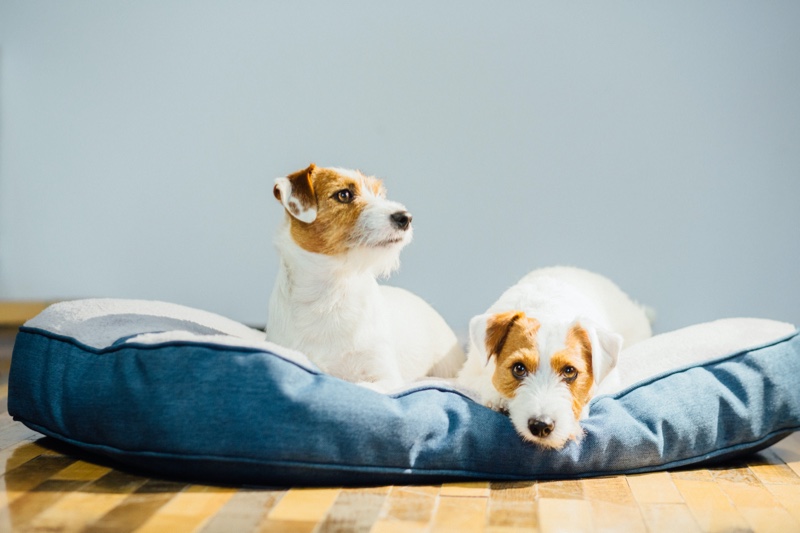 What Type of Material is Used?
Dog calming beds are available in all sorts of materials such as:
Although it might be tempting to invest in a bed that looks great and fits in with your home's decor, you should focus on buying a bed that your dog finds comfortable. A cozy, calming bed will improve your dog's sleep.
The best type of bed will be extra comfy, and it will be fitted with lots of cushioning. The cushioning will help alleviate pressure, so if your pet is suffering from joint pain, the softness of the bed will provide them with the support they need.
These beds are available in a wide range of different materials, but owners are advised to invest in a bed that provides their pets with comfort. So avoid spending your hard-earned money on a stylish bed. Comfort should be your number one priority.
Some clamming beds have padded walls, also known as bolsters. These walls provide support for your pup's head and neck. Dogs who sleep in silly positions often sustain an injury, but padding will encourage them to sleep in a good position. Padding will also give your pet a sense of security.
Where will your Dog be using the Bed?
Where you are going to put the bed is another factor that you must consider before buying one. If you are planning on putting it in your pup's kennel, then you will want to make sure that the quality of the material is strong and that the bed is water-resistant.
All washable dog beds can be used outdoors. But just because it is washable doesn't mean that they are all the same. Some beds are specifically designed for outdoor use. If you are using it outside or storing it in your dog's kennel, it should have a strong protective bottom layer.
If you plan to use it as a travel bed, try to find a calming bed that isn't too heavy. Some beds out there can weigh a lot, and if you need to carry them with you while on your travels, it might cause frustration. Although most calming beds are heavier than standard dog beds, there are light beds available too. If you purchase a bed online, it is of vital importance that you find out how heavy it is first.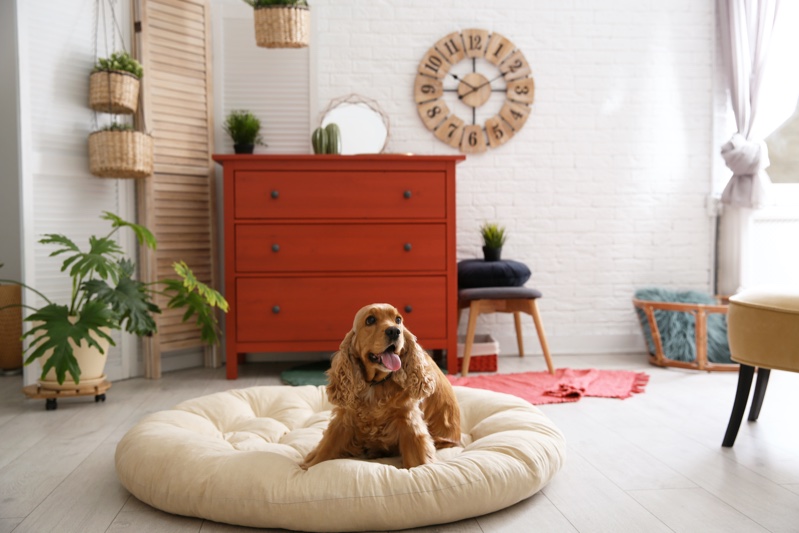 Is the Bed Elevated?
A lot of folks think elevated beds are only for sick dogs or dogs who have sustained an injury, but this isn't always the case.
An elevated bed is highly beneficial. Some of the benefits include:
Temperature: Air is able to circulate underneath an elevated bed, so your pet won't feel too hot or too cold while they are in it.
Support: It will provide your pet with the help he or she needs. Even healthy dogs can feel stiff if they sleep in a bed that doesn't offer them support. If your dog sleeps on a solid surface, they will feel extra pressure on their hips and other areas throughout their body. Standard beds won't help reduce the pressure, which is one of the reasons calming beds are so popular these days.
Your dog won't be able to chew through the material: It's in every dog's nature to want to chew things they come across. Some beds are made of fluff and foam, and if your dog was to ingest these materials, you might have to make immediate contact with an emergency veterinarian. Most elevated beds are almost impossible to chew through, and they consist of material that won't harm your pet.
Conclusion
Although quality calming beds can cost dog parents a pretty penny, it might be worth it in the long run. Investing in a standard bed won't benefit your pet, and you will likely have to replace the bed after a short period.
Sleep plays a vital role in your dog's overall health, so investing in a calming bed will help your pet maintain a healthy lifestyle. If you are still unsure about what type of bed to get your dog, consider speaking with a well-qualified veterinarian. They will be able to advise you on the best bed for your pet.